Russell 2000 Beats S&P Index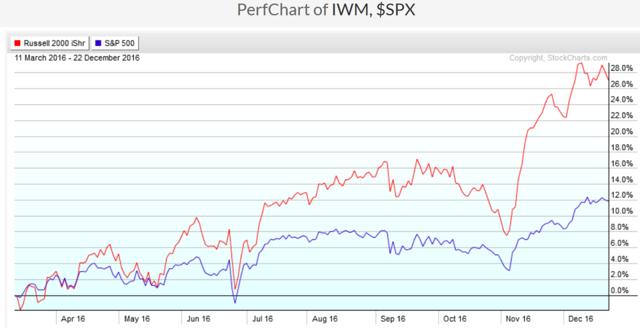 The election rally has driven up small-cap equities on future expectations that Congress will pass Trump's promised agenda, but investors must carefully watch key legislative bills and be cognizant of possible headwinds.
Small-Cap Indices Up Sharply
The iShares Russell 2000 ETF (NYSEARCA:IWM) jumped about 15% since the presidential election, taking the glow from large caps and high flying tech stocks.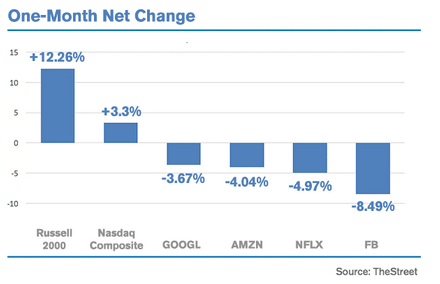 Other small-cap index winners include: Guggenheim S&P Small-Cap 600 Pure Value ETF (NYSEARCA:RZV), up 25%; Oppenheimer Small-Cap Revenue ETF (NYSEARCA:RWJ), up 22.6%; and PowerShares Fundamental Pure Small Value Portfolio ETF (NYSEARCA:PXSV), up 21.5%.
The chart below compares their growth to the better-known and highly-popular IWM.
By comparison, the SPDR Dow Jones Industrial Average ETF (NYSEARCA:DIA) gained 9% and the S&P 500-based ETF, SPY, rose 6%.
IWM Comparison Chart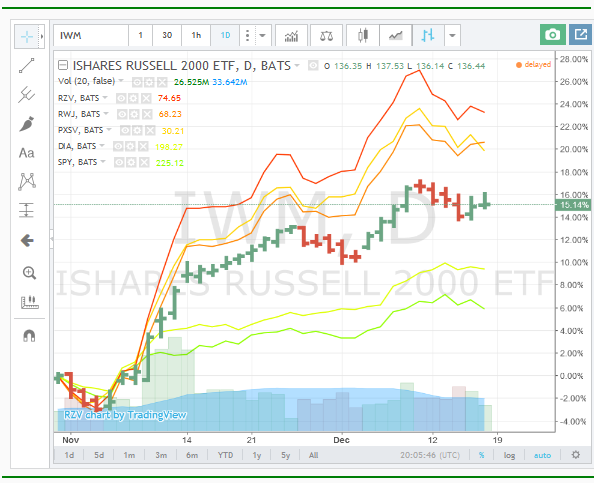 Source: Zacks
Small-Cap Stock Advantages
Small caps have lower exposure to slowdowns in global growth affected by disruptive political/economic issues. Brexit and the recent Italian Referendum come to mind as examples.
Less regulation can reduce the high compliance costs faced by larger companies enabling startups and growth.
Small companies also have greater flexibility to increase prices in the event of higher inflation accompanied by higher bond yields.
Valuations also favor small caps because they trade at 1 to 2.5 times the PE ratio of large caps. The unweighted Russell 2000 small caps look undervalued at 1.1 times the valuation of large caps measured by the S&P 500.
Growth Is The Key To The Trump Agenda
Trump's campaign economist estimates his plan would boost growth to 3.5% annually with the potential to reach 4%. This is well above the 2.0% currently projected by government forecasts.
U.S. growth averaged 3.5% annually in the 55 years between the end of WWII and the year 2000. Faster growth is expected to create 55 million new jobs for the U.S. economy in the next decade. This will require the creation of numerous new, small business entities.
Business-friendly regulations, lower corporate taxes and a trillion-dollar stimulus, if passed, are incentives for domestic companies to grow. More protectionism and less global trade would benefit smaller companies that profit only about 20% from overseas sales.
Hope For Change Is In The Air
Rising indices began a small pullback around December 10 and have become forward looking for legislative confirmation that the new president can get his pro-growth policies enacted by congress.
The markets are looking for a change in U.S. economic policies that, if legislatively enacted, can grow a Rip Van Winkle sleeping economy. Change bears on key features of the Trump agenda that promise greater economic growth at home while challenging the global focus of large U.S. multinational companies with production and export operations abroad.
Breaking the agenda down into specific objectives provides investors with key items to watch that are catalysts for domestic small-cap industries. I have ranked them in terms of my opinion as to the future impacts on economic growth, not necessarily ease of achievement.
Unknowns
The goals come with unknowns; some may make legislative passage more difficult. Before reviewing them, ask yourself the following questions:
Which item will be most difficult to pass?
What is the priority agenda item for the first 100 days?
Which item is most easily passed into law?
Is national defense more important than infrastructure in a world growing more dangerous by the day?
Would the tax cut proposal put a limit on spending a trillion dollars and stall the stimulus package?
Which item, if passed first, is most important for moving the equity markets up?
Trump Goals
Each of the following goals comes with the caveat: Can Trump deliver on his promises:
Business tax cuts.
Pro-growth income tax cuts.
Spending heavily on infrastructure and national defense.
Strong support for U.S. energy development.
Revamping existing trade agreements and creating new ones that promote "fair trade."
Eliminating onerous job-killing regulations on business to promote growth in new domestic enterprises and create jobs at home.
Business Tax Cuts
Trump's plan to cut the corporate tax to 15% is opportune for small companies because, unlike larger entities, they are generally less able to use tax inversion or tax reduction strategies to lower federal taxes below the 35% rate.
The plan is billed as pro growth with incentives to create jobs; put people to work; grow U.S. business that will boost future GDP by 11% in the next decade; increase wages by 6.5%; and add 5.3 million new full-time equivalent jobs.
A bone of contention concerns whether the Trump tax plan is revenue neutral or not. Trump claims it is.
The pro-business Tax Foundation estimates the Trump plan would reduce revenues to the Treasury by $10.14 trillion over 10 years when accounting for economic growth.
Tax cuts remain a major component of the growth stimulus and passing them early on is critical to driving economic progress. Trump has emphasized he wants them enacted in the first 30 days of his administration. Republicans in Congress largely agree on tax policy.
Pro-Growth Income Tax Cuts
In addition to cutting income taxes for millions of people, the Trump plan promises to simplify the tax code. Trump proponents emphasize that income tax cuts will "create incentives for consumer spending, investing, and stimulating the economy to grow."
Skeptics argue that "aggressive tax cuts can't be implemented without adding to the federal deficit." This is a key agenda item essential for many of Trump's initiatives to bear fruit and, IMO, it poses the greatest risk to success.
Infrastructure And National Defense Spending
Trump's stimulus program proposes to invest a trillion dollars over a decade to rebuild U.S. infrastructure and strengthen national defense. If successful, the plan supports considerable job creation and economic growth.
Headwinds include wooing the Republican Congress to incur an additional trillion dollars in debt given that the national debt load is now $20 trillion. There is an influential conservative Republican bloc in Congress that has long resisted increases to the debt limit by restricting spending. It shows no signs of backing down. The last vote to increase the debt limit in October 2015 was opposed by 79 Republicans.
Trump will have to find a way to pay the bills within authorized spending limits that are in effect until March or April of 2017. At that point, there will be a new budget battle over spending. Keep tuned to this coming battle.
Strong Support For U.S. Energy Development
Commentary on Trump's energy policy plans include creating jobs in this sector by opening onshore and offshore leasing on federal lands, promoting the use of natural gas, putting coal miners back to work and rescinding job-killing regulations on energy production.
Many small-cap companies can benefit by opening up this sector to fossil fuel production, pipeline construction, downstream refining, and exports. This may prove timely as OPEC agrees to cut crude production to raise the price of oil.
However, in a recent headwind move, December 20, President Obama designated the bulk of U.S. owned waters in the Arctic Ocean and certain areas of the Atlantic Ocean as indefinitely off-limits to future oil and gas leasing. This move puts the finishing touches on Obama's environmental anti-fossil fuel legacy while also testing president-elect Donald Trump's promise to unleash the nation's untapped energy reserves.
Clearly, Obama is trying to tie the hands of his successor. It remains to be seen how much this might set back U.S. energy development, but it has certainly delayed the amount of growth that was possible before it was done.
Revamping U.S. Trade Agreements
One key issue concerns a renegotiation of the NAFTA Trade Agreement. Estimates vary, but job losses due to the agreement fall in a range between 350,000 and 700,000. This has hurt the U.S. economy and killed jobs. But it is still favored by free trade advocates.
An important "fair trade consideration" is if Trump can negotiate tax incentives for large multinational corporations to return company profits kept overseas and reinvest them in the U.S. To the extent that doing so can increase American jobs, it will be a boon for small-cap U.S. companies.
But imposing tariffs on U.S. goods produced overseas and imported back into the U.S. might incite foreign tariffs on exported U.S. manufactured goods. A legitimate concern is that Trump's fair trade agenda might trigger a trade war where tariffs increase the cost of both exported and imported goods.
Clearly investors must watch this possibility very closely.
Eliminating Onerous Job-Killing Regulations And Promoting Growth
Doubling regulations in an industry decreases business start-ups by 9%. This is most damaging to small companies that are unable to meet the costs of complying. In some cases, new businesses are deterred from start-ups, which kills potential jobs and hurts economic growth. Eliminating such regulations is clearly a stimulus for creating and growing small businesses, increasing jobs, and promoting greater economic prosperity.
The American Action Forum (AAF) estimates Trump would have to find a way to cut anywhere from $600 to $700 billion in regulatory costs to deliver the 70 to 80 percent cut in regulations he promised.
The 70% figure includes many regulations directly passed by Congress that require legislative repeal.
Growth Of U.S. Dollar
One recent economic factor to consider in growing the economy is the resurgence of U.S. dollar strength, which is now at a 14-year high. This is viewed as a headwind for large U.S. companies with overseas operations. They are paid in foreign currency. Returning foreign revenues to the U.S. and converting them to dollars means smaller profits.
On the other hand, small caps are durable in the face of a strong dollar and rising interest rates because they generate the bulk of their revenue in the U.S. The anticipation of three interest rate hikes by the Fed in 2017 is positive for a stronger dollar and small-cap stocks.
The Yellen Trump Collision Course
The Heisenberg recently wrote in an SA article, "Will Janet Yellen Pull The Plug On The Trump Rally?". The Fed Chair's intention to raise interest rates three more times in 2017 does not sit well with Trump who contends that raising interest rates will be "a disaster." It will depend on how much inflation grows and if we get those interest rate hikes. Without sufficient inflation to dampen, the rates could indeed be a disaster for the Trump plan and subsequently be blamed on Janet Yellen.
Looking Forward
The markets are forward looking and small caps have moved sharply anticipating that the Trump agenda will be enacted. At this point, it is a "rumor based" rally with a pause for some profits taking resulting in a small pullback. The 20,000 Dow has not produced its Christmas gift as I write.
After the euphoria of the Trump win, it seems like stocks have paused to further digest what the new president and Congress can accomplish, how soon they can do it and where they may fail.
IMO, the small-cap sector will be highly tuned to what will be accomplished.
The major risk in small-cap investment is that much of what can fuel these equities is tied to a Trump agenda that must pass Congress without being mauled.
Timing is also important. The next 100 days will set the pace for enacting the agenda as will the priorities set on different components. IMO, tax reductions are critical.
Final Takeaway
Smaller U.S. companies that sub-contract with major defense corporations, others that provide building materials like concrete and steel, or engage in major construction projects are some prime candidates to benefit from a large stimulus package.
For investors, using indices to buy into a group of small caps provides needed diversification. A definitive list of small-cap ETFs including rankings, profiles, holdings and other technicals can be found at the following site.
Note: Thank you for reading and commenting. You can follow my articles by clicking on the circle button directly after my name on top of the page.
Disclosure: I/we have no positions in any stocks mentioned, but may initiate a long position in IWM over the next 72 hours.
I wrote this article myself, and it expresses my own opinions. I am not receiving compensation for it (other than from Seeking Alpha). I have no business relationship with any company whose stock is mentioned in this article.