Two weeks ago, SA contributor "Alpha Gen Capital" wrote an article recommending buying Communications Sales & Leasing (CSAL) stock due to its 9.6% dividend yield and possible growth opportunities. Those who follow me (and they are few) are aware of my short position which I initiated a couple of weeks ago in Crown Castle International (NYSE:CCI), read the article here, a competitor for Communications Sales and Leasing and a leader in the wireless towers providers.
My Crown Castle's short position was based upon the fact that the company's stock multiples are not attached to the company's fundamentals. Thus, the stock is overvalued and is poised to a 20% pullback.
However, in my view, Communications Sales and Leasing is a much-much more risky investment, and the company's stock is poised to a significant pullback (I'm talking about more than 50%). Here's why.
No Equity Value
In my previous article about Crown Castle International, I talked about the broken business model of buying towers and leasing them back. However, Communications Sales and Leasing has the advantage of having a strong fiber network presence, beside its wireless towers, which makes it better positioned for any expected boom in the fiber optic sector.
That would be great for a growth company that is expected to get a boost from the future boom of fast internet connections and connected vehicles. I totally agree with that. Actually, fellow SA member Steve Rasher covered the subject in details in my previous article's commentary section.
However, the big money made in the automobile boom was through shorting horsing-dependent stocks, not by buying automobile stocks. That's because a lot of automobile startups at that time went bankrupt. So don't just pick up any stock in a growth-expected industry and expect a high return. You might be hammered.
That was the case with the bankrupt-SunEdison (OTCPK:SUNEQ) in the solar sector. And that might be the case with Communications Sales and Leasing in the fiber optic sector.
I still can't understand how some investors have the guts to buy companies with no equity value. CSAL has no equity value at all. No matter how you spin it or what metrics you used.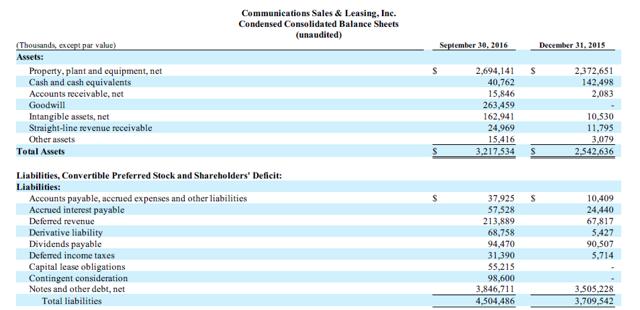 The balance sheet is so broken that all assets can't even cover the net debt of the company. So when you are buying CSAL stock, what are you getting in return? Nothing, making buying the stock regarded as speculating, not investing.
Are acquisitions increasing value?
Last month, CSAL announced the acquisition of a privately held company named Network Management Holdings (NMS), which operates wireless towers.
CSAL paid $65 million for the acquisition, which is expected to complete in Q1 2017. It is also expected that NMS will add $4.4 million in annual cash flow to the company.
Thus, the annual cash return from the investment will be ~6.76%. Sounds good?
Well it's not.
In its latest notes offering of $400 million, CSAL will pay an interest rate of 7.125%.
In addition, the stock's dividend yield is currently sitting at 9.76%.
So it's clear that the company's cost of capital is well above the return on investment in this case.
What about other cases?
I'm not optimistic about them either.
The company made three acquisitions this year. It bought PEG Bandwidth for $409 million, Tower Cloud for $230 million, and a number of wireless towers for $3 million. What these acquisitions achieved?
In 3Q 2016 results, the operations of PEG Bandwidth are fully consolidated, while those for Tower Clouds includes only one month of operations. Thus, in normal cases it is hard to calculate the full effect of acquisitions on FFO results, but in CSAL's case (thanks to its shallow performance) it is not.
Take a look.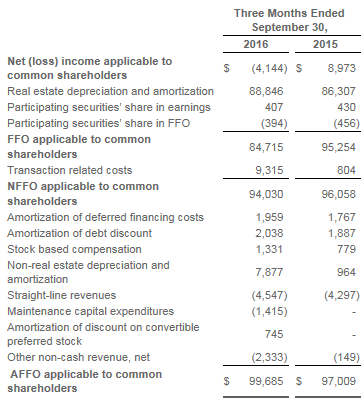 So, a $674 million spent on acquisitions and you only see a $2.6 million improvement in adjusted funds from operations, and a loss of nearly $10.5 million in pre-adjusted funds from operations.
Add to the list: High concentration risk
CSAL's primary business is leasing its towers back to Windstream (NASDAQ:WIN), the ex-parent company. The contract between the two is estimated at $650 million annually rising 3% per year after the third year.
Thus, CSAL depends hugely on Windstream, and any shakeout in WIN can severely affect CSAL's financial status. But, is Windstream a healthy company?
Not even close.
Windstream, a provider of voice and data network communications, has a leverage ratio of 5. That is extremely high when compared to competitors like Earthlink (NASDAQ:ELNK) and Cincinnati Bell (NYSE:CBB), which have a leverage ratio of 0.7 and 1.24 respectively.
In addition, in the last 3 quarters, Windstream's EBIT wasn't able to cover the company's interest expense. In Q1 2016, it needed $263 million, in Q2 it needed $10 million, and in Q3 it needed $109 million just to cover its interest expense!
Moreover, its current ratio is at 0.8, implying short term difficulties in paying bills.
Last but not least, the company has burned $171 million, or 23% of its current market cap, this year only. The result of this financial deterioration can be seen in Windstream's stock price, which lost half of its value since 2011.
Concluding, I recommend shorting CSAL, or at least don't fall into its dividend trap. The company is giving no value to its shareholders. In addition, the company is hugely dependent on a troubled company with poor financial metrics. Both, CSAL and WIN, are having huge difficulties in paying their most important obligations, their interest expenses. I'm totally confident that the 9.6% dividend yield won't stay for a couple of quarters. As a result, I don't see anything holding CSAL stock than the company's latest move in entering the Latin American market.
Disclosure: I am/we are short CSAL, CCI.
I wrote this article myself, and it expresses my own opinions. I am not receiving compensation for it (other than from Seeking Alpha). I have no business relationship with any company whose stock is mentioned in this article.
Editor's Note: This article covers one or more stocks trading at less than $1 per share and/or with less than a $100 million market cap. Please be aware of the risks associated with these stocks.