Introduction
Joe HYI interpretation of the election and the new year. Since the election, expectations of new fiscal policies in business have replaced the low growth, low interest rate status-quo since the 2008 recession. The market and high yield actually started to move up after the February lows and have accelerated since the election, see Chart 1. This year will be remembered as a turning point for the market from January 2016 lows, Brexit, election upset and the second rate increase by the Fed of 0.25% in 10 years. Right up to election day and the preliminary poling results, investors were content with more of the same of low growth, low wages and the fear of higher interest rates. We were in constant fear of what the Fed would do with rates and its talking points moving the market, but after November 8th, the perception and focus have changed.
Investors are now anticipating stronger growth with lower taxes, less intrusive regulations and an administration that understands the business model. Changing investors' perception of the future is half the battle followed by results. We are living in interesting times, and the economy has been yearning for many years in breaking out of its malaise.
Interest rates have jumped and the spread between them has expanded and the market just keeps hitting new highs. The new perception of normal business conditions provides the missing link to prosperity and the optimism of better times ahead. The fear of the Fed increasing rates in December was nothing more than an incidental blimp against the possibility of growth, wage increase and finally some inflation. Can the new administration deliver? Even when changes are made to fiscal policy, it's going to take time before we see results in earnings growth and companies fighting for employees resulting in higher wages. Economic growth was the last ingredient to get this engine running again; at least that is what the market is projecting.
One Attribute I Value The Most
Patience is what I value the most in my success as an investor. Being patience allows my investments to grow and manage obstacles to improve performance. This allows me to rely less on instant gratification of price gains and trying to predict the future direction of my holdings. Patience also affords the principle of compound growth by collecting dividends and reinvesting them to grow income. Trading in and out of positions only generates trading fees for my broker and trying to guess the future direction of price is futile.
Since I have a few years under my belt building my high-yield portfolio, I can display some charts to prove my point about having patience and letting compound growth work its magic. Chart 2 in this article demonstrates this principle by reinvesting dividends back into the portfolio improving overall performance. Charts 3 and 4 demonstrate patience to improve ROI (Return On Investment) like any business when funds are allocated to improve productivity and growth.
What Is Price
Price is no more than the cost of an item that needs to be purchased or sold that is controlled by bidders. In the beginning when presented with the task of just starting to build a dividend portfolio, there is a need to purchase at a reasonable price. In any given year, at the beginning of stock accumulation, the risk is high in overpaying for a commodity. What I'm saying is you do not know the future, what is overpriced or underpriced based on the year you start. I still have stocks that are underwater in price, but the high dividends are the determining factor in achieving my overall ROI.
This year has seen the market moving up to new 52-week highs almost every week since the election. For short-term investors today's price might be high, but depending on your time frame, today's price might be a good long-term investment. As an income investor, I want to increase my income producing shares over the long term. As someone who knows what they are talking about…
"The antidote to (buying when the market is high) is for an investor to accumulate shares over a long period and never sell when the news is bad and stocks are well off their highs.", Warren Buffett.
It should be understood there is a strong possibility the purchase price at the time of accumulation might fall in price. As a new retiree, the focus should be placed on the need to build a dividend portfolio to begin replacing your paycheck. If you start at age 60, you have about six to seven years to build your income generator. You make a reasonable due-diligence assumption at the time and take action to purchase.
I was at this same frame of mind over the last few years when I started to convert my 401k to an IRA starting in 2012 and purchased at elevated prices. The stocks selected all pay dividends with some being lower in price today. As for my own portfolio, I'm still adding income generators, but wait for opportunities in price. It's the income cash flow I'm focused on and not price action.
High Yield Investing
As I suggested previously, price is just the cost of purchasing a commodity that produces a product. The product is distributable earnings as dividends and having a RIC (Regulated Investment Company) portfolio generates lots of cash. The advantage to RIC investing is no middleman trying to sell a product for income; the product is already the income.
Dividend growth investing in a corporation is similar to high-yield RIC investing, they both pay dividends with one important difference. Dividend growth companies have a dividend payout ratio anywhere between 30% and 60% and retain earnings to grow their business and pay corporate taxes. High yield companies that are registered as RICs are required to payout 90% of their earnings to the investor and the investor has the burden of taxation as ordinary income. As a dividend income investor, I would rather have my investments tax-free and receive a larger dividend typically around 9%. This allows me to have more disposable capital to reinvest and pay taxes on my own schedule from my IRA.
As a RIC investor, I cut the corporate taxation out and allow my investments to produce earnings that are paid out as cash. And since the dollar has increased against other currencies, my product has become more valuable. This provides an automatic increase in the purchasing power of my product hitting my account. In a few years I might be able to park my money in a bank and generate 2% to 3% return like the good old days, or find another high yield investment to generate more of what I need most in retirement.
50/50 Portfolio Yearly Results
Take a look at Chart 1 of this year, and notice the price acceleration? January and February of this year, it looked promising for me to add dividend stocks at low cost to build up my income cash flow. As bad luck would have it, all of a sudden, investors started to glorify high yield and started to bid-up the price to unprecedented levels in a very short time. I did some nibbling with buy-the-dips, but for the most part held back adding to positions until December. The market has been resilient for the entire year and perhaps we may get more of the same in 2017.
Chart 1 - 2016 Performance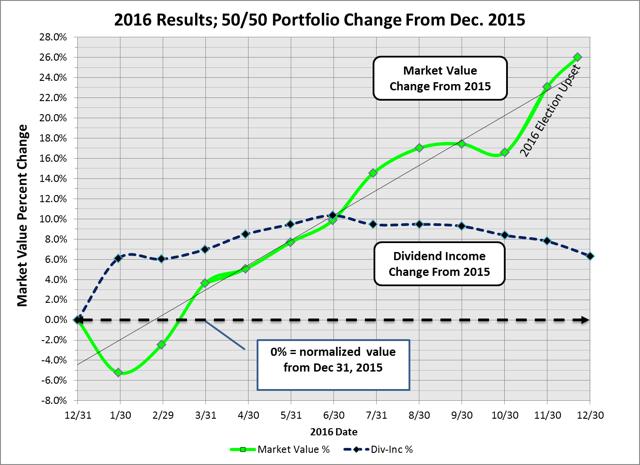 Chart 1 Price; the high yield stocks went up too far too fast with my portfolio exceeding capital gains of 25%. After the dip in January 2016, both asset classes of BDCs and mREITs took off and on a monthly basis have not seen a decline until October. Perhaps the market was getting ready for an election outcome as the news media was suggesting, and started to decline in October. Then after the election upset, the market was off to the races. Was the market telling us of an election upset all along paused only for a moment in October?
Chart 1 Income; I also included the dividend accumulation comparison from last year and this year on a monthly basis. This is cash hitting my account every month and accumulated all year. At the end of 2015, I was fully invested. This was the cause for the rapid 6% income increase comparison YOY (Year-Over-Year) in January. I slowed down purchases this year because of rapid price acceleration. The slowdown of additional purchases and some dividend cuts along the way kept my income growth rate at 6% for the year. It should be interesting to see if the 2017 year follows the same pattern since I'm trying to be fully invested by the end of the year.
Portfolio Total Investments
Recently I started to concentrate on investments that have steady or increasing dividends. During the year, I sold some over allocated mREITs and invested in seven BDCs and two mREITs that contain stable dividends. Future investments will be allocated into these new stocks using income allocation.
New investments this year:
It must be noted I'm now more focused on stocks that exhibit a dividend sustainability profile. This is one reason for expanding my 30 stock selections to 40 this year. I have sold some high-yield unstable investments and settled for consistent players in the field that have their yields more in the 8% to 9% range. This can be accomplished now that my portfolio has matured and currently generating at least 70% of my current gross employment earnings. I expect my YOC to drop since I'm accumulating lower-yield investments.
50/50 Portfolio Total Return
I typically do not include Chart 2 in articles, because I concentrate on income only. Since this has been a banner year for price appreciation in high yield, I'm including the chart for total return advocates. Price as I suggested above is just the cost of a commodity with a single intent. After the purchase, time is spent on income generation thereafter. This chart is automatically generated each month and gives me an indication of how my investments are doing relative to price and dividends (Total Return).
One of my methods is to collect all dividends and purchase new income machines that need their yearly dividends brought up to a level necessary for income allocation. Currently it is 2.5% for each stock. I have added new investments this year bringing the total stock count to 40. I will be adding shares to these new investments in the future.
As of the date on Chart 2, I'm currently running a YOC (Yield On Cost) of 9.9%. The income being generated and the current market value of the 50/50 portfolio are giving me a YAM (Yield At Market) of 10.6%. If I sold all investments, I would have a price loss of minus 6.5%. But if I add all the dividends collected for each stock, I would have a total return of positive 19.4%.
Just to show how things turned around for the 50/50 portfolio this year, the below comparison is between the end of February 2016 and the date on Chart 2L
YOC - Feb. 10%, Dec. 9.9%
YAM - Feb. 13.9%, Dec. 10.6%
TotRet - Feb. -6.3%, Dec. 19.4%
MktVal - Feb. -27.9%, Dec. -6.5%
The YOC did not change much, but the cost of new investments has increased with the YAM going from 13.9% down to 10.6% (inverse of price). The big change is the reinvestment of dividends and capital appreciation changing my Total Return from minus 6.3% to a positive 19.4%. From February to December, the total return increased to 25.7% = (19.4) - (-6.3).
Chart 2 - Portfolio Total Return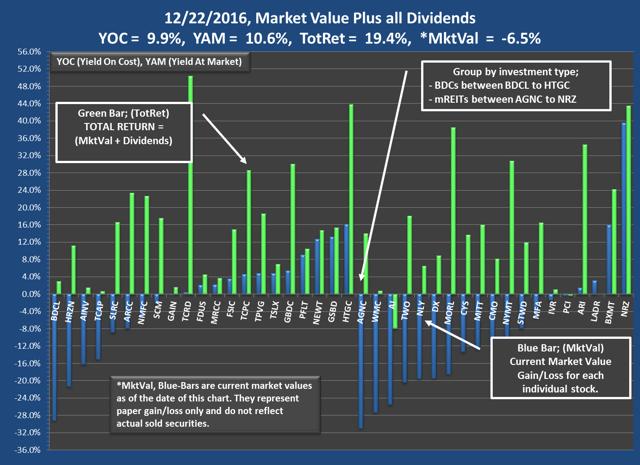 Chart 2 is displaying the price of each stock if sold, blue bars. The chart splits each asset starting with BDCs on the left side and sorting price from the most negative to positive starting with ETRACS 2X Leveraged Long Wells Fargo ETN (NYSEARCA:BDCL), blue bars. The mREITs on the right are also sorted from negative to positive starting with AGNC Investment (NASDAQ:AGNC), blue bars.
If we look at the first stock, BDCL is almost down 29%, but with dividends collected, I'm actually positive by 3%. Notice THL Credit (NASDAQ:TCRD) which is slightly positive if sold, but up over 50% in total return. TCRD was negatively affected with a dividend cut recently and sold off, but those dividends add up quickly. Even my most volatile ETNs, BDCL and UBS AG ETRACS Monthly ETN (NYSEARCA:MORL) are showing positive total return, but negative market value. Another reason for high yield; the accumulative effect on dividends are self-evident.
If I value my income portfolio according to capital appreciation, I have 16 out of 40 showing a positive gain, blue bars. If I look at total return, I have 36 out of the 40 showing a positive gain, green bars. Since this is an income portfolio, my focus is on the dividends only and not the illusion of price manipulated by a manic depressive market that values price according to emotional fear and greed. I know not to place my performance on price, but this year demonstrates a shift in sentiment toward high yield.
For the entire 2016 year, after the January and February lows, high-yield assets, both BDCs and mREITs, relentlessly kept climbing after each pullback. The dips in price are followed up with immediate purchasing of all high-yield stocks, not just a few, but all are bid back up despite the rate increase in the 10- and 30-year bonds and the Fed's 0.25% bump in December 2016.
Perhaps it's because mREITs were knocked down from the taper tantrum in 2013 and BDCs being kicked out of the Russell in 2014 that it's time to get these guys back to normal. Is it because we are seeing retirees hitting the market with their S&P 500 like portfolios converting them to income machines? Not sure, but the pace of price appreciation has indicated risk aversion has decreased in the high-yield arena. The future may bring more of the same and the cost of adding more income generators has increased.
Capital Payback, Return On Investment
I treat my portfolio like a business. When I invest new capital into an investment, I want to find out how much of my investment is returned from each stock. I know what it cost me for the investment and all I do is keep track of all dividends that are generated from each investment and subtract from cost.
Chart 3 - Return on Investment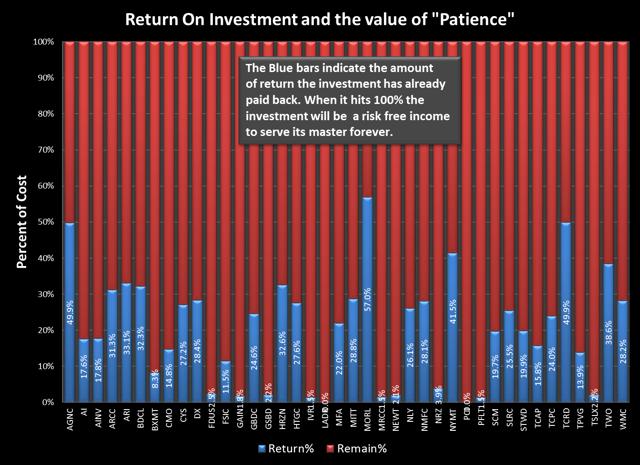 Patience is the key to ROI in a reasonable time frame using high yield as an investment. The one thing about high yield, the payback is within my lifetime, and the faster I get cash back, the faster I can reinvest the capital. Compound growth occurs faster with a reasonable return on your investment that encourages the process moving forward.
As can be seen on Chart 3, AGNC is at the 50% point despite decreasing dividends since purchasing over the years. MORL at 57% will complete the payback in over two years, and TCRD is sitting at 50% return of capital. Notice the new additions to my collection that have small blue bars, FDUS, FSIC, GSBD, etc all need their income allocation built up and to begin collecting dividends.
Being a high-yield investor, I understand price is out of my control and could not SWAN (Sleep Well at Night), always worrying when to sell to capture gains. I would rather get my initial investment back as cash than the imaginary price gains built on hopes and dreams. It's just the way I look at the market as an ordinary place to go shopping, and all of a sudden it's not this scary monster that devours its prey. It can be looked at in an intelligent way to capitalize on the emotions of others and be ready when opportunities present themselves.
ROI Years Remaining
It is one thing to watch the ROI on an investment, but it's another to figure out how long it will take to get your investment back. That's what Chart 4 displays, and this is another chart I run each month automatically.
It's simple to calculate. The first step is to subtract the dividends received from the cost of the investment. The second step is to take the remainder of the cost divided by the yearly current dividend. The year numbers above the bars are the years remaining.
Years Remaining = (Cost - All dividends Received)/Yearly dividends
Chart 4 - ROI in Years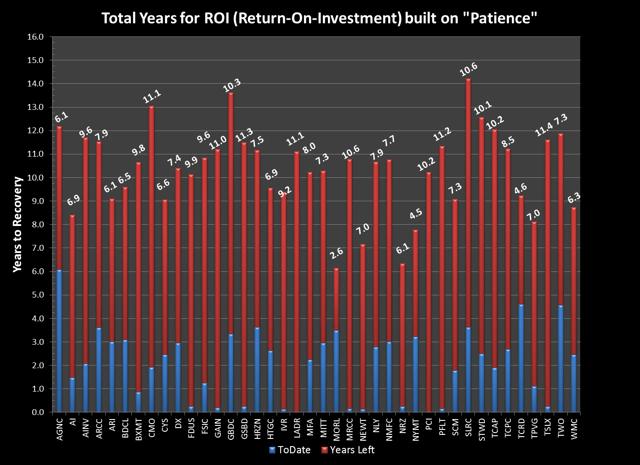 This is a fun chart to watch. Each time I collect dividends from a stock, it decreases the time left for the ROI, and getting closer to a perpetual income contributor. Like any business plan when capital is deployed to improve productivity, one of the requirements is the payback of the initial investment.
What's the point of investing in anything unless you realize a return? This is the point I'm driving home; for me, I want to make investments that have a reasonable payback time that helps me continue reinvesting surplus cash. If I continue to make this happen, I do not need to sell stock for expenses, but let compound growth work its magic.
Projected Income For 2017
Everyone is probably doing the same thing this time of year as displayed in Chart 5 below. This bar chart indicates a yearlong endeavor to increase cash flow by purchasing additional shares. I generate this bar chart directly from POT3.2 Excel tracker, but in dollar amounts. I converted the output to percentage for this article.
Chart 5 - Projected Income Stream

This is the bottom line, dividends for 2017 based on old and newly acquired investments. I have just reached my 72% gross employment earnings this year by finishing my purchase of PCI and IVR to pop them over the 2.5% income level. I do not know about you guys, but it feels great to purchase tiny machines increasing cash flow every time. This completes my shopping list for Christmas this year.
Notice what I need to work on, GSBD, TSLX, PFLT and FDUS to build them up next year. More fun finding entry points to add to my collection since I enjoy buying these guys. I guess in a way this high-yield unloved deplorable critters are the ones I seem to be attracted too.
One year ends and another one to begin. January first I begin the reset of all my parameters to measure the progress during 2017. Good luck to all in this uncertain time and may all your wishes come true. Joe HYI ;-)
Conclusion
I truly believe there are many paths that lead to the same destination. I have chosen the one less traveled as outlined in one of my previous articles.
I understand readers of this article would not touch high yield as in the 50/50 portfolio, but the message I want to get across is the method of portfolio management. In each article, I try to introduce how I see the market based on decades of observation. One thing I'm sure of; the market will always rebound as demonstrated this year. It may not feel like it during the 2000 and 2008 recessions, but look where we are now! If nothing else, a recession is the best time to put money to work. Emotionally you will feel terrible looking at your statement, but just think of the market as a store with all its cool merchandise on sale. Recessions only last about 18 months, but this is where you will get the most bang for your buck.
I started exploring dividend investing in the 2012 and 2013 time frame and did not select a method until 2014. Since 2014, I've been building my high-yield portfolio, and this is the first year I have seen any type of price appreciation. For my plan to work, I would prefer price to stay low so I can acquire more income-producing shares, but I will go with the flow and keep adding shares for now.
In this article, I included my total return Chart 2 to demonstrate that while building my high-yield portfolio during very turbulence times pays off. It takes years for cycles to start and then end and start over again. There is no good time or bad time to invest, but to just invest according to your method and let time and compound growth work their magic. It works even for this High Yield Investor, so sit back and enjoy the ride, Joe HYI ;-)
For all you POT lovers out there, I have updated the program to POT3.2 to fix the historic dividend capture for December accumulation, same link as in my previous articles. Note: The tracker was build using Microsoft Excel 2010, and the workbook may not be suitable on other platforms. The download link is a ZIP file located: Recreational POT (Portfolio Online Tracker).
Investment Disclaimer
Please note the stocks included in the 50/50 portfolio are not recommendations. They were personally selected by the author and contain a great deal of investment risk. The stocks in the portfolio are Business Development Companies (BDCs) and mortgage Real Estate Investment Trusts (mREITs). Both investment vehicles are Regulated Investment Companies (RICs) and are required to distribute at least 90 percent of taxable income as dividends to investors.
This is a live active IRA portfolio that I believe will withstand the markets' bull and bear movements based on my own research. The progress will be updated and tracked for feasibility of this investment method over the years. The article titled 50/50 Portfolio (BDCs And mREITs) Baseline 2014 details how the portfolio was constructed.
Disclosure: I am/we are long STOCKS MENTIONED IN THIS ARTICLE EXCEPT FOR MCC.
I wrote this article myself, and it expresses my own opinions. I am not receiving compensation for it (other than from Seeking Alpha). I have no business relationship with any company whose stock is mentioned in this article.