(Note: The Daily Pain is a new daily for premium subscribers of HFI Research's premium service. Pain Capital writes these dailies for us and shares with us his thoughts. The write-up was first released on 12/20, and if you are interested in reading these dailies going forward, you can sign up here.)
It's been a quiet week on the energy front as most traders unwind positions and call it for the year. OPEC news has also been quiet as of late, so there's not too much interpretation there. One thing to note is that the Syria conflict looks to be finally ending as Saudi has already pulled out and Turkey, Iran and Russia will agree on a peace deal.
Conflicts in Syria started because Saudi wanted Syria access to the Western European natural gas market. Iran and Russia, who both have skin in the natural gas, fight weren't going to easily let Saudi overthrow Assad. Saudi for the longest time had the backing of the US military, so it did whatever it wanted in the Middle East. That looks to be changing with Trump now officially as the POTUS to be.
Oil (NYSEARCA:USO) price momentum looks set for $55 by year-end with many technicians calling for $70 in 2017.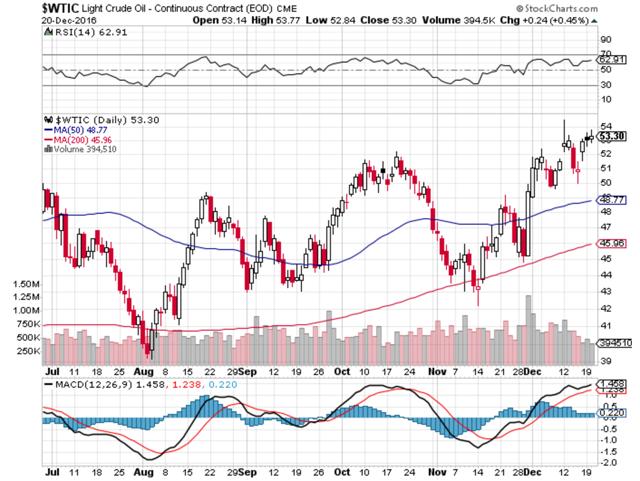 Moving onto natural gas (NYSEARCA:UNG), the sell-off today came on more bearish news as I updated this morning. The meteorologist I use pointed to possible cold occurring in mid-Jan, but the models are still far too early to tell.

That would be one hell of a cold bomb if that happens, and if you input the HDDs into a model, you would get storage draws well over -250 Bcf.
Imagine the flip-flop in the natural gas market on the back of this.
US natural gas production today averaged only 69 Bcf/d as the extreme weather has affected natural gas production. This should subside as weather returns to normal over the following days.
Now, moving onto energy ideas, I'm sure many of you have already read the Crestwood Equity Partners (NYSE:CEQP) write-up, but if you haven't, the link is here.
I've also started to look at Resolute Energy (NYSE:REN). The team compiled this valuation chart this morning: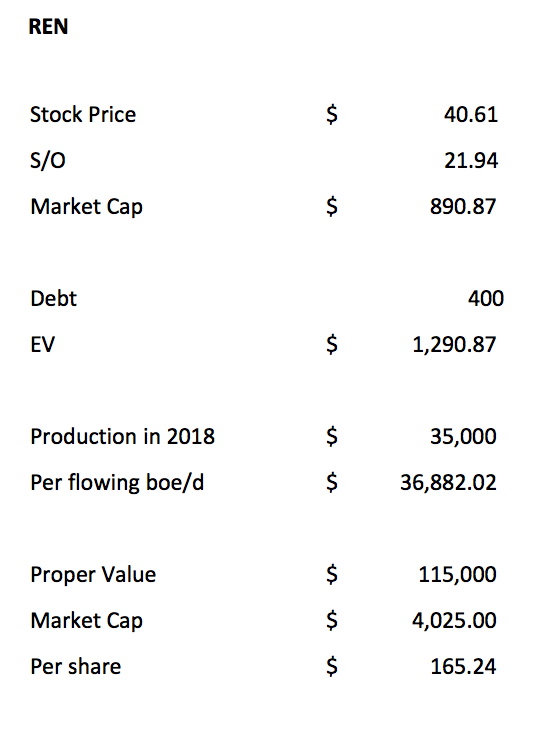 As you can see, if REN hits the production goal of 35k boe/d by 2018, at the current Permian valuation, it would trade at $165 per share. Comparing that to the current $40 per share, it goes to show how much upside is left in the stock price.
I think most investors will suffer from anchoring bias in this case as Resolute once traded for $3 per share, but the recent price rise has only taken it to pre-downturn prices.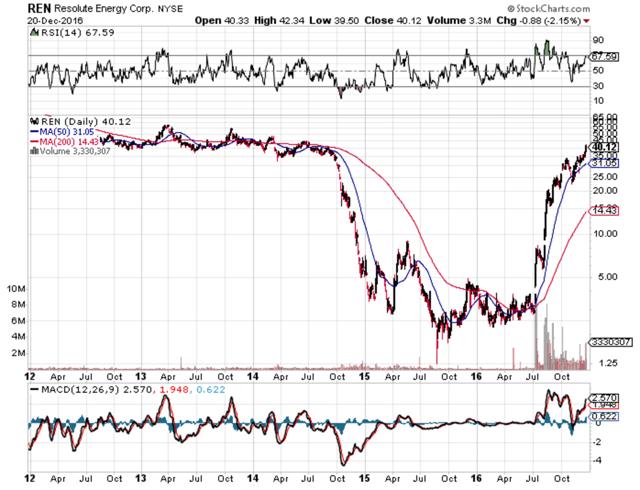 I was looking over the company's production and acreage today, and it does have a very solid land base in the Permian. Now, the laterals the company is drilling could interfere with its adjacent acreages, so I would take the company's production guidance with a grain of salt. However, I do think that an acquirer could step in in 2017 and buy the company for $100 a share.
The team is currently discussing over this, but we are all on board to taking a position. Be prepared for a trade alert on Resolute.
As for Fannie (OTCQB:FNMA), the answers to the questions will be posted later, so stay tuned on that. None of us have bought a position yet, and we are taking the wait-and-see approach. The preferred price would be $3.25, and you guys will get a real-time update on when the team takes a position.
Disclosure: I am/we are long REN.
I wrote this article myself, and it expresses my own opinions. I am not receiving compensation for it (other than from Seeking Alpha). I have no business relationship with any company whose stock is mentioned in this article.
Editor's Note: This article discusses one or more securities that do not trade on a major U.S. exchange. Please be aware of the risks associated with these stocks.