Short: Alexion

Ticker

Market cap

$27B USD

Current price

$119 USD

Target price

$<80 USD; upside risk +15-20% (~$130)

Shareholders (%)

Fidelity (10%), T. Rowe (9%), BlackRock (8%), Capital Group (7%), Vanguard (6%)
Introduction
Alexion is one of the world's largest orphan drug companies. Total sales in 2016 will be approximately $3B. Most of its revenues come from one drug, Soliris (2016 guidance $2.835-2.875B). This drug grew 10% in 3Q Y/Y. Thus, the company trades at roughly 9x current year sales.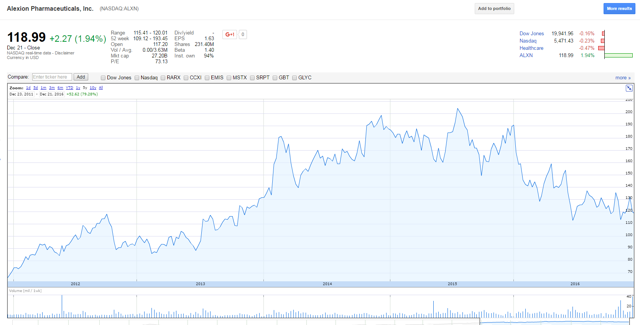 Soliris is one of the most expensive drugs in the world (>$400,000 per pt per yr). In the recent quarter, it did $729M in worldwide sales.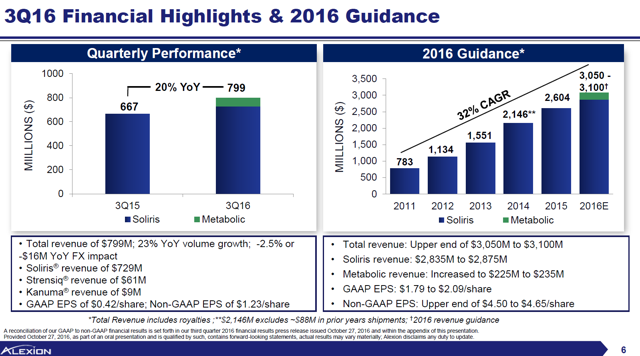 Overall, the company has underperformed this year, as concerns about biosimilars on its main product and upcoming competition have weighed heavily on the stock. The stock is down 40% YTD.
However, the short thesis is predicated on recent events...
Recent Events
1) On November 5, ALXN traded up +9% due to cancellation in a broker conference as "something came up." Investors anticipated that the company would get bought.
2) On November 9, the company did not file its 10-Q (the deadline was on that day). Management released a press release that said the non-filing of the 10-Q was due to conduction of an investigation into allegations made by a former employee with respect to the company's Soliris sales practices. Specifically, the company's Audit and Finance Committee was looking into whether personnel were engaged in sales practices that were inconsistent with company policies and procedures. At the time, the company had not identified any instances of a need to restate historical sales results. Stock traded -10%.
3) Many sell-side brokers jumped to the defense of Alexion as whistleblower investigations are not uncommon in this industry. The stock recovers somewhat.
4) On December 12, the company announced that the CEO/CFO left the company for "personal reasons" and to pursue "other opportunities". However, CNBC reported that the board lost confidence in both of them and they were forced out.
Neither the former CEO or CFO was allowed on the call nor were quoted in the press release, and there were no analyst questions allowed on the call. Also notable, the new CFO was a permanent replacement, and the new CEO was an interim CEO.
Consultant Calls
I conducted calls with two senior legal counsels at healthcare companies.
The takeaways are as follows:
1) In pharma/biotech, whistleblower investigations are not uncommon. In a Public Citizen Study, there have been 373 state and federal settlements related to pharma sales practices from 1991 to 2015 with Qui Tam cases responsible for 60% of federal cases. Qui Tam is a kind of case brought by a previous employee acting as a governmental representative. Most of these cases are resolved via settlement for an amount much less than the damages were for.
2) Investigations into "sales practices" are usually related to violations of laws like the False Claims Act or Anti-Kick Back Statutes. Often "sales practices" relate to offering incentives for doctors to prescribe drugs.
3) This is an internal investigation so far, but if the government gets involved, there will be more downside.
4) What is really striking in this case is that the CEO and CFO were removed immediately. They have never seen anything like this before. The fact that the CFO was removed tells him that something big was wrong with the accounting or recognition of sales. The fact that the CEO was removed too implicates him in at least the manner that the CEO knew about it for a while. The CEO and CFO have both been with the company for 10 years.
5) The delay in filing the 10-Q is a big deal. Generally, many whistleblower cases are disclosed in the 10-Q (recent examples include Biogen (NASDAQ:BIIB) in August 2015 and Celgene (NASDAQ:CELG) in April 2014), but they did not involve any delay in filing the 10-Q. This points to this not being a typical case.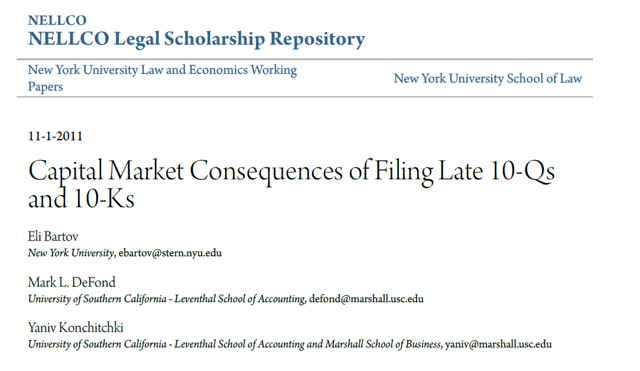 In a recent paper (2011) from USC and NYU: Capital Market Consequences of Filing Late 10-Qs and 10-Ks by Bartov et al., the takeaways were as follows:
- This was an analysis of 2,115 late filers from 2000 to 2008.
- Markets react negatively of late filing, even when management intends to file within the allowed grace period.
- Reaction is more negative for 10-Qs than late 10-Ks because 10-Qs are less onerous and unaudited, so it signals more serious problems.
- Delay in filing is more than 3x as long when accounting is the reason (41 days) compared to corporate events (13 days) or uncertain reasons (11 days).
- Accounting problems are the most frequent reason cited for delay in filing.
- Mgt is twice as likely to miss the grace period filing deadline for 10-Qs (51%) than for 10-Ks (25%).
- Stock returns for both late 10-Q and 10-K filers continue to drift downward during post-filing months (following two quarters), and this drift if less pronounced when accounting reasons underlie the delay as investors are better able to interpret valuation implications of these filings (Really?)
6) There is an ongoing Alexion Department of Justice investigation already re: the Foreign Corrupt Practices Act. Alexion received a subpoena in May 2015 from the SEC. This investigation is still in the early stages according to the 2Q16 10-Q. The FCPA is a 1977 law that prohibits bribery of foreign officials.
"In May 2015, we received a subpoena in connection with an investigation by the Enforcement Division of the U.S. Securities and Exchange Commission (SEC) requesting information related to our grant-making activities and compliance with the Foreign Corrupt Practices Act (FCPA) in various countries. In addition, in October 2015, Alexion received a request from the U.S. Department of Justice (DOJ) for the voluntary production of documents and other information pertaining to Alexion's compliance with FCPA. The SEC and DOJ also seek information related to Alexion's recalls of specific lots of Soliris and related securities disclosures. Alexion is cooperating with these investigations, which are in the early stages. At this time, Alexion is unable to predict the duration, scope or outcome of these investigations. Given the ongoing nature of these investigations, management does not currently believe a loss related to these matters is probable or that the potential magnitude of such loss or range of loss, if any, can be reasonably estimated."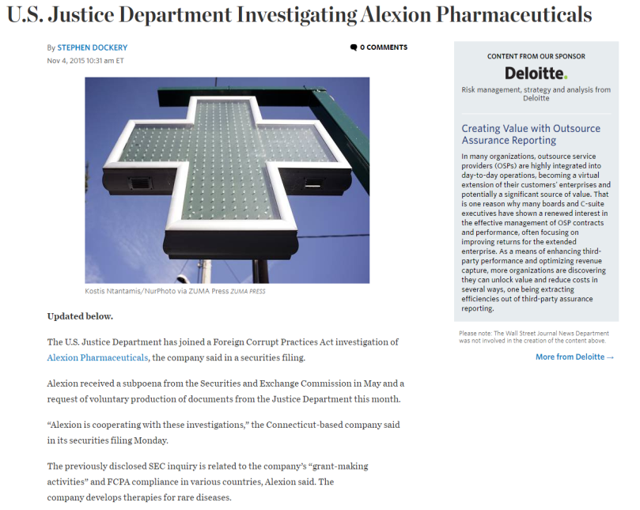 These bribery allegations outside of the US would be consistent with our hypothesis on what could be illegal kickbacks in the US.
7) The consultants hypothesize that there was widespread fraudulent activity going on involving kickbacks, and involving the off-label usage of the product. The indications on label for this product as aHUS and PNH - tiny indications. According to some studies, off-label usage can account for almost 50% of sales of Soliris (see below).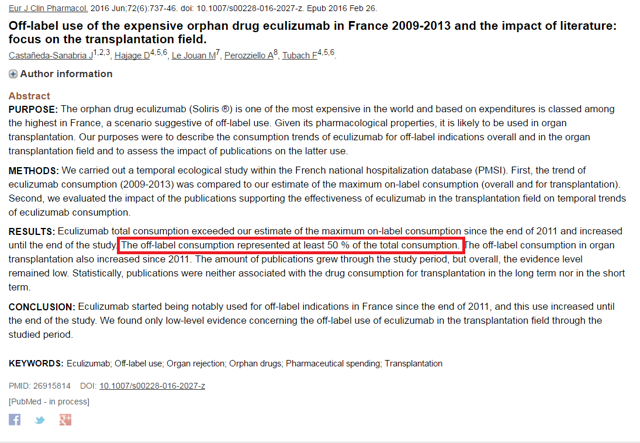 As the on-label indications are very small for this drug (and this drug is one of the most expensive in the world at >$400,000/yr), management is very incentivized to grow the addressable population.
Let's do some simple math based on historical 2015 sales. Total sales were $2.6B, mostly Soliris. The US was $951M of that. Price tag? Assume $400k. $951M/$400K = 2,400 patients treated.
Prevalence of aHUS and PNH in the US? aHUS=600 patients (2 per million), PNH=1500 (1-10 per million, let's use 5), or 2,100 total.
See the off-label usage? Even assuming 100% full penetration into the two indications, there's still significant off-label usage. And this is even using the full price tag - using a likely rebated price tag results in more patients treated. And 2016 sales numbers are even more crazy.
Valeant Example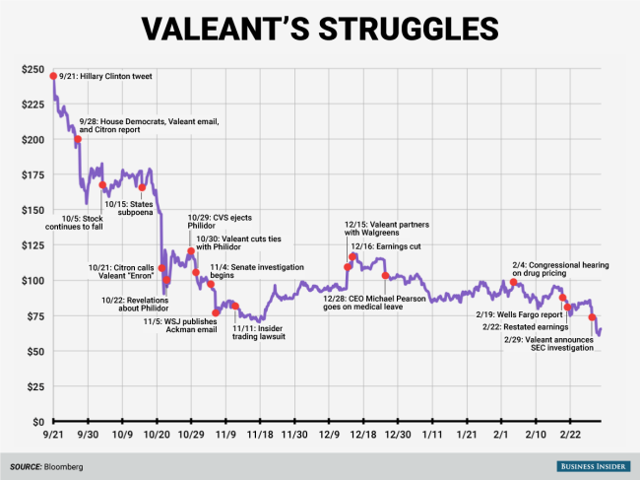 - In October 2015, Valeant (NYSE:VRX) came under intense public scrutiny for its relationship with specialty pharmacy Philidor, which was only a small percentage of sales (7%). The allegations were aggressive sales tactics under the umbrella of an improper relationship with Philidor.
- In late December 2015, Michael Pearson goes on medical leave.
- January 6, 2016 - Howard Schiller is named interim CEO.
- March 21, 2016 - The Audit and Risk Committee and Board concluded that the 2014 statements and 1Q'15 statements are no longer accurate and will start restating the 2015 10-K results to file before April 29, 2016.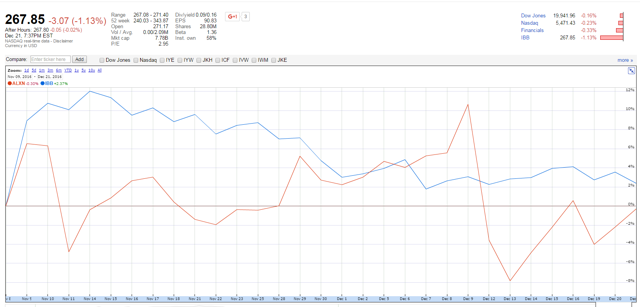 Recent Share Performance
With this, the stock has not really underperformed IBB too much since November 8, when the sales practice allegations first surfaced.
As the stock is still trading at 9x 2016 sales, we believe there is substantial downside here.
Conclusion
All in all, we believe there is much more downside here than upside. This is clearly the tip of a large iceberg. The fact that the 10-Q hasn't been filed yet (two months late), the CEO/CFO were fired, the pending overseas investigation, and the large existing off-label usage of this drug and the incentives to grow the addressable population means there is clearly much more negatives to uncover here.
In the near term, we will likely learn of what is the extent of the corrupt sales practices, which could at the very best result in a sizeable fine, but at the very worst, amount to a large-scale government investigation, restatement of historical results, and lowered financial outlooks going forward.
Catalysts
The next steps are the filing of the 10-Q by January 17. The key things to look for here are:
1) Any government involvement would be a big negative (Department of Justice).
2) Potential for restatement of historical revenues (this would be exceedingly negative).
3) Lowered future sales outlook.
4) There are very few upside catalysts in the near term.
Valuation
Alexion current trades at 16.5x 2018 P/E. The valuation suggests there is still much to go here. Comparable peers trade at: Celgene (13x), Regeneron (NASDAQ:REGN) (20x), Shire (NASDAQ:SHPG) (9x), and Actelion (OTCPK:ALIOY) (23x).
Risks
Speedy resolution of the allegations.
Disclosure: I am/we are short ALXN.
I wrote this article myself, and it expresses my own opinions. I am not receiving compensation for it (other than from Seeking Alpha). I have no business relationship with any company whose stock is mentioned in this article.