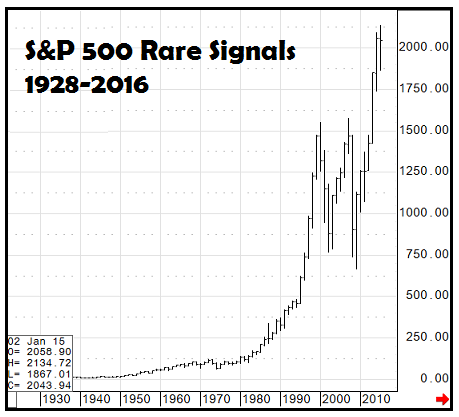 Another Piece Of Long-Term Evidence
In recent months, several pieces of longer-term bullish evidence have surfaced, including a signal that has only occurred ten other times in the last 35 years, a clear and factual message about stocks (NYSEARCA:SPY), a reliable contrarian indicator, weekly charts (1982-2016) painting a bullish picture, and a rare reading from a trend-strength indicator.
Signals Assist With Probabilities
No indicator, signal or piece of evidence can predict a highly uncertain future. They simply provide some insight into the probability of good things happening relative to the probability of bad things happening, which implies bad things are always on the list of possible market outcomes.
Rare Secular Stock Market Signal
This week's stock market (NYSEARCA:VTI) video focuses on a very rare secular signal that has only occurred one other time since 1928.


Small Sample Size
It should be noted the video above covers events with a very small sample size, meaning relying on this evidence in isolation is probably not wise. Therefore, our focus, as always, is on the weight of the evidence.
No Forecasting
Our purpose is not to forecast, but rather to understand the facts we have in hand. If the facts change in a bearish manner, which may very well be the case, flexibility will prove to be valuable. It should be noted the first link in this article goes to evidence that was presented on August 20. Since then, despite many dire forecasts on Wall Street, the S&P 500 has gained over 4%.
Disclosure: I am/we are long SPY, VTI.
I wrote this article myself, and it expresses my own opinions. I am not receiving compensation for it. I have no business relationship with any company whose stock is mentioned in this article.