My Victory Formation system has flashed a strong buy signal and strong sell signal for Amgen (NASDAQ:AMGN) in the last few months. If that's not confusing enough, consider this roller coaster of emotions. The stock price sold off hard on a decent earnings and guidance report; then rallied on hopes the Trump election would mean a hands-off economic approach by the U.S. government for pharmaceuticals next year vs. expectations of Clinton doing the opposite; then tanked when Trump said prescription drug prices are too high in a Time magazine article.
This double signal has only taken place several times in 2016 on other equities. Usually, the second signal proves to be correct. In Amgen's case, I am less sure of downside direction since it retains strong underlying value and a huge net working capital position (mostly cash) of $35 billion vs. today's $108 billion stock market capitalization. The chart below pinpoints when my system suggested an investor place a trade: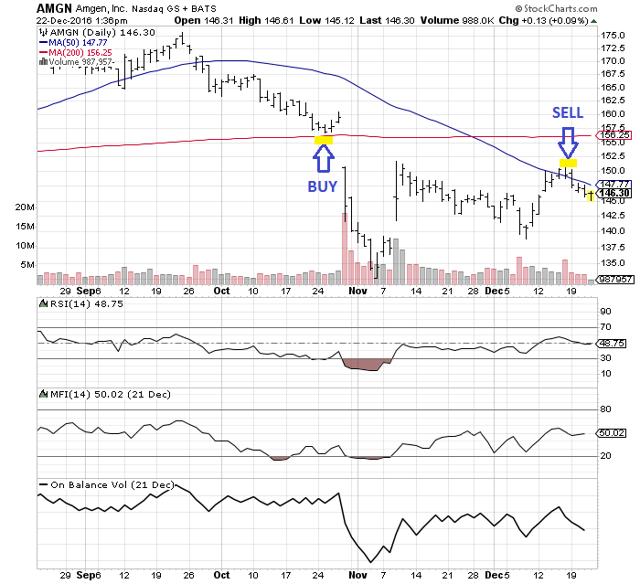 Purchase same strike price put and call options
What is an investor to do? Here is my crazy idea - buy and sell Amgen at the same time through a straddle option strategy. Basically, purchasing June $145 strike price, call and put options at the same time for about $10 each, costs about $20 before commissions on the current $146 Amgen share price. An investor in such wouldn't care if Amgen trades straight up or straight down, as long as it outlines a sharp price change outcome.
The bummer or downside would be flat Amgen trading action the next six months. You would lose most all your invested capital, if held to expiration. However, a small $10 move in either direction gets you half your money back in six months. A $20 move in either direction gets you to break-even. You pocket a solid gain on a $30 or $40 move in either direction. Or you could sell the big gainer of the two on the first move in either direction of $10-20, then pray for a reversal to make money on the other. Plenty of avenues to earn a profit exist as long as the stock price moves like it has in the fourth quarter of 2016.
The 7% time premium for each option is on the lower end of the 4-15% price spectrum for similar time purchases on other individual stocks. The logic behind this straddle strategy is Amgen will be more volatile in price swings the next six months than its recent low volatility track record. My only caveat for speculators is you must be willing to cut losses and/or lock-in gains on one or the other options in the coming 2-3 months to limit your overall downside. In my opinion, holding both to expiration in June is the hardest way to execute such a transaction successfully.
For example, a rapid $20 move in Amgen in either direction seems possible. Either a buyout proposal for the company by another large drug manufacturer (greater odds), or a Trump patented-drug price fixing bombshell announcement that smashes investor confidence in the sector, or both, could create wild swings for the stock. A $20 per share Amgen price fluctuation into February would likely give straddle speculators a net gain on the two options combined in the 30% to 40% range. Taking such a gain would likely be the best choice, before time decay eats away at your profits.
Amgen's long-term performance
A bubble like five-year period for biotechs ended in 2015. Amgen's performance lagged the sector boom. You can review below how its stock price has underperformed competitors in the iShares Nasdaq Biotechnology ETF (NASDAQ:IBB) and the higher-growth Nasdaq Composite in general the past 10 years. Still, Amgen has gained extra shareholder worth vs. the S&P 500 or Russell 2000 indices the last decade. Since starting a dividend in 2011, Amgen has risen +200% in price with a refocus on financial discipline and operating growth.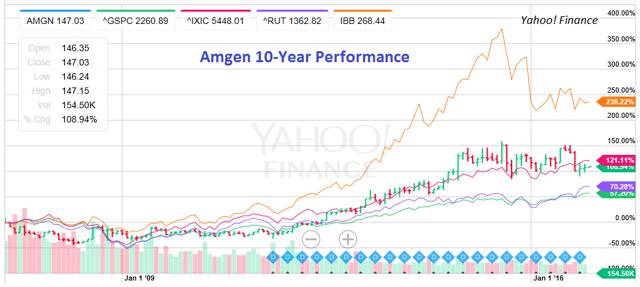 Current value proposition
The company has a better than typical valuation profile today in the biotechnology sector, as smaller competitors have been chased higher in price by investors year after year. While trading near its 10-year average price to trailing book value multiple of 3x and annual cash flow generation of 11x, Amgen's 3.2% dividend yield today is the highest on record. The upside catalyst is its large cash holdings, in my opinion. At $146 per share, investors are getting about $50 in cash backing for each unit on the balance sheet ($38 billion in cash and short-term investments ending the September 2016 quarter).
When you subtract out Amgen's massive cash position not necessary to run the business day to day (or net working capital of $44 a share, double the 2013 level and 5x the 2007 number), the $100 leftover price for the operating business looks super cheap. In a takeover or business combination situation, a buyer could pocket the cash (earning little profit for shareholders near zero for interest rates) and purchase the operating assets for less than 7x cash flow and 8x earnings per share estimated for 2017 by Wall Street consensus. I know Amgen's drug pipeline and growth prospects look cloudy. But if you dissect the schedule of drugs leaving patent and related competition coming, a takeover by another large pharmaceutical right now basically nets out to getting Amgen's future drug pipeline for next to nothing.
Why not just buy calls?
Trump is the answer. President-elect Trump has a long history siding with many Democratic party initiatives and thinking about government meddling. Whether it's his wish to impose tariffs on overseas produced goods coming to America, controlling immigration more tightly, or wanting to cut back on U.S. government military "contracted" spending on equipment, an investor needs to seriously question Trump's belief in free markets, civil liberties and the basic rationing of goods and services in our capitalist economy by everyday consumers. It's not a stretch to believe Trump will intervene dramatically in U.S. healthcare next year (or attempt to do so). "The" area of spending growth projected to balloon Washington deficits far into the future, presidents for decades have grappled with medical advances costing extra and the aging demographics of baby boomers demanding more healthcare overall.
Conclusion
So we have two diametrically opposed forces about to hit Amgen. 1) Amgen has strong upside, all else being equal, from its undervaluation position in the biotech industry and may be a takeover target. 2) The odds of Trump enforcing his will on healthcare spending, especially through prescription drug price fixing, seem to be high and rising. Wouldn't it make sense logically to be prepared for both in 2017 as an Amgen investor? A straddle option strategy with limited volatility and time premium priced in upfront could be an idea to consider. The next best strategy in Amgen might be to own shares long and purchase slightly out-of-the-money put options as Trump protection. The problem with such is you are admitting defeat at the start, willing to lose your put premium in a flat to rising Amgen price situation. Why not just sell your shares and find a different sector to invest your dollars, with better risk/reward odds? As always do your own research and risk appraisal before investing in Amgen or any other security.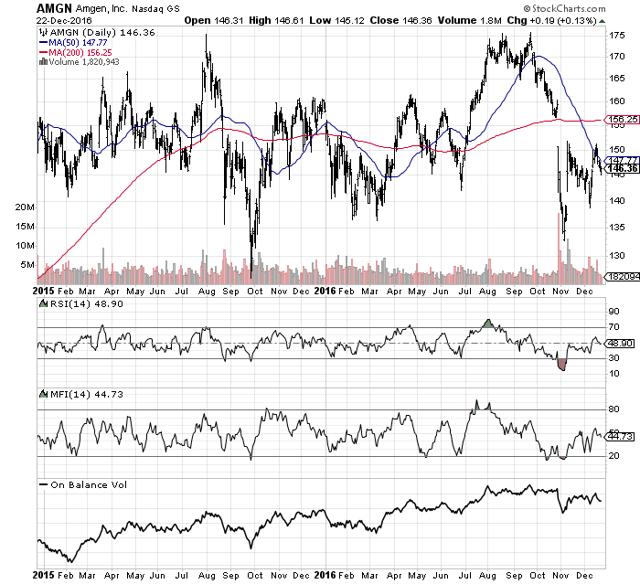 Disclosure: I/we have no positions in any stocks mentioned, and no plans to initiate any positions within the next 72 hours.
I wrote this article myself, and it expresses my own opinions. I am not receiving compensation for it (other than from Seeking Alpha). I have no business relationship with any company whose stock is mentioned in this article.