At first glance investors may be confounded by Shake Shack's (NYSE: SHAK) earnings multiple of 86.67, leaving observers in awe over how a burger company can be trading as if it has an economic moat the size of Nvidia's or Amazon's. Investors on this very site have even cited Shake Shack's valuation as reason to dismiss the stock, pointing to a valuation that is nearly three times the size of other high-performing restaurant stocks.
While these investors are correct in their assertions that the valuation is comparatively high, what's really important is whether or not it is justified. For one, comparing the company's valuation to the restaurant sector in general without adjusting for differences in expected growth is an exercise in ignoring the differences in growth stages between companies. The real question is not "is Shake Shack's valuation justified compared to other restaurants?" but rather "is Shake Shack's valuation justified by underlying growth rates?"
Consider as an example Domino's Pizza (NYSE: DPZ), the pizza chain which has seen its stock soar almost 400% over the past five years. Currently trading at just over 40 times earnings, Domino's grew top-line revenue 16.9% last quarter by expanding its store count 7% and posting a same store sales increase of 13%. Despite the proliferation in dough being spun at the chain it remains a terrible benchmark comparison for Shake Shack for all purposes other than setting a valuation floor because of the stark difference in store count growth rate.
This is because Shake Shack grew domestic company operated store count by over 43% year-over-year and management forecasted store count to grow another 35% in 2017. Over time, management says domestic company operated units can increase to 450 units, a 676% increase from current levels. As the below chart shows, these growth rates are unprecedented, making a comparison to even industry-leading Domino's flawed:

Data Source: Multiple Company Filings
These rapid store count growth rates demonstrate that Shake Shack is in an entirely different stage than its competitors. It is therefore fruitless to judge Shake Shack's valuation against companies that are twenty years further in their life cycles without adjusting for expected growth; those turned off by the valuation it must simply be a matter of investing style and a bias towards companies later in their growth stages.
Looking for companies with lower valuations consequently equates to looking for companies that are later in their growth stages. Just as an investor would not evaluate a start-up on the same growth multiples as an industry leader, an investor should not use companies who have been public for decades as comparison for the recently-debuted Shake Shack. With 676% growth for domestic company operated stores possible Shake Shack has a long way to go before it matures to a level warranting an earnings multiple in the 20-40 range (assuming it maintains its Restaurant level margin of 28.8% going forward).
When the above growth data is charted against P/E ratios a discernible pattern appears: valuation moves in tandem with growth rates. This should not come as groundbreaking news, but it should reveal to Shake Shack bears that the valuation indeed makes sense.
Compared to a group of peers in various stages of growth Shake Shack's valuation is in fact the lowest when divided by store count growth rate. For each percentage of store count growth rate Shake Shack is trading at two times earnings (derived by dividing 43% into a P/E of 86.67); Starbucks (NASDAQ: SBUX) and Wingstop are the only competitors who come close in this area, each trading at 3.35 times earnings for each percentage of store count growth rate. I noted earlier that the correct question to be asking is "is Shake Shack's valuation justified by underlying growth rates" and when considering that the company has room for store openings well in excess of all peers the valuation seems justified indeed.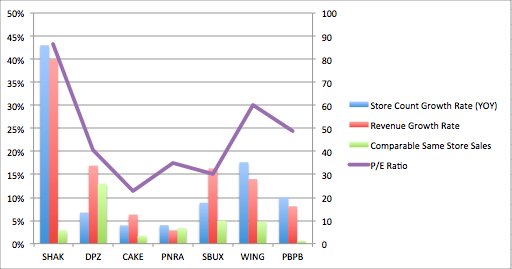 Still, issuing a verdict without considering the other argument central to bears' depositions would be premature. Bears are quick to point out a comparable same store sales growth rate that lags nearly all the competitors in the chart above: How can Shake Shack's valuation make sense if it lags just about everybody in a metric crucial to the restaurant industry?
Such a question again ignores the paradigms governing Shake Shack as a result of the company's stage of growth. Besides the fact that the 2.9% comp sales rate is stacked on top of 17.1% from a year earlier, comp sales are simply not where the growth is expected to come from for Shake Shack at this point in time. Whereas peers rely on introducing new menu items, clever promotions, or price increases to draw in new traffic and create growth, Shake Shack is relying on adding locations at extraordinarily high rates to fuel earnings and revenue growth.
What's more is that Shake Shack's same-store sales base is relying on fairly new locations that saw extremely strong traffic in their opening years, making growth harder -- if not nearly impossible -- to achieve. The brand's power creates long lines from the moment a new shack opens (as depicted below), meaning comparable same store sales even slightly positive still suggest very strong operating performance.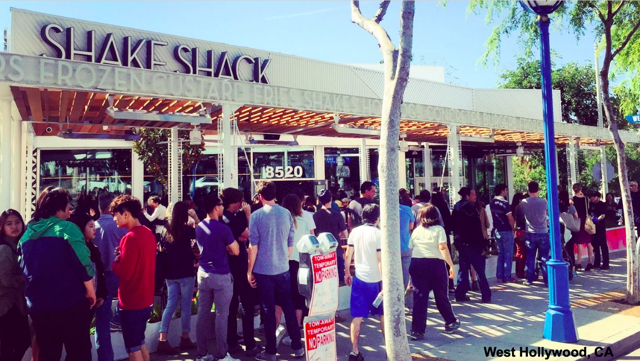 Source: June 2016 Company Presentation
Management articulated this early-success leading to tough comp bases phenomenon in the recent earnings call, saying "so there is a brand power that Shake Shack brings. We always start really big, as we have talked about a lot on these calls. We generally, in the new market launches, see a dip in year two. And then that generally grows back at a low single-digit comp in year three." This ability to generate unrivaled traffic from the moment doors open is a strength that should excite investors because it shows the company should have great success as it opens hundreds of new shacks.
Given that the valuation is supported by both a robust ability to open new stores successfully and room for hundreds of new stores, Shake Shack can be a strong portfolio fit for investors looking for unequaled growth rates. But for investors looking for cash-returning restaurant stocks that are growing at a slower but proven pace, Shake Shack is not the right stock. In this regard, it all depends on an investor's personal philosophy and appetite for growth.
Addressing those who are baffled about the company's success in opening new stores remains the last piece to the Shake Shack puzzle. Sure, there's Five Guys, McDonald's, In-N-Out, Burger King, and countless other burger companies that are supposed to make it hard to compete and achieve the success that Shake Shack does. Shake Shack competes by carving out its own market segment, one that loves to devour a great burger, shake, hot dog, or chicken sandwich without the stigma that fast food carries. Shake Shack names this segment "fine casual" and serves it by providing antibiotic-free cage-free chicken and 100% all-natural, hormone and antibiotic-free Angus beef. The company's beloved crinkle-cut fries come from "premium Yukon potatoes and are prepared 100% free of artificial trans-fat," another move that assuages fresh-eating fears.
Shake Shack has provided millennials with a destination in ways similar to how Starbucks offered its stores as a third-place, creating an atmosphere that transcends the food offered. By being located primarily in big cities and offering items as unique as dog treats, Shake Shack is a place for people visiting a big city to add on their list of must-visit places. The company adds further value with its combination of fresh, appealing menu items that differs from other burger chains does not leave consumers feeling as if they just digested an unhealthy meal on their way out the door.
This is how a burger company creates an economic moat. Shake Shack has balanced great taste with mindfulness of consumer evolution in a way that creates unparalleled lines and room for years of store count, revenue, and earnings growth.
Disclosure: I/we have no positions in any stocks mentioned, and no plans to initiate any positions within the next 72 hours.
I wrote this article myself, and it expresses my own opinions. I am not receiving compensation for it (other than from Seeking Alpha). I have no business relationship with any company whose stock is mentioned in this article.