Brazilian oil giant Petrobras (NYSE:PBR) remained focused on reducing its cost base when oil prices were going south. But, the good part is that the price of the commodity is now picking up pace, with Brent crude now consistently trading above $55 per barrel after the production curtailment decision by the OPEC and non-OPEC countries.
This is great news for Petrobras investors since the company's low costs will now allow it to take the advantage of higher oil pricing and deliver stronger earnings growth going forward. In turn, this will result in more upside for Petrobras investors. Let me explain how.
Petrobras' cost reductions will lead to earnings growth
Petrobras has been enhancing its production from assets that have a low cost base. The company is doing this by developing wells that have higher productivity and can be constructed in smaller time frames. For instance, in the Santos Basin, Petrobras' well productivity has increased 30% in the past six years, but at the same time, the company now needs 25% less wells to achieve full productivity in this area.
Due to such efforts undertaken by Petrobras, the company has managed to bring down its operating costs impressively over the past couple of years. For instance, in 2016, Petrobras' lifting costs are expected to come in at $11 per barrel of oil equivalent, down almost 25% from 2014 levels. More importantly, from 2017 to 2021, Petrobras expects its lifting costs to decline another 13%. This is shown below: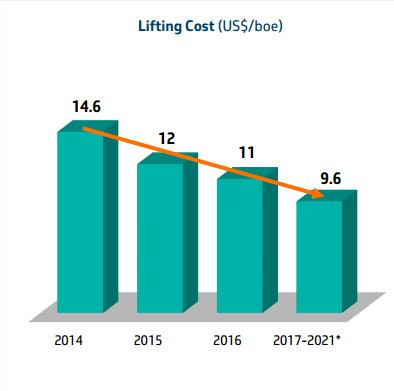 Source: Petrobras
Additionally, apart from the reduction in operating costs, Petrobras will also be lowering its capital expenses substantially in the long run. More specifically, according to its latest business management plan, Petrobras' total capital outlay over 2017-2021 is set to decline to $74.1 billion, a reduction of 25% as compared to the plan for 2015-2019. Thus, a combination of lower capital and operating costs will prove to be a tailwind for Petrobras going forward, especially because the company will be able to enhance output despite lowering its cost base.
More specifically, as a result of its enhanced production, which is expected to rise 30% from 2017 to 2021, Petrobras will be able to improve the return profile of its portfolio. In fact, as shown in the chart given below, Petrobras has shifted a substantial amount of its production toward lower risk, higher return assets, which will enable it to take advantage of an improvement in oil prices: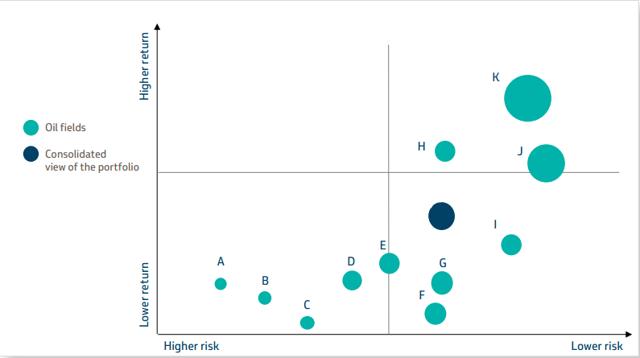 Source: Petrobras
Moreover, Petrobras' move of shifting production to assets with a lower cost base is having a positive impact on the margins. In the third quarter, for instance, Petrobras' gross profit margin stood at 33% as compared to 29% in the year-ago period. Also, in the first nine months of the year, Petrobras' gross margin has increased by 2 percentage points from the prior-year period.
This improvement in the gross margin has been achieved despite a drop in both the domestic and international sales price of crude oil and natural gas. So, the strategy of shifting Petrobras' production to assets with higher returns and low costs is paying dividends, and the picture should continue to get better as the pricing environment improves.
Impact of stronger margins on the earnings and stock price
Last year, Petrobras had posted a loss of $1.60 per share. But, over the coming years, Petrobras' bottom line is expected to deliver rapid growth. For instance, in 2016, Petrobras is expected to deliver earnings of $0.03 per share, which will eventually increase to $1.00 in 2018. So, in the next couple of years, Petrobras is on track to improve its bottom line significantly.
Now, Petrobras currently has a forward P/E ratio of 19.56 for 2017, when its earnings are expected to grow to $0.52 per share. Hence, if Petrobras is able to keep this forward P/E ratio constant going into 2018, its share price will go up to around $19.00 approximately as earnings will grow to $1.00. This indicates that the company will witness massive upside in its stock price in the next two years as compared to current levels of around $10 per share.
Conclusion
Petrobras has been in fine form on the market this year, rising more than 130%. The good news is that the company's strong run looks sustainable in the next couple of years as well as the discussion above indicates. So, despite delivering robust upside in 2016, Petrobras still remains a buy going forward.
Disclosure: I/we have no positions in any stocks mentioned, and no plans to initiate any positions within the next 72 hours.
I wrote this article myself, and it expresses my own opinions. I am not receiving compensation for it (other than from Seeking Alpha). I have no business relationship with any company whose stock is mentioned in this article.