With the election of Donald Trump and the Republican Party controlling both the House and the Senate, defense contractors are likely to continue to outperform the market. For the last ten years, the S&P Aerospace and Defense Select Index has outperformed the S&P 500 by more than 6% annually. With an increasing unstable geopolitical situation and the likelihood that the sequester spending caps will be removed for the defense budget as the Republicans control the White House and Congress, I believe defense stocks will continue to outperform the overall equity market in 2017. My top three defense stocks for the year are Lockheed Martin (NYSE:LMT), Northrop Grumman (NYSE:NOC), and Raytheon (NYSE:RTN) as all three will benefit from increased military spending.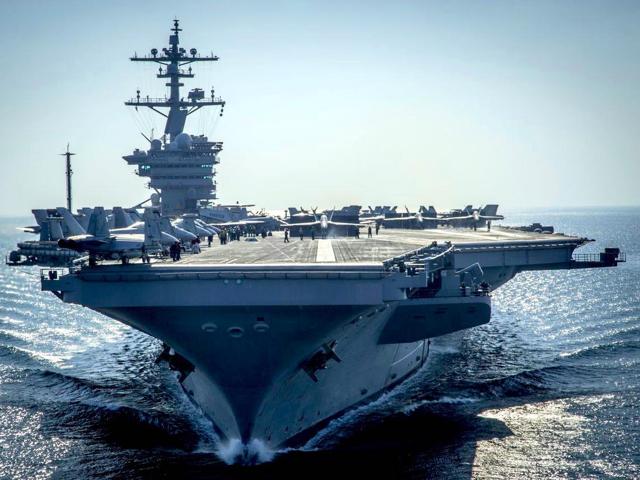 Source: Businessinsider.com
Unstable Geopolitical Environment
The rise of conflicts involving non-state actors has created an environment that is more unpredictable than the bygone days of the Cold War. While the bipolar dynamic of tensions between the Soviet Union and the United States were potentially devastating given the vast nuclear arsenals involved, today's geopolitical climate is filled with threats of terrorism, cyber attacks, and various regional conflicts worldwide. To combat this, the Pentagon has been maintaining its focus on preparing to fight nation states, while also preparing for new threats like cyber attacks. Larger defense companies have the potential to benefit from increased spending on traditional platforms like manned fighter aircraft, while also benefiting from emerging fields like cyber security.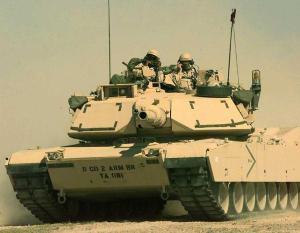 Source: Dailytech.com
Defense Spending Caps May Be Reversed
In 2011, as a political compromise, Congress agreed to enact spending controls on both social programs and the Pentagon. President-elect Trump and the Republican controlled Congress will likely move to abolish the Budget Control Act of 2011 as it relates to defense expenditures and loosen the fiscal shackles on the Pentagon going forward. Without the imposed budget caps, each service branch will receive more funds to spend on the acquisition and development of new and existing weapon systems and platforms, which in turn, will directly benefit stocks like LMT, NOC, and RTN.
Lockheed Martin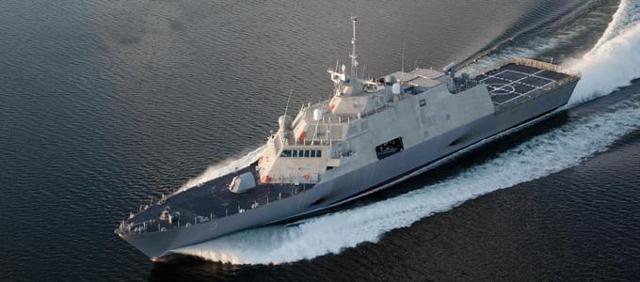 Source: Military.com
Lockheed Martin, the world's largest defense company and manufacturer of the military's 5th generation fighter, the F-35, has rewarded investors with an annualized total return of 13.21% since 2001. Lockheed Martin is diversified company with four business divisions: aeronautics, missiles and fire controls, rotary and mission systems, and space systems. President-elect Donald Trump said the Navy needs to work towards a goal of 350 ships, up from the 272 active vessels the Navy currently operates. I anticipate many of these new ships will be Littoral Combat Ships, or LCSs. According to the Navy's website, the LCSs are designed to mainly operate in coastal and littoral waters. With seven LCSs built and several more under construction, the Navy has already made a significant investment in Lockheed Martin's Freedom-class LCS and I expect LMT to be awarded additional contracts going forward. Each Freedom-class LCS costs $358 million and incorporates state-of-the-art technologies like the MQ-8 Fire Scout, an unmanned helicopter manufactured by Northrop Grumman. On the aeronautical side, LMT's move to acquire Sikorsky from United Technologies (NYSE:UTX) in 2015 for $9 billion has made Lockheed a leading manufacturer in military helicopters. From a valuation standpoint, LMT has a PE ratio of 21, which is a relative premium compared to its competitors (NOC and RTN have PEs of 20 and 19 respectively). Currently, Lockheed has a dividend yield 2.92% and a low payout ratio of just 38%. I own LMT in my Dividends Forever! Portfolio and will add to my position if the stock falls to 240. With Donald Trump's recent tweet criticizing the F-35 program's costs, LMT may hit my buy point soon. In any case, the Pentagon (along with several foreign militaries) has already invested billions of dollars in the program so I am not overly concerned about Trump's tweet. According Lockheed's website, the F-35's components are manufactured in 45 different states, which gives the firm a huge advantage with Congressional support as the program has created thousands of jobs.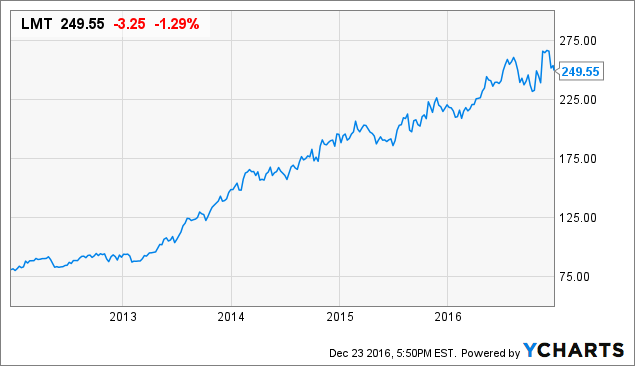 Northrop Grumman

Source: Northropgrumman.com
Northrop Grumman, known for its legacy aircraft like the B-2 Spirit bomber and the C-2 Greyhound, is another stock that is likely to have a great 2017. According to the company's website, NOC's business is comprised of five divisions: cyber, logistics, autonomous systems, C4ISR (process of getting key information into the hands of decision makers), and strike. NOC is poised to benefit from the increased defense contracts related to cyber security and net-centric warfare. While Lockheed is dominant in manned aviation, Northrop leads the defense industry in the information systems and cyber field. NOC earnings are expected to grow 9% over the next five years and the stock is current trading at a PE of just under 20. The company's stock has actually outperformed LMT over the last 10 years with an annualized total return of 14.5% vs. LMT's 12.27%. Northrop Grumman has a dividend yield of 1.55% and a low payout ratio of just 28.8%. I recommend buying NOC if it pulls back to the 220s.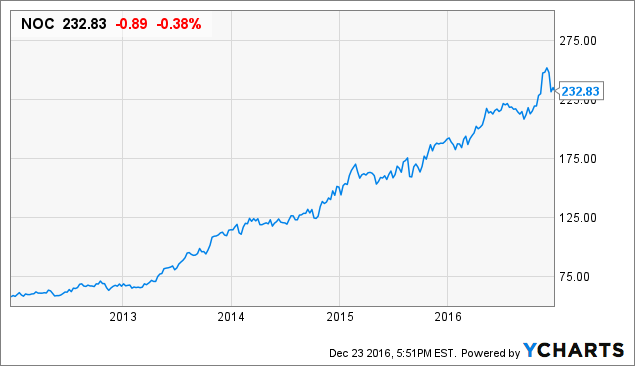 Raytheon
Raytheon is another defense contractor that is a top pick for 2017. RTN is a premier player in missile defense, most notably for the Phalanx Close-In Weapon System, or CIWS, and the Patriot Missile Defense System. The CIWS is the last line of defense against incoming missiles for most U.S. Navy ships as its chain-gun is capable of firing several thousand rounds per minute. RTN also manufactures various sensors and components for different weapon systems across the military. In terms of valuation, the stock is fairly priced with a PE of 19 and the company is expected to grow earnings 7% annually for the next five years. The company has a dividend of 2.04%, but its payout ratio is 38% so there is certainly room for management to boost the dividend going forward.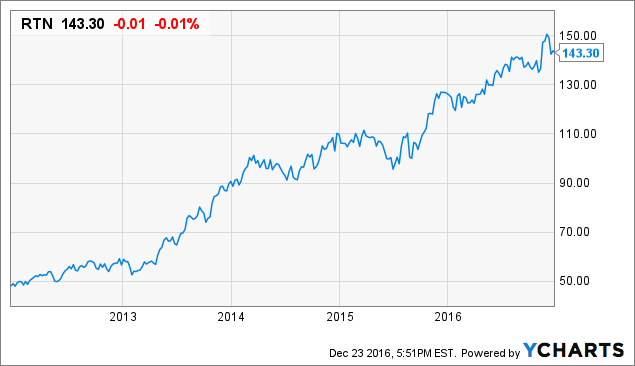 Summary
With the current geopolitical environment across the world and the Republicans controlling the White House and both chambers of Congress (something that has not happened since the Hoover administration), I think defense stocks will continue to outperform in 2017. The sequester budget caps are likely to be lifted under the incoming Trump administration and I don't think investors should pay much attention to the President-elect's Twitter (NYSE:TWTR) account with regards to specific programs like the F-35. While I don't pretend to have a crystal ball, I think the conditions are right for defense to continue its historical outperformance in 2017.
Disclosure: I am/we are long LMT.
I wrote this article myself, and it expresses my own opinions. I am not receiving compensation for it (other than from Seeking Alpha). I have no business relationship with any company whose stock is mentioned in this article.