While there are still a few trading days left till the year-end, the odds are that 2016 will be recorded as a good year for my long/short equity portfolio. Below is a snapshot of my key holdings as of today.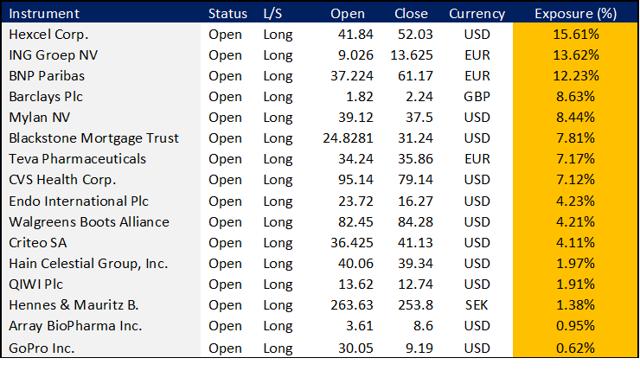 The snapshot from my trading account below also summarizes the annual returns; 54.9% up on a time weighted basis and 42.97% on a total return basis.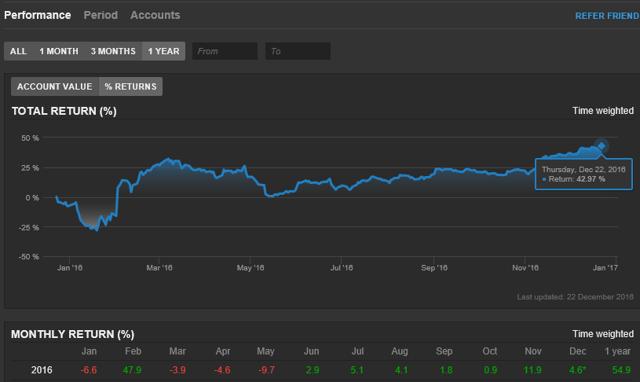 As can be seen, my portfolio's outperformance versus the S&P and most investment professionals can be attributed to a spectacular return recorded in February and the modest but consistent positive returns from June onwards. Drilling down to standalone performance would also reveal that my conviction buys were the ones that performed the best. My biggest bets, therefore, focused on the single names that I felt more comfortable with. I was, therefore, happy to keep the eggs in one basket but make sure that I hold the basket well.
Long live Michael Kors...
During a period of heavy hemorrhage for most of portfolios, I was fortunate enough to have a concentrated and leveraged bet on Michael Kors (KORS). While I don't pretend to be an expert in ladies handbags, I do know a thing or two when it comes to reading a balance sheet, profit and loss, and cash flow statement. I also did not fail to notice the increasing number of passerby carrying their stuff with pride (I live in Europe where the brand was still gaining in popularity). Due to market fears of brand erosion and decelerating growth rates, I initiated a large long position, buying half of its shares with cash and the other half on margin via contracts for difference.
The company had no debt, generated lots of net cash from operations and more revenues/profits than when its valuation was double. It also had several new avenues for growth, including Europe, Asia, Menswear and other product categories such as shoes. The catalyst for the stock was the good operating performance during the holiday period which alleviated some of the market's concerns. I fully exited the position with a hefty profit on a price level where I considered the stock to be approaching its intrinsic value. While I have yet to open a new position, the recent pullback has put Michael Kors back on my investment radar and I will be tempted to pull the trigger if it falls below $40.
The two horsemen of the Brexit Apocalypse: ING and BNP Paribas
I can proudly confess that when it comes to investing, my philosophy and emotional discipline heavily borrows from Ben Graham, Warren Buffett and Peter Lynch. Risking to sound heretic, I would also admit that the latter's teachings have influenced my roadmap for taking investment decisions more than the former two. There is, however, a lot of common ground in the thought process of these great investment minds. The roadmap they propose guided me towards buying small stakes in wonderful companies that I understand and fall within my circle of competence.
A qualitative overlay that primarily centers around an evaluation of the long-term fundamentals of the companies also plays an important role. I'm also on the lookout for companies that trade at a significant discount to what I consider to be their intrinsic value. With so much analytical power and investment competition out there, I have come to the conclusion that there are two ways that this can be best achieved. The first one is by buying at a time of market panic when investment competitors capitulate and weak hands will eagerly surrender their stocks at depressed prices. The second one is to invest in those names that have gone out of favor with the investment hotshots due to temporary difficulties. Luckily for me, both these conditions were met when I invested in ING (NYSE:ING) and BNP Paribas (OTCPK:BNPZY), the two European banks that I consider to be best of breed.
In a "low for longer" interest rate environment, banks had been out of favor for a very long time. This was especially true for the European banks that traded at half or less than half their tangible book value. While some of them still struggle to generate adequate returns, I would argue that not all Eurozone banks are created equal. ING and BNP Paribas do stand out due to their franchise strength, revenue diversification and strong macro profiles of the economies where they operate.
I can still recall equity market "strategists" and "senior" market commentators parading at CNBC panels and urging their audience to steer away from European banks on the basis that they were undercapitalized and not as efficient as their US peers. While such a "one size fits all analysis" bundling Dutch, UK, French, Italian, Spanish, Greek banks as a homogeneous group does not deserve any merit, it does create investment opportunities that can and should be exploited by the contrarian investor. It was on that exact moment that "smart" money and "professional" investors buried the European banking sector that I bought significant chunks of ING and BNP Paribas, making them big holdings in my portfolio. Guess who's laughing now...
For the American Seeking Alpha readers who may not be familiar with these names, ING is the largest Dutch bank by assets and one of the largest financial institutions in Europe. Its digital transformation has been extraordinary, its CEO visionary, and its profitability is strong and resilient. This is down to a balanced business mix across products, business lines and geographies. The bank has learnt how to navigate in the unfavorable interest rate and regulatory environment, delivering adequate returns. ING is also committed to a progressive dividend policy that it can comfortably cover. Furthermore, its asset quality is excellent, reflecting the strong macro profile of the key countries where it operates (Netherlands, Belgium and Germany; in other words, the hard core of the Eurozone Experiment).
BNP is the largest French bank by assets, with its broad and diversified businesses generating a high level of stable earnings. Like ING, BNP is primarily a retail bank with a dominant market share of around 10% in the French market plus sizable operations in Italy, Belgium, Luxembourg, the USA, Germany, Poland, North Africa, Eastern Europe, Turkey and Asia. BNP also has strong positions in asset management, private banking, and insurance and securities services.
Thinking long term, I figured out that if these banks can remain profitable during such torrid times, their prospects will rapidly improve when the European Central Bank stops its QE program and start normalizing rates following the example of the US Fed. I consider any relaxation of the Basel Capital Requirements Rules a welcome bonus as this is not something that I had accounted for in my investment thesis. The Brexit fears gave me the opportunity to buy ING in 5 batches at an average cost of 9,026 Euros per share. As I was writing this article, the stock was trading at 13,605 Euros, an increase of 50.73%. For 2017, ING's EPS is expected to be 1.2 with a DPS of 0.7 (offering me a 7.7% dividend yield that will hopefully improve over time due to its commitment for a progressive dividend policy).


BNP was bought in 3 shots with an average price of 37,224 Euros per share. As of writing this article, the stock was trading at 61,090 Euros, an increase of 64.11%. For 2017, BNP's EPS is expected to be 6.1 with a DPS of 2.8 (offering me a 7.5% dividend yield that unfortunately gets taxed at 30% due the punitive French withholding tax for dividends).


Other Keynote Contributors: Barclays, Hexcel, Blackstone Mortgage Trust and Array Biopharma
Better to be a lucky chief executive than a good one. As reported in the Financial Times, this is how one top 10 shareholder in Barclays (NYSE:BCS) summed up the performance of Jes Staley almost exactly a year since the 59-year-old American took over as the bank's chief executive. Mr. Staley's decision to retain the investment banking business at the expense of Barclays Africa, a region that Barclays operated for more than 100 years, raised many eyebrows. It may well, however, turn out to be the right one.
While the bank's profitability is currently very weak due to litigation issues and the drag from the non-core assets, the core business that it's keeping generates double-digit returns on equity, and some of its business lines like Barclaycard are truly best in class. While there will be some short pain ahead till it winds down the non-core and deals with the legacy conduct issues (DOJ, PPI, LIBOR to name a few), I would expect its 50% discount to book value to narrow with time.


While I know it is a mistake to get emotionally attached with a stock, I have convinced myself that in Hexcel (NYSE:HXL) I hold a long-term winner and a potential multibagger. The recent rotation towards industrials have worked miracles for the stock. Nevertheless, Hexcel is much more than a short-term rotation play. I bought it in 3 batches at an average price of $41.84 and the stock is now trading at $52, offering me a 24.36% for the biggest holding in my portfolio.


The recent investor briefing reaffirmed the faith in my investment thesis that you are welcome to read in one of my previous Seeking Alpha articles. The long-term fundamentals of Hexcel are excellent, and as Capital Expenditures gradually decline from their peak 2016 levels, the company will be able to deliver accelerated growth and free cash flow generation.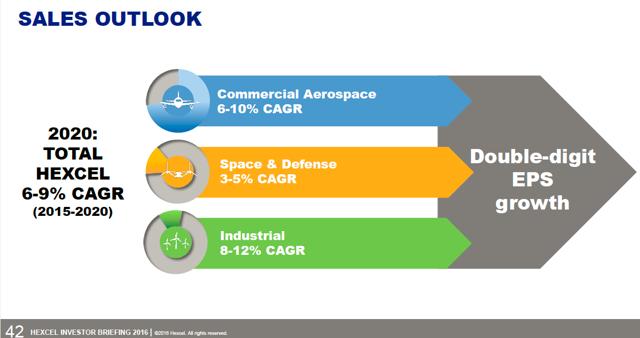 Buying Blackstone Mortgage Trust (NYSE:BXMT) at $24.82 (giving me a 10% dividend yield) also benefited my portfolio this year. I was attracted by the fact that its profits will actually rise as the Fed finally hikes rates (assuming no delinquencies as a result of that). Rightly or wrongly, my discipline did not allow me to buy above my average cost. What worries me a bit with these REITs is that from time to time they decide to raise more money...


Speaking of multibaggers, I took great joy by having one in my portfolio. The honor goes to Array BioPharma (NASDAQ:ARRY) that provided promising clinical updates and succeeded at having its first product accepted for regulatory review. The FDA is currently evaluating the potential approval of its drug in treating patients with advanced NRAS-mutant melanoma. With the benefit of hindsight, I wish that this was a bigger part of my portfolio.


The big shorts
While shorting a stock is inherently a speculative activity, I see these short positions as an opportunity to enhance portfolio returns and protect it from general market corrections. During this year, I was right shorting Lululemon (NASDAQ:LULU), Under Armour (NYSE:UA) and Netflix (NASDAQ:NFLX). I was, however, wrong on Facebook (NASDAQ:FB) that kept going up, testing my nerves. My biggest short position going into next year is Avon Products (NYSE:AVP) where I have very little confidence in the successful turnaround plan. With a huge debt load in USD, and all its revenues in weak Emerging Market currencies, its own solvency should be at risk. Even if it does survive for a number of years, I cannot really see how it will grow revenues and profits in a healthy way (via genuine revenue growth as opposed to cost cutting, hiking prices in inflationary markets and raising packaging costs).
While not every pick has so far been a resounding success, I still have faith in nearly all of them and I'm willing to add to my all my losing positions and especially CVS (NYSE:CVS) opportunistically. The only exception is GoPro (NASDAQ:GPRO) where I pulled the trigger based on the naivety of "how far more can this fall?" Thankfully, my emotional discipline did not allow me to speculate with anything more than a relatively small amount that did not materially derail my portfolio returns. Despite these hiccups, I can still hold my head high bragging that I outperformed many investment professionals who do this for a living.
Beginner's luck? Only time will tell...
Disclosure: I am/we are long ING, HXL, BCS, BNPQF, ARRY, TEVA, MYL, CVS, WBA, GPRO, CRTO, HAIN, ENDP, BXMT.
I wrote this article myself, and it expresses my own opinions. I am not receiving compensation for it (other than from Seeking Alpha). I have no business relationship with any company whose stock is mentioned in this article.
Editor's Note: This article discusses one or more securities that do not trade on a major U.S. exchange. Please be aware of the risks associated with these stocks.