After what started as a monumental year for gold bulls (NYSEARCA:GLD), the commodity has been pummeled relentlessly by the bears in Q4. Despite gold being up 25% for the year in August, it is set to close the year up only single digits. Every day we hear new downside targets for gold, and most are for $900/oz / $1,000/oz. When everyone is in consensus on what is going to happen in a market, I want nothing to do with that side of the market. What was once a crowded trade long gold and miners, is now the most hated trade in the market. Most miners are being given away based on their current valuations and are being priced in for $1,000/oz or less.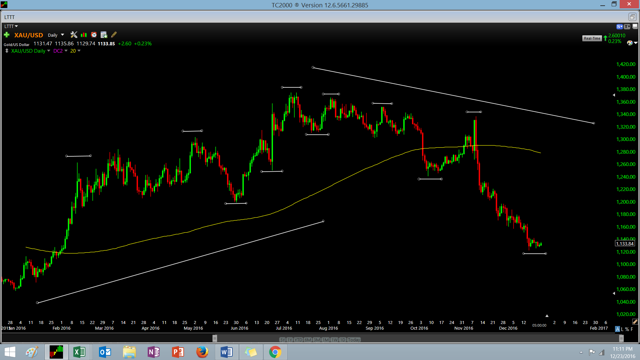 (Source: TC2000.com)
As the year comes to a close, I thought it would be worth taking a look at how the yellow metal looks going into next year. Despite gold falling $250/oz from its 52-week highs, there are quite a few silver linings for the metal. The 21-day moving average for bullish sentiment is at its lowest level in history, and gold has fallen 7 weeks in a row for the first time ever. While gold may look like it's in no-man's land with no support below, we are currently sitting at a very important crossroads.
For those that follow me, I have laid out my strategy for trading commodities several times, and it's quite simple. I make my decisions based on sentiment and technicals. My largest positions come when both are aligned, and my smallest positions come when only one of the 2 is aligned. When neither indicators are in bull mode or bear mode, I sit on the sidelines. There is no question that the current daily trend for gold is down. The uptrend has been transformed into a downtrend in the past 2 months, and price is below its 200-day moving average. Having said that, a sentiment buy signal was generated on gold on December 8th. Due to the fact that only one of two of my boxes was checked for gold, I only went long a half position on the metal. I am long gold from $1,176/oz, and this trade is not off to a great start. I am not concerned by the sluggish start to this trade, as sentiment is a leading indicator. This means that signals are generated before the move happens, and this could not be more true of the 2015 sentiment buy signals.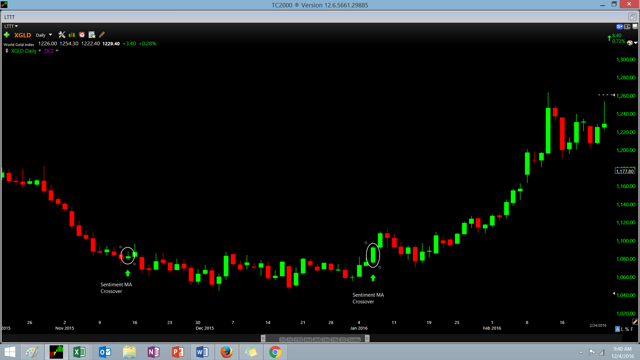 (Source: TC2000.com)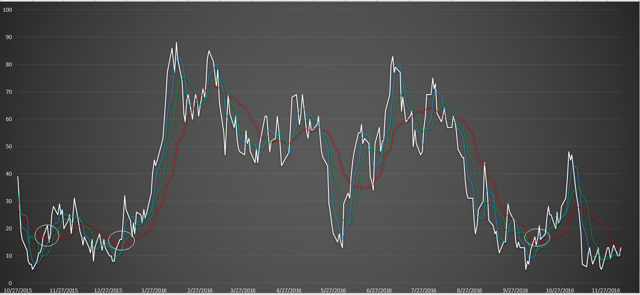 (Source: Daily Sentiment Index, Author's Chart)
As I have shown with the sentiment buy signals on gold from last year, they gave you a nearly perfect entry into gold, within 3% of the lows. The trade did not pan out for nearly 2 months, but there was almost no draw-down on the long position. The buy signals are noted with circles in 2015 on both of the above charts. Within 3 months, these signals were massive winners and side-stepped the massive bear market. These sentiment buy signals were the only ones given in 4 years on gold, and avoided all of the false rallies throughout 2012-2015.
Sentiment
Taking a look at the current sentiment picture, we can see that bullish sentiment seems to be basing. Bullish sentiment has been under the 20% level for the longest time in history, and the 21-day moving average is below 9.8% bulls for the first time in history. This means that there have been more than 9 bears for every bull for the past 30 days. This is an unheard of reading for any asset class and is extremely rare based on my research. To put this in perspective, between September and October in 2008, the S&P 500 fell 33%. During this 4-week period, the 21-day moving average for sentiment was at 12%. This was one of the steepest declines in history over a 4-week period for any market. What I find amazing is that bullish sentiment for gold is currently more pessimistic than bullish sentiment was for the US markets during the global financial crisis.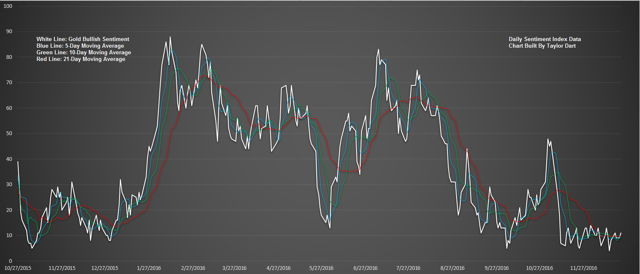 (Source: Daily Sentiment Index, Author's Chart)
As we can see from the above chart, sentiment has made yet another buy signal today and is attempting to begin a new sentiment trend. The moving averages have gone from falling to flat and would support a major move up if gold bulls could get above the 20% level. While the 2015 depressed sentiment readings were quickly shaken off by the bulls, the current setup has been locked in a tug of war for weeks. This is extremely rare for sentiment and should set up a strong move out of this consolidation. Due to the fact that gold sentiment is already at 10% bulls, the odds favor a move to the upside. There are only so many bears that can come into a market, which is why the only likely direction we can go with sentiment from here is up.
Due to this up-tick above the sentiment moving averages, I have been long since December 8th. My stop on this trade is a close below $1,120/oz, a slight change from my previous stop of $1,126/oz. I have changed my stop to account for volatility, and base my stops on average true range values for gold.
Technicals
Moving to the technicals for gold, we will begin with a daily chart. As we can see from the daily chart for gold, the 200-day moving average has begun to roll over. I was hoping gold could stage a reversal in early December to prevent its 200-day moving average from changing slope. Unfortunately, this has not happened, and the technical picture for gold is not as positive as I would like. Looking at a daily chart of gold, it would appear as if gold is in no-man's land. The largest daily support was at $1,200/oz, and this level was sliced through after the election. However, if we zoom out to a daily chart of gold, we have a support level than many seem to have missed.
If we take a look at the weekly chart for gold, there is a very clear descending channel that gold traded in for almost 3 years. This descending channel was made by connecting the June 2013 lows to the December 2013 lows, and the August 2013 highs to the March 2014 highs. The descending channel was almost too perfect for gold for the 30 months it traded inside it. Support was found within 1% of the channel bottom, while the metal met heavy resistance at each test of the channel top. The inevitable channel breakout came in early February of this year, and led to a massive $150/oz move. This was what prompted me to get so heavily long gold stocks this year, as I knew the rally was for real, after seeing a close with conviction outside of the channel.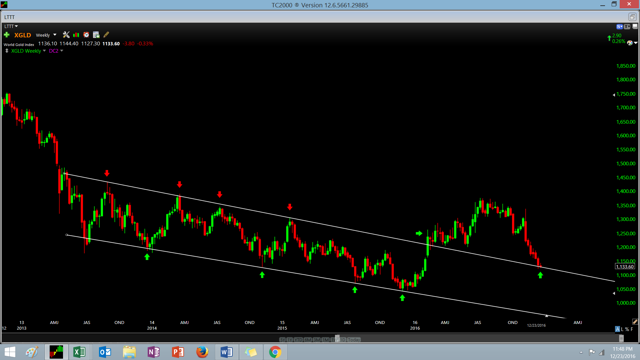 (Source: TC2000.com)
Just as horizontal resistance lines often see back-tests, downtrends or descending channels also see back-tests. We are currently back-testing the top of the channel for gold that was in place since mid-2013. This is the most logical place for the metal to find support and would fool many traders. The market is designed to cause the most pain to the most people, and I believe bears are all zoomed into their 2-hour and daily charts on gold. Meanwhile, the weekly chart is at a very important level, and a level where bulls could stage a reversal.
Less obvious support levels are sometimes the best types of support levels, as they are capable of fooling most traders. While the bears continue to get aggressive and talk about $900/oz gold, gold is sitting at its biggest support level in 2016. Everyone is watching $1,075/oz and hoping for support for a double bottom. Meanwhile, gold is sitting at a more obscure support level, after closing the week as an inside week. Inside weeks are very important after large moves and show indecision between the bulls and the bears. When prices trade in an inside week, this means that the high and low is contained within the previous week's range. This represents a tug-of-war between both sides, and often fuels a move when price resolves outside this range.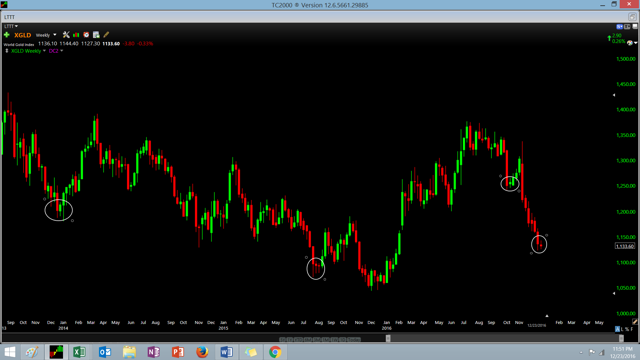 (Source: TC2000.com)
As we can see from the above chart, previous inside weeks also marked bottoms or short-term rallies for gold. There is no guarantee that this inside week resolves to the upside, but typically bottoms have occurred with either inside weeks on gold.
So how am I positioning myself?
I am currently long my heaviest allocation in mining stocks (book value) in almost a year, at a weighting of 38%. I have noted that this is a book value, as my allocation in miners got near 49% due to market value in August of this year. The last time my allocation was this high was in February of this year, when I moved 46% of my portfolio into gold stocks. Due to the fact that I prefer individual miners to the Gold Miners Index (NYSEARCA:GDX), I have been starting or adding to positions in the following stocks:
All of the above prices are listed in Canadian dollars, as I trade on the Canadian exchanges.
In addition to having my heaviest mining stock exposure in nearly a year, I also remain long gold from $1,176/oz. As stated earlier in the article, a close below $1,120/oz would force me to exit this long position. If gold is able to close above its 200-day moving average, I would move to a full position in gold. This would be an average-up on my current position. The idea behind this positioning is that I only want to get aggressively long gold when both of my indicators are aligned.
Gold bears are growling their loudest all year, despite gold sitting at a support level that almost no one is watching. The gold bears have had an incredible month, but are beginning to get a little cocky in my opinion. While anything is possible and sub $1,000 gold is possible, it is likely not going to drop there in a straight line. I am expecting a counter-trend trade in gold and want to see what the metal does if it can reach $1,200/oz. This should be a clue as to whether we are in a resumption of the 4-year bear market, or ready to begin a new bull market. Short interest data has shown that miners are now seeing large short positions than 2 weeks ago. The easy money has been made on the short side, and both sentiment and weekly support favor the bulls here. While the bears have knocked it out of the park in Q4 for gold, now is the time to take profits and ride half positions on short, not double up on short positions.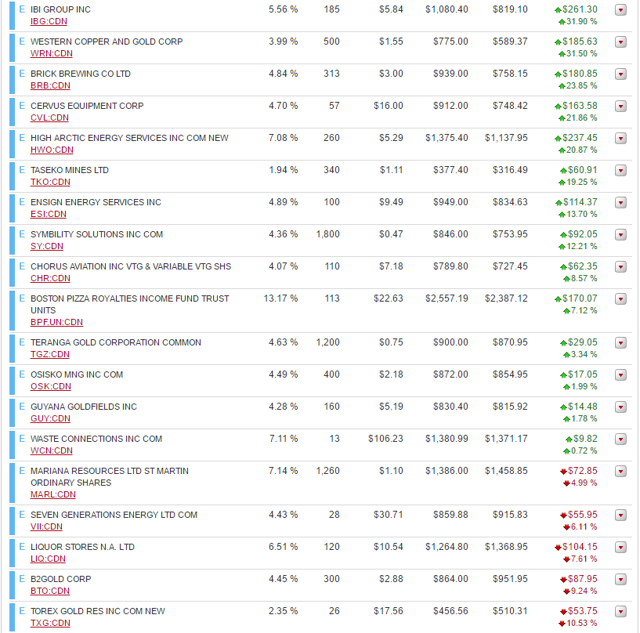 (Source: CIBC Investors Edge)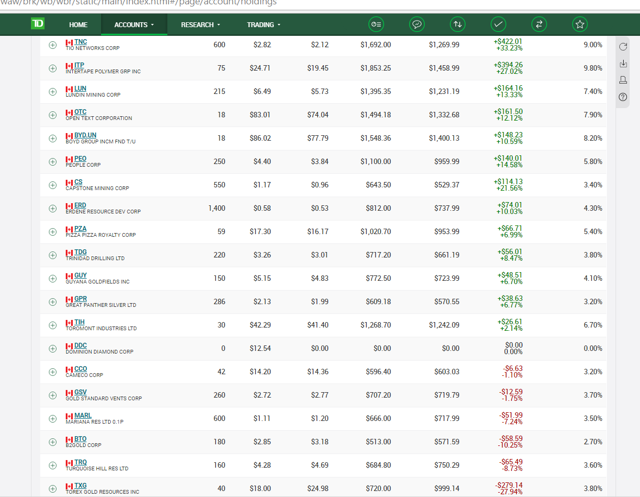 (Source: TD WebBroker Account)
For full transparency, I have shown my main investment accounts above. My top 3 positions in order of weightings across all my accounts are:
B2Gold
Mariana Resources
Torex Gold
Guyana Goldfields
Osisko Mining
Disclosure: I am/we are long GLD, MRLDF, GUYFF, TGCDF, OBNNF, BTG, TORXF.
I wrote this article myself, and it expresses my own opinions. I am not receiving compensation for it (other than from Seeking Alpha). I have no business relationship with any company whose stock is mentioned in this article.
Additional disclosure: If you liked this article and found it useful, please feel free to follow me by clicking on my name next to my avatar at the top of this article. I also invite you to follow me at www.twitter.com/TaylorDart01 where I routinely share my entries, exits, and stops on new positions, as well as updating followers on sentiment data on markets I am following.