As you will have read, the Italian government is going to go ahead with the bailout plan for Banca Monte dei Paschi (BMDPD) (OTCPK:BMDSD) after its efforts to secure private sector capital failed.
Looking at my favorite Italian bank stock, Intesa Sanpaolo (OTCPK:IITOF) (OTCPK:ISNPY), which rose 1.2% on Friday and is now 57% up from the its post-Brexit low, we get the sense that a government solution for Italy's weakest banks may well begin to draw a line under this smoldering problem and allow for greater optimism in 2017. BMPS' stock over the last five years is represented in the blue line in the chart below. ISP is the orange. Life still beats in the stronger Italian banks.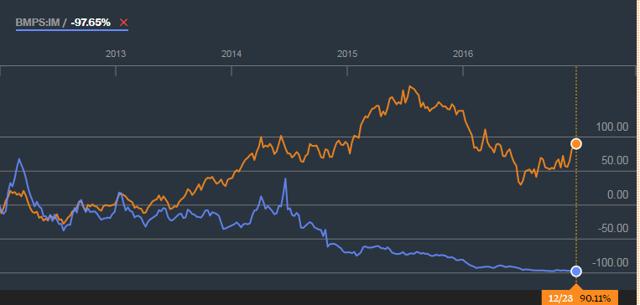 The plan
The Italian government will provide short-term liquidity support for BMPS and emergency capital. The amount of capital the government provides is the subject of a restructuring proposal to be submitted to the ECB in coming weeks. The politically central issue is the retail-owned subordinated bonds of BMPS. All subordinated bonds will be mandatorily converted to equity at 75% of nominal value for Tier 1 instruments and 100% for Tier 2. If they wish, retail investors will be allocated senior bonds for their shares (which will be purchased by the government).
Political implications
Politically, and don't forget that in Italian banks "politically" extends to the level of the EU and Eurozone integrity, the support for retail investors is a critical development because the conditions are better than the market had feared might be the case. Sure, there is some hoop jumping, but the look like being made more or less good on their original investments which avoids the stink of a potential mis-selling scandal for the banks. The banks placed sub-debt with savers who didn't understand the potential for conversion and, it has to be said, did this before EU state aid laws came into force mandating bail-ins for creditors in the event of bank failures, including failed ECB stress tests which is how the acute phase of the BMPS collapse started. Heavy losses for retail investors would undermine support for Eurozone membership in Italy.
The Italian government has been in contact with the EU throughout this process, and my best guess is that the ECB will accept the restructuring plan when it is presented. However, there remains some risk to BMPS retail investors until this happens. This means that political forces, such as Italy's Five Star Movement, will be hovering waiting to advocate breaking the EU credit laws unilaterally should the ECB become "the bad guy" by rejecting the scheme and forcing losses on retail investors. I would not, however, look for this scenario to prevail because my gut here is that the government's scheme to help retail investors has probably already found sympathy at the ECB.
Conclusion
The year started badly for banks and Italy's banks in particular. The slowdown in China and the collapsing oil price sent powerful deflationary waves through bank equity due to the anticipated policy response of central banks. In Europe, this was acute since QE had been seen to impact bank profitability from Q3'15, but most bank stocks globally took huge falls that opened up attractive value if investors understood that we were not in any kind of recessionary scenario let alone an economic crisis. On top of this difficult environment came the failure of the much flagged Italy-EU deal to allow indirect government support for the NPL market. The EZ stuck to its guns but threatened its own existence by alienating chunks of the electorate of one of its pillar members (France and Germany are the others). Finally, we see a way out of the impasse with a mechanism to shore up innocent investors caught up in Italy's banking mess.
This isn't the end. Something has to be done to accelerate NPL resolution in Italy. By potentially taking out an immediate political-existential threat to the EZ, however, the BMPS drama may prove to be the beginning of the end. I would continue to add to favored European bank positions while keeping overall exposure lower than to US banks. There is greater value, but more risk in Europe, so whether its banks are ultimately that cheap is hard to establish from a P/E ratio. This extends to the Italian sovereign position, given that the bailout facility of €20 billion will add modestly to its debt load (133% of GDP)
Disclosure: I/we have no positions in any stocks mentioned, and no plans to initiate any positions within the next 72 hours.
I wrote this article myself, and it expresses my own opinions. I am not receiving compensation for it (other than from Seeking Alpha). I have no business relationship with any company whose stock is mentioned in this article.