With one year coming to an end, the annual battle between Airbus (OTCPK:EADSF) (OTCPK:EADSY) and Boeing (NYSE:BA) comes to an end as well and it is time to look ahead.
Final figures for the annual order battle between Boeing and Airbus still have to be published, but currently Boeing is having the upper hand in net orders. For investors, it is more important to have a look at what the expected delivery volumes are for each manufacturer and how both jet makers are going to increase profit margins. In this article, I will be focusing on efforts of Boeing to cut costs.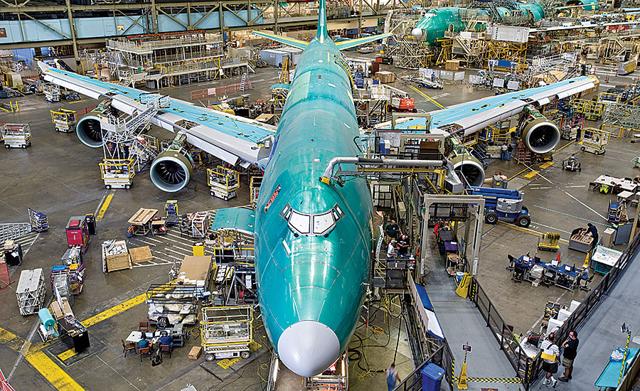 Expanding in the profitable after-sales
As jet makers are currently struggling to accumulate orders, investors are cautious on further increases in production rates as they might not be sustainable. So what is becoming increasingly more important is increasing the operating margins on the programs. Not all measures will be executed in 2017, but Boeing will be looking to cut costs as soon as possible. One opportunity that Boeing is trying to utilize more is not much related to cutting costs, but increasing presence in the after-sales market.
Boeing is currently trying to increase its presence on the after-sales market, which includes spare parts and monitoring services. To make this happen, Boeing will be joining the service programs of the Commercial Airplanes department and the Defense segment. What I am hoping for is that the establishment of this new department within The Boeing Company gives some insight in margins and growth of the service programs.
Program merger
The Boeing 747 and Boeing 767 programs have been brought under the coordination of one director. With both aircraft focusing on the cargo market and being Boeing's oldest wide body programs, they do have a lot of things in common. This allows workers and marketing teams of both programs to be merged or work together. Ultimately, this should make both aircraft programs more efficient.
Cutting positions
Boeing will continue cutting jobs in 2017, which should reflect in the operating margins of the jet maker. For 2016, the jet maker already aimed to cut 8% of its positions at the Commercial Airplanes unit, and in 2017, the company will continue eliminating positions.
The Boeing 777 program is very likely to account for a major position cut as its program production will be falling to 50% of what it was a year ago.
Supply chain
Boeing is currently working on cutting its costs in the supply chain. Especially on the Boeing 787 program, the jet maker has been pressuring its supply chain to lower prices. With order inflow losing momentum, the jet maker is likely to cite a challenging market environment to acquire lower prices from the supply chain. Additionally, the Boeing Partnership for Success program is a big lever for Boeing in achieving this cost reduction in the chain.
The Partnership for Success program is presented by Boeing as a program that should bring success to the supply chain and the company itself. In reality, Boeing uses the program to aggressively cut costs in the supply chain. Not going with Boeing on cost cutting almost definitely means exclusion from the PFS program and Boeing will simply stop doing business with the supplier.
As Muilenberg took over the position of CEO from McNerney, some were hoping that he would eliminate the program, but Muilenberg seems to be in favor of the program and has not criticized the program once.
Boeing Industrial Ecosystem
Earlier this year, Boeing and Morocco reached an agreement to establish a supply chain ecosystem in the North African country. This ecosystem is a long-term project and I do not expect any major announcement for 2017 on the subject. Nevertheless, it is likely that Boeing will start pitching the benefits of Morocco as an aerospace center to its supply chain as it could result in further cost reductions in the supply chain.
Conclusion
In 2017, we will see the Boeing 737 MAX enter revenue service combined with a production rate increase on the program. While this should benefit Boeing's top and bottom-line figures, earnings growth and higher margins will primarily come from cost reductions in the supply chain and eliminating positions.
Economic and geopolitical instability has led to increased focus on cutting costs rather than increasing the number of deliveries. Increasing operating margins also gives some reassurance that Boeing's earnings growth does not solely come from increased production rates.
In the end, Boeing should be careful that it does not strain relations with all parties involved in the development and manufacturing of aircraft in order to increase its ability to compete with Airbus.
If you would like to receive updates for my upcoming articles, please click the "Follow" text at the top of this page next to my profile.
Disclosure: I am/we are long BA.
I wrote this article myself, and it expresses my own opinions. I am not receiving compensation for it (other than from Seeking Alpha). I have no business relationship with any company whose stock is mentioned in this article.
Editor's Note: This article discusses one or more securities that do not trade on a major U.S. exchange. Please be aware of the risks associated with these stocks.