DoJ Settlement ended well.
Well, that was all pretty civilized in the end. After Deutsche Bank's (NYSE:DB) stock price was all but destroyed by an initial DOJ demand of $14bn in September, the bank has completed a final settlement in principle with the DOJ in respect of its underwriting of RMBSs in the two years up to 2007.
DB will pay $3.1bn or €3bn as a financial penalty and over the course of the next five years will provide "consumer support" to its U.S. customers in the form of loan adjustments and the like that will amount to a further €3.9bn.
DB guides that it will record pre-tax charges of about €1.1bn in its 4Q'16 numbers, which was broadly expected by the market. My own sense is that estimates of forward litigation related provisions beyond 2016 will fall on this news.
As well as the lighter than expected immediate penalty (my own guess was €5-6bn), DB's CET1 capital adequacy will improve slightly as well and should approach if not exceed 12% by YE 2016. Investors await the outcome of Basle IV, but this is no longer seen as a critical issue and will probably be pretty benign for DB.
The next step in the capital plan might be tricky
So where is DB now? Can we at last just focus on the Herculean restructuring task that lies ahead of CEO John Cryan and his team? While I think the market will be more attuned to the progress, or otherwise, it sees in the P&L now that the binary disaster/non disaster DoJ outcome has been removed from the picture, there is the small matter of Postbank on the horizon.
Postbank is a German retail bank that DB intends to sell and its final capital plan depends on disposing of the business. DB is reducing certain of its risk weighted assets (RWA) both to free up Tier 1 capital and also improve the relative profitability of its residual RWA. DB aims to be roughly flat in RWA volume over 2015-2020. To my mind this is achievable, though I wonder if DB will ever get there if yields improve globally in a stable way. This would mean DB's RORWA would improve anyway and, if growth does pick up, opportunity may well intervene to allow DB to ease up on total RWA reduction.
In all, DB intends to lose €110bn of RWA from the end 2015 position, and by 3Q 2016 had achieved €12bn of this moving to $385bn from $397bn AYO. At around €40bn of RWA, Postbank represents over 10% of 3Q 16 RWA and a disposal would break the back of the reduction burden in front of DB and we would see CET1 comfortably north of 12%.
What are the odds of selling Postbank and selling it on time? German retail banking is not a very attractive space - with competition and high staffing costs endemic problems. Postbank has a cost/income efficiency ratio of 80.1%. Clean net profit is perhaps about €600mn annually, ROE excluding its contribution to DB's non-core asset unit is 6-7%. It remains to be seen what valuation DB can shift this asset for though the real economic benefit will be the reduction in RWA, which will free regulatory capital.
If DB can deliver on its cost reduction plans in the manner we saw emerging with the 3Q results this year, and if investors can become a little more buoyant on growth, perhaps Postbank as an issue will fade a little in urgency as DB's overall business becomes more profitable. But with European politics and Eurozone questions still open, the growth outlook and risk premium could deteriorate and complicate the sale of Postbank. Time will tell.
Conclusion
When it comes to the main fundamental driver of DB, the chart below is what it is all about for the next 3-4 years. Regular readers will forgive seeing it for the third time. Anyone interested in reading the full strategy document this chart is based on, click here.
In my last article on the stock I said this plan could take us to a €40bn market cap with a healthy dividend yield, and it's important to bear this value picture in mind when thinking of specific hurdles, of which Postbank is the next one. Having called buy on DB at the bottom, we have plenty in the locker to keep going with this recommendation.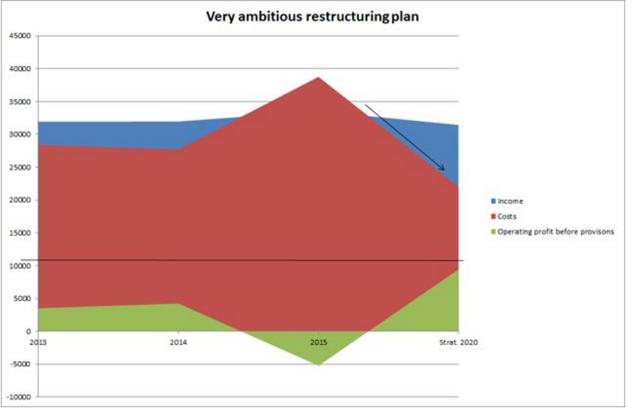 Disclosure: I/we have no positions in any stocks mentioned, and no plans to initiate any positions within the next 72 hours.
I wrote this article myself, and it expresses my own opinions. I am not receiving compensation for it (other than from Seeking Alpha). I have no business relationship with any company whose stock is mentioned in this article.