By Parke Shall
It was anything but a confidence inspiring end to December, leading up to the three day holiday break which won't see trading resume until Tuesday. Certainly, two weeks ago, all eyes were on Dow 20,000 and it was the expectation of many a pundit and analyst that the Dow would simply take it on autopilot to the 20,000 mark, or above, before Christmas. On Christmas morning, many investors will wake up to find great gifts, but one of them will not be the Dow Jones over 20,000.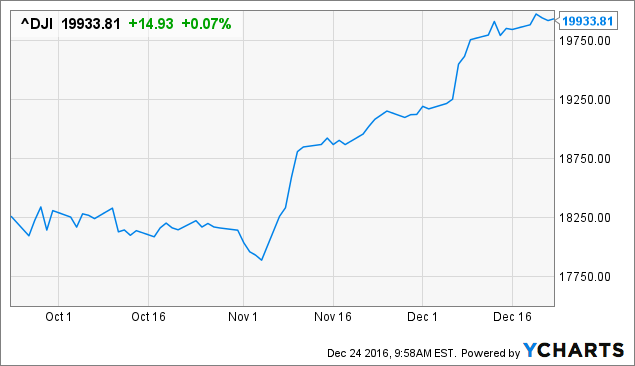 We don't even think the real test is going to be until after the New Year's holiday. We don't think the Dow is going to be able to capture the 20,000 level or make any type of decisive move at all until we get more volume. As you can see, volume has trailed off into the final weeks of December, as it usually does.

We don't think we are going to get more volume until after January. Then, we think reality will start to set in. That reality will look like this,
1. I ate and/or drank too much over the holiday
2. The market cannot continually go up in the face of rising interest rates
Once the logic behind our thought process that the market can't move higher starts to make its way across the street and nudge itself into the few non-euphoria filled brain cells that are left, we think the market will either park at around 20,000 or will move lower from here.
It is extremely tough to do in this market, but we are going to simply try and rely on a little bit of rational thinking to help us forecast what the coming year will hold. We honestly don't think that the Santa rally, as it is so lovingly referred to, has the necessary gusto to be impactful this year. The 20,000 mark is a huge psychological barrier, but even more so than that investors forget about what constantly expanding equity prices mean. It's not just reaching a psychological milestone on a sheet of paper, it's about equity valuation.
Right now, equity valuations can be described as nothing short of euphoric. When China's market came crashing down about a year and a half ago, they were trading at around a 40X average PE. This was a bubble that everyone acknowledged was happening, that everybody was agreeable on, that the Chinese government couldn't stop, and that had to burst eventually. US stocks are trading at a PE that is getting close to 30X. We're not yet in completely psychotic China bubble territory, but we are not far off.
Forget about Dow 20,000 for a couple minutes and think about how this market has moved to these highs without real consideration for valuation. Now, everybody wants the Dow to just push over an arbitrary number in 20,000, but nobody is talking about valuation. Will the 20,000 number cause investors to finally consider valuation? Could it potentially be the ultimate resistance level?
We are starting to see the signs of the credit cycle turning. We have a bubble in subprime auto financing and we are seeing credit card delinquencies rise. Companies that do their own in-house financing are seeing delinquencies rise. Mortgages and loans for consumers are going to start to cost incrementally more, putting a noose on consumer spending as the months go by. This spending will then slow earnings growth. Not only will earnings growth start to slow, but the slowdown will have been on top of the slew of adjusted and non-GAAP earnings that companies are already presenting to the market as real figures. From there, finding out what the actual earnings are and then taking it one step further and trying to find out whether those earnings are backed by actual cash inflows is an entirely different story.
At some point, all of this is going to catch up with the market. We think it is relatively easy to understand why we are simply not permanently bullish heading into the new year. We hate to be the pessimist, especially heading into the holiday season, but with rates rising and additional rate hikes planned for 2017, we can't help but feel that we were at some type of inflection point.
Don't get us wrong, however, the Federal Reserve will likely still bow to the equity markets and change its monetary policy and rate hike schedule depending on what the market does. However, this is going to be a much tougher task with Donald Trump in office than it would have been with Hillary Clinton or Barack Obama in office. Mr. Trump seems to have made it clear that he also believes we are in a bubble and, while he doesn't mind taking credit for the stock market moving up now, we think he is going to adopt a no-nonsense attitude with the Federal Reserve.
In addition to rates going up, the dollar is also very strong which is hurting companies that do business internationally.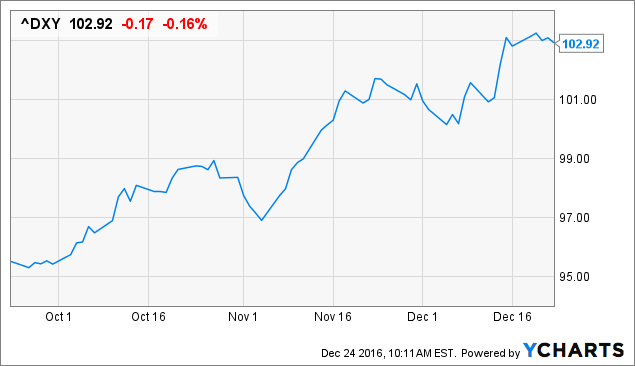 Now, companies aren't just presenting adjusted earnings that are not GAAP numbers, they are presenting them excluding the effects of the currency markets, which we think is crazy. It's nice to help investors get a view on how the business is performing on a normalized basis, but pretending the currency markets aren't there doesn't make them go away. The fluctuations in currencies, just like one time expenses, are very real things that businesses must deal with on a ongoing basis.
While much of the outrage last week about Carl Icahn being appointed as an adviser to President Elect Trump was centered around the fact that he may have conflicts of interest, we actually do agree with Mr. Icahn when he recently prognosticated that there are bubbles in both high-yield debt and also in equities.
The point is that we would have liked to have written a nice article telling everybody that the Dow is going to rocket through 20,000 and that everything is going to be fine heading into the new year. However, we just don't feel like that is going to be the case when volume starts to come in. We aren't really even going to concern ourselves too much with what the market does over the next week, as volume is notoriously slow and not much happens in the week prior to New Year's. However, once volume comes in after the holiday, moving into the first week of January, we believe that Santa could offer up the markets a belated pile of coal.
Disclosure: I/we have no positions in any stocks mentioned, and no plans to initiate any positions within the next 72 hours.
I wrote this article myself, and it expresses my own opinions. I am not receiving compensation for it (other than from Seeking Alpha). I have no business relationship with any company whose stock is mentioned in this article.