In Seeking Alpha article "Alkane's Dubbo Zirconia Project is a Company Maker", published April 9, 2015, I discussed the prospects of Alkane Resources Ltd., an ASX (ALK.AX) and OTCQX (OTCQX:ANLKY) listed Australian focused junior mining company. For the second article I will revisit the original thesis and see how the stock is faring relative to the S&P 500 and make comments on how the story continues to evolve and my current opinion on the stock.
How has Alkane performed so far?
The below chart begins on April 9, 2015, the date of the initial bullish report, and ends on the December 22, 2016. The chart shows that an investment in Alkane has lost 6% versus a 9% gain for the S&P 500 over this 21 month period.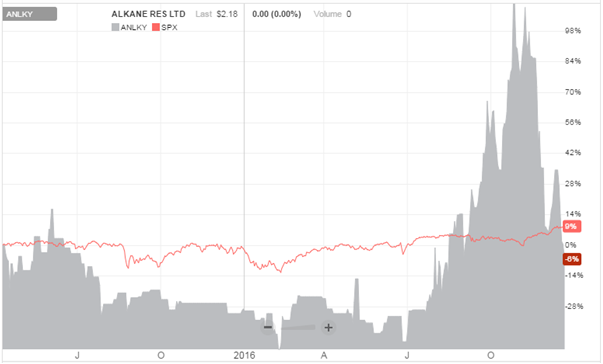 There were a couple of opportunities to sell out of Alkane for gains of +100% demonstrating the volatility of the stock. Good timing offers opportunity for short term profits however a buy and hold strategy has so far disappointed long term investors.
Looking Forward - Producing cash flow from Tomingley Gold Mine with Good AISC Margin
Alkane constructed the Tomingley Gold Operations (TGO) open-pit 1.0Mtpa CIL gold mine with cash reserves and raised no debt. The TGO began mining in mid-2014 targeting 65,000 to 75,000 ounces p.a. which it has achieved. In FYE16, the financial year ending June, it produced 67,812 oz Au at an AISC of A$1,124/oz for operating cash flow of A$24.6 million and in FYE15 it produced 69,612 oz at an AISC of A$1,249. Alkane has a market cap of approximately A$160 million and booked profit before tax on the TGO of A$14.3 million in FYE16.
Underground potential at Tomingley
In December 2015 the company announced the maiden underground ore reserve for the TGO of a modest 62 koz. In the press release it notes that that inferred material in stope designs was given zero grade as only indicated material can be included in ore reserve statements. The same release noted that the open-pit has converted up to 100% of inferred ounces into mined ounces showing that the underground reserve is on the conservative side. The underground resource remains open at depth with some potential along strike out to Myalls, a historic mining centre which produced ~70koz in 1897-1908. The below diagrams juxtapose the underground ore reserve mine design to the untested diamond drilling target areas around the project, shown in grey.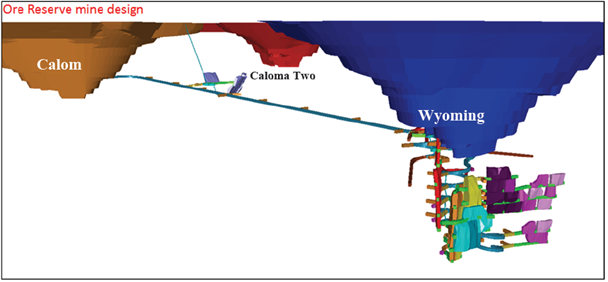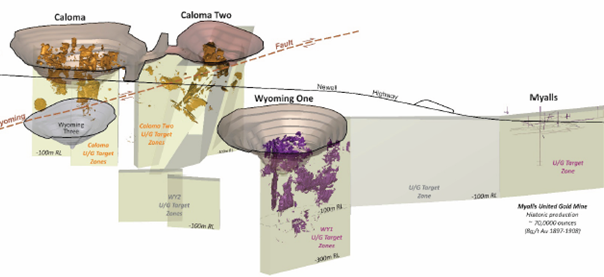 The grey areas above are all target zones which need follow-up diamond drilling to extend the known resources and ultimately include these into the underground reserve mining plan.
Tomingley Gold Takeaway
Tomingley is a profitable gold operation which minimises risk for Alkane as a going concern if the DZP does not get funding. Alkane remains debt free and the TGO has current ore reserves of 253,000 oz (Sep, 2016) giving it about 4 years of mine life with upside potential from the underground. The company has hedged forward 54,900 oz at A$1,704/oz from September 30 2016 locking in a good margin for 2017.
The Dubbo Zirconia Project - The Value Driver and Potential Company Maker
The DZP is where the main value for Alkane is. The Front End Engineering Design, completed by Hatch in August 2015, improved confidence to the DFS, released in 2013, and confirmed the following:
A very large polymetallic resource of the metals zirconium, hafnium, niobium, tantalum, yttrium and rare earths with 35 year mine life at 1MTpa rate
Capex of A$930M
Annual revenue of A$430M-$470M at a 1MTpa rate
NPV of A$1,100M (8% discount rate over 20 years

cash flow)
Below is a picture of the four primary concentrates that the DZP will produce: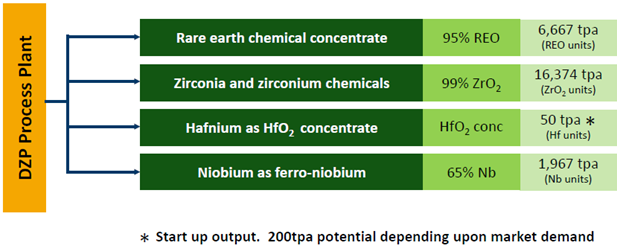 All of these products are strategic to high-tech industry:
Rare earths are required for magnets and electronics i.e. smart phones are full of them.
Zirconium is used as the cladding for Nuclear reactor fuel rods
Niobium is used to strengthen steel and other alloys
Hafnium is a rare under supplied metal with special properties
The DZP will be the world's only significant producer of Hafnium and that will create new demand because high-tech manufacturers cannot currently source reliable product. Hafnium has many applications, for example, by giving alloyed materials properties which enable more flexible, stronger and lighter components for the aerospace industry. Being such a minor metal Hafnium is not widely traded and the spot price is not publicly available however, based upon this 2015 article, the price is reportedly near $1000/kg - equivalent to $1 million per tonne. At this price the Hafnium stream clearly has the potential to be a significant revenue source of up to $200 million per annum depending on market demand.
Project Milestones Completed - Project is Almost Shovel Ready
Several import milestones have been completed to de-risk the project to an almost shovel ready stage:
Alkane have operated a demonstration processing plant to find ore metallurgical properties and for market evaluation since 2008
State and Federal environment approvals, Mining Lease and EPL were all granted in 2015 and 2016
The FEED study by Hatch engineering confirmed the robustness of the DFS
Outotec were appointed in late 2015 for early contractor involvement to produce plans for fixed price construction cost
Rare earth toll treatment agreement made with Vietnam Rare Earth JSC and zirconium marketing and sale agreement made with UK based Minchem Pty Ltd
MOU with Siemens for off-take and equipment supply and JV with Treibacher Industrie AG to produce & market ferro-niobium
Further discussions with the nuclear, permanent magnet and aerospace industrial end users for specific high purity zirconium, hafnium metal/oxide and rare earth products are ongoing
Remaining Challenges and Risks
The major challenge and risk remaining for Alkane is to get suitable funding for the DZP. The CAPEX of A$930M is very high. It is difficult for a junior mining company to achieve such funding on favourable terms in the current climate for resources investment.
To make funding more achievable, in October, the company raised the concept of building the plant modularised in four 250ktpa trains and scaling up the plant to 1Mtpa. This concept envisages 500ktpa plant throughput for the first 4 years of production until building the second 500ktpa capacity. This strategy would reduce the initial funding required and having each train built offsite would reduce overall construction cost. Investigation into modularised development is ongoing however the company indicates it would almost half the initial CAPEX requirement for the first stage of the project.
Conclusion
Although funding for the DZP is going to be difficult, Alkane has demonstrated that they are reliable operators by building a profitable gold mine without debt. With cash coming from the TGO for ongoing expenditures, the company is well funded and, in my opinion, will not do a financing deal for the DZP on unfavourable terms. This can be surmised by the fact directors and management own 23.3% of the company.
Many risks highlighted in the first article on Alkane, published in April 2015, have been overcome (i.e. government planning and environment approvals have been granted) and yet the share price is sitting 9% below where it was 21 months ago. The four products the DZP will produce, notably the world's primary source of hafnium, are strategically important for high-tech manufacturers. The NPV of the project is 7 times the company's market capitalisation providing plenty of upside for the share price upon a favourable financing deal.
The market does not attribute any value to the DZP and treats Alkane as a gold stock and therefore the share price has weakened with the price of gold. Perhaps an example of irrationality in the market which is providing an opportunity for a better entry point than before for those who don't mind the volatility.
Supporting Documents
Disclosure: I am/we are long ANLKY.
I wrote this article myself, and it expresses my own opinions. I am not receiving compensation for it (other than from Seeking Alpha). I have no business relationship with any company whose stock is mentioned in this article.
Editor's Note: This article discusses one or more securities that do not trade on a major U.S. exchange. Please be aware of the risks associated with these stocks.