Europe is one of the most important markets for Ford (NYSE:F) as it accounted for almost 19% of its sales last year. In 2016, Ford sold 1.3 million vehicles in the European market, and the good part is that it has maintained its growth this year. In fact, during the first 11 months of the year, Ford has already sold 1,414,800 vehicles in Europe, which means that it has exceeded its last year's performance.
As a result of the improvement in the vehicle sales in Europe this year, Ford has managed to keep its market share intact. Thus, this year, Europe is going to contribute a substantial portion to Ford's revenue once again, with the probability that the company will be able to grow its sales in the region consistently going forward.
This is because car sales in the Europe are expected to reach 23.5 million units per year by 2021 as compared to 18 million units in 2014 on the back of a sustained economic recovery, favorable demographics, and increased motorization in the region. As such, Ford Europe is doing the right thing by introducing new products for this market that have allowed it to increase its sales consistently this year.
So, in this article, we will look at Ford's progress in Europe and see why it is well-placed to deliver more growth over here in the long run.
Ford is growing at brisk rate in Europe
This year, Ford's sales in Europe are growing at a faster pace than 2015. Last month, Ford Europe reported a 4% improvement in total sales to 104,700 units on a year-over-year basis. On a year-to-date basis, Ford's sales in the region have increased 6% to 1,248,800 in the traditional 20 European markets as compared to the first eleven months of 2015. Meanwhile, Ford's sales across its 50 markets in Europe are by 5% in the first eleven months to 1,414,800 units.
More importantly, Ford is able to match the industry's growth rate in Europe. I am saying this because in the overall European market, Ford's auto registrations have grown 5% as compared to 5.1% total car registration growth. The reason why Ford has managed to sustain a consistent growth rate in Europe is because of its focus on the right growth hotspots.
For instance, the new generation Ford Fiesta has gained tremendous momentum across Europe. Ford has sold 274,300 Fiesta cars in Europe this year through November and says that a new Fiesta is sold every two minutes on an average.
In fact, it is the third straight year when Ford Europe has seen its Fiesta sales improving on a year-over-year basis despite an increase in the selling price. For instance, the next-generation Ford Fiesta is sold at £13,545 in U.K, which is up 23% as compared to the selling price of £11,000 for a Ford Fiesta in 2013. Therefore, Ford's efforts of increasing sales of the Fiesta should also drive its bottom line performance because the model carries premium pricing and should deliver a higher margin.
Additionally, Ford is also strong growth in sales of its EcoSport compact SUV. In the first 11 months of the year, Ford's EcoSport sales have increased 35% to 173,300 units as compared to last year. In the meantime, the sales volumes for performance cars such as Fiesta ST, Focus ST, Focus ST diesel, Focus RS, and Mustang have risen 67% to 40,800 units for the first 11 months on a year-over-year basis.
Therefore, it is evident that Ford is focusing on high-growth areas such as SUVs, hatchbacks, and performance cars in Europe. This is a smart strategy since these segments are expected to deliver strong growth going forward. For instance, according to IHS Automotive, sales of SUVs are on track to increase by more than 200,000 units to 1.9 million units in 2016 and will rise to 2.2 million units by 2020. To tap this growth, Ford will be launching updated models of existing SUVs such as the Ford CUV, the Ford Kuga Facelift, the Ford Flex Redesigned in 2017, and the Ford Bronco in 2018.
As a result of the growth in key segments discussed above, Ford should be able to at least hold on to its market share of approximately 8% in Europe going forward. This will have a positive impact on its sales and stock price performance. Let me explain how.
Impact of European market growth on the share price
According to the automotive consultancy company LMC Automotive, auto sales in Western Europe will rise to 6.6 million units in 2021 from 4.4 million units in 2014. Meanwhile, it is expected that overall auto sales in Europe will rise to 23.5 million units in Europe by 2021. Additionally, HSBC expects European auto sales to increase by 6.7% between 2013 and 2020. HSBC, particularly, expects Eastern Europe to register an impressive growth of 4% per year during this forecasted period. The chart below shows auto sales growth in Europe through 2021.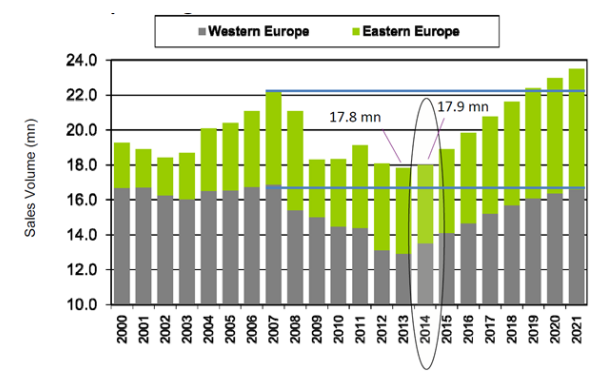 Source: FS Foresight Investors
Due to the growth in the end market, Ford has a significant opportunity to maximize its sales in Europe. As already mentioned earlier, Ford currently has a market share of just under 8% in Europe. If the company manages to hold on to the current market share, it should see a rapid growth in its sales over the next few years.
More specifically, at a market share of 8%, Ford will be selling 1.88 million vehicles annually in 2021 as the size of the market will grow to 23.5 million units. This means that Ford's European sales will grow 44% in the next five years. Now, last year, Ford generated $28.2 billion in sales from Europe. This means that in 2021, its European sales will rise to just over $40 billion.
Since Europe is 19% of Ford's total sales, we can assume that Ford' overall revenue in 2021 will be around $210 billion by extrapolating the company's European performance to its overall operations. Now, Ford currently has a price to sales ratio of 0.33. Assuming that the company keeps this ratio constant in the long run, its market capitalization in 2021 will be $69 billion as compared to $50 billion currently.
With 3.9 billion shares outstanding, it means that Ford's stock price in 2021 should be around $17.70 per share with a price to sales ratio of 0.33. This indicates an upside of close to 40% from current levels. So, driven by the growth in Europe, investors can expect Ford to deliver impressive upside in the long run.
Conclusion
Europe is an important market for Ford and it is going to play an important role in the company's overall performance in the long run as seen above. So, it will be a good idea for investors to continue holding Ford shares going forward as robust growth in Europe will lead to strong upside.
Disclosure: I/we have no positions in any stocks mentioned, and no plans to initiate any positions within the next 72 hours.
I wrote this article myself, and it expresses my own opinions. I am not receiving compensation for it (other than from Seeking Alpha). I have no business relationship with any company whose stock is mentioned in this article.