While watching the classic Christmas movie, "It's a Wonderful Life", I thought about the banking industry. Instead of focusing on the major banks, I decided to look at the lesser-known regional banks, which are likely to have more room for growth. The Grinch-like character, Potter, would probably want to take over any of these banks.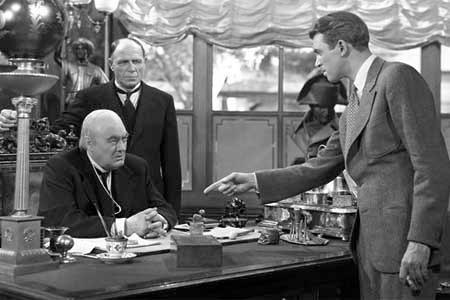 Image source: Movie: "It's a Wonderful Life"
Banks are likely to perform well with the Federal Reserve in an interest rate increase cycle. As interest rates increase, the bank's net interest margins will expand, thus boosting profitability. The Federal Reserve anticipates raising rates three times in 2017. Of course, that is not a guarantee since the Fed projected they would raise rates four times in 2016, but only raised rates once. Even if the Fed only increases rates once or twice in 2017, bank margins are likely to trickle higher as interest rates increase over the next few years.
There are also other positive factors for banks. Average hourly earnings have increased 2.5% during 2016. As incomes rise, consumers will have more money funneling into bank accounts, which will help to increase deposits. As the economy picks up steam over the next few years, the banks are also likely to see more money coming in for loans. Although interest rates are going higher, they are still low enough to attract loans from consumers and expanding businesses.
Consumer confidence hit the highest level in 12 years in December according to the University of Michigan survey. Interestingly, 18% of respondents spontaneously mentioned the expected favorable impact that Trump's policies may have on the economy. This was twice as high as the 9% recorded in 1981 when Ronald Reagan became President. Higher consumer confidence will likely lead to increased consumer spending, increased bank deposits and more new loans.
With that in mind, I found a handful of regional banks that are attractively valued with above average expected earnings for 2017. The following banks are all priced attractively in terms of book value and are expecting double-digit earnings growth for 2017 according to consensus estimates.
Price to Book TTM

Forward Price to Book

2017 Expected

EPS Growth

Bank of Commerce

Holdings (NASDAQ:BOCH)

1.30

1.14

107%

DNB Financial

(NASDAQ:DNBF)

2.0

1.10

35%

First Bank

(NASDAQ:FRBA)

1.5

1.34

18%

First Business Financial Services (NASDAQ:FBIZ)

1.30

1.20

12%

First Internet

Bancorp (NASDAQ:INBK)

1.20

1.10

13%

Regional Banking Industry

1.62

N/A

11% (all Financials)

S&P 500 (NYSEARCA:SPY)

2.7

N/A

10%
Data source: 4-traders.com [Thomson Reuters], Morningstar, Finviz, FactSet, SPDR SPY
These banks are likely to perform well in 2017 since they are valued lower than the S&P 500 with higher than average expected earnings growth. The low valuation and above average growth increases the chance that the stocks will outperform the S&P 500.
Bank of Commerce Holdings is the most compelling of this group of banks since the company is expected to double EPS in 2017. BOCH pays a dividend of 1.33% with a low 19% payout ratio. So, there is plenty of room for dividend increases going forward. The company has debt to equity ratio of 10.8 based on total liabilities of $1.017 billion and shareholder's equity of $94 million. That's 40% lower than the regional banking industry's ratio of 18. This puts the company in a better position to weather a downturn than the average regional bank.
DNB Financial is another attractive regional bank. The company pays a 1% dividend, which is icing on the cake for the high earnings growth which is likely to drive the stock to outperform in 2017. DNB works diligently to strive for asset quality. As a result, the company has a debt to equity ratio of 12 based on total liabilities of $711 million and shareholder's equity of $59 million [33% lower than the industry].
First Bank has a low dividend yield of below 1%. However, the company's strong above average expected earnings growth is likely to drive the stock to outperform in 2017. First Bank has a debt to equity ratio of 10.5, which is 42% below the industry average.
First Business Financial Services has a dividend yield of 2% on a low payout ratio of 23%. Therefore, FBIZ has ample room to increase the dividend payments over time. Consider FBIZ if you are looking for a decent dividend yield with earnings growth that is closer to average. Although the stock may not increase as much as the other regional banks featured in the article, the dividend payments can provide steady income over time. First Business has a low debt to equity ratio of about 10. This puts the company 44% below the industry average. FBIZ is at less risk of getting hurt from a recession.
First Internet Bancorp has a small dividend yield of 0.83%. However, it also has a low payout ratio of 12%. So, the payments can be sustained and are likely to be increased going forward. INBK has a debt to equity ratio of 12.3, putting the company about 32% below the industry. Therefore, the company has the least risk of getting hurt from a financial downturn or recession among the companies featured in the article.
Conclusion
The regional banks featured here have below average valuations, above average earnings growth, and below average debt to equity ratios. This is likely to drive their stocks to outperform in 2017 and beyond. The interest rate increase cycle, higher incomes, and high consumer confidence will help the banks increase deposits and loans. Their net interest margins will widen as rates are increased, thus increasing profitability.
I didn't do a deep dive into each of these banks. However, I wanted to provide some initial info so that investors can do further research as they position for 2017.
Disclosure: I/we have no positions in any stocks mentioned, and no plans to initiate any positions within the next 72 hours.
I wrote this article myself, and it expresses my own opinions. I am not receiving compensation for it (other than from Seeking Alpha). I have no business relationship with any company whose stock is mentioned in this article.
Additional disclosure: If you like my analysis, click on FOLLOW at the top of the article near my name. That will allow my articles to display on your homepage as they are published. The article is for informational purposes only (not a solicitation to buy or sell stocks). I am not a registered investment advisor. Investors should do their own research or consult a financial advisor to determine what investments are appropriate for their individual situation. This article expresses my opinions and I cannot guarantee that the information/results will be accurate.
Editor's Note: This article covers one or more stocks trading at less than $1 per share and/or with less than a $100 million market cap. Please be aware of the risks associated with these stocks.