Since the declaration of the US Presidential elections results, industrial machinery stocks have witnessed a euphoric rise. Especially in the six construction, trucks and agriculture equipment stocks that I keep a watch on, the median rise has been around 13%. These stocks are Caterpillar (NYSE:CAT), AGCO (NYSE:AGCO), Deere (NYSE:DE), Cummins (NYSE:CMI), CNH Industrial (NYSE:CNHI) and Paccar (NASDAQ:PCAR). Some of the stocks released an earnings report after the election results and the consequent reaction has been quite over the top as well. I remain skeptical about the valuation that these stocks are currently sitting on and some of the reasons are enumerated below in this article.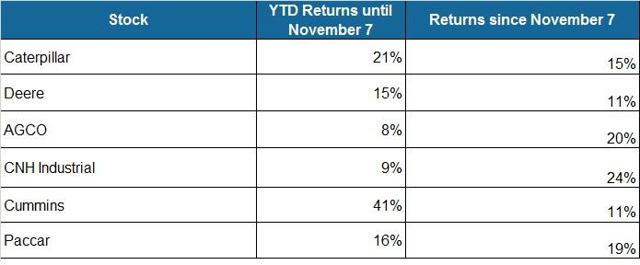 The political
Despite the glaring absence of any clarity related to the nature of tax cuts and infrastructure spending under the Trump presidency, the markets seem to be taking it as a done deal. This automatically leaves room for disappointments as anything but a spectacular stimulus is needed justify the current valuations priced by the market. The second concern is the amount of time some of the new policies might take to seep into the system. A cursory glance at the recent consumption data does not show any exceptional or "trumped up" numbers and indeed one shouldn't expect it for the next several months.
Slow recovery in end-market conditions
The recovery in end-market conditions for some of these stocks has been remarkably slow. For example, Caterpillar is experiencing its fourth consecutive year of sales decline. The expected FY2016 sales are 40% lower than its sales in FY2012. To top it off it also finds itself in a rut on account of interdependence of end-markets. For example, downturn in the oil and gas industry has caused construction equipment used in energy producing regions to be deployed elsewhere resulting in excess supply in the other end-markets. Similarly Deere, AGCO and CNH Industrial have now witnessed three consecutive years of sales decline. Deere recorded an operating loss in its construction equipment sales in the most recent quarter. The company managed to put up a decent performance mainly on account of margin improvements in agriculture equipment sales. And this message of improving their cost structure seems to have become the last bastion of driving a positive spin for most of these companies.
Diminished dividend yields
Some of the companies in the list find favor with investors on account of their dividend yields. And it's not without reason, they are quite good. Cummins had a dividend yield of 3% at the writing. In the beginning of the year though it was averaging above 4.5%. An investment at current valuations therefore, penalizes investors with a diminished yield and the increased risk of buying a stock at its peak.
Valuations
Company valuations are determined by discounting back to the present the sum of their expected future cash flows. The FOMC has said it foresees three rate hikes next year which means that the same cash flows will probably be discounted at a higher rate. The high discount rates and low growth rates are factors that inversely impact valuations. Therefore, I continue to be wary about the stretched valuations of these stocks at present.
Disclosure: I/we have no positions in any stocks mentioned, and no plans to initiate any positions within the next 72 hours.
I wrote this article myself, and it expresses my own opinions. I am not receiving compensation for it (other than from Seeking Alpha). I have no business relationship with any company whose stock is mentioned in this article.