What a year 2016 has been! From the February doldrums to the post-election rally, it's been a wild ride for those of us who follow the stock market, and there is certainly a possibility of more uncertainty ahead as we move into the new year.
It's been a busy second half of the year for me, and I haven't had a chance in a while to review my own portfolio and its YTD performance. After that, I'll walk you through a few changes to the way I am considering new opportunities and apply them to my watchlist (or wishlist, 'tis the season) for compelling stocks providing growth potential and solid dividends for 2017. So, without further ado, let's jump in!
New Div on the Block Portfolio(s)
The last time I presented a snapshot of my portfolio, I was beginning my path to diversification with 7 stocks across 5 sectors. Since then I've started positions in 5 new companies, bringing the total number of stocks in the portfolio to 12 and the sector coverage to 7. Here's a snapshot of how things looked on Friday heading into the Christmas market holiday:
| Sector | Ticker | Shares | Value Change | Yield on Cost | % of Portfolio | % of Income |
| --- | --- | --- | --- | --- | --- | --- |
| Staples | (NYSE:KO) | 5 | -6.81% | 3.14% | 1.2% | 1.32% |
| Staples | (NYSE:CVS) | 16.1532 | -18.75% | 1.75% | 7.38% | 5.18% |
| Telecom | (NYSE:T) | 43 | 16.91% | 5.36% | 10.61% | 15.91% |
| Industrials | (NYSE:GE) | 15.2302 | -0.58% | 2.99% | 2.8% | 2.76% |
| Industrials | (NYSE:OA) | 18.1351 | -0.01% | 1.37% | 9.16% | 4.11% |
| Industrials | (NYSE:LUV) | 36.1592 | 18.81% | 0.94% | 10.54% | 2.73% |
| Cyclical | (NYSE:GM) | 51.8029 | 17.50% | 5.00% | 10.68% | 14.87% |
| Cyclical | (NYSE:MGA) | 38 | 8.04% | 2.45% | 9.7% | 7.18% |
| Health | (NYSE:ABBV) | 25.228 | -1.58% | 4.04% | 9.08% | 12.09% |
| Health | (NYSE:PFE) | 45.6018 | -5.24% | 3.73% | 8.55% | 11.02% |
| Financials | (NYSE:TD) | 35 | 10.59% | 3.73% | 10.02% | 11.04% |
| Energy | (NYSE:VLO) | 25.7848 | 17.98% | 4.11% | 10.27% | 11.68% |
| | | TOTAL: | 5.95% | 3.30% | | |
I am very happy that further diversification and of course the late-year rally have fueled about a 10% swing in my portfolio - from being down just under 5% to being up almost 6%. And of course, it is great to see that the weighted dividend average of my portfolio is well over 3% and poised to continued growing based on the stocks I have selected and hope to add in the coming months.
The largest outlier to the negative here is CVS Health, which has continued to suffer from a depressed stock price in recent months. I bought in over the summer at ~$97, and since then the stock price bottomed out at close to $69 before recovering somewhat. Loss of business, tight margins, and downward revised earnings guidance have all contributed to the continued underperformance, but I am a believer in the long-term potential of CVS. I'm not concerned about the losses and have no plans to sell the stock.
You will see that I own fractional shares in most of these stocks, this is because I automatically re-invest my dividend proceeds each quarter wherever possible. I have not yet received my first dividend from AT&T , and my broker does not allow automatic re-investment of Canadian-based stocks.
Portfolio Methodology and How I Keep My Watchlist
When I introduced New Div on the Block over the summer, I laid out several parameters of what I look for most in potential new stock positions. Namely:
Dividend yield above the S&P 500 average of just over 2%;
PE ratio below the S&P 500 average of around 24;
Sustainable payout ratio for dividends no greater than 50%; and
Three- and five-year dividend growth rates of at least 20% among companies with relatively young dividend histories OR three-, five-, and ten-year growth rates of at least 8% among companies that have paid dividends for at least several decades.
This is not an exhaustive nor exclusionary list; I own multiple stocks that do not meet all of these criteria. This is simply a helpful guide for me to ensure a stock I am interested in aligns with the goals of my portfolio of sustainable dividend growth and long-term capital appreciation.
In terms of valuation, I have typically looked for stocks that are 15% undervalued, according to an average of fair value estimates and 1-year target prices obtained from multiple sources. While this strategy does provide room for plenty of appreciation, in practice it is exceedingly difficult to find quality stocks that are undervalued to that extent in the market today.
Recognizing this, I started tracking my portfolio and watch list on a sliding scale of fair value using 5% increments. In this way, I am still very easily able to see which stocks are undervalued, but don't feel as wedded to waiting around for prices to fall to levels we may not see until the next market pullback. As the old adage goes, time in the market beats timing the market, so instead of focusing so heavily on the perceived value of stocks I like, I instead have begun setting target prices based on yields that would be attractive.
Let's use an example. Dominion Resources (NYSE:D) is a diversified electricity and natural gas provider in the Southern and Eastern United States. Among utility companies, which typically provide above-average yield but below-average growth, Dominion stands out for its commitment to raise dividends by 7-8% through 2020. Peer companies typically raise their payouts only 1-4% per year, so Dominion is a more compelling investment for dividend growth investors. The dividend was raised from $0.70 to $0.755 per quarter earlier this month, to be payable beginning Q1 2017.
Now, based on the value and target estimates I collected, Dominion would be 15% undervalued at ~$63. As it is, the stock is approaching 5% overvalued. So, rather than wait around for a miracle to see the stock at $63, let's try setting a target at a better yield than the current price, say 4.25% (current yield is just over 3.9%). That yield would lead to a target price of around ~$71 - still an 8% drop from the current price, but a much more realistic possibility than $63.
So, with all that said, this method of maintaining my watch list required re-calibrating the way I think about value, but I think it will lead to a more productive portfolio and less waiting around hoping for the sky to fall. Hopefully you've found it useful as well.
Holiday Wishlist (er, Watchlist)
'Tis the season for making lists, so I thought I would share my watchlist with all of you as we await what lies ahead of us in 2017. I'll also pilot presenting the watchlist using the sliding scale of fair value and yield-based targets I presented above, so please let me know what you think in the comments!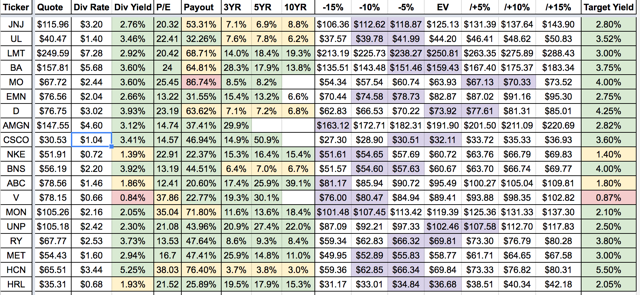 As you can see, both Amgen (NASDAQ:AMGN) and Amerisource Bergen (NYSE:ABC) actually fit my original criteria of being at least 15% undervalued, though it is prudent to remain cautious with healthcare stocks until we have a better sense of what the new administration plans to do in terms of prescription costs and the future of the ACA.
I am watching Eastman Chemical (NYSE:EMN) and Metlife (NYSE:MET) most closely for purchase as they both fit all of my criteria, remain undervalued, and are close to my target yields.
What companies are you watching into 2017? Did you enjoy this article? Leave a comment to let me know, and thanks for reading!
Disclosure: I am/we are long T, ABBV, PFE, KO, GE, GM, MGA, TD, VLO, LUV, OA, CVS.
I wrote this article myself, and it expresses my own opinions. I am not receiving compensation for it (other than from Seeking Alpha). I have no business relationship with any company whose stock is mentioned in this article.