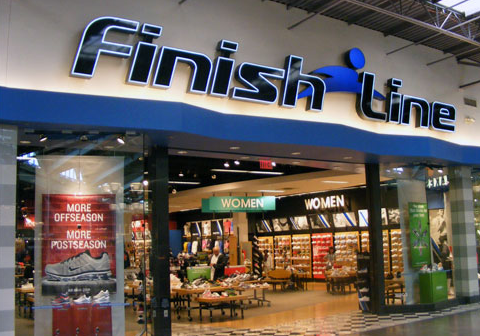 Finish Line (NASDAQ:FINL) has been a terrific growth story in what has been a pretty beat up sector of retail in the past several quarters but despite this, the stock continues to sport a fairly low valuation. That was true heading into the Q3 earnings report and shares were crushed, making the stock look even more attractively valued. I've built my bull case upon rising comps and margins but with one of those components falling off a cliff in Q3, the bull thesis is more difficult to defend. But even so, at under 13 times forward earnings, I'm still on board with Finish Line as I give management the benefit of the doubt for now.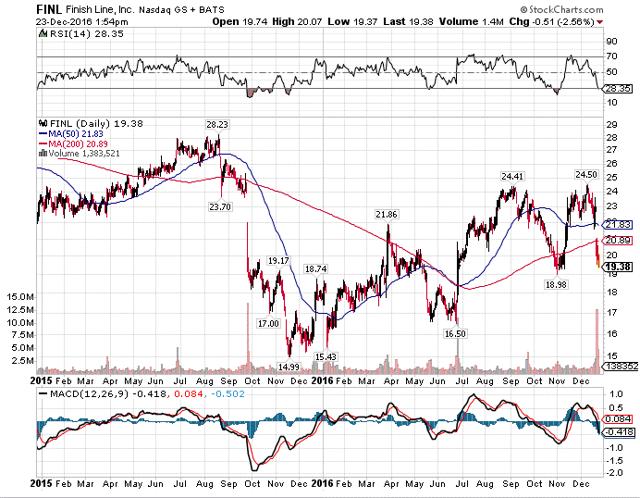 Let's just get the ugly part out of the way up front; FINL posted a massive disappointment when it came to comp sales in Q3 as expectations of +8% were met by just a 70bps increase. FINL has admittedly spoiled us over the past several quarters with eye-popping comp numbers that led to the very estimate that was missed in Q3 but this represents a huge slowdown and one that can potentially impair the bull case if it is to continue.
Footwear sales were very strong and the Macy's business grew by a third (!) in Q3 but the apparel and accessories businesses fell off a cliff, almost completely offsetting the high single-digit comp in shoes. The fact that FINL's core business is still flying is great news but if it is going to be offset by a strategic shift in the way FINL merchandises its other categories, I certainly understand why the stock was whacked after the report. Revenue was a huge disappointment in Q3 so that's one strike for those of us that like FINL; but what about the other cornerstone of the bull thesis?
Thankfully, that one - profitability - is intact as Q3 was another stellar showing on that front. FINL always posts a loss in Q3 and this one was no different but the operating loss was much smaller than it was last year despite the tepid performance of comp sales. Gross margins were up 370bps in Q3, an amazing showing, and SG&A costs leveraged 40bps as FINL continues to execute on its cost savings initiative and as it produces more leverage from higher sales. The margin picture is of paramount importance for FINL - particularly if comp sales are slowing for good - because that will be the primary source of earnings growth going forward. FINL has done an outstanding job of cutting costs from the model as well as boosting gross margins even at a time when promotions rule the day, but given the struggle for revenue we saw in Q3, it may not be enough.
Apart from the tough Q3 from a revenue perspective, FINL was also hammered because it offered up some pretty ugly guidance for Q4. That quarter's comp sales were revised down to -3% to -5% as management reckons the timing of tax refunds early next year will sit more in Q1 than Q4. That reduced guidance for Q4 by 2% to 3% and that is certainly not what investors wanted to hear. However, if management is right and Q4's sales do trickle into Q1, there could be upside potential to next fiscal year's numbers. Analysts just revised down everything after the guidance cut so if 2% to 3% of comp sales and ~7 cents of EPS does get pushed into Q1, the 25 cent reduction in Q1 EPS estimates certainly looks too harsh.
Of course, for this to hold water, you have to believe management knows what it is doing. For me, the track record speaks for itself; FINL has grown by leaps and bounds in the past several quarters and while there is no getting around how ugly Q3's comp sales were, let us not forget how extraordinary FINL's margin growth has been. This is a management team that is far from clueless so I'm inclined to give them the benefit of the doubt here. I'll caveat that by saying that if this doesn't turn out to be the case, look out below, but that is not my base case right now.
At under 13 times forward earnings, FINL is going for under 1X its projected growth rate for next year. As long as the margin growth story remains intact, there's no reason to think it can't hit 14% EPS growth. To be clear, there is no crack in the armor, so to speak, with respect to margins. The fact that comps fell off a cliff and that guidance was cut for the critical Q4 is very concerning to me. But also remember that one quarter is not a trend and that this is not a long term impairment yet. It certainly could turn into one but for now, I'm reserving judgment.
The stock is cheap and that includes the sizable reduction in estimates for next year; imagine if FINL can beat estimates. While I acknowledge that Q3 was ugly, the stock is cheap enough - and estimates reasonable enough - that FINL is still worth a look here.
Disclosure: I am/we are long FINL.
I wrote this article myself, and it expresses my own opinions. I am not receiving compensation for it (other than from Seeking Alpha). I have no business relationship with any company whose stock is mentioned in this article.