Barrick Gold (NYSE:ABX) has lowered its cash costs to such an extent that even a dip in gold prices will allow the company to enhance its bottom line performance on account of its low cost structure. In fact, even though the outlook for gold prices has weakened of late, analysts still expect Barrick Gold to report strong earnings growth both next year and in the long run.
In this article, we will take a look at where the gold market is headed since this plays a crucial role in investor sentiment regarding Barrick, and then take a look at how lower costs are expected to drive its bottom line performance.
The gold pricing scenario has weakened
Gold prices have lost a lot of steam after the U.S. Federal Reserve's decision to increase the interest rate by 25 basis points. Additionally, the Fed has indicated that it is not yet done with interest rate hikes by giving hints of three more hikes in 2017.
As a result of the recent hike and the Fed's hawkishness regarding further rate increases due to strong economic indicators in the U.S., gold has lost almost 20% of its value of late. In fact, the U.S. economy grew at a faster-than-expected pace last quarter, with GDP growing at 3.5% in the third quarter as compared to expectations of 3.2% growth. This strong economic growth is one of the reasons why the Fed has decided to raise the interest rate.
What's more, looking ahead, it is likely that the U.S. economy will sustain its rate of growth under the incoming government. In fact, analysts expect the U.S. economy to grow at 2.1% in 2017 as compared to the growth rate of 1.9% forecasted for 2016. The improvement in economic conditions in the U.S. will also be aided by a lower unemployment rate.
All these factors show us why the Fed is expected to hike the interest rate going forward and this is bad news for gold pricing. This is because gold prices and the federal funds rate are inversely related since a higher treasury yield makes an investment in bonds a more profitable option as compared to gold, which does not carry any yield. This is evident from the chart given below: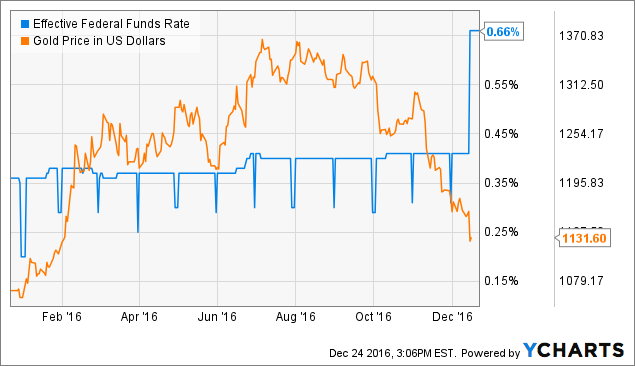 As shown above, the recent increase in the federal funds rate has proven to be a headwind for gold prices and it is likely that the trend will continue going into the New Year for the reasons discussed above.
A school of thought also believes that gold is oversold even at a price of $1,340 per ounce, which it achieved on the night of the U.S. election. Even Bloomberg concluded in June 2016 that gold was oversold while it moved from $1,300 to $1,200 an ounce within a month. So, it won't be surprising if low gold prices prevail next year.
Effect on Barrick Gold
The yellow metal has shed more than $200 per ounce of its value since the election night. It is currently trading at around $1,130 per ounce, which leaves very little margin for most of the gold mining companies. However, some of them are still in a great position to remain profitable even if the price of gold falls by another $200 per ounce, or in other words, by another 20%.
Now, the good news for Barrick Gold investors is that the company is one of those that enjoys such a position owing to low all-in sustaining costs. This is because Barrick Gold has invested its resources in slashing the CAPEX, increasing production efficiencies, and high grading of its mines, which results in lower production costs and higher output.
In fact, Barrick Gold's all-in sustaining costs, as reported in its third quarter financial results announcement, are at such a level that it would be able to remain sustainably profitable even at a gold price level of $900 per ounce. This is because Barrick Gold has the lowest AISC in the industry.
After the guidance revision that it did during the third quarter, Barrick Gold's full-year AISC is expected to fall in the range of $740 to $775 per ounce. If this happens, then even the upper limit of the full-year AISC will be over $350 per ounce lower than the price of gold that has prevailed through this week after the rate hike announcement by the Fed. This means that Barrick Gold will remain a profitable bet even in a weak pricing environment, and this is a key reason why the company will be able to improve its earnings and cash flow, which will eventually lead to stronger upside.
Why Barrick's costs are one of the lowest in the industry
Barrick Gold has achieved a lower AISC level due to its focus on rigorous cost-cutting and smart production expansion from assets where costs are low. In fact, the company has reduced its capital expenditures by more than three-quarters in just four years and is now capable of achieving break-even free cash flow even at a gold price of $1,000 per ounce.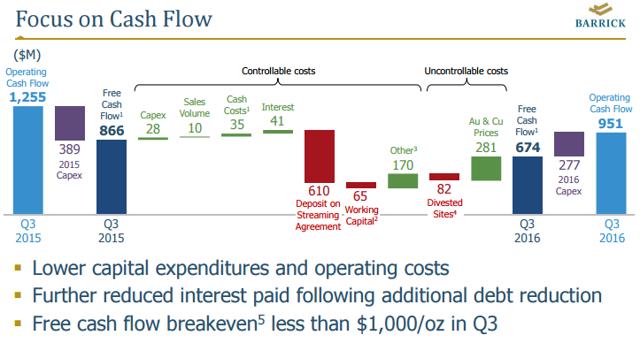 Source: Barrick Gold
Additionally, Barrick has divested many of its non-core assets over the past two years, which is why it has been able to cut the debt by around $5 billion over the last two years with the help of the proceeds from the divestments as shown below.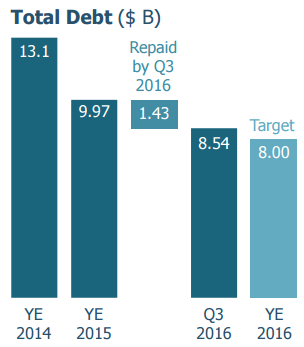 Source: Barrick Gold
Due to this reduction in the debt, Barrick has been able to direct more money toward assets with a higher return profile, while also reducing interest expenses. In fact, during the first nine months of the year, Barrick Gold's interest costs have gone down over 28%, and this is another factor that will contribute to earnings growth.
Potential earnings growth and the impact on the stock price
Due to higher gold prices and lower costs prevailing throughout 2016, Barrick Gold's earnings are expected to grow to $0.69 per share as compared to $0.30 per share last year. But, more importantly, despite the recent weakness in gold prices, analysts expect that Barrick Gold's earnings will grow once again in 2017 to the tune of 26% to $0.87 per share.
More importantly, Barrick Gold is expected to sustain its earnings growth in the long run as well, reporting a robust annual bottom line growth rate of 37% for the next five years. At this growth rate, Barrick's earnings by the end of the fifth year will grow to $1.45 per share. Now, Barrick has a forward P/E ratio of almost 17. This means that when the company's earnings hit $1.45 per share, its stock price should grow to almost $25 per share.
This indicates that Barrick can still deliver upside of around 72% from current levels as the company's earnings grow going forward.
Conclusion
Gold prices might weaken next year but Barrick's low cost base will allow it to improve its bottom line performance. More importantly, due to a stronger bottom line, Barrick Gold will be able to deliver strong upside in the long run as discussed above, which is why investors should continue to hold the stock for more gains.
Disclosure: I/we have no positions in any stocks mentioned, and no plans to initiate any positions within the next 72 hours.
I wrote this article myself, and it expresses my own opinions. I am not receiving compensation for it (other than from Seeking Alpha). I have no business relationship with any company whose stock is mentioned in this article.