The sixty-eighth edition of:
Resource Sector Digest
(vol.68 - December 26, 2016)
An offering that is brought to you by Itinerant and The Investment Doctor.
As always, this edition of our newsletter will:
set the scene;
highlight actionable ideas;
comment on news releases;
and link to relevant articles.
Please note: We will be raising our subscription rates for Itinerant Musings starting January 1. Members as of December 31 will keep the present membership rates going forward. Please take advantage of the lower rates while they still apply, and consider our cordial invitation to join Itinerant Musings today.
In case you missed out on previous editions of this newsletter, simply click here, here or here to catch up.
Setting The Scene
In the past two weeks, we discussed the Brio Gold spinoff from Yamana Gold (NYSE:AUY), and the Greek Tragedy has finally come to an end, as the subscription period has now closed. Only 17.3M subscription rights have been exercised, which means Yamana will continue to own 85% of Brio Gold and will still have to consolidate the Brio results in its financial statements. A true failure from Yamana Gold, as the company was hoping to raise almost C$200M by selling Brio stock to its own shareholders. A total of C$56.3M has been raised now, and this will result in a net cash inflow of less than C$55M, after paying some underwriters and 'marketers', including CIBC (NYSE:CM), Canaccord Genuity (OTCPK:CCORF) and National Bank of Canada (OTCPK:NTIOF).
What's even more amusing/sad (you can choose) is the comment of Yamana CEO Peter Marrone. We don't think we have seen anyone using the word 'realizing value' so often in just a few sentences (perhaps the dedicated PR person already left the office). Fortunately, the company didn't use the standard 'we are pleased to announce' opening, as there's definitely nothing to be pleased about!
Peter Marrone, Chairman and Chief Executive Officer of Yamana Gold commented as follows: "Yamana has achieved another milestone in its effort to realize, and maximize, value from its Brio Gold subsidiary. Now that Brio Gold is a standalone public company, we believe that its immediate value and value potential will be better realized. It is Yamana's intention to work with the management and board of directors of Brio Gold to help realize that value. We will continue to consider all efforts that will realize better and full value."
Anyway, time for some charts, in what actually was a boring week!
The three other senior gold producers, Barrick Gold (NYSE:ABX), Newmont Mining (NYSE:NEM) and Agnico Eagle Mines (NYSE:AEM) also had to face headwinds, as the gold and silver price (NYSEARCA:SLV) didn't provide any reasons to be happy: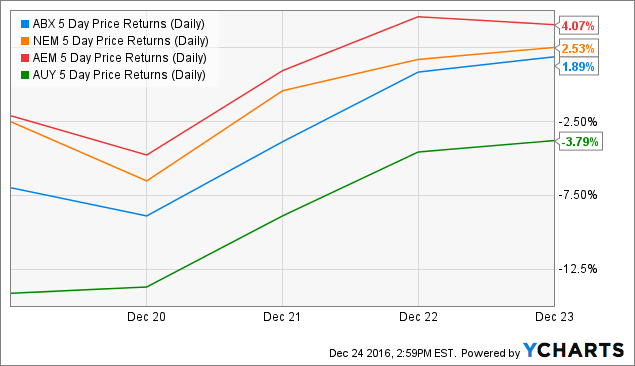 ABX 5 Day Price Returns (Daily) data by YCharts
There wasn't much going on in the base metal sector either, and Freeport-McMoRan (NYSE:FCX), Southern Copper (NYSE:SCCO) and the Global X Copper Miners ETF (NYSEARCA:COPX) are doing fine. HudBay Minerals (NYSE:HBM) decided to market a new high-yield bond, which would push the debt repayment date out by a few years. This move was already expected by The Investment Doctor, but admittedly, the refinancing is happening 2 years earlier than expected, and this might not be a bad thing as it does confirm HudBay is working on securing its financial future.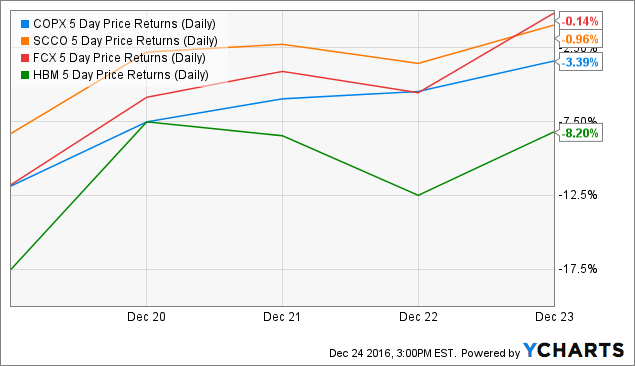 COPX 5 Day Price Returns (Daily) data by YCharts
The oil price (NYSEARCA:USO) (NYSEARCA:OIL) (NYSEARCA:UWTI) seems to have found a new trading range, and several companies have already announced their spending plans for 2017. One of the main questions is what the 'big boys' will do? Will Exxon Mobil (NYSE:XOM), Chevron (NYSE:CVX), Total (NYSE:TOT) and Royal Dutch Shell (NYSE:RDS.A) (NYSE:RDS.B) continue to lick their wounds and repair their balance sheets? Or will we see some larger M&A deals now the worst seems to be over? We haven't seen a lot of M&A yet (just some property sales with, for instance, Statoil (NYSE:STO) and Bellatrix (NYSE:BXE) getting rid of Canadian projects), so let's see if 2017 will be better!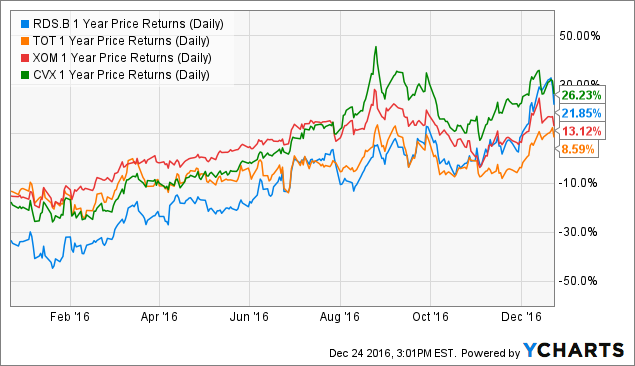 RDS.B 1 Year Price Returns (Daily) data by YCharts
And finally, the large conglomerates have all been successful in cutting costs and are now free cash flow positive again. BHP Billiton (NYSE:BHP), Rio Tinto (NYSE:RIO) and VALE (NYSE:VALE) seem to be ready to expand their operations again from next year on!
BHP 1 Year Price Returns (Daily) data by YCharts
Actionable Ideas
Some interesting calls this week with contributors sharing their ideas for 2017. Alpha Investor thinks you should consider buying Cliffs Natural Resources (NYSE:CLF), whilst Dividend Sensei is making a case to prefer Enbridge (NYSE:ENB) over Kinder Morgan (NYSE:KMI). He has a point, and The Investment Doctor is expecting the majority of the pipeline operators to improve their balance sheets in the next few years, as most growth capex has already incurred, and 'pipeliners' will be able to hoard some cash as their distributions are usually quite a bit lower than the distributable cash flow! TID is throwing some additional names out here: Enbridge Energy Partners (NYSE:EEP), Transcanada (NYSE:TRP), Inter Pipeline (OTCPK:IPPLF) and Pembina Pipeline (NYSE:PBA).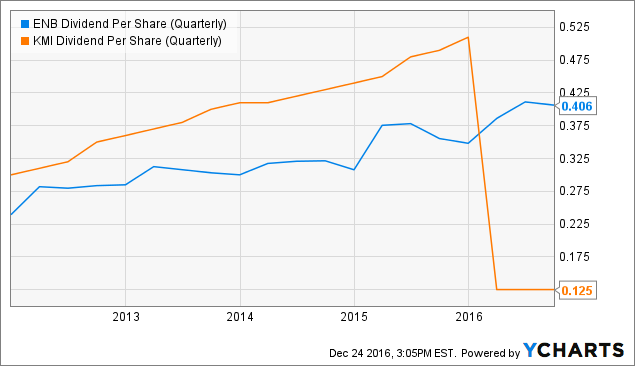 ENB Dividend Per Share (Quarterly) data by YCharts
News Releases
Gran Tierra Energy (NYSEMKT:GTE) has announced it's planning to spend a total of $200-250M on capital expenditures on all of its projects, of which the majority will be spent in Colombia where it will aim to increase its production rate. The investments are cash flow neutral with a Brent oil price at $56/barrel (which is the approximate spot price). GTE expects the annual production rate to be 34-38,000 boe/d, but TID wouldn't be surprised to see an exit rate of approximately 40,000 barrels per day.
Brixton Metals (OTC:BXTMD) has announced it will acquire the Gowganda mine from Tahoe Resources (NYSE:TAHO). Gowganda is located in Ontario and is a past producing mine with a total production of in excess of 40 million ounces of silver from less than 2 million tonnes or ore.
Richmont Mines' (NYSEMKT:RIC) Island Mine in Ontario has received amendments to its existing permit which are now allowing the company to operate the Island gold mill at a rate of 1,100 tonnes per day. In the new permit, Richmont has been provided with additional flexibility, as it is allowed to process a maximum of 38,480 tonnes in one single month (almost 1,300 tpd). The Investment Doctor still thinks Richmont should investigate a merger with Argonaut Gold (OTCPK:ARNGF) to blend the Island ore with the Magino ore which is pretty much right next door.
Kootenay Silver (OTC:KOOYF) has completed seven drill holes at the Soledad structure in Mexico, whilst a major ground recon program is in full swing. Kootenay plans to punch more holes at Soledad based on this ground program, and this should ultimately lead to a substantial increase in the company's resources estimate.
Osisko Mining (OTC:OBNNF) is very optimistic about its Windfall project, as it has increased the size of its drill program by a stunning 250,000 (!!!) meters. In the past 14 months, Osisko has completed 115,000 meters of drilling, but it looks like these efforts will be accelerated. Big brother Osisko Gold Royalties (NYSE:OR) will undoubtedly provide the financing needed to actually build a mine at Windfall.
Canacol Energy (OTCQX:CNNEF) has published the results of the two new producing wells, and with a combined flow rate of 31 MMcf/d, The Investment Doctor is very happy. Both wells are/will be tied in to the existing production infrastructure, confirming Canacol as a major player on the Colombian gas market. The Capuchino target is currently being drilled, but you really shouldn't expect to see any results before H2 February. If Capuchino confirms the existence/abundance of light oil, Canacol will be really off to the races.
Golden Queen Mining (OTCQX:GQMNF) has declared commercial production at its Soledad gold mine in California. A total of 17,800 ounces of gold and almost 185,000 ounces of silver have already been shipped from the project's mine site.
Berkeley Energia (OTCPK:BKLRF) continues to make progress at its Salamanca uranium project in Spain, and now plans to start full construction early next year. Some of the equipment that has already been ordered came in 20% below budget, so this bodes really well for the future of this uranium mine! If only the Uranium price (NYSEARCA:URA) would start to cooperate!
Alacer Gold (OTCPK:ALIAF) (OTC:ALACF) released a maiden resource estimate on its Cakmatepe project in the Copler district. This first resource estimate came in at 164,000 ounces of gold at an average grade of approximately 1.82 g/t gold.
Fortescue Metals (OTCQX:FSUMF) (OTCQX:FSUGY) saw S&P hike its credit rating and confirmed a stable outlook. No surprises for the fans of The Investment Doctor who already claimed in March 'Fortescue is doing just fine'. Sometimes emotional market reactions create opportunities!
Pure Gold Mining (OTC:LRTNF) has provided an update on its ongoing 77,000 meter drill program in the Madsen District, Ontario. More high grade mineralization has been discovered with 2 meters at 11.9 g/t gold, 2.7 meters at 26.2 g/t gold and 1 meter containing 19.3 g/t gold. The Madsen district is now becoming an area play, as Great Bear Resources (OTCPK:GTBDF) also acquired claims in the immediate vicinity.
Wealth Minerals (OTCQB:WMLLF) took a beating on Monday after it announced the acquisition of yet another lithium project. The commitments to acquire the Laguna Verde lithium project in Chile are pretty high (US$5M and 7M shares), but as the project comes with a historical resource estimate, it might very well be worth the price. SQM (NYSE:SQM), FMC Corp. (NYSE:FMC) and Albemarle (NYSE:ALB) are the main lithium producers these days, but smaller outfits do have a chance, depending on the quality of their brines.
Bacanora Minerals (OTC:BCRMF) said it has started offtake negotiations with an unnamed Asian buyer (we dare to bet it's Panasonic, as there has been a lot of off-the-record chatter lately about Panasonic wanting to secure more lithium supply). As we said last year, the 'deal' with Tesla Motors (NASDAQ:TSLA) was just some way to draw attention, as Tesla didn't make any commitments. It's in Bacanora's best interest to close offtake deals to show the market its end product will be saleable.
Cartier Resources (OTC:ECRFF) caught the attention of Agnico Eagle Mines which is taking a 20% stake in the company at C$0.20 per share, an 11% premium. Agnico seems to be increasingly interested in Québec projects.
At Eldorado Gold (NYSE:EGO), CEO Paul Wright will transition to the Chairman position whilst George Burns, COO, will become CEO. Let's hope his salary will be lower than Paul Wright, who took home almost US$3.2M in cash, and saw $1.2M being deposited in his pension account in 2015. Not bad for what probably was one of the worst years ever, and EGO's share price fell by more than 50%. New Gold (NYSEMKT:NGD) also reshuffled its senior management, and Hannes Portmann has now been appointed as the company's president. UR-Energy (NYSEMKT:URG) appointed Jeff Klenda as its new CEO after acting as, well acting CEO.
Bonterra Energy (OTC:BNEFF) said it plans to spend C$70M in capital expenditures on its existing properties. That's sufficient to actually increase the production rate, as Bonterra's producing properties have a very low decline rate of less than 20%. As the expected funds flow (based on US$55 oil and C$3 gas) will be C$140M, Bonterra will be able to continue to pay the dividend AND to reduce its debt by C$40M in 2017.
Resolute Energy (NYSE:REN) has big plans for 2017. It will spend $210-2140M on its properties to boost the production rate by a stunning 85% to 8.7-10.2 million barrels of oil-equivalent. To accomplish this without letting its net debt position spiral out of control, Resolute will issue 3.8 million new shares at $38 each to raise a total of $144M.
Vanstar Mining has completed its autumn drill program with joint venture partner IAMgold (NYSE:IAG) after completing 2,225 meters of drilling. Assays are still pending, but both JV partners will go ahead in 2017 with a drill program of approximately 6,000 meters.
In the Uranium space, Nexgen Energy (OTCQX:NXGEF) continues to hit the sweet stuff with assay results of 30 meters at 15% U3O8, including 6 meters at almost 52% U3O8. Pretty radioactive material! Competitor Fission Uranium (OTCQX:FCUUF) is also ready to get going again, and has scheduled a 34 hole drill program, aiming to complete just over 10,000 meters of drilling at its PLS property in the Athabasca Basin. Everybody is looking at Cameco (NYSE:CCJ), but we wouldn't be surprised to see a third party getting involved in the Athabasca Basin in 2017.
Dundee Precious Metals (OTCPK:DPMLF) has discovered a new high-grade copper-gold zone at its Chelopech mine in Bulgaria. Drilling at the so-called Zone 153 unveiled 84 meters at 13.58 g/t gold and almost 3% copper, as well as 16.8 meters of 6.6 g/t gold and almost 2% copper. Dundee will follow up on this discovery with a new 6,000 meter drill program. Later in the week, Dundee announced a C$44M investment (at a 20% premium!) by the European Bank for Reconstruction and Development, which will help the company to build the Krumovgrad mine in Bulgaria.
Hunt Mining (OTC:HMXZF) will sell the tailings from its Martha tailings area to a subsidiary of Pan American Silver (NASDAQ:PAAS) which will process the tailings at the Manantial Espejo mill. Hunt will provide 10,000 tonnes of tailings per month, and received a forward payment of $250,000 for the first 25,000 tonnes of material.
Not entirely unexpected, Great Panther Silver (NYSEMKT:GPL) has entered into an agreement with Nyrstar (OTCPK:NYRSY) to purchase its Coricancha zinc-silver mine in Peru. The up-front payment is really low, but Great Panther will have to pay Nyrstar up to $10M based on the free cash flows generated by the asset.
Medgold (OTC:MGLDF) reported its first drill results from the Botticas gold project in Portugal, where it has completed 2,500 meters of drilling. 50 meters at 1.43 g/t gold and 21 meters at 2.54 g/t close to surface is really good, but unfortunately the true width is just 55-60% of the reported intervals. There's definitely smoke there, but let's see if the source can be identified. Medgold also has a joint venture with Fortuna Silver Mines (NYSE:FSM) in Serbia.
TransGlobe Energy (NASDAQ:TGA) completed the acquisition of the Canadian asset from Bellatrix Exploration after paying C$80M for the project with a NPV of C$110M after-tax (US$75M). It also confirmed the P+P NPV10 of the Egyptian asset at US$259M, for a combined NPV10 of $334M. The current market capitalization is just a fraction of the NPV
Taseko Mines (NYSEMKT:TGB) has received the final permit, the underground injection control permit from the EPA. This allows the company to build and operate the Phase 1 test facility
Semafo (OTCPK:SEMFF) received the mining permit for the Natougou project, which plays an important role in The Investment Doctor's original write-up of the company.
Imperial Metals (OTCPK:IPMLF) has announced a C$55M capital raise. Not unexpected, but it took longer than The Investment Doctor expected in his November 2015 article.
Merrex Gold (OTCPK:MXGIF) is selling itself to IAMgold. IAMgold will offer 0.0433 of its own shares per share of Merrex it doesn't own yet.
Select Sands (OTCQX:SLSDF) has appointed a new CEO, and the current CEO will transition into a COO-role and move to Houston where the company's effective headquarters will be. Select Sands aims to be in full production in 2017, and will be a direct competitor of Hi-Crush Partners (NYSE:HCLP), US Silica (NYSE:SLCA), Emerge Energy Services (NYSE:EMES) and Fairmount Santrol (NYSE:FMSA).
Avino Silver & Gold Mines (NYSEMKT:ASM) has released exploration results from an ongoing drill program at the Avino mine in Mexico. Itinerant wasn't very impressed in an Itinerant Musings update, concluding 'it's encouraging news, but won't change the game at Avino'.
The total amount of news flow will be light next week, so it might be a good moment to assess your portfolios and position yourself for 2017! Do you have any favourite commodities? Any companies you expect to achieve great things in 2017?
Let us know in the comment section!
Disclosure: I am/we are long BXTMD, GTE, KOOYF, BKLRF, CNNEF, MGLDF, GTBDF, OR, WMLLF.
I wrote this article myself, and it expresses my own opinions. I am not receiving compensation for it (other than from Seeking Alpha). I have no business relationship with any company whose stock is mentioned in this article.
Editor's Note: This article covers one or more stocks trading at less than $1 per share and/or with less than a $100 million market cap. Please be aware of the risks associated with these stocks.