As I began my home lighting preparations for another Christmas and New Year's friendly neighborhood lighting competition, I was struck by how much has changed this year. For the first time in nearly 20 years of decorating my house for the holidays, my entire front yard masterpiece now consisted exclusively of beautifully bright LED strands. In the spirit of Peter Lynch's "One Up on Wall Street," I decided to extend my anecdotal survey a bit broader. I had to know if I was the only one who had reached full LED saturation for the holidays. I surveyed the aisles at several Lowe's (NYSE:LOW) and Home Depots (NYSE:HD), questioned a few neighbors, and quickly found that I was no anomaly.
LED has gone mainstream. Maybe I was a little slow to notice, but the adoption rates are accelerating all around us for a host of reasons. Electricity cost savings, less time on ladders, no glass breakage, and cool surfaces to the touch all add to the growing appeal. Like most things I observe, I had to know how this related to the stock sector of LED specific firms. Rather than include industrial behemoths like General Electric (NYSE:GE), I decided the purer LED play may provide better market insights for us to consider.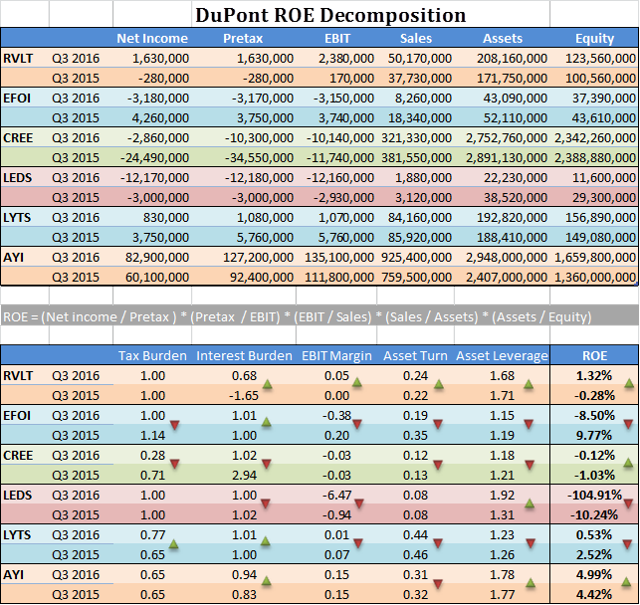 Subsequently, I ran a five factor return-on-equity decomposition for each of the six firms comparing year-over-year third-quarter results. The data table shown above represents the latest financials available from Google finance. In addition to my analysis that follows, many resources online provide instructions to further decode this type of analysis first made famous by the DuPont Corporation in the 1920s.
Half of the 6 stocks analyzed had no tax burden (Revolution Lighting Technologies (NASDAQ:RVLT); Energy Focus (NASDAQ:EFOI); SemiLEDs Corp. (NASDAQ:LEDS)) as represented by the value of 1.00. This is likely due in part from carryover losses in prior year(s) that prevent any tax burden in the observed time period. Put another way these firms are 100% tax efficient, for the time being and possibly for the 2016 year-end close.
Next the EBIT margin again showed only half of these firms with positive earnings to sales ratios (RVLT; LSI Industries (NASDAQ:LYTS); Acuity Brands (NYSE:AYI)). This is representative of the profit or loss to the firm for the average sale made in Q3. Noticeably, only RVLT had increasing EBIT margins YoY for Q3.
The EBIT margin declines are highly indicative of declining product prices that are significantly impacting the way LED firms compete. Some of the smaller firms may be benefiting from the expensive advertising campaigns of larger firms trying to expand LED sales in a highly price sensitive market.
Asset turns reveal the proportion of sales to assets in a measure of efficiency of their product inventory flow through. Again, only half of the firms analyzed had strong asset turns above the mean of 0.23 for the sector in Q3 (RVLT; LYTS; AYI).
Asset leverage shows how well the firms' equity multiplier is providing good asset value for their invested dollar. The three highest values by firm in descending order are LEDS, AYI, and RVLT.
Next, I wanted to get a sense of the "overall" health of the LED sector using this concentrated sample of only six firms that have a primary focus on LED products. This cross-sectional analysis of approximately $1.3 billion in LED sales seemed like a reasonable way to approximate trends in this sector over the past year. Using a Q3 revenue comparison matrix of 2015 sales to 2016 sales, I estimated market share of each of the firms and observed how the share of revenue among each of the six firms had trended into the most recent quarter:

The results show that this $1.3 billion revenue sample of the LED market sector is expanding at 8.2% year over year.
This increase among only six firms represents a remarkable $105 million of which 89.6% was captured by Cree, Inc. (NASDAQ:CREE) and AYI.
It is worth noting that RVLT managed a 33% increase in quarterly sales from 2015 and was one of only two firms (AYI; RVLT) that increased their relative market share from last year.
As you prepare for a new year and stroll among the beautiful lights, you might consider your own anecdotal sampling of the LED holiday decorations that are quickly becoming mainstream. This review of third-quarter results may aid in your estimates about what the LED sector offers for 2017. The strong growth of the sector continues to be an encouraging sign that might brighten your portfolio next year.
Disclosure: I am/we are long GE, RVLT. I wrote this article myself, and it expresses my own opinions. I am not receiving compensation for it (other than from Seeking Alpha). I have no business relationship with any company whose stock is mentioned in this article.
Editor's Note: This article covers one or more microcap stocks. Please be aware of the risks associated with these stocks.