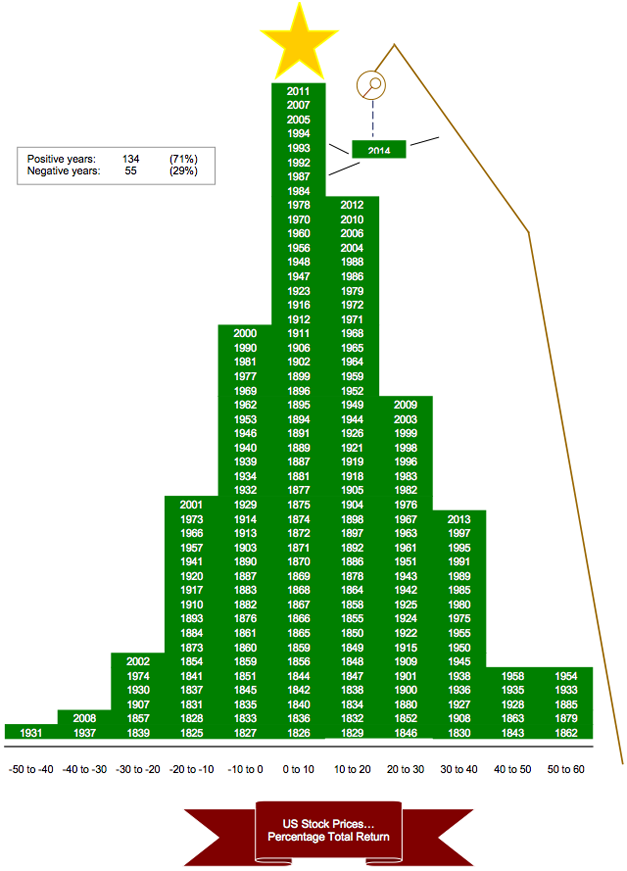 Source: Google Images
First and foremost, I would like to wish everyone a Merry Christmas and a Happy New Year. Hopefully, most are spending time with family and friends, taking pause from the hectic lives that we lead. The simplicities of life often inspire us and refresh us much more than the perceived importance of our daily tasks.
For the market and transports, this past week was muted. Trump continued to tweet out his thoughts regarding Lockheed Martin's (NYSE:LMT) higher cost fighter planes versus The Boeing Company's (NYSE:BA) potential competitive stance. I took the liberty to initiate a position in Lockheed Martin this week, calling bluff.
Speculation was also rampant regarding a five to 10 percent import tariff on all goods coming into the U.S. I took the liberty of adding to my Sprouts Farmers Market (NASDAQ:SFM) position this week, calling bluff. For investors, we won't know the tangible impacts of President-Elect Trump's policies until next year.
Q1 2016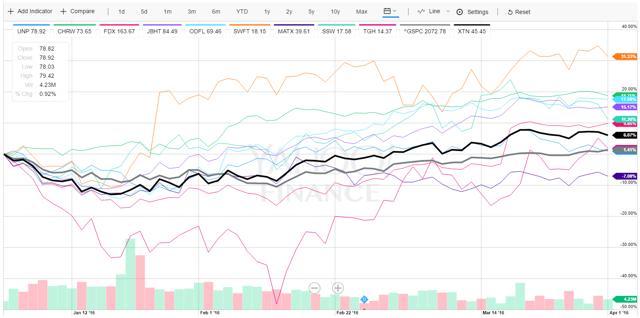 Source: Yahoo! Finance
Through the first quarter of 2016, transports substantially outperformed the broader S&P 500 index as evidenced by the SPDR S&P Transportation ETF (NYSEARCA:XTN). Transports were up over 6 percent during the quarter, while the S&P 500 was up nearly 1.5 percent. Mid-March reflected the greatest difference between the two.
Specific examples of companies reflecting major transport segments have been highlighted above for illustrative purposes. Only Union Pacific (NYSE:UNP), Textainer Group Holdings (NYSE:TGH) and Matson (NYSE:MATX) lagged the SPDR S&P Transportation ETF performance during the first quarter.
Q2 2016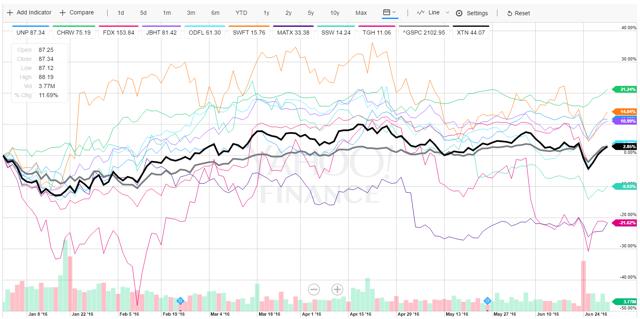 Source: Yahoo! Finance
Through the second quarter of 2016, transports substantially underperformed the broader S&P 500 index as evidenced by the SPDR S&P Transportation ETF. Both transports and the S&P 500 index were up nearly 3 percent through the second quarter.
Transports were much more effected by the perceived impacts from the Brexit vote, similar to the growth concern impacts during January and February. Only Matson and Seaspan Corporation (NYSE:SSW) lagged the SPDR S&P Transportation ETF performance through the second quarter.
Q3 2016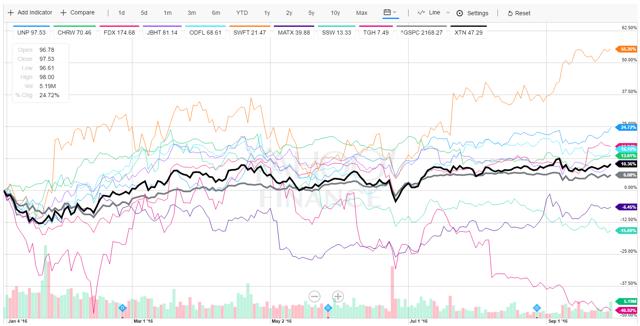 Source: Yahoo! Finance
During the third quarter of 2016, transports re-established the lead versus the S&P 500 as evidenced by the SPDR S&P Transportation index. Both were up 6.1 and 10.4 percent, respectively.
Major laggards included Matson, Seaspan and Textainer Group Holdings. The challenging shipping container industry and the Hanjin bankruptcy have continued to weigh on all companies with strong exposure to this industry.
YTD 2016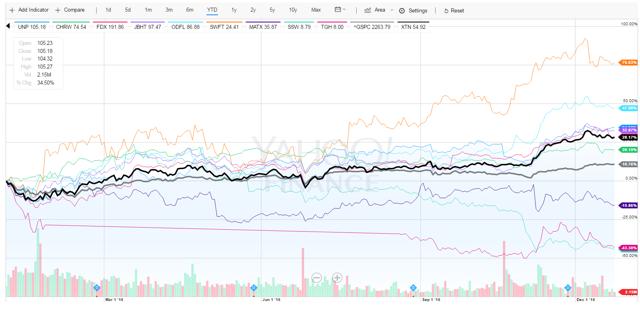 Source: Yahoo! Finance
Year-to-date, the spread between the SPDR S&P Transportation ETF and the S&P 500 decreased from last week, with transports leading by 17.4 percentage points. The S&P 500 improved by 30 basis points to 10.8 percent YTD; while the SPDR S&P Transportation ETF improved by 20 bps to 28.2 percent YTD.
Performance for this past week was mostly muted as both transports and broader market indices displayed marginal improvement. Trading was light as the week progressed due to Christmas, and next week may experience similar activity.
FedEx Corporation (NYSE:FDX) reported earnings this past week and missed on estimates. Many were quick to jump on the negative sentiment bandwagon, but the market did not react much. Most analysts were quick to provide positive comments on FedEx's long-term potential and value versus United Parcel Services (NYSE:UPS).
Home sales have remained strong, GDP growth estimates for the fourth quarter have been revised higher to 3.5 percent, and Federal Reserve rate hike has not slowed broader markets, despite next year's three rate hike projection.
Rail Operators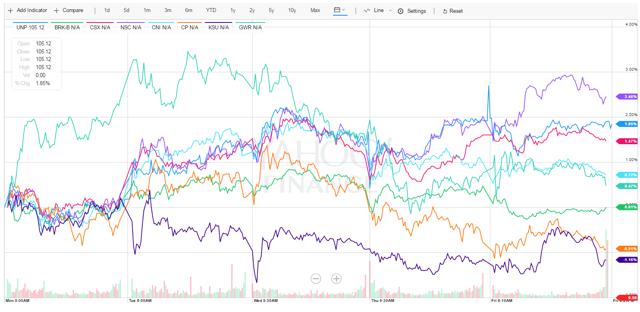 Source: Yahoo! Finance
Most rail operator stocks recovered during the week with the exceptions being Kansas City Southern (NYSE:KSU) and Canadian Pacific (NYSE:CP); both down around one percent. Norfolk Southern (NYSE:NSC) was the performance leader, up nearly 2.5 percent. Rail stocks are trading at premiums, but Kansas City Southern is discounted due to perceived Mexico exposure risks.
Rail traffic has continued to improve through December. Recently, experts have taken a conservative stance for next year due to the uncertainty surrounding Trump's policies. This is counterintuitive based upon the expected improvement in global GDP and industrial growth.
Railcar Manufacturers & Lessors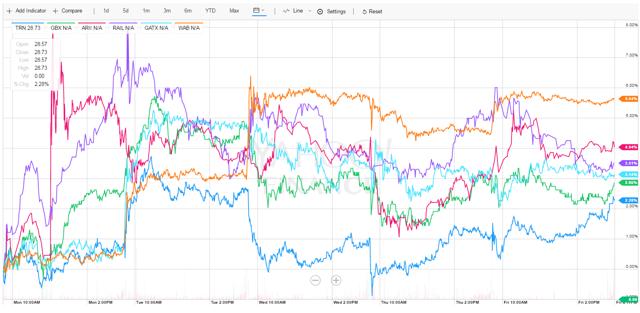 Source: Yahoo! Finance
Railcar manufacturers and lessors have been on fire since the post-Trump election market rally. This group has tended to trade in line with rail operators, and this week was no different, with the only exception being that performance was greater. This was led by Westinghouse Air Brake Technologies (NYSE:WAB).
As next year is anticipated to witness marginal rail traffic improvement, investors should be cautious at today's elevated stock prices. It may take still take some time for railcar manufacturers to get back to positive unit growth. As stocks will trade ahead of results, there will likely be better buying opportunities. Companies including Trinity Industries (NYSE:TRN) and The Greenbrier Company (NYSE:GBX) do have manufacturing exposure in Mexico.
Truckload Carriers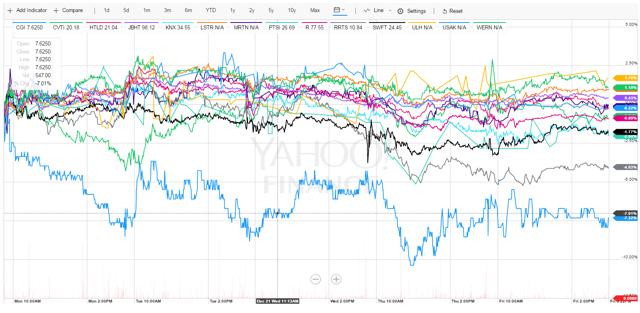 Source: Yahoo! Finance
Truckload carriers were mostly marginally positive to negative for the week. Laggards included Celadon Group (NYSE:CGI) and Roadrunner Transportation (NYSE:RRTS) which were down 7.5 and four percent. Both volume and pricing performance has been soft for the industry.
I continue to like the leaders in their respective markets including J.B. Hunt Transport (NASDAQ:JBHT), Landstar System (NASDAQ:LSTR) and Swift Transportation (SWFT). The upcoming IPO of Schneider Transportation will be of interest.
Less-Than-Truckload Carriers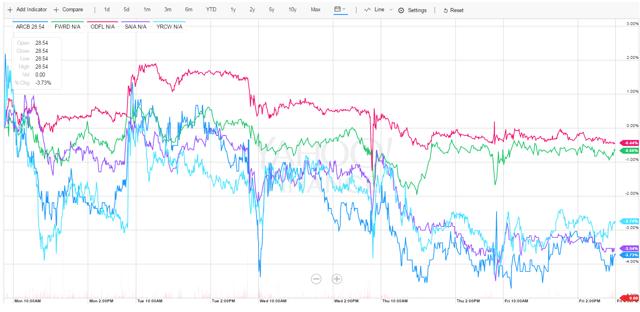 Source: Yahoo! Finance
Less-than-truckload peers underperformed their truckload counterparts. This was led by the higher leveraged and unionized players including ArcBest Corporation (NASDAQ:ARCB) and YRC Worldwide (NASDAQ:YRCW). Forward Air (NASDAQ:FWRD) was also down for the week.
Like truckload carriers, I continue to like Old Dominion Freight Lines (NASDAQ:ODFL) as a pure-play LTL carrier rather than take my chances with the higher volatility and pension risks associated with this week's laggards.
Air Freight, Package & Delivery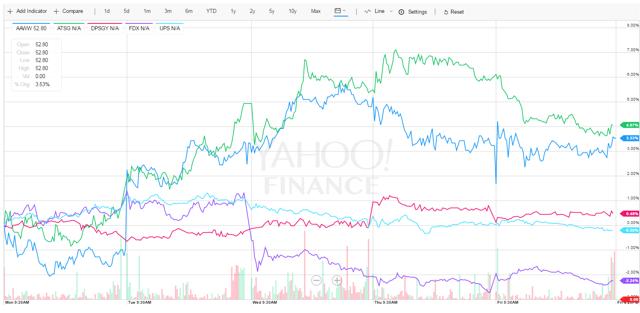 Source: Yahoo! Finance
Air freight package and delivery companies were mixed. FedEx was the laggard due to the earnings miss, but was only down just over two percent for the week. Both Atlas Air Worldwide (NASDAQ:AAWW) and Air Transport Group (NASDAQ:ATSG) were up strongly; UPS and Deutsche Post DHL Group (OTCPK:DPSGY) were flat.
Analysts quickly chimed in on FedEx being a strong long-term play despite the earnings miss. I tend to agree, but would be looking for an entry price closer to the $175 per share level.
Contract Logistics, Forwarding & Brokerage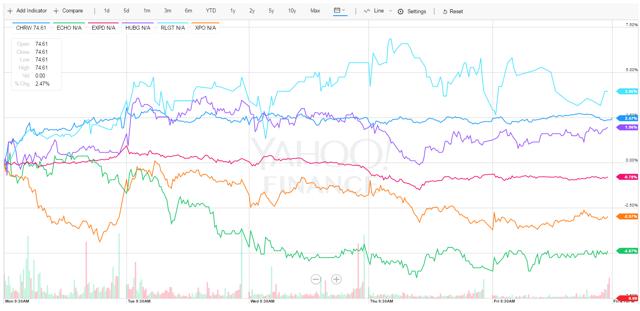 Source: Yahoo! Finance
Contract logistics companies were mixed, similar to the air freight package and delivery industry. But the mixed results were not driven by an earnings report, but rather selling pressure due to profit taking. This was most likely the case on a selective basis. Radiant Logistics (NYSEMKT:RLGT) led performance while Echo Global Logistics (NASDAQ:ECHO) was the laggard.
XPO Logistics (NYSEMKT:XPO) has displayed some weakness as of late. Moving forward, this is a stock investors should keep an eye on. Any pullback to the mid- to low-$30s could offer a solid entry point.
Container Shipping Lines, Charter Owners & Container Lessors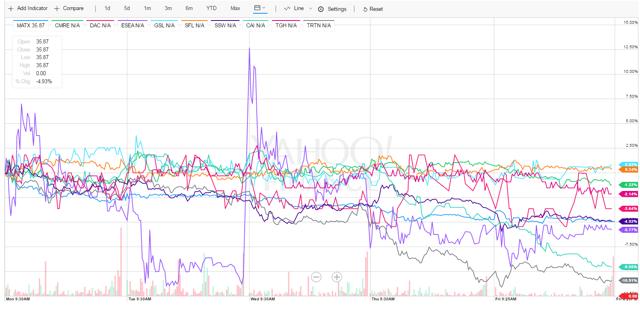 Source: Yahoo! Finance
The container shipping industry was the worst performing transport group for the week. Negative performance was led by container lessors Triton International (NYSE:TRTN) and CAI International (NYSE:CAI). Only Global Ship Lease (NYSE:GSL) and Ship Finance International (NYSE:SFL) were marginally positive. Matson was also down nearly five percent.
Matson continues to be a good play, especially in the event energy prices begin to provide sustained improvement. Investors should note that Matson's exposure to the Trans-Pacific trade lane has been a headwind to the business, resulting from the chronic overcapacity issues.
Demand Trends
Key demand-based indicators that are monitored include Class I rail traffic, trucking industry tonnage, shipments, and loads, air cargo tonnage, container shipping line twenty-foot equivalent units, North America seaport TEUs, shipping lane port calls, North America cross-border trade, and freight rates for most of these indicators.
U.S. & Canada Class I Rail Traffic - Carloads & Intermodal Units Carried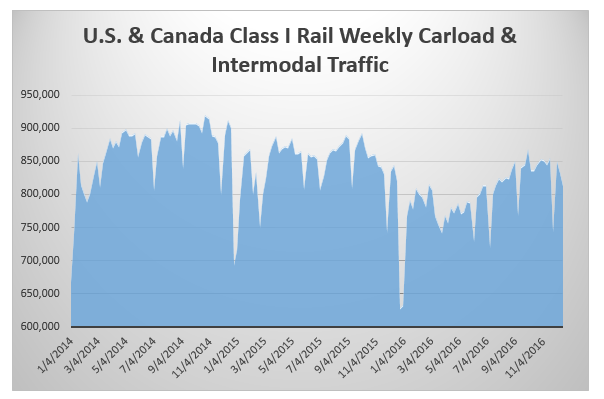 Source: Class I websites and personal database, carload and intermodal units carried
For week 50, total traffic was flat at -5.5 percent YTD with carload traffic better by 10 bps to -7.9 percent and intermodal traffic better by 10 bps at -2.5 percent. Week 50 witnessed a one percent decline versus last year. This is the second consecutive week of marginal declines.
Container traffic improved to -0.3 percent for the year, a 10 bps increase. As of early December, eastbound domestic intermodal pricing has stabilized and was up between four and 24 percent versus last year. Carload traffic is expected to pick up more next year, but some experts have cautioned regarding expected seaport traffic demand for 2017.
Week 50 witnessed a new record for the year with the twenty-third consecutive week of weekly coal carload traffic above 107,000. Grain performance remained stable at 1.5 percent growth versus last year.
Motor vehicles and equipment carload traffic maintained its performance near or above 40,000 carloads, but performance was down nine percent versus last year. Crushed stone, gravel and sand has outperformed petroleum products twenty-three out of the previous twenty-six weeks.
Trucking Industry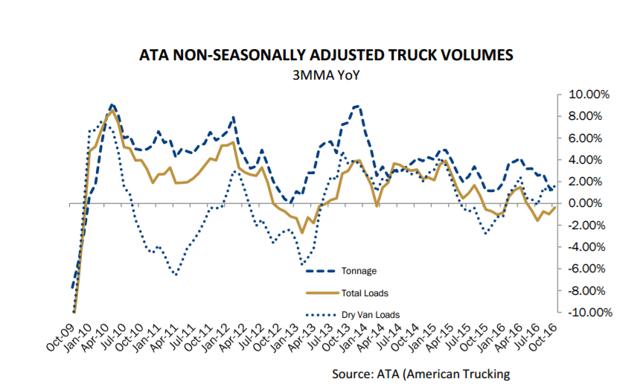 Source: Cass Information Systems, Cass Freight Index
Stories continue to attempt to measure the relationship between supply and demand for the trucking industry. Most reports are positive regarding the recent uptick in tonnage and loads, but the pricing environment continues to experience negative sentiments. This has been largely expressed by truckload carriers of late.
On the electronic logging device front, the Owner-Operator Independent Drivers Association has petitioned U.S. Court of Appeals in Chicago to rehear their lawsuit which was rejected by the panel from the same court during late October.
A lot of uncertainty remains for the trucking industry heading into 2017. If GDP improves, notably industrial production and consumer demand increases, the industry should see improvement for both volumes and pricing; visibility is just not there at the moment.
Air Cargo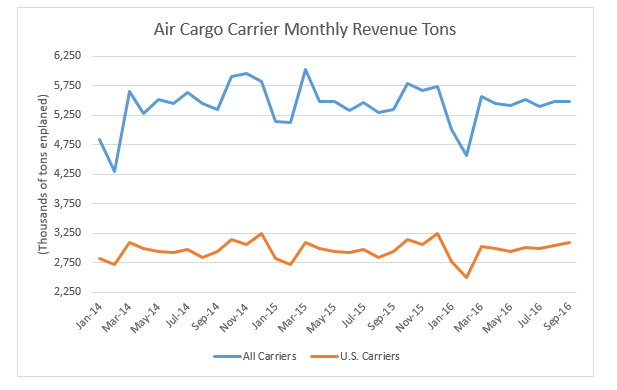 Source: U.S. Dept. of Transportation, Bureau of Transportation Statistics, Air Cargo Summary Data
FedEx domestic deferred express package delivery and international airfreight were the weakest links from a volume perspective. Comprehensively, the company's volumes were flat to marginally positive.
Air cargo carriers are facing a similar industry challenge as container shipping lines as capacity growth continues to exceed volume growth. There have been months were volumes have picked up, but overall the overcapacity imbalance still persists.
Container Shipping Lines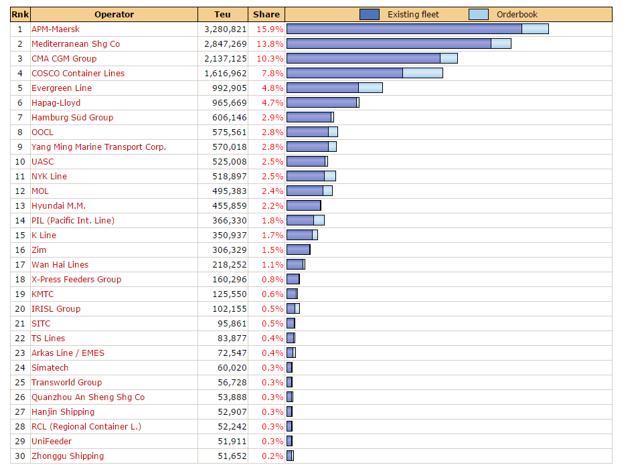 Source: Alphaliner - Top 100 Operated Fleets as Per December 24, 2016
Average spot rate activity has remained stable during December, per the Drewry Weekly; this bodes well for the Shanghai Containerized Freight Index, SCFI, but the mid-December comparable baseline was much higher so recent gains may have subsided.
Westbound pricing from Los Angeles to Asia has remained flat with average spot market rates up 13 percent versus last year. Asia to Europe pricing may also witness a similar reduction in performance versus the mid-December baseline. Trans-Atlantic pricing continues to be substantially weaker than recent Trans-Pacific performance for both directions.
Newbuild orders are expected to continue to be delivered over the next couple of years. With recent experts stances being less optimistic regarding increased demand for next year, overcapacity issues may continue to plague the industry. Volatility should be expected to continue.
North America Seaports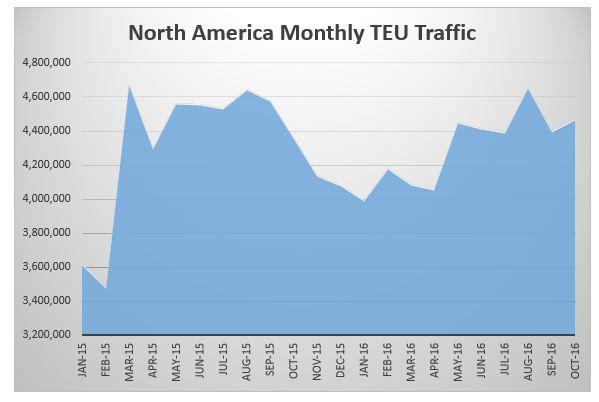 Source: North America seaport websites and personal database
Preliminary numbers for November are looking really good for U.S. seaports across the board. This includes the seaports of Los Angeles, Savannah and Charleston.
The interesting factor continues to be the discrepancy between the ports of Los Angeles and Long Beach for the year. As the peak shipping season has greatly improved TEU traffic, Long Beach continues to substantially underperform its peer.
Next year, monitoring key North America seaports will provide value for investors. The relationship between Class I rail operator container traffic and seaport TEU traffic has been strong.
North America Cross-Border Trade
The highlight of the week was definitely the coverage regarding speculative statements surrounding President-Elect Trump's possible import tariff policies. The ramifications of a 10 percent import tariff across the board would literally impact the substantial majority of U.S. business and consumers.
This would range from a company relying upon intermediary components for U.S. manufacturing, to grocery stores importing products based on U.S. seasonality. It is highly unlikely that such an extreme trade tariff for U.S. imports would be seriously considered for implementation.
U.S. stocks continue to be impacted by these subjective speculative stories. It appears that the majority of mainstream news entities continue to miss the mark on getting much of anything right. Investors, nonetheless, should be conservative until we do get sense of what the Trump camp will actually be doing.
Portfolio Management Strategy Update
The LLGP and LSGP portfolios were created in February/March of this year; currently, there are 19 holdings for the LLGP and two holdings for the LSGP. At the end of the week, the LLGP was up 4.6 percent which was a 60 bps improvement, and the LSGP was up 44.6 percent representing a 180 bps decline from last week.
During the week, multiple moves were made. A position was added to Sprouts; a partial position was sold for Sanderson Farms (NASDAQ:SAFM). Sprouts was hit hard this week from the speculative import tariff publicity. This was seen as a buying opportunity. Sanderson Farms had become over weighted and a five percent gain was realized since the chicken collusion accusations subsided.
Two new positions were also added during the week within the defense sector. These included Lockheed Martin and Raytheon Company (NYSE:RTN). Trump's recent tweets with Lockheed Martin were seen as a buying opportunity, similar to the discussed trade tariffs.
LLGP top performers YTD:
The WhiteWave Foods Company (NYSE:WWAV) 54.9 percent
Amazon.com (NASDAQ:AMZN) 34.1 percent
The Boeing Company 24.7 percent
J.B. Hunt Transport 24.2 percent
Republic Services (NYSE:RSG) 20.4 percent
Deutsche Post DHL Group 13.8 percent
ULTA Salon, Cosmetics and Fragrance (NASDAQ:ULTA) 9.6 percent
Calavo Growers (NASDAQ:CVGW) 9.4 percent
LLGP top negative performers YTD:
LINE Corporation -8 percent
DexCom (NASDAQ:DXCM) -5.3 percent
LSGP Performance
XPO Logistics 64.3 percent
YRC Worldwide 42 percent
Mobileye (NYSE:MBLY) 1.2 percent
The remaining position in YRC Worldwide was liquidated; for the year, a 42 percent gain was realized. The decision to liquidate was predicated on the LSGP being closed out for next year. Only the LLGP will remain; XPO will be transferred to the LLGP beginning next year.
LLGP Holding Scorecard
Top Performer
Top performers are companies which have returned the highest results for the year. In addition, they have exhibited strong operating metric performance leading to stock gains. These companies imbue the objective of achieving annualized double-digit returns.
Amazon.com
The Boeing Company
J.B. Hunt Transport
Republic Services
ULTA
Calavo Growers
Neutral
Neutral holdings have returned moderately positive or negative performance for the year. Some companies may be witnessing moderate impacts to the business driven mostly by industry-specific trends.
These companies typically will fluctuate between less than positive 9 percent to no greater than negative 5 percent during normalized market conditions. Seaspan was dropped back down to the watch list. Typically, it is not uncommon for a majority of holdings to be in this list. Ideally, the substantial majority will be in the neutral or higher lists.
Cal-Maine (NASDAQ:CALM)
Concho Resources (NYSE:CXO)
DexCom
Kansas City Southern
Lockheed Martin
Matson
McCormick & Company (NYSE:MKC)
Pioneer Natural Resources (NYSE:PXD)
Raytheon
Rice Energy (NYSE:RICE)
Sanderson Farms
Sprouts Farmers Market
Unilever (NYSE:UL)
US Foods Holding (NYSE:USFD)
Watch List
Companies on the watch list merit a close consideration as to their sustainability to remain within the LLGP. If a determination is made to remain, the likely result will be to aggressively defend the stock price and accumulate on weakness. If the determination is to liquidate, the holding will likely be moved to the LSGP and sold opportunistically for a realized gain.
To date, all companies on the watch list have had a determination made to remain in the LLGP. Both Cal-Maine and Seaspan will be monitored weekly as to possible further additions. Ideally, not many companies will remain on this list for a long duration period.
Areas Of Interest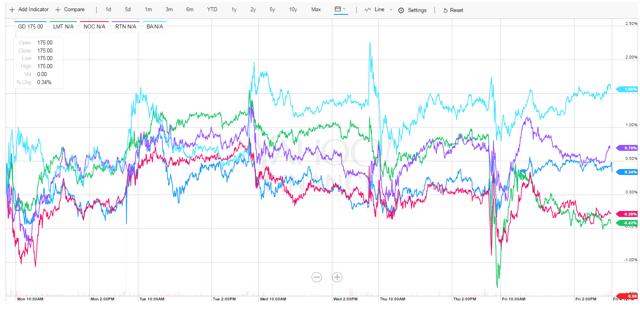 Source: Yahoo! Finance
Defense stocks were mostly flat for the week. As stated, positions were added for both Lockheed Martin and Raytheon. The LLGP now has strong exposure to the aerospace and defense industries and industrial composition.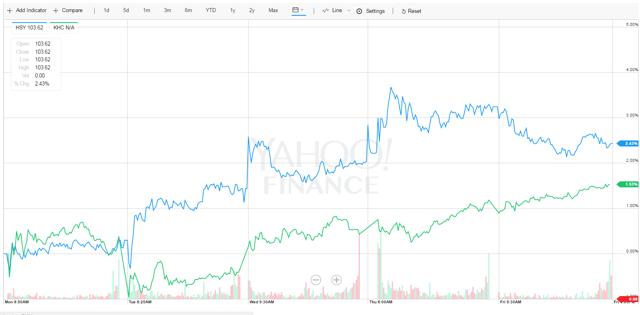 Source: Yahoo! Finance
The Hershey Company's (NYSE:HSY) stock price continues to rise, up another 2.5 percent for the week. Hershey is on the radar and a desired company to be added to the LLGP. The company will be assessed further regarding an entry position level. The Kraft Heinz Company (NASDAQ:KHC) has also rallied of late, but is not under consideration.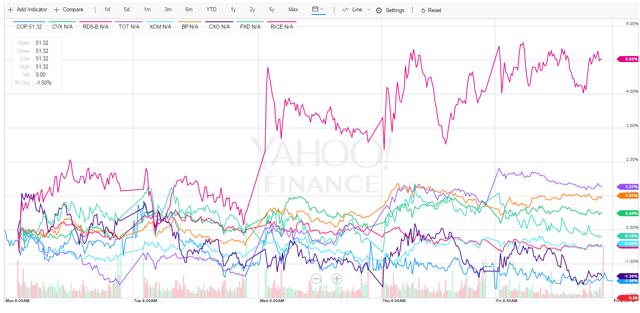 Source: Yahoo! Finance
With the recent energy stocks added to the LLGP, they will now be compared to their major peers. Time was spent considering a position in Royal Dutch Shell (NYSE:RDS.A) (NYSE:RDS.B), but growth was sought after from smaller players. For the week, Rice Energy was the top performer.
Summary
This past week was a light trading period, with news focused more on Trump's tweets as they related to specific companies and industries. A theme has become apparent as most mainstream news is not capable of divulging credible or valuable information.
I like to put my money where my mouth is, thus the positions in Kansas City Southern, Calavo Growers, Sprouts and Lockheed Martin. This does not mean there is no risk for these companies with Trump at the helm. But I am not going to jump to conclusions before we have a better idea of where things are headed.
Disclosure: I am/we are long AMZN, BA, CALM, CVGW, JBHT, LN, MATX, KSU, LMT, CXO, PXD, MKC, RSG, RICE, SAFM, SFM, UL, ULTA, USFD, XPO, DXCM.
I wrote this article myself, and it expresses my own opinions. I am not receiving compensation for it (other than from Seeking Alpha). I have no business relationship with any company whose stock is mentioned in this article.
Editor's Note: This article covers one or more stocks trading at less than $1 per share and/or with less than a $100 million market cap. Please be aware of the risks associated with these stocks.