A year ago, I outlined how I had put my portfolio on autopilot. In this follow up we will focus on the guy on the passenger seat and learn how to keep him in check. We will also look at results; the autopilot is following my script after all. Below I will
X-ray my current portfolio
Report what has and has not happened since the autopilot took over and
Summarize the overall progress made.
The portfolio at a glance
The table shows my current portfolio. Since the rules leave the stock market virtually closed for me in 2017, the list already summarizes my positions for 2018:
59 % Stocks

5.7% IAR Systems Group AB (OTC:IARSD)
4.6% Energiekontor AG
3.4% secunet Security Networks AG
3.2% Shimano Inc. (OTCPK:SHMDF)
3.2% Sims Metal Management Ltd. (OTCPK:SMSMY)
2.9% Canadian National Railway Company (NYSE:CNI)
2.6% Alterra Power Corp (OTCPK:MGMXF)
2.4% Pentair PLC (NYSE:PNR)
2.3% Hannon Armstrong Sustainable Infrastructure Capital, Inc. (NYSE:HASI)
2.2% SAP SE (NYSE:SAP)
2.2% GPT Group (OTC:GPTGF)
2.1% PSP Swiss Property Ltd (OTCPK:PSPSF)
2.1% HCP, Inc. (NYSE:HCP)/Quality Care Properties, Inc. (NYSE:QCP)
2.1% Coloplast A/S (OTC:CLPBF)
2.0% Xylem Inc. (NYSE:XYL)
1.9% UBS Group AG (NYSE:UBS)
1.9% The Swatch Group AG (OTCPK:SWGNF)
1.9% PowerShares Nasdaq-100 ETF (NASDAQ:QQQ)
1.9% Investment AB Kinnevik (OTCPK:KINNF)
1.7% Epicore Bionetworks Inc. (OTC:EPCBF)
1.4% Novozymes A/S (OTCPK:NVZMF)
1.3% Granite Construction Inc. (NYSE:GVA)
1.2% BioGaia AB (OTCPK:BIOGY)
1.1% Investor AB (OTC:IVSXF)
1.1% Schaltbau Holding AG

24 % Cash

17 % Gold
I do not track the performance of individual stocks anymore (more on that later), but the longer I have held a stock and the lower it ranks on the list, the worse must be the call (e.g. Schaltbau and Swatch). Since the autopilot lets the winners run, we find the outperformers on the top. Also, the more recent additions that have made it to the top must have been decent calls (e.g. Shimano and secunet).
The value-weighted split in reporting currencies gives an idea of my equity allocation's exposure to different geographies and currencies.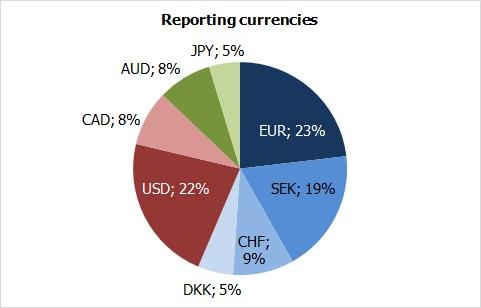 The geographic split, 56% Europe, 31% North America, 13% Asia/Pacific, looks reasonable for a diversified European investor. I would guess, though, the mild form of Abenomics (anything but the euro) that I pursue makes me an outlier, since the euro happens to be my home currency. The current proportions do not only show I am euro-skeptic, but also confirm that I have been largely correct in my judgment this far. This year, exchanges rates have moved in my favor once again with the exception of EUR/SEK: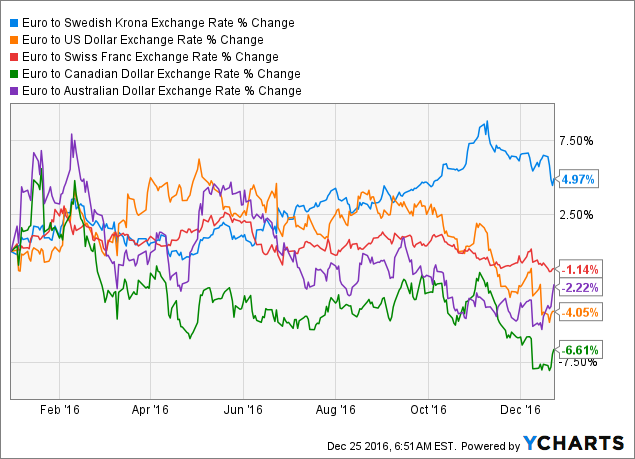 The breakdown by market cap shows another possibly unusual feature of my portfolio: its large exposure to micro and small cap stocks.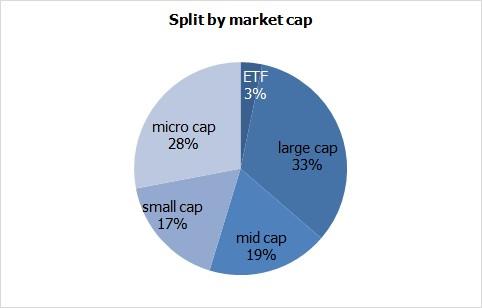 Market capitalization or lack thereof is not necessarily a risk factor in my view. The risk is mostly in the business model and not in a company's size. Oftentimes large companies carry the burden of past investments in outdated business models, while small companies are built to meet the needs of current and future customers. The upside has always attracted me to small businesses. Note that the top three stocks on the list above are all micro and small caps. I have not targeted at the current share of small and micro caps, though. Similar to the currencies, it is simply the result of a couple of my bets in that space panning out.
Following the rules
Until a year ago, my articles had documented a bit of a zigzag course suitable for exposing me to the behavioral gap. This has changed with the introduction of the autopilot. I can now confirm that I delivered on all fronts as promised:
| | |
| --- | --- |
| Plan | Execution |
| "Action is [..] triggered if the autopilot finds that there is excess cash" | I added to my positions when excess cash was available. |
| "Reviewing each stock position in five year intervals. GPT will be first and due next year." | I reviewed GPT Group after five years of holding. |
| "Building some two or three further stock positions to diversify a bit more" | I added three stocks for further diversification: BIOGY, GVA and NVZMY (in case you wonder, I have bought GVA well before the presidential election). |
When I was tempted to grab the steering wheel from the autopilot, it was due to headlines.
1+1=2
2+2=4
3+3=7
4+4=8
5+5=10
6+6=12
7+7=14
8+8=16
9+9=18
10+10=20
Most people are quick to point out that one equation is false. Hardly anyone concludes that nine are actually correct. (I would love to give a source for this example, but I cannot remember where I have it from.) Just like with the false equation, I could not help taking notice of the inevitable bad news on my stocks, such as
At the same time, the nine correct equations that carry far more weight have failed to catch my attention. Therefore, the following quote from Daniel Kahneman may well be the most valuable piece of investment advice that I have come across:
The typical short-term reaction to bad news is increased loss aversion. Investors who get aggregated feedback receive such news much less often and are likely to be less risk averse and to end up richer.
Ever since deploying the autopilot, I have been ignoring day to day fluctuations in stock prices and Kahneman has proven to be correct of course. Whatever the headlines have said, my portfolio total has refused to confirm that I am in trouble. Diversification has been doing its job.
Another expert who has been proven right is Robert B. Cialdini who wrote in his book Influence:
Written testaments are effective in bringing about genuine personal change
Seeking Alpha gives investors a platform for these written testaments which I find extremely valuable. As I almost pulled the trigger to sell HCP and its bad bank QCP, I did actually think about what I had written and that I would like to be able to confirm consistent execution.
Also, it can be a good idea to follow up on past headlines. In the world of investing, false equations can morph into correct ones overnight. Given how Sims Metal Management climbed the list above recently, it has been certainly among my best performing stocks in 2016. If we traveled just a bit more than a year back in time, however, this is what we would find:
Sims Metals Management plunges on shock profit warning
(Has anyone ever tried to buy quality stocks on "shock" profit warnings as a trading strategy? Would be interesting to learn the results.)
Trading activity has become the single most important metric during the year. The autopilot has brought my trading activity back to 2012 levels which was not even a full trading year for me:

Arguably, my performance was even better than the bar chart suggests. To put my regular savings to work, I have entered into a low-cost euro cost averaging scheme that buys me shares in the NASDAQ-100 ETF on a monthly basis. Even those automated trades are included in the chart.
Performance
To measure performance, I have selected two benchmarks: one for the portfolio total and a separate one for the equity allocation stand-alone. For the former I am using the diversified Arero fund of funds as comparator that could be a plausible substitute for my whole portfolio. Arero is yearly rebalanced as follows:
60 % Stocks

14,20% MSCI Europe
17,61% MSCI North America
22,79% MSCI Emerging Markets
5,40% MSCI Pacific
(the geographies are weighted by GDP)

25 % Bonds

iBoxx Euro Sovereign

15 % Commodities

Bloomberg Commodity Index Total Return 3 Month Forward
My benchmark for the equity allocation is the S&P 350 Europe index (which is replicated by the iShares Europe ETF (NYSEARCA:IEV)) as the closest European equivalent to the S&P 500. Note that only some 50% of the index constituents are based in the eurozone.
To make things comparable, I have calculated the IRR for my portfolio, its equity allocation and the respective benchmarks applying the timing of the actual cash-flows. This way, I can see how I would have fared had I invested in the benchmarks rather than building my own portfolio (unlike my real-life portfolio, the benchmarks are not dragged by transaction costs, though).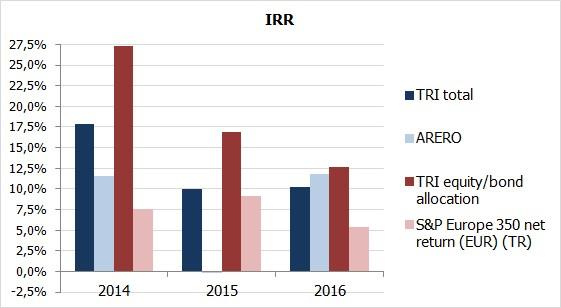 Obviously, I want the dark bars topping the light ones. In three years I have missed this target only once. This year, Arero fund manager Prof. Dr. Dr. h.c. Martin Weber has lived up to his impressive title and finished ahead of me. While the cash in my portfolio has managed to keep pace with Martin's bonds, his commodities have outperformed my gold and then a good year for the MSCI North America has settled the matter.
Still, the overall results are encouraging enough for me to continue my DIY journey. I am particularly happy to find my equity allocation dwarfing the S&P 350 Europe index once again.
What my experience seems to suggest is: Beware of home and large-cap bias.
My portfolio's NAV has grown by some 14% 2016 YTD, remarkably close to the 2015 result. The gain can be broken down into capital gains (60%), savings (30%) as well as dividends/interest (10%) which is also very similar to 2015.
Ethics
Apart from financials and diversification, I have been filtering stocks by ethical criteria as protection against the creeping decline in harmful industries as well as gray swan type of events (cf. The Beginner's Guide To Treehugging). On the list of companies involved in this year's most expensive corporate scandals we find names like Samsung (OTC:SSNLF) and Wells Fargo (NYSE:WFC). Suffice to say that none of my picks has blown it.
Looking at my portfolio through a magnifier, I acknowledge that QQQ clearly comprises holdings that I would not have picked as individual stocks. Mylan (NASDAQ:MYL) even made the list of scandals mentioned above. The reason why I am invested in QQQ is because it comprises mostly low-impact sectors such as IT and telecoms and is the best compromise available to me for automated low-cost euro cost averaging.
Conclusion
All elements of my plan have proven to be helpful in 2016: Diversification has allowed for a reasonably steady appreciation, Abenomics has provided me with some tailwinds, ethics has kept me out of serious troubles, the autopilot has protected my winners and kept portfolio turnover low.
Given that I am taking rather moderate risks thanks to my hedges cash and gold, the achieved returns look very reasonable to me. The biggest unknown in my plan are exchange rates. Being no particular macro guy, I find some relief in the lack of consensus among the macro guys. Mohamed El-Erian says " the dollar is likely to continue to strengthen against the euro" which would be a positive for me. Other analysts such as Shareholders Unite are not so sure: "Trump's reflationary policy platform is not only likely to lead to further rises in the dollar". The answer is probably once again diversification which I trust will do its magic even in my currency basket. In any case I will not complain about currency headwinds, since I consider the absence of flexible exchange rates on balance the greater risk.
Disclosure: I am/we are long IARSD, SHMDF, SMSMY, CNI, MGMXF, PNR, HASI, SAP, GPTGF, PSPSF, HCP, QCP, CLPBF, XYL, UBS, SWGNF, QQQ, KINNF, EPCBF, NVZMF, GVA, BIOGY, IVSXF.
I wrote this article myself, and it expresses my own opinions. I am not receiving compensation for it (other than from Seeking Alpha). I have no business relationship with any company whose stock is mentioned in this article.
Editor's Note: This article covers one or more stocks trading at less than $1 per share and/or with less than a $100 million market cap. Please be aware of the risks associated with these stocks.