2016 was quite a good year for cobalt and the cobalt miners; however, I think 2017 can be just as good if not better. Cobalt is currently the most critical element in the electric vehicle (EV) lithium ion battery supply chain, as well as lithium.
For some further background on the cobalt mining sector, investors can read my two articles from 2016.
Cobalt price
In 2016, the cobalt price started to rise responding to increased demand and reduced supply. The graph below shows cobalt rising from its 2016 lows around US$10/lb to around US$15/lb (currently US$14.83) by year end, for about a 50% rise. Lithium actually did better as it tripled in price in 2016. I think cobalt can do the same in 2017, meaning move from US$10/lb to US$30/lb by 2017 end.
Cobalt 1-year graph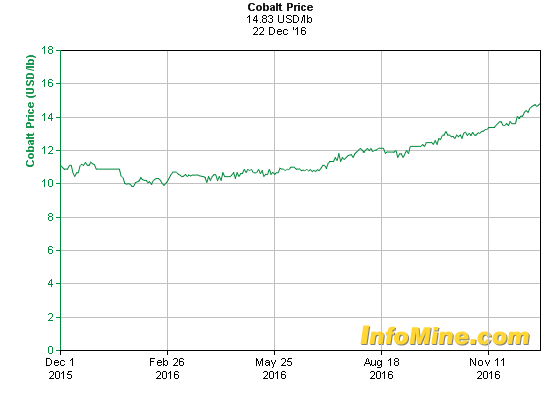 Source:InfoMine
Cobalt 5-year graph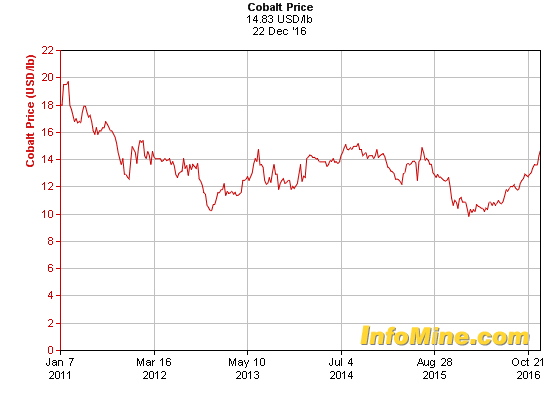 Source:InfoMine
Cobalt demand versus supply, and 2017 outlook
The above two articles discuss this topic quite well. In brief summary:
Cobalt demand - Booming due to the surge in lithium ion batteries (75% of Li-ion batteries use cobalt) used in electronic devices, electric vehicles, and energy storage. China has already begun stockpiling cobalt as they understand its importance. You can read about strong cobalt demand here and here.
Cobalt Supply - Limited, as 94% of cobalt mined comes as a by-product of copper and nickel mining, which has been depressed by low copper and nickel prices due to the China construction slowdown. Over half (65%) of cobalt supply comes from the Democratic Republic of Congo (DRC), a country currently experiencing political turmoil. The key to understand is that the copper and nickel miners have no financial motivation to increase cobalt output when the copper and nickel prices are low, as cobalt revenue is insignificant to them. They won't choose to produce copper at a loss to gain a very small amount of cobalt by-product. This is why cobalt supply is said to be very "inelastic." Finally, as Chris Berry says, "cobalt does not have a deep bench."
2015 cobalt production and reserves by country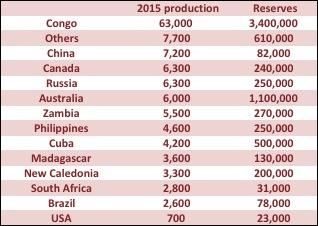 Source: GTM
2017 outlook
In CRU's Cobalt Market Outlook 2016, published on 18th August 2016, Senior Consultant Dr. Edward Spencer writes "the refined cobalt market will fall into a 3,000 tonne deficit this year following seven years of overcapacity and oversupply. CRU anticipates prices to increase onward into 2017 as global demand for refined cobalt exceeds the 100kt mark and mine and refined supply tightens."
Global cobalt companies by reserves
You can see from the table below Katanga Mining (OTCPK:KATFF) has the largest cobalt reserves by far, and it is currently being valued very cheaply.

Source: 24hGOLD
My top 5 cobalt miners for 2017 and 2018
Investors should be aware that the major cobalt producers often source their copper and nickel (with cobalt) ores from several global mines, then ship to their refinery for further processing. China dominates the refining business, and hence controls most cobalt supply, similar as they do with lithium. Unfortunately, it is not always easy to invest in the Chinese companies as they are only listed on Chinese exchanges or are private companies. China Moly (discussed below) is accessible via the Hong Kong exchange.
A critical point to understand when investing in cobalt is the impact of associated metals such as copper and nickel (or molybdenum) prices have on the cobalt producer.
China Molybdenum Luoyang Co. Ltd (OTC:CMCLF) (HK:3993) - Price = HD 1.78
China Moly engages in the mining and processing, smelting, deep processing, trade and research etc. of molybdenum, tungsten, copper, gold and other precious and base metals in the PRC and Australia. China Moly had 57% of revenue from molybdenum-tungsten related products, prior to its recent large Tenke copper cobalt purchase.
In 2016, it bought the 56% equity that Freeport (FCX) held in the massive Tenke Fungurume copper and cobalt mine in the DRC. Consideration was US$2.65 billion plus a future possible consideration of US$120 million maximum. It also bought a 56% interest in the Kokkola cobalt refinery in Finland for $100 million. The deal also included a 100% interest in the cobalt-rich Kisanfu exploration project located near the Tenke Fungurume mine for $50 million.
As of December 31, 2015, Tenke had consolidated recoverable reserves totaling 7.2 billion pounds of copper and 874 million pounds of cobalt.
The DRC has approved China Molybdenum to take over the Tenke Fungurume copper mine. Freeport-McRoran sold Tenke as it is restructuring to reduce debt, and the deal was announced May 10, 2016 before the cobalt price rose in later 2016. It is looking like perfect timing by China Moly. The deal will propel China Moly to become one of the largest global copper and cobalt producers overnight.
In 2015, Tenke produced 204,000 tonnes of copper and 16,000 tonnes of cobalt, at a net cash cost of about US$1.21 per pound of copper. Production from the refinery in 2012 accounted for more than 13% of total global refined cobalt. In the short term, China Moly has a forecast debt of around 6.6b CNY (US$0.95b), as best I can determine, as I am not sure if this debt figure has been updated yet since the Tenke purchase. You can view its debt forecast stated to decline quickly here.
Currently, it is trading on a market cap of HKD 62.8b (US$8b), with a 2017 PE of 24.5, and a 2018 PE of 14.5. 2017 estimated net profit margin is 14.49%. My model shows China Moly as fully valued right now; however, analysts have a consensus price target of CNY 1.93 (HKD 2.15), or 21% upside.
I see China Moly as a must-have cobalt producer, despite cobalt not being its core product. The reason I like it is that it is a current Chinese cobalt producer, so any upside in cobalt, molybdenum or copper prices will flow straight through to its profits. Of course, the reverse is also true. Being Chinese it can easily supply the Chinese battery factories. I did, however, notice on the chart below that its 2018 net income is forecast at zero. I don't yet know the reason for this, but suspect it may be due to a one-off interest or other expense expected in 2018. Investors should also read the risks section below.
China Molybdenum financials graph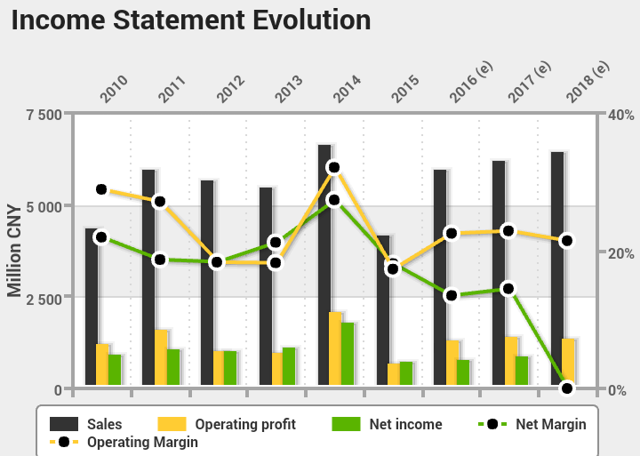 Source: 4-traders
Glencore (OTCPK:GLCNF) (LSX:GLEN) (HK:805) - Price = USD 3.33, GBP 270.65
Glencore's refined cobalt output accounted for about 10% of global production in 2014, as a by-product from its large Nikkelverk Norway nickel refinery. Nickel concentrates containing cobalt, as well gold, platinum and palladium, are imported from mines in Canada (Sudbury and Raglan) and other custom feed sources for processing. Glencore's assets are world class; however, the company is still working its way out of a large amount of debt. Glencore also has a strong commodities trading desk business. 38.2% of revenues come from its metals and minerals division, and 48.4% comes from energy products, and 13.4% from agricultural products. The metals and minerals segment includes zinc, copper, lead, alumina, aluminum, ferro alloys, nickel, cobalt and iron ore, including smelting, refining, mining, processing and storage related operations of the relevant commodities. The energy products segment includes crude oil, oil products, steam coal and metallurgical coal, supported by investments in coal mining and oil production operations, ports, vessels and storage facilities. The agricultural products segment includes wheat, corn, canola, barley, rice, oil seeds, meals, edible oils, bio-fuels, cotton and sugar, supported by investments in farming, storage, handling, processing and port facilities.
Whilst not a pure play cobalt miner, it is a global leader in cobalt production. Investing in Glencore would require investors to have confidence in copper and some nickel price recovery. The London listing is up 192% in the past year, so I would only be a buyer on a pullback.
Net profit margin for 2017 is forecast at just 1.62%, so currently a bit small for my liking. Currently, it is trading on a market cap of GBP 39b, with a 2017 PE of 17.77. Analysts target for the US listing is US$3.85, representing a 15.6% upside. I was a buyer back in May 2016, when the stock was considerably cheaper. Glencore is not my favorite cobalt miner right now, as cobalt is just a small part of its overall revenue; however, it is an important global cobalt player, and a worthy top five position, especially if you are positive on the outlook for copper and nickel.
Glencore financials graph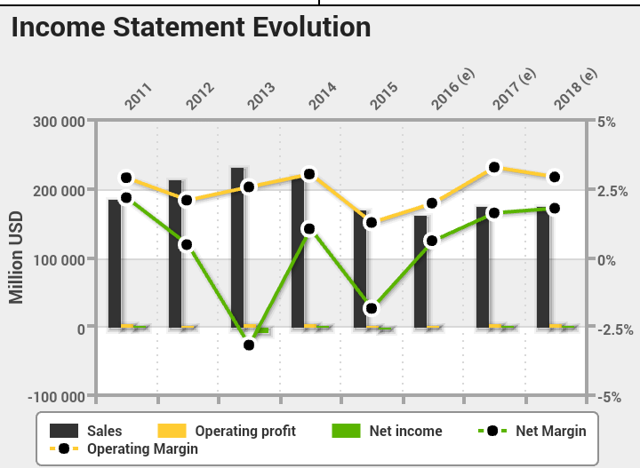 Source: 4-traders
Sherritt International (OTCPK:SHERF) (TSX) - Price = USD 1.04, CAD 1.42
Sherritt is one of the world's largest nickel producers with production coming from Canada, Cuba, and Madagascar. Sherritt International has a 50% stake in the nickel-cobalt Moa Joint Venture in Cuba, and a 40% stake in the nickel-cobalt Ambatovy project in Madagascar. Cobalt makes up less than 20% of Sherritt's revenue. However, metals (nickel, cobalt) make up around 78.9% of its revenue in 2015. During the last period of rapidly rising cobalt prices (2002-2007), Sherritt's share price rose ~400%. If you are bullish on nickel, as well as cobalt, then Sherritt is a good choice. Sherritt is very dependent on nickel prices, and preferably above US$5/lb to be profitable. The nickel price has been rising in the second half of 2016 (now US$4.69/lb), as Chinese steel demand picked up.
A positive for Sherritt is that it is not sourcing from the DRC, and it is processing in Canada, so can readily supply the North American market.
Currently, it is trading on a market cap of CAD 414m, with no 2017 PE, as earnings are not yet forecast to be positive. Consensus analyst target is CAD 1.25, representing some downside. A good stock to own if you are bullish on the nickel price recovering more. I like the stock, and would be a buyer on a significant price pullback, or if nickel moves higher.
Sherritt International financials graph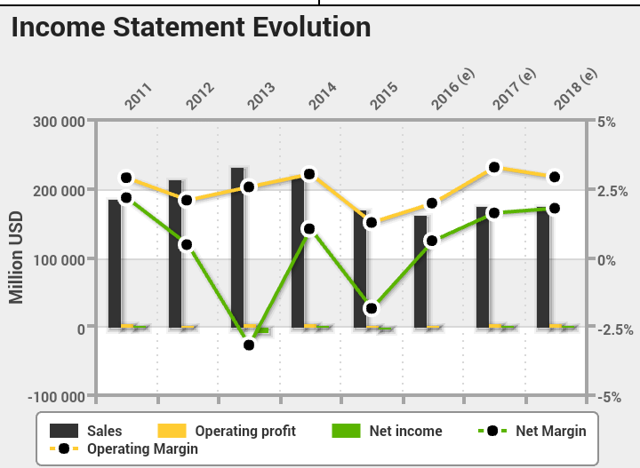 Source: 4-traders
Katanga Mining (TSXV:KAT) - Price = USD 0.085, CAD 0.12
Katanga Mining is a Swiss mining company (majority owned by Glencore) with copper and cobalt mines in the Katanga province of the DRC. It owns 75% of the mines, with partner Gecamines (Congo Government owned) owning 25%. It is reported to have by far the world's largest reserves of cobalt. According to the company website, "Katanga Mining Limited operates a large-scale copper-cobalt project with substantial high-grade mineral reserves and integrated metallurgical operations in the DRC. Our single-site operation, which comprises brownfield assets and new facilities under construction, will have one of the lowest unit production costs in the world, net of by-product credits." After closing in September 2015, the mine is now set to re-open in late 2017 or 2018, and is currently undergoing waste stripping and an $880 million upgrade to its processing plants, to significantly improve recoveries and operating unit costs when processing resumes.
I see the stock as very undervalued, due to the fact it is not currently in production, and the risks of doing business in the DRC. Katanga is a turnaround story and could be re-rated as soon as it recommences production. The stock price is around 10 times lower than where it was back in 2011 and 2012. If we see copper and cobalt prices move back to 2011 and 2012 levels, Katanga will be a multi-bagger. Katanga is currently my favorite cobalt stock, due to its massive resource, and current discounted valuation. It could also be another possible takeover target for the Chinese. Investors will need some patience and understanding of the risks of investing in companies mining in the DRC.
Currently, it is trading on a market cap of CAD 229m, with no 2017 PE. The chart below is not updated as mining was suspended in 2015. My very preliminary model (still being improved as no production numbers as guidance) has a price target of CAD 1.43 by end 2019. A high-risk, high-reward stock.
Katanga Mining financials graph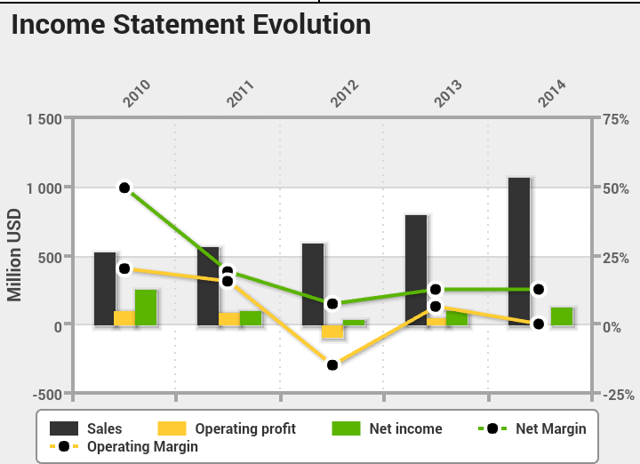 Source: 4-traders
Fortune Minerals (OTCQB:FTMDF) [TSX: FT] - Price = CAD 0.11
Fortune Minerals is a Canadian mining company with a very large cobalt-gold-bismuth-copper deposit (NICO) in the Northern Territories. Primarily focused on cobalt, it has excellent by-products, resulting in a negative estimated production cost of -USD5.03/lb of cobalt, net of by-product credits.
It has a large resource with 33m tonnes of proven and probable ore reserves, with 82.3m lb cobalt @ 0.11%, 1.11m oz gold @ 1.03g/t, 102.1m lb bismuth @ 0.14%, 27.2m lb copper @ 0.04%. NICO has the world's largest deposit of bismuth with 12% of global reserves.
Its 2014 FS resulted in a post tax 7% NPV of C$224 million, and an IRR of 15% pa. (base case price assumptions are US$1,350/troy ounce ("oz") for gold, US$16/pound ("lb") for cobalt (US$19.04/lb in sulphate), US$10.50/lb for bismuth (US$12.64/lb bismuth in average production of ingot, needles and oxide), and US$2.38/lb for copper at an exchange rate of C$1=US$0.88). It forecasts a 21-year mine life with 1,615 tonnes of cobalt pa (contained in battery-grade cobalt sulphate) production. Sensitivities were done at cobalt US$19/b (same gold and bismuth as above), resulting in a post tax 7% NPV of C350m, and a 19.0% IRR. You can read the full details here.
It also has exploration and production volume upside potential, with its NICO site and with its nearby Sue-Dianne copper-silver-gold deposit.
Its negatives are that its grade is lower (compensated by excellent by-product credits), it has a high CapEx (CAD 589m to build the mine and processing plants) as it plans to be a vertically integrated producer of the final cobalt product, and it is waiting on an all-weather access road to be built. I see these issues as very solvable, given the scale of its project, and the pressing need for cobalt, especially from a reliable source. The road is currently awaiting government approval now, with some news expected in early 2017.
Its main positives are its large resource, great by-products, negative cobalt production cost (net of credits), North American location, and non dependence on nickel or copper prices (a pure play cobalt miner). It will probably need a US$15-20/lb plus cobalt price to help get it financed and into production; however, I see that level of cobalt prices being very likely in 2017. You can read more on Fortune Minerals in my article here, or view its November 2016 company presentation here. Overall, I rate it as a speculative buy.
Currently, Fortune Minerals are trading on a market cap of CAD 29.8m, with no 2017 PE.
Other noteworthy contenders to consider
Zhejiang Huayou Cobalt Co. Ltd (CH:603799) (cobalt producer and processor) - Price = CNY 38.06
Huayou is a very solid choice; however, it is only listed on the Shanghai exchange, and therefore not easily accessible for most western investors. Also, valuation is currently high with a 2017 PE of 134. A Chinese pure play cobalt company to buy once reasonable valuation returns.
Sumitomo Metal Mining Co. (OTCPK:SMMYY) (TYO:5713)
SMMYY is a subsidiary of the Sumitomo Group. SMMYY is a major smelter and refiner of copper, nickel and gold in Japan, and has a 27.5% stake in the Ambatovy Nickel Project in Madagascar, along with Sherritt International and Korea Resources Corp. Feedstock for the refinery is nickel cobalt mixed sulphide from its Taganito and Coral Bay mines in the Philippines (noting the Philippines is a risky supply source at this time). Sumitomo supply Panasonic (OTCPK:PCRFY) who supply Tesla (NASDAQ:TSLA); however, this can change. Generally, I like the stock; however, at this time, valuation looks full, trading on a 2017 PE of 32.8, and 2018 PE of 14.8. Good to buy after a pullback if that occurs.
eCobalt Solutions (TSX:ECS)(ECSIF) (formerly Formation Metals Inc) - Price - CAD = 0.53 US$ = 0.3997
eCobalt does not currently make my top 5, as I see it as fully valued at this time. My concerns are that it doesn't have a big enough resource (16,667 tonnes cobalt metal), with an estimated mine life of just 12.5 years. Its 2015 PEA post-tax NPV 8.5% was US$113 million, and its upfront CapEx was estimated to be US$147m, so not great to have Capex higher than NPV, especially with only a 12-year mine life. I will wait to see its updated NPV when it releases its DFS in Q1 2017, and hopefully some resource increase. The NPV should be somewhat higher as cobalt prices have moved higher since it did its PEA. The positive is it is in the US, it is ready to go subject to financing, it is a pure cobalt play, and it has a high cobalt grade.
My current preferred speculative cobalt projects
My current favorite speculative cobalt miners would be Barra Resources (OTC:BRCSF) [ASX:BAR], Cobalt Blue Holdings Ltd [ASX:COB], Cruz Capital Corp.(BKTPF) [TSXV:CUZ], and Tiger Resources (OTC:TRSDF) [ASX:TGS].
Barra has a high grade shallow cobalt deposit (40,000 tonnes of contained cobalt) at Mt. Thirsty Australia, with low start-up CapEx of AU$65m. Cobalt Blue has a large shallow resource in Australia, with lower grades, but can generate significant by-product credits from sulphuric acid etc., and has significant exploration upside. Cobalt Blue's IPO at AUD 0.20 is coming soon. Cruz has 8 cobalt projects in North America, so significant exploration upside. Tiger is profitably producing copper in the DRC with cobalt as a by-product, and is very undervalued. Investors can invest smaller amounts in these stocks with multi-bagger potential.
Competitors
The other major cobalt miners (note their focus is mostly on copper and nickel or other commodities) include Eurasian Resources Group (private), Umicore SA (OTCPK:UMICF), Lundin Mining (TSX:LUN) (OTCPK:LUNMF), MMC Norilsk Nickel (OTCPK:NILSY) (LSX:MNOD), Vale S.A. (VALE), BHP (BHP), Jinchuan Group International Resources Co Ltd (HK:2362).
The other junior cobalt miners include Brixton Metals Corporation (BXTMD) [TSXV:BBB], Canadian International Minerals [TSXV:CIN], Clean TeQ (CTEQF) [ASX:CLQ], Cobalt Power Group (TSXV:CPO), CobalTech Mining [TSXV:CSK] (OTC:BNCIF), Conico Ltd (ASX:CNJ), Corazon Mining Ltd [ASX:CZN], Dragon Energy (ASX:DLE), Highlands Pacific (OTC:HLPCF), Hinterland Metals Inc (TSXV:HMI) (OTCPK:HNLMF), and LiCo Energy Metals (TSXV:LIC) (WCTXF).
Risks
Sovereign risk - Especially with the miners with operations in Africa, especially the politically unstable and corrupt DRC. The government has been known to suddenly change the mining rules and royalties, and cancel mining contracts.
Mining risks - Production problems etc.
Cobalt price and cobalt oversupply. The latter can occur if the majors ramp up copper and nickel supply, with cobalt as a by-product.
Cobalt substitution and recycling. Unlikely in the short and mid-term, although I recently read about American Manganese (TSXV:AMY) (OTCQB:AMYZF) recycling plans.
Liquidity risk - Best to buy on local markets.
Conclusion
My top five cobalt miners includes a mix of established diversified miners with large cobalt production (China Molybdenum, Sherritt International, and Glencore), and two purer play cobalt projects with very large cobalt reserves, but not yet in production (Katanga Mining and Fortune Minerals). Whilst the mix is not as pure and simple as the lithium miners, due to the fact the cobalt industry has been a by-product industry in the past. To be a buyer of China Moly, investors would need to be positive on the outlook for molybdenum and tungsten; for Sherritt, you would need to be positive on nickel; for Glencore and Katanga copper and for Fortune, gold and bismuth have a lesser importance. My number one favorite right now is Katanga Mining with China Moly as second, and my favorite small cap is Tiger Resources or Fortune Minerals; however, all require some patience.
Should the cobalt spot price (and in some cases the nickel, copper, and molybdenum prices) continue to rise strongly in 2017, I expect strong gains from my top 5 cobalt miners, especially the current producers, as has already occurred in the second half of 2016. Conservative investors could stick to the producers, and more aggressive investors could also target the near-term producers and the explorers.
The key for me in 2017 is the likelihood of cobalt being in deficit and the cobalt price spiking higher. I am also expecting EVs to become increasingly popular globally, which will be a strong tailwind for cobalt. I am positive on copper and nickel prices going forward, which should help the diversified cobalt miners in my top five.
Finally, I think some small positions in the purer play cobalt juniors can make sense, as they can benefit if only cobalt (and not nickel, copper, molybdenum) price rises, provided they are economically viable and progressing towards production.
As usual all comments are welcome.
Editor's Note: This article covers one or more microcap stocks. Please be aware of the risks associated with these stocks.