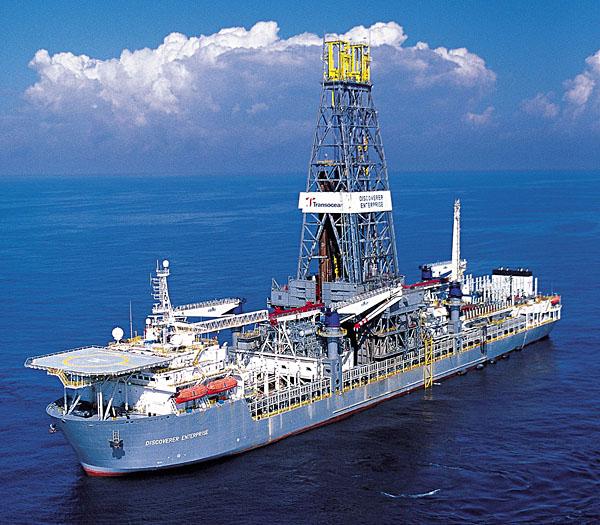 Image: The discoverer Enterprise from Transocean - Drillship 5 generation actually cold stacked. Courtesy 2B 1st consulting.
This article is following my preceding article published on December 8, 2016 about the recent Mexico deepwater awards.
Investment thesis:
The offshore drilling Industry is suffering through the worst bear cycle in history. The oil crash that began late in 2014 had a terrible effect on the offshore drilling players such as Transocean (NYSE:RIG), Seadrill (NYSE:SDRL) or Noble Corporation (NYSE:NE) and another dozen or more companies struggling to avoid a financial meltdown, due to a basic lack of work, dismal day rates and rig oversupply which is the unavoidable trichotomy of an offshore drilling bear market.
Oil majors have reduced exploration CapEx to a bare minimum and 2017 is not promising either. I have followed this sector closely for years and tried to report the slow degradation of the business environment until now. However, recently we may have experienced an important change in the oil market that may sign a bottom for offshore drilling and a possible recovery late in 2017 or early 2018.
OPEC and non-OPEC producers have agreed to cut production by a little less than 1.8 MBOPD and assuming that this decision is followed by the facts, the price of oil will eventually trend up in 2017. A lot of uncertainty right now but let's hope that this concensus is for real this time.
Some analysts are forecasting $60-$65 a barrel in 2017, which is enough to change dynamic in the offshore exploration. while waiting for concrete signs of tendering activity, it is important to look at what is actually the areas where exploration will provide for the deepwater and ultra-deepwater business. One important area is the Gulf of Mexico, which is the topic of my article today.
Commentary:
The news on December 23, 2016, came from Offshoreenergytoday that announced the following:
The U.S. Bureau of Ocean Energy Management (BOEM) will offer more than 48 million acres offshore Louisiana, Mississippi, and Alabama for oil and gas exploration and development in a lease sale that will include all available unleased areas in the Gulf of Mexico Central Planning Area.

BOEM said on Thursday [12/22/2016] that the lease sale comes as part of the Obama Administration's continued commitment to support safe and responsible domestic energy production.

Bureau's Director, Abigail Ross Hopper, said:

"As one of the most productive basins in the world, the Gulf of Mexico remains an important component of our domestic energy strategy to create jobs, foster economic opportunities, and reduce America's dependence on foreign oil."

After BOEM's first live stream lease sale for acreage offshore Texas in August, the bureau decided to do it again for this lease sale named the Central Gulf of Mexico Lease Sale 247.

Sale 247 includes approximately 9,118 blocks across 48 million acres, located from three to about 230 miles offshore, in water depths ranging from 9,000 to more than 11,115 feet (3 to 3,400 meters).

The lease sale will be held and streamed on March 22, 2017. BOEM said that live streaming enables delivery of bid information immediately to a much broader national and international audience.

This, twelfth and final Gulf of Mexico offshore sale under the Administration's Outer Continental Shelf Oil and Gas Leasing Program for 2012-2017 (Five Year Program), builds on the previously held lease sales in the Program.

The previous eleven sales netted more than $3 billion for U.S. taxpayers, in support of the administration's goal of continuing to increase domestic oil and gas production.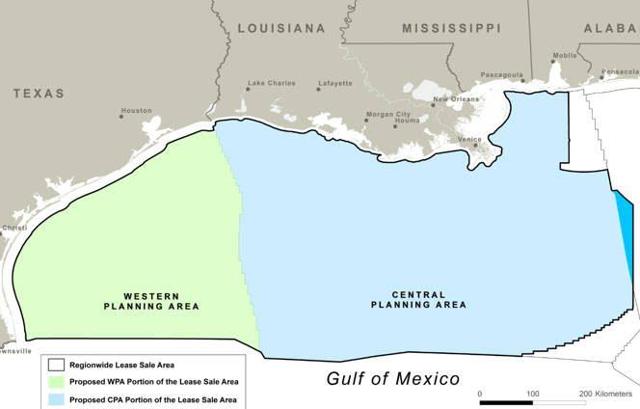 This news followed the BOEM's first live stream lease sale for acreage offshore Texas in August 24, 2016.
Lease Sale 248 includes 4,399 tracts from nine to more than 250 miles off the Texas coast, in water depths ranging from 16 to more than 10,975 feet (five to 3,346 meters). When bidding closed, three companies had submitted 24 bids on 24 tracts for Western Sale 248.
Finally, on December 6, 2016, Mexico released the deepwater bid round winners for the Perdido and Salina Basin.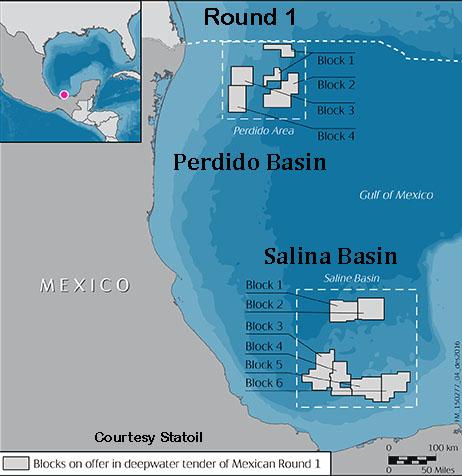 Awards Details:
Blocks
Company
More information if avail.
Perdido Fold Belt Basin - Mexican Sector.
1
CNOOC (China - Hong Kong)
2
Consortium of Total & ExxonMobil
Total will operate block 2 in the Perdido basin with a 50% interest.
3
Chevron, Pemex & Inpex
Chevron designated operator. ("1")
4
CNOOC (China -Hong Kong)
Salina Basin
1
Statoil, BP &Total
Total, Statoil, and BP are equal partners (33.4%) -
2
NO BIDS SUBMITTED
3
Statoil, BP &Total
Total, Statoil, and BP are equal partners (33.4%) -
4
PC Caligari & Sierra Offshore
5
Murphy Sur, Ophir, PC Caligari & Sierra Offshore
6
NO BIDS SUBMITTED
2 Blocks adjacent to Round 1 in Perdido Fold Belt - Trion Discovery
1
BHP Billiton Petroleo Operaciones de Mexico, a unit of Australia's BHP Billiton Ltd.
BHP received operatorship and 60% interest of Blocks AE-0092 and AE-0093 covering Trion field (see below).
Note: The winning bids for both blocks consisted of an additional royalty of 10% (on potential future revenues) and an additional work program equivalent to one biddable well per block. Each block also has a minimum work program as defined by the authorities, including a variety of geological activities but no required wells.
("1") The concession is in an area where new hydrocarbon discoveries are expected, close to the PEMEX-discovered Trion oil field and other producing fields on the US side.
We are talking about a quite large ultra-deepwater offshore area if we combine the three recent areas involved here. I have created a map to show the entire prospect.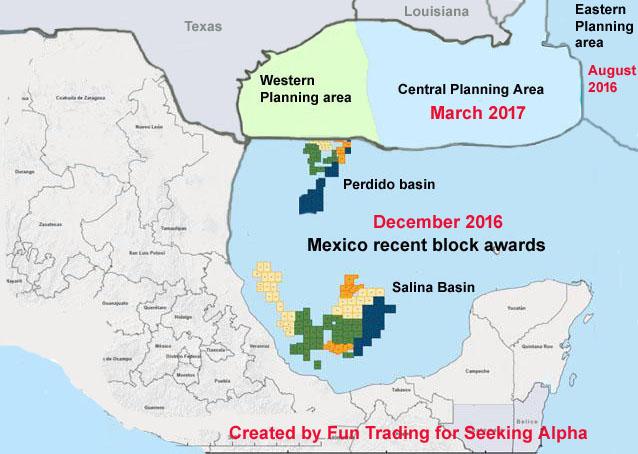 This initial process is substantial for the offshore drilling industry.
It will not translate to an immediate surge in tendering though, but it shows that the Gulf of Mexico will be an important area of exploration in 2017-2019, and will eventually translate to long-term contracts that the offshore industry needs desperately right now.
As an investor, we must understand how the system works, to get the right timing and strategy.
This rally in oil prices triggered a buying frenzy including the offshore sector, and many stocks nearly doubled in a week. Was it really justified? I am saying no.
This euphoria has been atypical and was not supported by facts when it comes to offshore drillers. It is comfortable to be blinded what we refuse to see, and this market is extremely efficient to push people to act without logic.
The fact is, the offshore drilling market is still depressed and may stay depressed, at least, another 6 to 12 months. Basically, it is a service and it will have to wait for the oil majors to recover first and turn to long-term exploration. The price of oil is going up, well above $50 a barrel. The situation may signal a slow U recovery. However, it is not sufficient to turn deepwater drilling projects economical yet.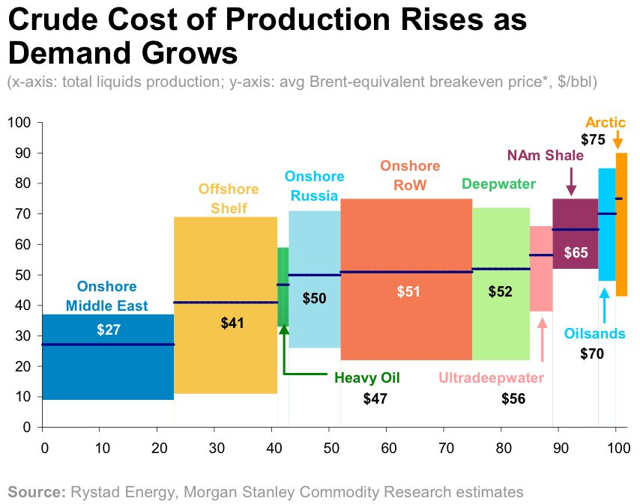 Patience is required and I turned to a net seller in this recent rally, betting that the offshore industry will correct significantly before the real positive effect of the oil prices increase will start to produce in term of contracts and revenues.
This news is another small step in the right direction. Offshore production was nearly 30% of global crude oil output in 2015 according to EIA, and it is totally futile to discount this important sector even if it has suffered significantly.
Global offshore oil production (including lease condensate and hydrocarbon gas liquids) in 2015 was at the highest level since 2010, and accounted for nearly 30% of total global oil production. Offshore oil production increased in both 2014 and 2015, reversing consecutive annual declines from 2010 to 2013. Production from onshore tight oil plays has increased faster over the past several years and accounts for an increasing amount of total oil production.

More than 27 million barrels of oil were produced offshore in 2015 in more than 50 different countries. Global oil production is expected to remain high in 2016, as many oil-producing nations continue to increase production. A significant amount of global offshore production is concentrated in a few countries. In 2015, five countries provided 43% of total offshore oil production: Saudi Arabia, Brazil, Mexico, Norway, and the United States.
Conclusion:
The offshore drillers have already corrected from their recent high, but I believe they will correct further before a new support is established and allow a sustainable price recovery.
Patience and a slow accumulation on any weakness is required. I recommend Transocean , Ensco (NYSE:ESV), Rowan Companies (NYSE:RDC), Noble Corp. and Diamond Offshore (NYSE:DO) as the five main companies in this sector. Seadrill may eventually be accumulated, but the company will announce a complete debt restructuring in April 2017, which makes the stock unpredictable.
Important note: Do not forget to follow me on the offshore drilling sector. Thank you for your support.
Disclosure: I/we have no positions in any stocks mentioned, and no plans to initiate any positions within the next 72 hours.
I wrote this article myself, and it expresses my own opinions. I am not receiving compensation for it (other than from Seeking Alpha). I have no business relationship with any company whose stock is mentioned in this article.
Additional disclosure: I own most of the companies indicated in this article. I mostly trade the sector right now and have sold a significant part of my offshore drilling position. I may start buying back some of the companies referenced here if the market corrects significantly as explained.