"The avoidance of taxes is the only intellectual pursuit that carries any reward" - Keynes
Good news for corporates then that Trump plans to not only cut taxes, but also implement a tax break to get their overseas cash balances back into the country. Now I don't think Trump will unleash the Golden Age for the economy, but 2017 certainly looks to be a golden year for equities. The low tax repatriation theme will be an interesting one to play out with industrials in particular, looking well positioned to benefit.
Now, Trump's agenda may still be in flux, but from a Washington standpoint, international tax reform increasingly looks to be a question of when, not if. Caveat emptor - Any analysis on Trump's tax measures today could be presumptuous considering the man's (scarily) unpredictable nature and the lack of clarity his administration has provided. In any case, clarity on tax reform details should come soon if a Q3 2017 target is to be realized.
The good news for Corporate America is that on two out of three counts, Trump's tax proposals look to be in their favor, with aggressive tax reform looking very much on the cards. This has brought about a marked shift in mentality with corporates looking to be on the offense in Washington for the first time since 2005.
One key feature of 2017 policy will be how quickly tax reform/cuts will can be enacted and to what degree. For the first time in years, tax reform (with all three portions moving together) has a relatively clear path and could well pass into law by Q3 or Q4 next year. On this count, 2017 could dwarf the Fiscal Cliff tax deal from 2012 and see the biggest change in tax policy since 1986.
How quickly can tax reform be enacted?
Things are different this time with one-party Republican control. Having such a strong hold over Washington provides Trump the ideal platform to pass legislation with far less difficulty than the Obama administration. This, along with infrastructure spending initiatives, will be at the top of Trump's agenda for 2017.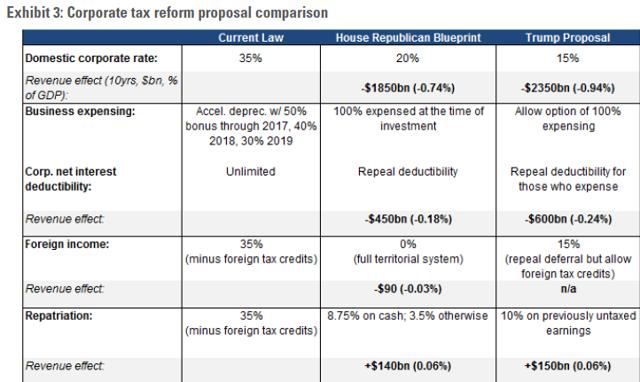 As such, watch for an early push for tax legislation for the following reasons:
1) The Republican majority can pass tax legislation without Democratic votes, by using the reconciliation process. Passage on the Senate floor will be the key constraint on the final composition of any tax reform package. Republicans have 52 seats (therefore, can pass without Democratic votes), and will need 51 votes to pass tax legislation using the reconciliation process. In other words, Trump could afford to lose 2 Republican votes and Pence would break a 50-50 tie to pass a reconciliation bill if needed.
2) Tax reform was a key feature of Trump's proposals and will likely be high on his priority list. Trump's proposed tax cut, according to his estimates, would cost $4.4 trillion. His campaign of course, argued that the resulting growth, and therefore tax revenue, would offset all but $200 billion of those tax cuts. The House plan on the other hand, pushes for a more conservative tax cut and the end result will naturally be some kind of middle ground.
3) Tax reform has also been a top priority for congressional Republicans (particularly House Speaker Paul Ryan) for several years, which should make establishing consensus a lot more painless. The core documents for this exercise thus far, are the Trump Tax Plan and the House Republican's A Better Way. The Senate Republican plan, when released, will I suspect, not feature as prominently. As such, the House GOP plan and Paul Ryan will drive this particular agenda - along with key Senate Republican Senators.
How will international tax reform look like?
International tax reform has been on the cards for quite some time now. The Schumer-Portman draft, which came close to enactment with the Highway Bill last summer, was merely the tip of the iceberg in this regard. One exciting aspect of international tax reform on the table is the idea of low tax repatriation. Talk of repatriation in Washington revolves around two key areas - voluntary repatriation/holiday or a forced/deemed repatriation.
Forced repatriation
This idea has been in play for a while now. The Obama administration had proposed a 14% rate while Trump has called for a 10% tax on overseas cash, and 4% on other assets. The House plan is for a lower 8.75% rate on cash holdings and 3.5% for everything else.
There is an important distinction here - permanently reinvested capital (property, plant & equipment) receives the lower tax rate. Another key point to note - corporates will not be taxable immediately even if the repatriation is deemed. They will typically have at least 8-10 years to pay. This will provide some silver lining for companies which have generated large amounts of foreign earnings, especially if they have never paid US tax, but used those earnings to fund foreign acquisitions or to make other investments. For some companies, this could result in a relatively low-tax repatriation of foreign cash. For other companies, this could result in a tax bill on earnings spent years ago.
Voluntary repatriation
Trump also talked of a holiday, recalling the tax holiday implemented in the Bush era. In 2004, a one-time rate of 5.25% on offshore money was implemented, which some 843 corporations used to remit almost $362 billion. The policy helped drive the dollar up 13% against a basket of six major peers in 2005, along with tighter U.S. monetary policy. Things didn't quite pan out budget-wise in that case though. The Joint Committee on Taxation noted that the 2004 repatriation holiday did not create the economic boost that many had predicted. Instead of R&D facilities, the cash was utilized for buybacks and dividends.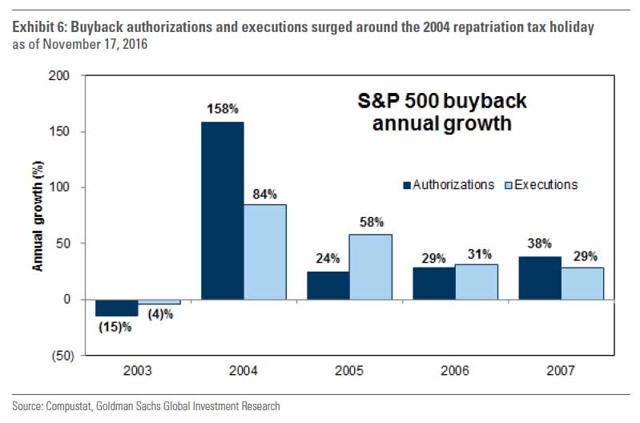 Will a holiday be any different in 2016? Unlikely I would think. In today's environment, a second holiday would only incentivize companies to continue hoarding cash post-holiday in anticipation of a more holidays. And even if they did repatriate, the current market environment would still skew corporate decisions toward buybacks.
In my mind, deemed repatriation is a question of when not if. The Trump administration will need to tap the overseas cash to pay for infrastructure or tax reductions in other areas. And with voluntary tax breaks having lost out historically, the only way forward would seem to be a deemed repatriation.
Positioning For Repatriation
Goldman estimates that $150 billion out of $780 billion of S&P 500 (NYSEARCA:SPY) buybacks in 2017 will be driven by repatriated overseas cash. Consequently, they forecast that S&P 500 companies will repatriate close to $200 billion of their $1 trillion of total overseas cash in 2017, which will be directed primarily towards share repurchases.
From a buyback perspective, industrials and tech look to be the most active, contributing 19% each to overall buybacks in 2016. Historically, tech has contributed the largest share, but industrials have grown in share in recent years.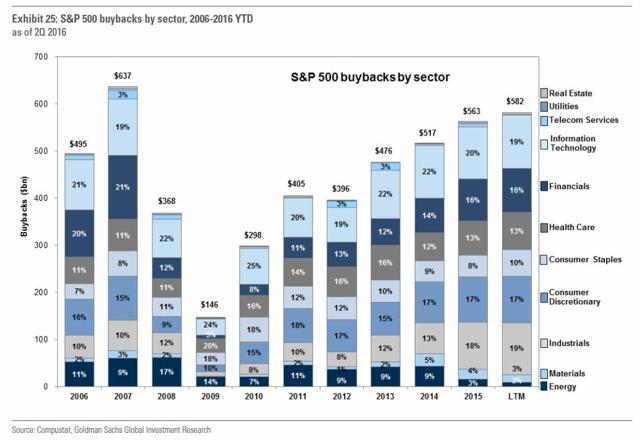 More repurchases this time around make sense because it complies with historical precedent: US firms repatriated 10% and 20% of their total estimated overseas cash during the 3-month and 6-month periods, respectively, following the enactment of the Homeland Investment Act (HIA) of 2004.
The only caveat here is this - if the proposal comes with strings attached (e.g. enforcing a stricter regulation of cash use), this would result in a higher weight toward capital spending than buybacks. In either case, industrials would be a key sector to watch in 2017.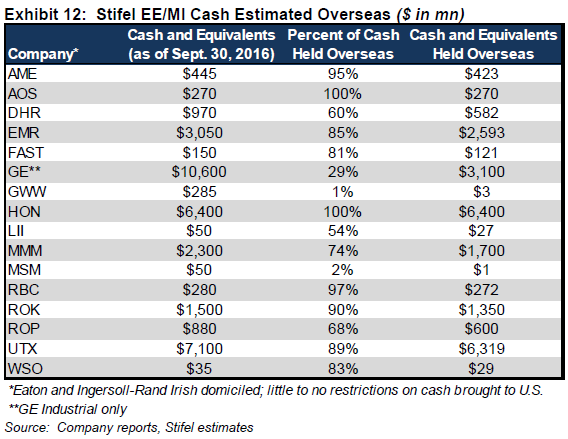 Companies like GE (NYSE:GE), Honeywell (NYSE:HON) and United Technologies (NYSE:UTX) for instance, hold nearly $24 billion in overseas cash. That's significant for two reasons - firstly, the scale and secondly, they stand to benefit from a much lower tax rate. Capital intensive industries like industrials and energy have reinvested nearly all of their overseas cash, either in foreign acquisitions, plant and equipment or some other purpose. This entitles them to a much lower tax rate (4% vs. 10% for cash under Trump's plan).
Meanwhile, the technology sector represents the majority of overseas earnings that have not been taxed by the US e.g. Apple (NASDAQ:AAPL), and continues to hold nearly all of those earnings in cash. Healthcare and consumer companies are in the middle, holding less than half of their foreign earnings in cash. The key takeaway is that, depending on the industry, low tax repatriation could be a windfall or a burden depending on positioning.
Conclusion
Will Trump unleash a new Golden Age for the US economy? I doubt it. But I suspect 2017 will be a golden one for equities. One driver, among many others, is the repatriation of hundreds of billions in funds held offshore. Developments on corporate and income tax reform should also be watched keenly along with fiscal spending. In particular, markets will want to know how quickly tax reform/cuts will be enacted and to what degree.
Things are different this time with one-party Republican control and Q3 2017 is looking to be a realistic timeline to push through Trump's tax legislation. If my suspicions are true, and deemed repatriation is on the cards next year, we could see buyback driven highs for the S&P 500, with industrials positioned particularly well to benefit from the low tax repatriation theme.
Disclosure: I/we have no positions in any stocks mentioned, and no plans to initiate any positions within the next 72 hours.
I wrote this article myself, and it expresses my own opinions. I am not receiving compensation for it (other than from Seeking Alpha). I have no business relationship with any company whose stock is mentioned in this article.