In the last 3 months, we have seen a significant increase in the stock prices of the major banks. This can be explained by a combination of improved inflation and the recent interest rate hikes implemented by the Federal Reserve. The anticipation of higher inflation rates is a consequence of the expected fiscal stimulus the Trump administration will trigger in the coming years.
The prospect of increased interest rates has driven up the demand for banking stocks significantly. Most of the earnings estimates for 2017-2018 are also bullish on banks due to these future anticipations.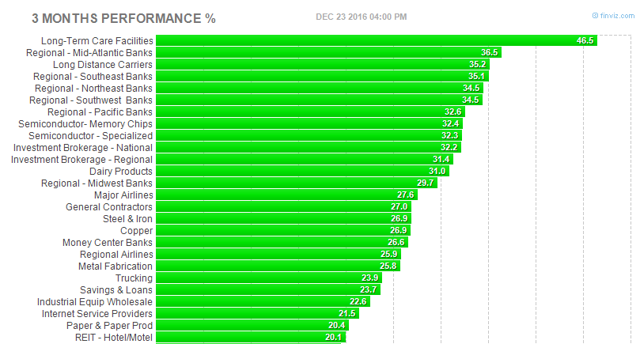 Source: finviz.com
The 15 banks with the largest market capitalization all appreciated in stock value: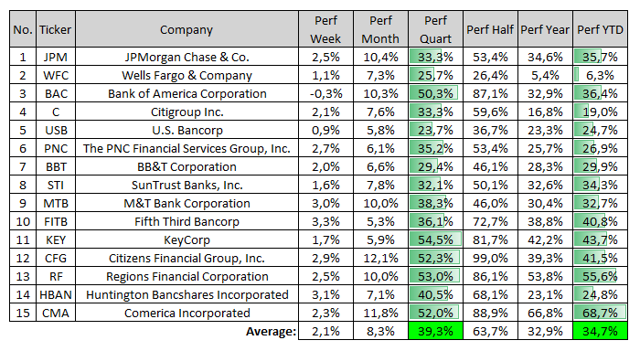 Source: finviz.com
While we remain bullish as well on these major banks, we do need to keep in mind that the recent price appreciation is mostly based on anticipations of the future. In case the inflation rate declines again, these bank stocks could be in for a short-term price correction.
In 2016, we actually have seen multiple sharp price corrections in financial stocks: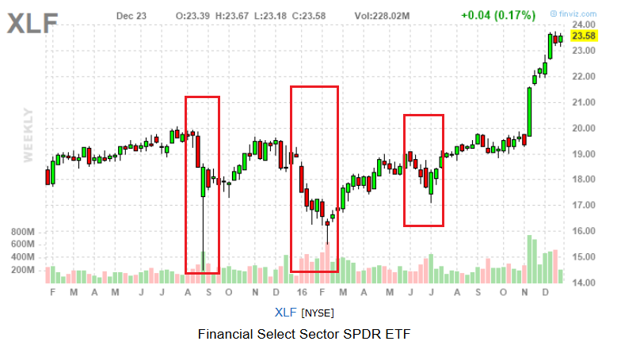 Source: finviz.com
Most of these price corrections were short term and the stock prices increased again to their previous highs. With the recent run-up in bank stocks, we would like to secure our profits in case a new sharp price correction would come. This can be done by creating an options position, which will benefit strongly once a correction takes place.
The Financial Select Sector SPDR ETF (XLF), traded around $20 before the major banks started their increase in stock value. The current price level of XLF is $23.58, which is around 18% above the $20 mark. Once a sharp price correction would occur, we would expect the XLF to plunge below this $20 threshold.
To gain from such a correction, we can buy put options on XLF with a strike price of $20 and expire in June 2017.
One put option contract would cost $36 and give the owner the right to sell 100 shares of the index at $20 at any moment in the coming months, until 16 June 2017. The premium of this put option contract will appreciate strongly in value if the correction in bank stocks will occur before this expiration date.

Source: optionsxpress.com
The put options on XLF are currently not priced expensive, as their implied volatility is far below the historical volatility of XLF: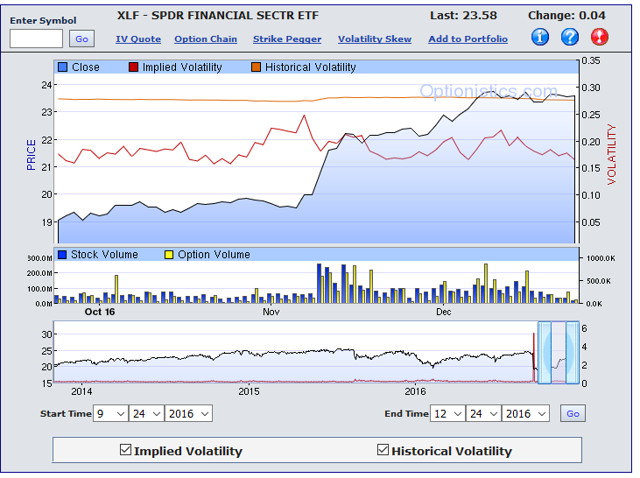 Source: Optionistics.com
Conclusion
While the major banks have seen a nice appreciation in their equity value in the last 3 months, we would suggest protecting against a short-term price correction. The fundamentals of the bank industry (increased inflation, increasing interest rates) seem solid, but the stock markets are apt to correct bank stocks sharply. We have witnessed this multiple times during 2016, and we expect the same corrections for 2017.
Protecting against such a market selloff can be done by investing a small amount of your portfolio in out-of-the-money put options on XLF. This way investors can keep their long investments in bank stocks, while they will be protected against short-term price corrections.
Disclosure: I/we have no positions in any stocks mentioned, and no plans to initiate any positions within the next 72 hours.
I wrote this article myself, and it expresses my own opinions. I am not receiving compensation for it (other than from Seeking Alpha). I have no business relationship with any company whose stock is mentioned in this article.