Penn West Petroleum (NYSE:PWE) has successfully deleveraged itself and will likely have reduced its debt to around $300 million after its planned Q4 2016 asset sales. This deleveraging has come at a cost though since the company has sold a huge amount assets to reduce its debt. Penn West's corporate presentation mentions 25,000 BOEPD in production for its corporate decline calculations, which is an 84% reduction from its 161,195 BOEPD production in 2012.
On the positive side, Penn West's low debt levels and lowered corporate decline percentages mean that its breakeven point is below $40 and it can grow production significantly at mid-$50s oil while spending within cash flow. However, Penn West's share price requires significant production growth to have large upside. It would take 20% exit rate growth and $55 oil for a couple years to get its projected EBITDA up to the point where its share price would be worth $3+ based on a 6x to 7x EV to forward EBITDA multiple.
Please note that this article discusses Penn West's financials in US dollars except where otherwise noted, while Penn West's filings and news releases typically use Canadian dollars. The exchange rate used in this article is C$1.30 to $1.00 USD.
Low Breakeven Point
Penn West's unhedged oil breakeven point appears to be around $38 now. At $38 WTI oil, Penn West may realize approximately $23 per BOE for its production. This assumes that there is an AECO natural gas price of C$2.50 ($1.92) per Mcf. At 25,000 BOEPD in production, Penn West would generate $210 million in revenue.
| | | | |
| --- | --- | --- | --- |
| | Units | $/BOE | $ Million |
| Production [BOE] | 9,125,000 | $23.00 | $210 |
Cash expenses would be around $209 million. Penn West's breakeven point is helped by its low interest costs (estimated at $15 million) after its debt reduction, its lowered maintenance capital expenditure costs (it estimates that its corporate decline rate fell from 22% at the end of 2015 to 19% now) and the low royalties expense with sub-$40 oil.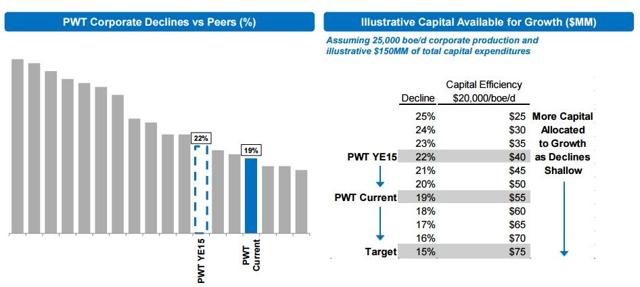 Source: Penn West
Cash G&A is estimated at around C$3 ($2.31 per BOE) post-divestitures. Operating expense (C$11 or $8.46 per BOE) and transportation costs are based on Penn West's corporate presentation.
| | |
| --- | --- |
| | $ Million |
| Operating Expense | $77 |
| Transportation | $12 |
| Royalties | $11 |
| Cash G&A | $21 |
| Interest | $15 |
| Maintenance CapEx | $73 |
| Total Expenses | $209 |
Strong growth may potentially increase its breakeven point a bit since it has relatively small fixed costs such as interest, while its corporate decline rate may increase with strong growth.
2017 Outlook
At $55 WTI oil in 2017 and 5% production growth during the year from 25,000 BOEPD (this assumes 10% exit rate growth and linear growth through the year), Penn West could generate around $321 million in revenue. Its hedges have slightly negative value, so net of its hedges, Penn West could end up with $313 million in revenue.
| | | | |
| --- | --- | --- | --- |
| | Units | $/BOE | $ Million |
| Production | 9,581,250 | $33.50 | $321 |
| Hedge Value | | | -$8 |
| Revenue | | | $313 |
With its 2017 capital expenditure plan for C$150 million ($115 million), Penn West may end up with around $268 million in cash expenditures, resulting in $45 million in positive cash flow.
| | |
| --- | --- |
| | $ Million |
| Operating Expense | $81 |
| Transportation | $13 |
| Royalties | $22 |
| Cash G&A | $22 |
| Interest | $15 |
| CapEx | $115 |
| Total Expenses | $268 |
Penn West could potentially grow production (measured by exit rates) by 20+% if it wanted to match capital expenditures to cash flow at $55 oil.
Valuation Questions
So far it has been mostly good news for Penn West. However, while Penn West has the ability to grow significantly at current oil prices, its share price also prices in a decent amount of growth. At $1.71 per share, Penn West is trading for approximately 6.6x 2017 EBITDA at $55 oil, assuming 10% exit rate growth. If we use 20% exit rate growth per year and base it off of 2018 EBITDA at $55 oil instead, then it looks better as Penn West would then be currently trading at around 5.2x 2018 EBITDA.
Penn West's large number of shares (over 500 million) serves to slow its potential appreciation. For example, if assumed 20% exit rate growth per year and $60 oil, Penn West would have around $309 million EBITDA in 2019 (along with around 39,600 BOEPD in production). At a 6x EV to 2019 EBITDA multiple, that would make Penn West worth around $3.09 per share. At a 7x multiple instead, Penn West would be worth $3.70 per share. However, it may take a while for Penn West to reach those levels since we are discussing EBITDA from three years forward.
The high amount of outstanding shares probably limits Penn West's ability to offer large dividends or share repurchases for now. Penn West could potentially have around $45 million in positive cash flow in 2017 while still growing at 10%. However, that would only translate into around $0.09 per share in dividends if the positive cash flow was returned as dividends. Alternatively, Penn West could repurchase around 5% of outstanding shares with that $45 million. This would come at the cost of additional growth capital though, as Penn West's production growth rate would be reduced from 20% to 10% if it put that $45 million towards dividends or share repurchases instead of production growth.
Conclusion
Penn West has reduced its debt to a relatively nominal level through years of asset sales. This has resulted in a company with a very low oil breakeven point currently due to low interest costs and a lowered corporate decline rate. Penn West should be able to grow production significantly (perhaps 20+%) at $55 oil now. However, the asset sales have also reduced Penn West's production by 84% compared to 2012. This makes it unlikely (in combination with Penn West's large share count) that Penn West will see its pre-crash share price levels (such as around $7 in August 2014) for the indefinite future. Even at $60 oil and growing production 20% per year, Penn West's shares would probably be worth around $3 to $4 in a couple years based on a 6x to 7x forward year EBITDA multiple.
Author's Note: If you thought this article was interesting, please scroll to the top of the article and click on "Follow" next to Elephant Analytics. Thanks for reading!
Disclosure: I/we have no positions in any stocks mentioned, but may initiate a long position in PWE over the next 72 hours.
I wrote this article myself, and it expresses my own opinions. I am not receiving compensation for it (other than from Seeking Alpha). I have no business relationship with any company whose stock is mentioned in this article.