If you have any challenges reading the charts in this article, check out the first article on quick and dirty discounts to book value for mortgage REITs. This piece is designed to be short and to emphasize providing easy charts that help investors identify opportunities for further inspection.
The mREITs
I put most of the mREITs, two corporations, and one ETF into the table because I wanted to get a more complete estimation.
| | | |
| --- | --- | --- |
| (NASDAQ:AGNC) | American Capital Agency Corp | |
| (NYSE:AI) | Arlington Asset Investment Corporation | Not a REIT |
| (NYSE:ANH) | Anworth Mortgage Asset Corporation | |
| (NYSE:ARR) | ARMOUR Residential REIT | |
| (NYSE:BXMT) | Blackstone Mortgage Trust | |
| (NYSE:CHMI) | Cherry Hill Mortgage Investment | |
| (NYSE:CIM) | Chimera Investment Corporation | |
| (NYSE:CMO) | Capstead Mortgage Corporation | |
| (NYSE:CYS) | CYS Investments | |
| (NYSE:DX) | Dynex Capital | |
| (NYSE:EARN) | Ellington Residential Mortgage REIT | |
| (NYSE:MFA) | MFA Financial | |
| (NASDAQ:MTGE) | American Capital Mortgage Investment | |
| (NYSE:NLY) | Annaly Capital Management | |
| (NASDAQ:NYMT) | New York Mortgage Trust | |
| (NYSE:ORC) | Orchid Island Capital | |
| (NYSE:RSO) | Resource Capital Corporation | |
| (NYSE:TWO) | Two Harbors Investment Corp | |
| (NYSE:WMC) | Western Asset Mortgage Capital Corp. | |
| (NYSE:SLD) | Sutherland Asset Management | |
| (NYSE:ARI) | Apollo Commercial Real Estate Finance, Inc. | |
| (NYSE:OAKS) | Five Oaks | |
| (NYSE:MITT) | AG Mortgage Investment Trust, Inc. | |
| (BATS:REM) | iShares Mortgage Real Estate Capped ETF | |
| | | |
The goal here is to have a fairly large sample size so we can identify trends and similarities throughout the sector. The mREIT sector only contains about 25 total organizations but the investing and hedging strategies have very material differences.
It is also worth emphasizing that I opted to use the GAAP book value for each mREIT. Most of the time this was available from the earnings release.
I want to emphasize that GAAP book value is not necessarily the metric that I believe is most relevant. For CIM, I believe the "economic book value" provided by management is an excellent tool. CIM's economic book value was materially lower than GAAP book value.
Table 1
If you're primarily using this article for the quick discounts to book value, use the column with the red heading in this table.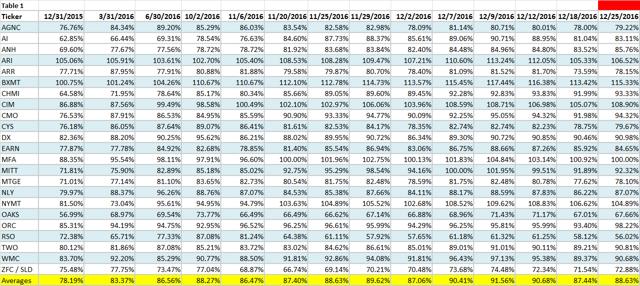 After another week of trading, we see prices moving higher again, but not to the level they established previously. However, I feel inclined to point out that book values are getting hammered as rates increase and consequently these ratios of "price to trialing book value" will be providing lower ratios than "price to current book value" would provide. In some cases, the accrual of the dividend will offset decline in book values, but in many cases, the loss in book value will be larger.
Table 2
Table 2 helps us assess the change during the quarter and for the month so far: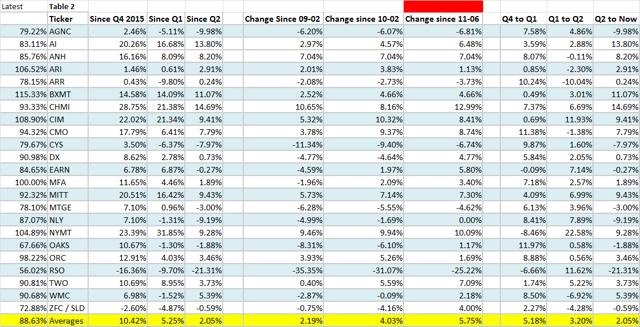 See how AGNC got hammered on the quarter. That was a reasonable response to what happened in the interest rate environment. They were not being hammered prior to the election, so they weren't suffering much until rates really took off. Since the election, the ratio based on trailing book values is down 6.81%.
I know someone reading must think that my cell references are screwed up since the data for ANH shows the same change since 09-02-2016, 10-02-2016, and 11-06-2016. The mREIT had a remarkable ability to close at precisely $4.92. The more important thing to note is that it rose significantly following the election. Since they hold mostly agency ARMs (adjustable rate mortgages), the steeper yield curve is great there. You would also expect mREITs like CMO to be a big winner there, and they are also up substantially.
Sticking With the View on Buys
I like Resource Capital Corporation here and Bimini Capital Management (OTCQB:BMNM). Both could be considered high risk stocks, but I like the risk/reward profile and I'm often one of the first analysts to complain that there is far too much risk in a trade.
Neutral
I'm neutral on quite a few things, but not setting any new ratings to neutral so no need for this.
Existing Rating - No Change
I thought about pulling my rating from AI after nailing it before the huge fall, but I'm just going to leave that open.
Bearish
Going bearish again on Five Oaks. I see the catalyst coming as the market realizing that book value per share shrinks dramatically when a company has to pay out a huge dividend with shares of stock. Total equity doesn't change, but the "per share" metrics sure do.
I hate to put a bearish rating on Orchid Island Capital while having a bullish rating on their external manager Bimini. (Note, I'm also long BMNM.) I don't think this stays over $11, though I would love to be wrong.
I'm also going back to being a bear on ARMOUR Residential REIT. The fundamentals didn't change much but their share price got a very nice rally last week. More price for the same value? No thanks.
WMC also gets a fresh sell rating because I think price to current book value is a poor deal.
My Positions
I am long RSO and BMNM for common stocks in the sector. For preferred shares, long NLY-C, NLY-D and CMO-E.
My best research comes out first on the Mortgage REIT Forum. The service has over 100 subscribers, and I'm working with Seeking Alpha to adjust prices (higher) for new subscribers. All existing subscribers will be grandfathered in at t he current rate of $240/year. This is a great time to be locking in the lower price. After the increase, new subscribers will pay $300/year. Why do I allow investors to lock in their rate? Because I want to show my appreciation for the subscribers who gave me a chance when I was launching a new system. The Mortgage REIT Forum averages 3 articles per week. One provides updated book value estimates for several mortgage REITs and includes my ratings (adjusted each week). The second article rates the different preferred shares and shows investors which ones are offering the best bargains. The third is used to highlight individual stocks and market failures or to provide a sneak preview on the articles I am planning to publish over the next couple weeks.
Disclosure: I am/we are long RSO, BMNM, NLY-C, NLY-D, CMO-E.
I wrote this article myself, and it expresses my own opinions. I am not receiving compensation for it (other than from Seeking Alpha). I have no business relationship with any company whose stock is mentioned in this article.
Additional disclosure: Information in this article represents the opinion of the analyst. All statements are represented as opinions, rather than facts, and should not be construed as advice to buy or sell a security. This article is prepared solely for publication on Seeking Alpha and any reproduction of it on other sites is unauthorized. Ratings of "outperform" and "underperform" reflect the analyst's estimation of a divergence between the market value for a security and the price that would be appropriate given the potential for risks and returns relative to other securities. The analyst does not know your particular objectives for returns or constraints upon investing. All investors are encouraged to do their own research before making any investment decision. Information is regularly obtained from Yahoo Finance, Google Finance, and SEC Database. If Yahoo, Google, or the SEC database contained faulty or old information it could be incorporated into my analysis. Tipranks - Buy RSO and BMNM, Sell ARR, WMC, OAKS, ORC
Editor's Note: This article covers one or more stocks trading at less than $1 per share and/or with less than a $100 million market cap. Please be aware of the risks associated with these stocks.