Back in August of this year, I published the article "Chipping Away At Bad Debt And Bad Habits - But Is It Too Late For Memorial?"
My summary turned out to be more telling than I anticipated:
Memorial continues to reduce its debt load but it is still massive.

Some key parameters are moving in the right direction but the market remains highly skeptical.

The firm's hedges are good, but not good enough to compensate for lackluster operations or poor liquidity management.

What kind of timeline does Memorial have? Linn and Breitburn shareholders may have a few thoughts on how valuable good hedges are.
Sure enough, the firm's hedges were simply not sufficient to offset the decline in the value of its reserves coupled with its massive debt load. Memorial Production Partners (NASDAQ:MEMP) did make some progress in lowering costs and actually exceeded some production estimates in recent quarters. But MEMP did not position itself with significant margin for error and just recently submitted control to its creditors after securing short-term extensions to its interest obligations. Back in October, several variables contributed to my decision to sell my MEMP bonds.

In late February/early March, absolute panic was priced into the upstream master limited partnership ("MLP") sector. For better or worse, this is not the first crisis I've invested and traded through, so I took advantage. While I had bids out on Legacy Reserves LP (NASDAQ:LGCY), Memorial Production Partners LP, and EV Energy Partners, L.P. (NASDAQ:EVEP), only my bids on the latter two were hit. I considered a bid for Vanguard Natural Resources (NYSE:VNR) as well, but I didn't have enough capital at the time to put bids out on that many firms and I considered it and MEMP among the most likely to experience liquidity issues in 2016.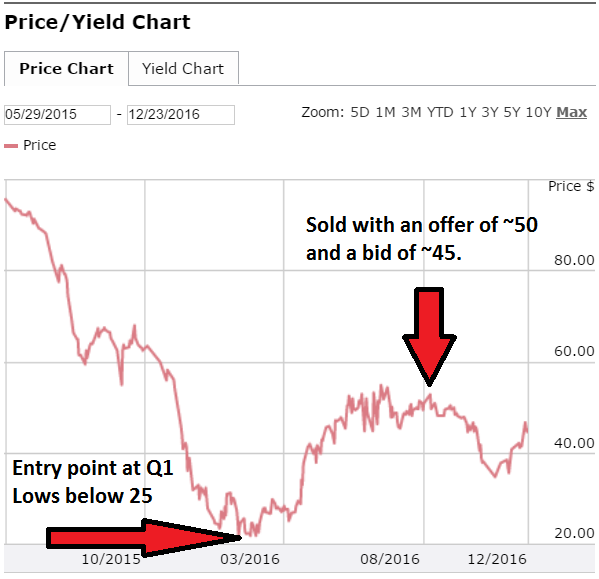 Source: FINRA and WER
The results for my EV Energy purchase were similar, but I am still holding on to that position which is now up 166%. After selling my MEMP bonds I rotated into Legacy Reserves.

Despite eating a several hundred basis points spread on both sides the position is still up over 15% in two months. MEMP tanked 20-30% immediately after I sold but has since recovered most of those losses.
What's In Store For Current Owners?
MEMP's 8-K is fairly dense for this type of filing (yes, I probably spend way too much time at sec.gov), and tells us a few key things:
Just over 50% of noteholders have agreed to the deal which solidifies it.
The restructuring will be designed to minimize the impact of cancellation of debt income ("CODI"). Remember that CODI passes through to unitholders.
$1.3 billion in debt is expected to be eliminated through Chapter 11. Don't worry, the 1st lien big bank credit facility will endure little-to-no losses.
Rather, 98% of the equity after the revolver is paid off goes to the senior noteholders which are being cancelled. Though the details are a bit vague, noteholders can "also elect to receive an additional cash payment of up to approximately $24.6 million."
In an unusual twist, common unitholders will receive 2% of the equity of the new entity.
In an even more unusual move, a careful reader of the 8-K will note that the firm expects to re-emerge as a Corporation rather than a Limited Partnership for federal income tax purposes. MEMP will no longer be an MLP.
I'll highlight one more item from the lengthy 8-K:
The Partnership cautions that trading in the Partnership's securities during the pendency of the anticipated Chapter 11 proceedings is highly speculative and poses substantial risks. Trading prices for the Partnership's securities may bear little or no relationship to the actual recovery, if any, by holders of the Partnership's securities in the anticipated Chapter 11 proceedings.
What investors must consider is the value of the common units and the senior notes. The latest 10-Q shows total long-term debt of $1.8 billion. A minimum of $1.1 billion and expected value of $1.3 billion will no longer be on the firm's balance sheet post restructuring. After incorporating the most recent balance sheet management measures, MEMP was still paying approximately $27.2 million per quarter in interest.
Putting The Lower Debt Load Into Context
So what does $27.2 million less in interest expense quarterly really mean? The best way to measure this is organic oil and gas revenue independent of hedges. Memorial generated total hydrocarbon derived revenues of $72.2 million in Q3 of this year. Interest expense was gutting the firm.
We now recognize it was a heavy burden, but we still need to determine what the firm's potential new cash flow situation will look like. MEMP did not focus its assets in the Permian Basin, Eagle Ford Shale, or STACK play where oil and gas companies are still generating double-digit positive returns without ideal commodity prices. Its recovery costs for oil, gas, and natural gas liquids are frankly not competitive with its leaner peers like Legacy Reserves or the larger independents like EOG Resources (NYSE:EOG), Apache Corporation (NYSE:APA), Continental Resources, Inc. (NYSE:CLR) or Pioneer Natural Resources (NYSE:PXD). With a little accoutering expertise, we first start with cash expenses excluding maintenance CapEx and financing activities. For Q3 2016, this figure comes in at approximately $59 million, but we need to adjust for the restructuring. Using the $27.2 million in interest coupled with the estimated reduction in senior notes, interest expense is reduced by about $19.5 million. While other minor line items should be taken into account, our cash operating expenses run rate of $59 million plus the new $7.7 million in interest run rate (this figure could be significantly lower depending on how the Chapter 11 is structured, but for now we are forced to use the more conservative estimate) equates to $66.7 million in aggregate cash costs to operate MEMP's business. The final consideration is capital expenditures which can vary substantially year to year and is difficult to calculate without firm management's help. Using $100 million a year in maintenance CapEx as a reasonable estimate, the firm is still cash flow negative by $17.5 million using Q3 2016's commodity price deck.
While the variance in differentials makes a precise calculation impossible, average spot prices thus far in Q4 versus realized oil and natural gas prices of $38.95/bbl and $2.78/MCF respectfully suggest MEMP is likely to be approximately cash flow neutral for Q4.
We need to understand the adjusted cash flow perspective as well as the net reserve values before we can determine what the 2% and 98% stakes in the firm for the equity and debt holders mean. In terms of cash flow, MEMP's assets are cash flow neutral at best using today's strip prices and assuming the majority of previous interest expense is gone. Legacy Reserves and Mid-Con Energy Partners LP (NASDAQ:MCEP) are deep in the money at today's price levels as are the larger independents like EOG and PXD in the Permian Basin. From this angle, a position in the new MEMP Corporation is not very attractive.
From an asset perspective, MEMP's end of 2015 proved reserves were worth $1.27 billion. The end of year 2015 SEC value came in at approximately $600 million and is a more accurate reflection of the reserves' worth. Fluctuations in commodity prices and ongoing production cause this value to change over time. The year of oil and gas production is likely approximately offset by the recent rise in commodity prices which may or may not last.
Time To Do The Math
While these are certainly rough estimates at best, we do know the firm has measures in place to reduce debt by $1.1 billion to $1.3 billion versus total liabilities at the end of Q3 of $2.05 billion, resulting in residual equity of approximately $800 million $900 million. Using year end SEC values makes equity barely positive after the restructuring and that's incorporating the benefits from much higher natural gas and marginally higher oil. The firm is optimistically cash flow neutral at $55/bbl oil and $3.5 gas with the vast majority of its interest expense mitigated. Without this reduction, the breakeven would be $70/bbl oil and well over $4/MCF for gas. While helpful, we'd be somewhere in between extremely optimistic and reckless to attach a cash flow multiple to a firm whose ability to generate free cash flow is still suspect.
At $900 million, the 2% equity stake results in a value of $18 million versus a current market capitalization of $47.8 million. As mentioned previously, year end 2015 values result in suspect equity for common unit holders at best. We now see why the firm was more than cut in half on the news of the deal - even rough estimates revealed the equity was significantly over valued. Short of the stock trading for 10 cents or less per common unit, I cannot see how the numbers work out and that's excluding the potential for CODI, which the company did not explicitly say would be negated (quite the contrary). For bondholders currently sitting at 40-45 cents on the dollar, the proposition is more interesting. The aggregate value of the bonds is approximately $550 million, which will end up owning 98% of the firm. The senior notes could trade as high as 70-75 cents on the dollar if the bullish case comes to fruition and there is $900 million or more in equity value. In summary, the common units appear significantly overvalued despite trading at $0.55, while a reasonable but optimistic valuation of the debt and firm's proven reserves could result in significant upside. Personally, I'd recommend what I've done and allocate capital toward firms like Legacy and Mid-Con that are already cash flow positive and will benefit significantly from any increase in oil or natural gas prices going forward without the uncertainty and complications of MEMP.
Disclosure: I am/we are long GST-A, VTR, HCP, HTA, OHI, DOC, MAIN, BXMT, BNS, LGCYO, CF, EPD, MMP, CF, EVEP, TD, RY, HMC, CCP, MRCC, LGCY.
I wrote this article myself, and it expresses my own opinions. I am not receiving compensation for it (other than from Seeking Alpha). I have no business relationship with any company whose stock is mentioned in this article.
Additional disclosure: WER has positions in EVEP debt only and LGCY debt and preferred only. WER does not own the common units in either. WER is short Deere & Company (DE). The author may enter into long or short positions in any part of the capital structure of any of the firms mentioned in this article. Readers should always conduct their own independent due diligence and not rely upon information or opinions provided by the author.
Editor's Note: This article covers one or more stocks trading at less than $1 per share and/or with less than a $100 million market cap. Please be aware of the risks associated with these stocks.