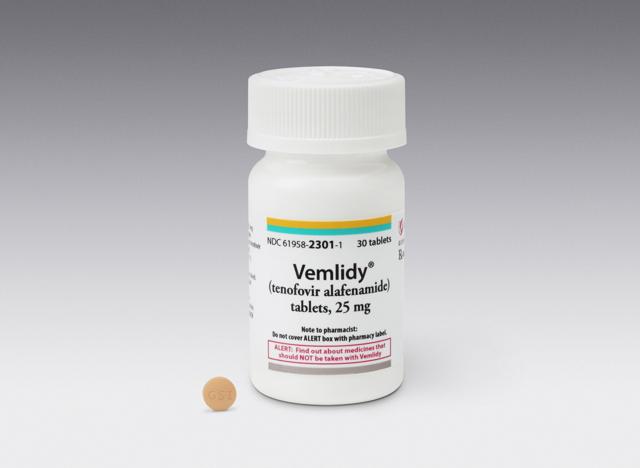 Source: Fierce Pharma
In November, Gilead (NASDAQ:GILD) received FDA and EC approval for Vemlidy, its next generation HBV drug. A few days ago Japan's Ministry of Health, Labor and Welfare also approved Vemlidy:
Gilead Sciences, Inc. today announced that the Japanese Ministry of Health, Labour and Welfare ("MHLW") has approved Vemlidy® (tenofovir alafenamide) 25mg, a once-daily treatment for suppression of viral replication in chronic hepatitis B patients with evidence of hepatitis B virus replication and abnormal liver function.

Vemlidy is a novel targeted prodrug of tenofovir that has demonstrated antiviral efficacy similar to and at a dose less than one-tenth that of tenofovir disoproxil fumarate ("TDF") 300mg. Data show that Vemlidy has greater plasma stability and delivers tenofovir to hepatocytes more efficiently compared to TDF. As a result, Vemlidy can be given at a lower dose, reducing the concentration of tenofovir in the bloodstream. Vemlidy has also shown improvements in renal and bone laboratory safety parameters compared to TDF.
Japan has about one million people infected with chronic hepatitis B. These patients often require a lifetime of therapy so Vemlidy's improvements in renal and bone safety parameters is a major advancement.
The Situation
Gilead's HCV regimens, Sovaldi and Harvoni, dominate the $18 billion HCV market. HCV represented over 40% of the company's Q3 product sales. However, Gilead is under siege; competition from AbbVie (NYSE:ABBV), Merck (NYSE:MRK) and Bristol Myers (NYSE:BMY) has hurt patient starts and average sales prices. Q3 HCV revenue was off 17% sequentially.
The company received another blow last week when a judge ordered Gilead to pay Merck $2.54 billion for infringing upon its HCV patents. Any potential pay out likely will not occur for another 18-24 months, yet the ruling could have major implications for Gilead's revenue and cash flows going forward. Sales of Vemlidy could help soften the blow of Gilead's declining HCV franchise.
Japan Could Be A Window Into Asia
About 350 million people are infected with HBV worldwide and 600,000 die from the disease each year. The market size is over $3 billion and is expected to grow 2.3% annually from 2014 to 2021. According to thelancet.com, an online UK medical journal, over half of the world's HBV-infected population comes from the Western Pacific and Southeast Asia.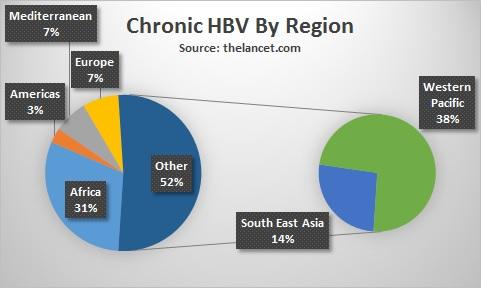 The African region was second with 31% of the world's chronic HBV infecteds. Per thelancet.com, HBV transmission in sub-Subharan African and east Asia "predominantly occurs in infants and children by perinatal and horizontal routes (i.e., resulting from close contact which is not parenteral, perinatal or sexual in nature)." In industrialized countries, rates of infection are highest among young adults, and new infections typical occur via injection drug use and high risk sexual behavior.
To gain major market share in HBV a company would need a sizeable presence in Asia and Africa. Gilead could potentially use Japan as a window into the rest of Asia. This is important given competitive threats. In a Phase 2 study ContraVir's (NASDAQ:CTRV) CMX157 demonstrated positive interim results in the treatment of HBV. CMX157 demonstrated better efficacy than Gilead's Viread at 1/12th; this would put CMX157 on par with Vemlidy which showed better efficacy than Viread at 1/10 the dosage. However, FDA approval for CMX157 could be over a year away. If Gilead can build relationships in Asia and Africa where the highest incidences of HBV occur, it could potentially build a commanding share of the market before CMX157 receives regulatory approval.
Takeaway
In addition to Gilead's HIV franchise, Vemlidy could help Gilead diversity its revenue and earnings away from HCV. If Vemlidy can win approval across Asia and Africa, its head start in the HBV market could be too difficult for Contravir to overcome. That said, GILD remains a sell until it can show sustainable growth in product sales.
Disclosure: I am/we are long CTRV.
I wrote this article myself, and it expresses my own opinions. I am not receiving compensation for it (other than from Seeking Alpha). I have no business relationship with any company whose stock is mentioned in this article.
Editor's Note: This article covers one or more stocks trading at less than $1 per share and/or with less than a $100 million market cap. Please be aware of the risks associated with these stocks.