Despite Gartman and Goldman's apocalyptic predictions for oil earlier this year, the commodity has almost doubled since they last spoke. Gartman's comments were made on January 25th while oil traded at $29.50 a barrel, and Goldman's sub $20.00 call came 2 days ahead of the lows for the year. Today, we sit at over $53.00 a barrel, and both of these calls seem quite ridiculous in hindsight. Oil is up 21% this year, and over 90% from its 52-week lows at $27.00, many are wondering what's in store for 2017? Gartman has stated that oil won't see $55.00 for years, but I think he's once again biting off more than he can chew. Bullish sentiment data for oil looks very positive going into 2017, and the commodity is heading into its strongest seasonal period of the year. Rather than listening to Gartman, investors should be looking to price and sentiment for clues for 2017.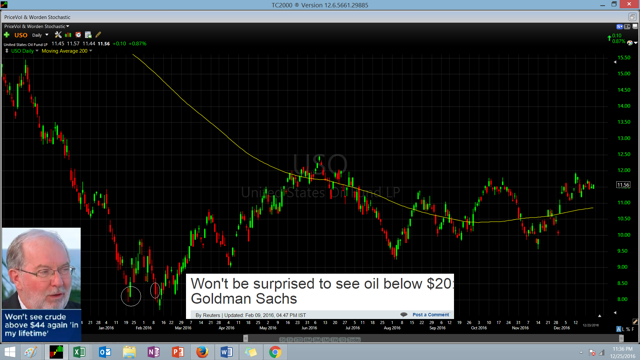 (Source: TC2000.com, CNBC.com)
On December 12th, I wrote an article, "Oil: Bulls In Control", and made the following statement:
"As we can see from the below chart of oil, the technicals could not be more bullish. There has been clear resistance for oil at $51.00 / barrel for nearly 18 months, and tonight we have gapped above this level. This is a very positive development for bulls. The psychological $50.00 level is now in the bull's rear-view mirror, and I expect dips to this level to be bought."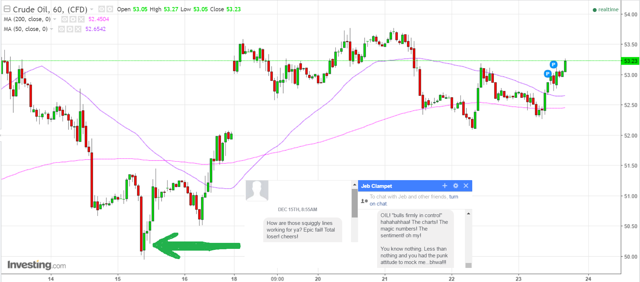 (Source: Investing.com)
The morning of the 15th when oil pulled back to $50.00/barrel, I received some fan mail from one of my followers. He mocked my call for oil bulls being in control, and had some more kind words to share. What this gentleman failed to understand is that sentiment does not predict price. My sentiment instead tells us what type of market we are in. My suggestion that $50.00 oil would be bought held true, as this level acted as a trampoline for price. Typically, in a bull market when bulls are in control, any dips are bought, and selling is soaked up quickly. The low on December 15th was $49.95, just 5 cents shy of my $50.00 support level. Now that oil has shaken out some of the 'late to the party' bulls, I thought it would be worth examining sentiment data for the commodity.
Sentiment
Bullish sentiment on oil is currently at a reading of 71%, the highest reading in over 2 months. While this may seem overly enthusiastic to some, exuberance often begets more exuberance. Optimism sentiment readings alone are not reasons to sell or short a market. Optimism often leads to more buying, and therefore sentiment readings above 70% are often a positive development for bulls.
When I am looking at sentiment data, there are two things I am paying attention to:
1) How many bulls are in the market?
2) What are the sentiment moving averages telling us?
I have developed a system to trade markets based on Daily Sentiment Index (DSI) data, by using my own moving averages to follow sentiment trends. As we can see from the below sentiment chart, crude oil is currently entering the "hot" zone. I define the "hot" zone as anything above the 70% bulls level, as this is where moves tend to be stronger to the upside.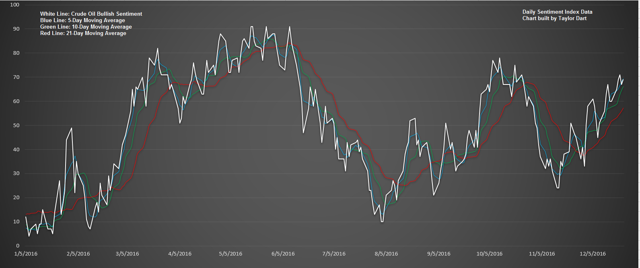 (Source: Daily Sentiment Index, Author's Chart)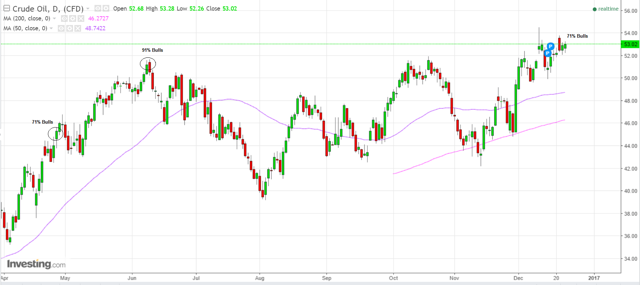 (Source: Investing.com)
The February to June rally in crude oil topped at a reading of 91% bulls, and we are nowhere near this level currently. As we can see from the above price chart of crude oil, the first 71% reading came on April 25th, and the commodity rallied another 10% over the next month.
The sentiment moving averages are currently in bullish alignment, as shown by the sentiment chart above. The 5-day, 10-day and 21-day moving average are all trending higher, and the 21-day (red line) should provide support for sentiment going forward. The 21-day moving average for sentiment is currently at 51% bulls, meaning that I would expect any dips to this level to be bought. It is impossible to know what price would coincide with this sentiment reading, but I continue to expect price to find support at the $50.00 level if we do dip.
Seasonality
Taking a look at seasonal trends for crude oil, the commodity is entering its 2nd strongest quarter of the year. Crude oil already shrugged off what is typically its worst quarter of the month, and gained 10% in Q4. This impressive gain was a significant outperformance from the commodity average Q4 return of (-) 5.2%. Typically, Q1 is a very strong quarter for crude oil, with the majority of the gains coming in March. The average gain for crude oil in Q1 is 3.9% between 1986 and 2014. If crude oil were to perform in line with seasonal data, it would close Q1 at a price of $55.27/barrel. This would refute Gartman's call of 'oil below $55 for years', and give us a double off the lows from Goldman's sub $20/barrel call.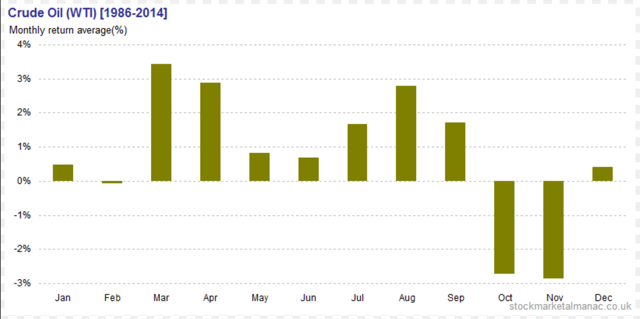 (Source: StockMarketAlmanac.co.uk)
Technical Outlook & Summary
Taking a look at the daily chart of crude oil, there's hard to find anything bearish. Oil continues to make higher highs and higher lows, while trending above its key moving averages. The 50-day moving average is beginning to slope positive, while the 200-day moving average gains nearly $0.08 per day. Those following me the past month know that I went long crude oil at $48.45, and I am currently up nearly 10% on my position.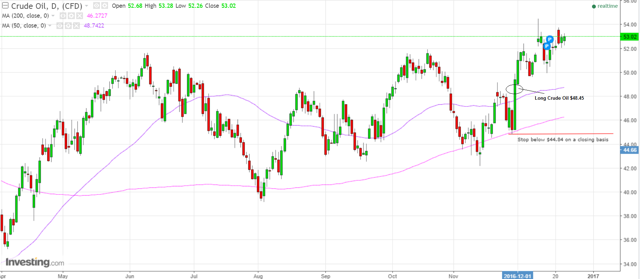 (Source: Investing.com)
I have no interest in taking any profits on this trade currently, and I will remain bullish above $44.84. I have moved my stop up on this trade to $44.84 for two reasons:
1) The 200-day moving average has climbed higher and is currently sitting at $46.27. A close more than 2% below the 200-day moving average would be a red flag for me and would put this bull market in jeopardy.
2) Crude oil made a higher low at $45.23 on November 29th, and I do not want to see a close more than 1% below this level. I have no problem with an intra-day shakeout or marginal close below $45.23, but a close below $44.84 would force me to exit my long position.
Due to all of my criteria being bullish for crude oil, I have been long a full position since November 30th. Not only is seasonality in crude oil's favor going forward, but sentiment data is entering my "hot zone". The technicals are very positive for the bulls, as dips are being bought, while the 50-day and 200-day moving average trend higher. The key ingredient in a bull market for me is the 200-day moving average, and I expect this to continue into next year. While bears seem to be convinced that we are still in a bear market for crude oil, they are ignoring the fact we have nearly doubled off the lows. When the landscape changes in a market, it is the trader's job to also change their positioning. Bears are living in the past and are fighting a trend that still has room to run.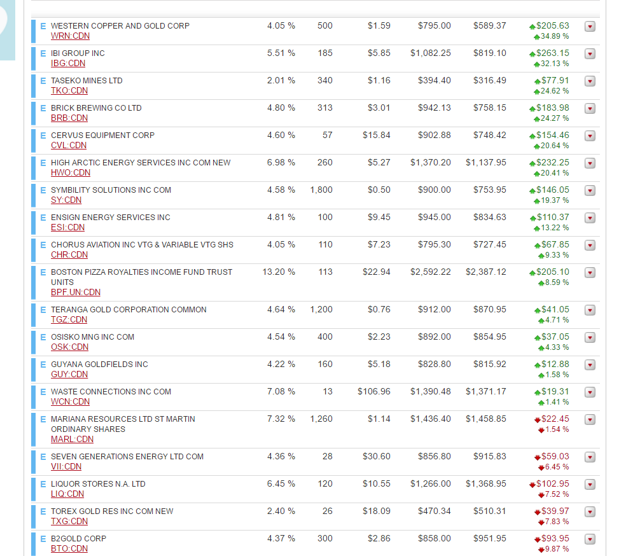 (Source: CIBC Investors Edge Account)
My outlook for crude oil for 2017 is a range between $43.00-$70.00/barrel. As long as crude oil holds the $44.84 level, I expect the dips to be bought, and for price to trend higher. Being a trend follower, I have no interest in trying to time every tick on crude oil; I position myself for the 'big swings'. I have no idea where the next 3-5% move is, but I expect the next 10% to be higher. I have positioned myself for this by being long crude oil futures from $48.45. In addition to this, I am long High Arctic Energy Services (OTCPK:HGHAF), Seven Generations Energy (OTC:SVRGF), and Ensign Energy Services (OTCPK:ESVIF).
I have shown my positions above for full transparency. I am long these stocks from the Canadian market as they are much more liquid on the TSX.
Disclosure: I am/we are long USO, ESVIF, HGHAF, SVRGF.
I wrote this article myself, and it expresses my own opinions. I am not receiving compensation for it (other than from Seeking Alpha). I have no business relationship with any company whose stock is mentioned in this article.
Additional disclosure: If you liked this article and found it useful, please feel free to follow me by clicking on my name next to my avatar at the top of this article. I also invite you to follow me at www.twitter.com/TaylorDart01 where I routinely share my entries, exits, and stops on new positions, as well as updating followers on sentiment data on markets I am following.