The Company
Jerónimo Martins (OTCPK:JRONF) (OTCPK:JRONY) is an international distribution group based in Portugal. The company has operations in Portugal (Pingo Doce is one of the two biggest supermarket chains while Recheio is the leader in the cash & carry business), Poland (Biedronka is the largest supermarket chain in the country and Hebe is one of the leaders in the drugstore sector) and Colombia (Ara is the group's most recent investment and is expected to be an important growth driver in the years to come). In total the group has over 3,300 stores.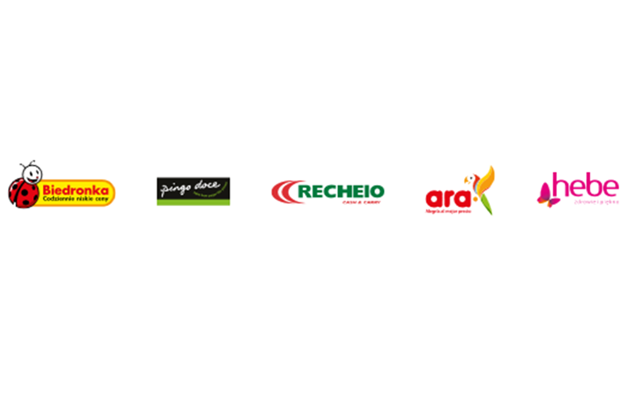 Jerónimo Martins also has interests in the agricultural sector, namely in dairy products, beef and aquaculture mostly for internal consumption and to guarantee direct access to strategic supply sources.
Technical Outlook
Trend indicators work fairly well with this stock. In fact, it is worth owning a position when the stock price is above the short, medium and/or long term moving averages. Likewise, it is worth keeping the position as long as the MACD remains above zero and the RSI above 50. Following these indicators would have avoided part of the over 60% (from peak to bottom) drawdown of 2013/2014 and part of the 100% recovery since then.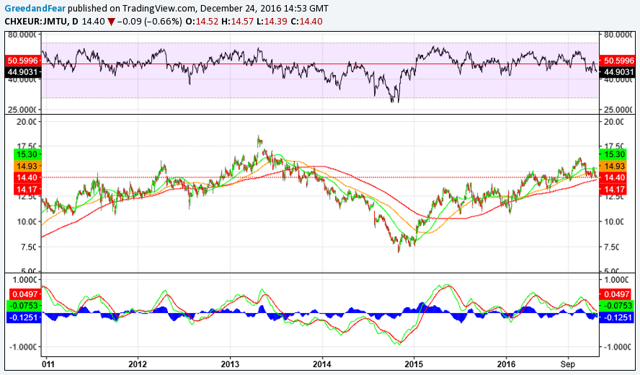 Source: Trading View
In this regard, despite the recent pullback and some technical deterioration, I'm not ready to throw the bull towel away as the stock remains above its long term moving average and the MACD signal remains above zero.
Backward Looking
Jerónimo Martins sales are growing at an accelerated pace. From 2010 to 2015, sales grew at a 9.6% compounded annual rate.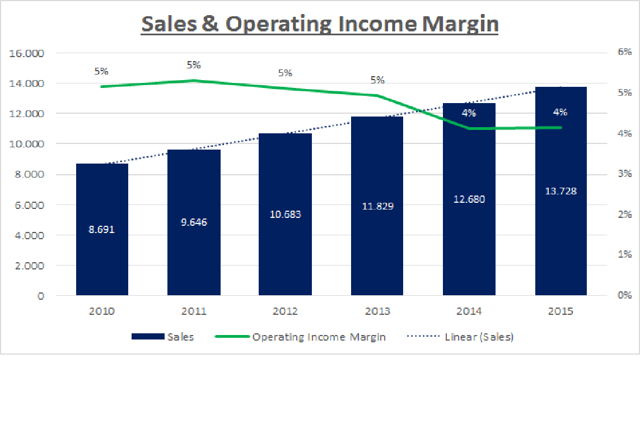 Source: Author
Despite the good top line performance, the operating margin decreased slightly to 4% of revenue. As a consequence, the bottom line improved at a slower pace than the top line. In fact, from 2010 to 2015, operating income grew at a 4.9% compounded annual rate and net profit grew at a 3.5% compounded annual rate.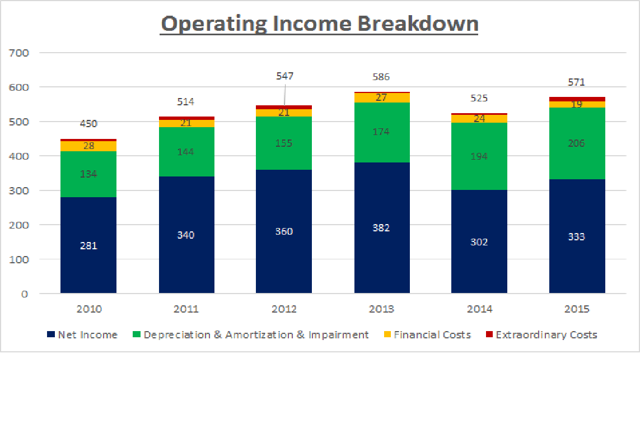 Source: Author
Please note that I made small adjustments to the depreciation & amortization & impairment, financial and extraordinary components of the operating income so that it is comparable with the other stocks I follow. Without those changes, the operating income would be slightly higher than the one presented in these graphs.
During this period the company's leverage has remained fairly stable. Please note that I calculate net liabilities by deducting the current assets from total liabilities (both current and non-current liabilities and both financial and operational liabilities). I believe this is a more comparable metric because many companies reduce their financial debt (loans) at the expense of their operational debt (payables). Also, some companies increase their cash positions by anticipating receivables, among other "financial report-dressing" tactics.
In absolute terms, net liabilities increased 12.1% in this 5 year period or at a 2.3% compounded annual rate between 2010 and 2015.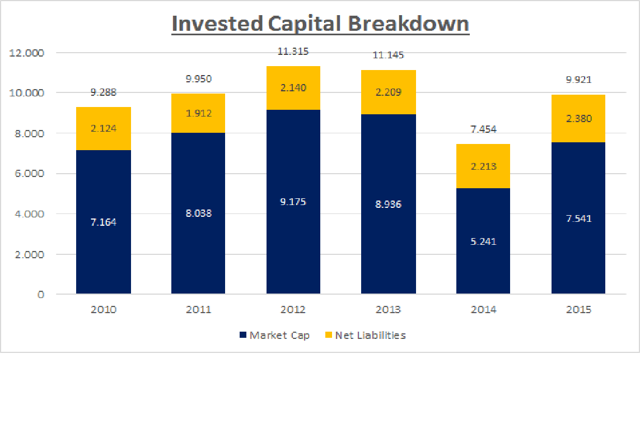 Source: Author
In relative terms, as operating income grew at a faster pace than net liabilities, the ratio of net liabilities to operating income decreased slightly from 2010 to 2015.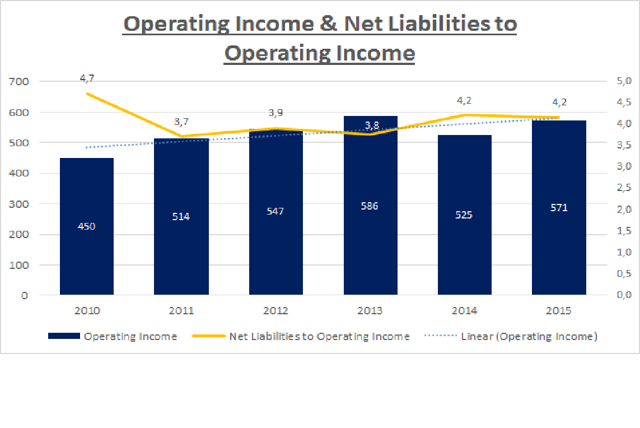 Source: Author
Putting everything together, the company value (calculated as a sum of the market cap with net liabilities), decreased from 19.9 times its operating income and 1.0 times its sales in the period between 2010 and 2013 to 14.2 times its operating income and 0.6 times its sales in 2014. Both valuation metrics increased since then and the company is now valued in line with its historical average at 20.2 times its operating income and 0.8 times its sales (considering my year-end top and bottom lines forecast and the current stock price).
Source: Author
Finally, it is worth noting that the stock price grew at a 1.0% compounded annual rate from 2010 to 2015, which is below the 9.6% sales growth, the 4.9% operating income growth and the 3.5% net income growth. In other words, the stock was slightly cheaper in 2015 than in 2010.
3rd Quarter Earnings
Once again, Jerónimo Martins top and bottom lines improved nicely in the first 9 months of 2016, with sales up 5.5% and net income up 98.9% (12.9% excluding non-recurrent results, mostly from Monterroio transaction) versus the same period of 2015. This was achieved in a tough environment of low inflation and fierce competition in Portugal and Poland. It is also worth noting the decrease in leverage when compared with September 2015.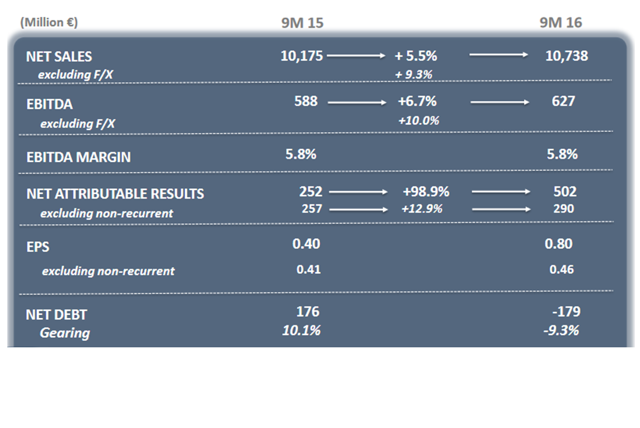 Source: Jerónimo Martins
Regarding the non recurrent items in the income statement, the sale of 100% of Monterroio to Sociedade Francisco Manuel dos Santos BV for €310 million resulted in a book gain of €75 million. Here, I must denounce this transaction, not because of the value itself (whose fairness is hard to determine with so little information available), but due to the fact that the buyer is Jerónimo Martin's major shareholder (with 56.1% of the share capital) - who not only sits on the board as it controls its members, but also belongs to the Executive Team. There's a saying where I come from that goes like this: "Ceaser's wife must not only be honest, she must also look honest". And this transaction doesn't look ethical at all, and the management team should know better. Furthermore, it opens a lot of questions. For example, how will Gallo olive oil (1 of several major brands owned by Monterroio that sells its products in Jerónimo Martins stores) prices be determined from now on? Which interest will be defended? Jerónimo Martins or Sociedade Francisco Manuel dos Santos BV?
Looking Forward
In Portugal's mature market, inflation remains low and competition is intensifying as Mini Preço (NYSEARCA:DIA) (OTCPK:DIDAF) (OTCPK:DIDAY) and Lidl open new stores, as Continente (Sonae) (OTC:SOSSF) (OTC:SGPMY) bets on weekly coupon discounts to attract consumers and as Jumbo and Intermarché try to protect their small market shares. Furthermore, Mercadonna (the Spanish supermarket chain leader) entrance in the country in 2018 has the potential to disrupt the Portuguese market landscape where the 2 distinguished leaders are Continente (Sonae) and Pingo Doce (Jerónimo Martins).
In Poland, Biedronka will continue to defend its leadership position through the opening of 100 new stores in 2017 and through the expansion of the goods offered. The growth in the country is also being fuelled by an increase in families' disposable income, which has allowed them to buy better products. As a consequence, Biedronka's purchase basket has improved both in quality and value, resulting in higher sales for the company.
In Colombia, Ara is preparing to accelerate the expansion process by entering 2 new regions. Nonetheless, due to the still small scale of the operation the impact in the group's consolidated accounts remains almost negligible.
Altogether, one should expect sales, operating and net income to continue to grow at a similar pace in 2017 to what it has done since 2010.
In Summary
Technically, the bull market remains intact despite the recent pullback.
Fundamentally, Jerónimo Martins seems fairly valued from an historical perspective in terms of operating income and sales. Looking forward, there are decent growth prospects mainly in Poland but also in Colombia.
Even though I don't expect the stock to skyrocket in 2017, I wouldn't be surprised to see the stock back to €16 next year (that's more than 10% from current levels).
Disclosure: I/we have no positions in any stocks mentioned, and no plans to initiate any positions within the next 72 hours.
I wrote this article myself, and it expresses my own opinions. I am not receiving compensation for it (other than from Seeking Alpha). I have no business relationship with any company whose stock is mentioned in this article.
Editor's Note: This article discusses one or more securities that do not trade on a major U.S. exchange. Please be aware of the risks associated with these stocks.