Previews review
In October, I shared some thoughts on EasyJet (OTCPK:EJTTF) (OTCQX:ESYJY) when the shares moved lower mostly due to the pound flash crash. At the time, the stock was trading at £8.72 and I wrote that "as the stock collapsed with a weaker pound, it will also rebound with a stronger GBP".
The day before, I wrote another article on the British pound flash crash in which I compared that event with similar episodes in the Russian ruble, the South African rand and the New Zealand dollar in which these currencies bottomed and reversed their negative trends soon after those incidents. I concluded saying that "it may be early to buy British pound but it is certainly too late to sell them".
Altogether, I concluded the article on EasyJet saying that "if you're thinking about buying pounds against the dollar or the euro, then you should see EasyJet as a way to boost youre potential return".
What happened since then?
The stock jumped after my last review and even touched £11 (in a 26% movement in 1 month) following the recovery in the pound. It then pulled back to £9.6 and is now trying to move higher once again.
Technically, there has been some improvement in several indicators. The RSI is almost at 50 (the bull / bear market barrier) and the MACD is pointing north and approaching 0 (the bull / bear market barrier). The short term moving average was intercepted and the medium term moving average is within a "good day's" reach. Looking at the graph, this post-Brexit pattern looks a bit like an inverted head & shoulders (a trend reversal pattern), which opens good prospects for 2017 specially if the £10 support holds in the next few weeks.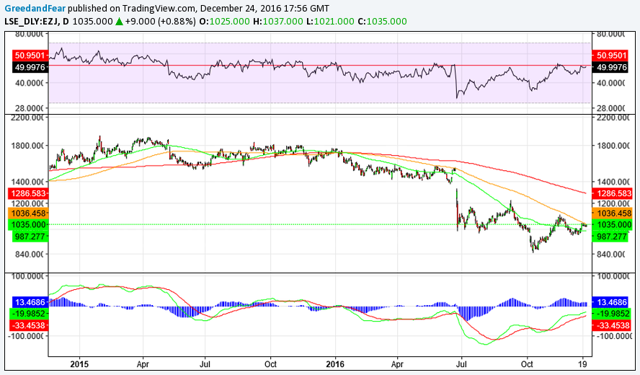 Source: Trading View
How do EasyJet's fundamentals look like?
In 2016's fiscal year EasyJet stock lost over 40% of its value (and this doesn't even account for the pound depreciation for foreign investors). So, one would expect a very bad performance that same year. However, as we'll see in this chapter that was not the case. In fact, sales declined only 0.4%, operating income declined 15.3% and net income pulled back 22.1% in 2016 versus 2015 (way less than the 43% stock loss last year). But let's have a look at the company fundamentals in more detail.
EasyJet sales are growing slowly but steadily. From 2007 to 2016, sales grew at a 11.2% compounded annual rate and sales grew every single year apart from 2016 in which revenue was practically flat versus 2015. That's an outstanding performance and note that I started the series in 2007 on purpose because it's the year before the financial crisis.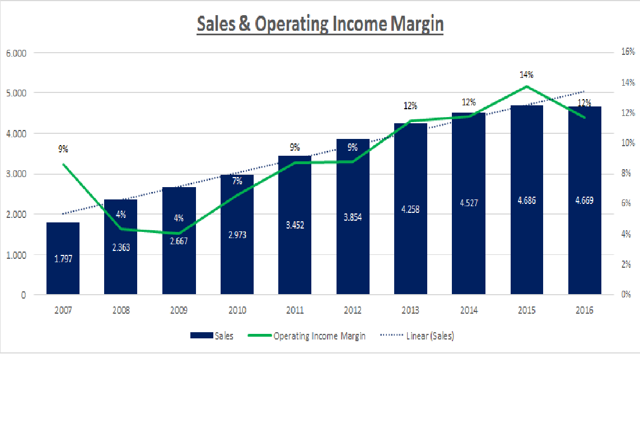 Source: Author
It is also interesting to note that the top line growth after the financial crisis was achieved at the same time that operating margins improved from 4% in 2008 to 14% in 2015 (or from 9% in 2007 to 12% in 2016). This shows the company is committed and able to deliver both top and bottom line growth (which is not always the case, especially in the competitive airline industry where many competitors try to grow or maintain their sales by cutting their profit margins). In fact, from 2007 to 2016, operating income grew at a 15.0% compounded annual rate and net profit grew at a 12.1% compounded annual rate. Despite the 15.3% decrease in operating and the 22.1% pullback in net income in 2016 versus 2015, EasyJet ended last year with the 2nd highest operating income (only after 2015) and the 3rd biggest net income ever (after 2015 and 2014).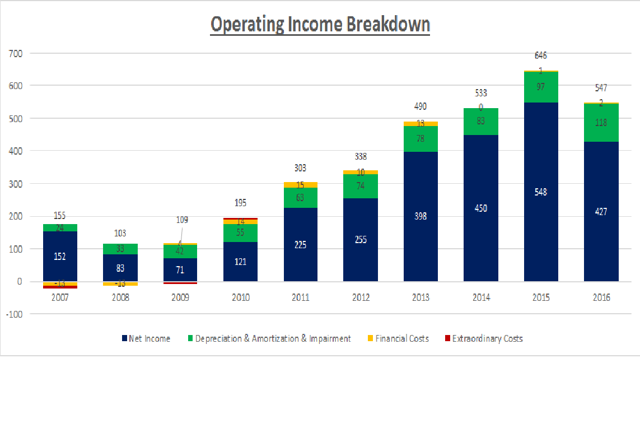 Source: Author
Please note that I made small adjustments to the depreciation & amortization & impairment, financial and extraordinary components of the operating income so that it is comparable with the other stocks I follow. Without those changes, the operating income would be slightly higher than the one presented in these graphs.
But the growth in revenue, operating income and net profit is even more impressive if we take into account the share buybacks. In fact, since 2007, EasyJet bought back close to 31.2 million shares, or more than 7% of the shares outstanding in 2007. So, if we take this into consideration, revenue per share grew at a compounded annual rate of 12.1%, operating income per share grew at a compounded annual rate of 16.0% and net profit per share grew at a compounded annual rate of 13.1%.
In the meantime, the company has maintained the balance sheet in reasonably good shape. Please note that I calculate net liabilities by deducting the current assets from total liabilities (both current and non-current liabilities and both financial and operational liabilities). I believe this is a more comparable metric because many companies reduce their financial debt (loans) at the expense of their operational debt (payables). Also, some companies increase their cash positions by anticipating receivables, among other "financial report-dressing" tactics.
In absolute terms, net liabilities increased almost 600% between 2007 and 2016. This looks terrible but the truth is that there's no reason for alarm in relative terms.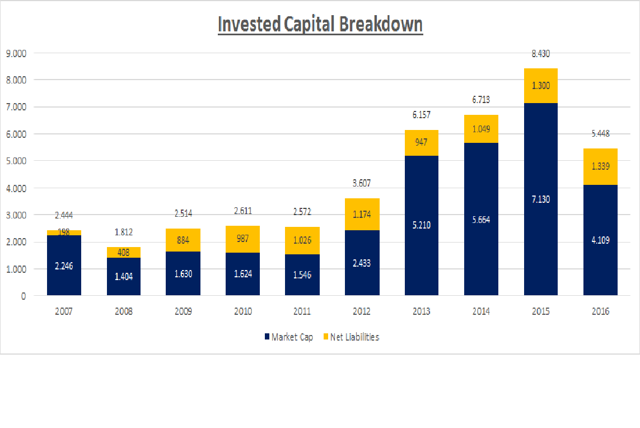 Source: Author
In relative terms, there was a severe deterioration in the balance sheet in 2008 and 2009 following the financial crisis but the ratio of net liabilities to operating income has improved since then. It is now at 2.4 which is not dramatic even if it shows leverage increased since 2007 when this ratio was at 1.3.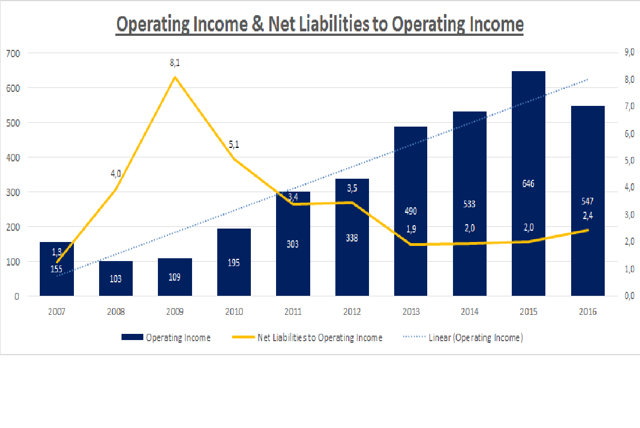 Source: Author
Putting everything together, the company value (calculated as a sum of the market cap with net liabilities), averaged 13.7 times its operating income and 1.1 times its sales in the period between 2007 and 2016. If we shorten the period to 2010 onwards (eliminating the 2 outliers of 2008 and 2009), then the company was valued on average at 11.5 times its operating income and 1.2 times its sales. This means that the stock is currently slightly undervalued from an historical perspective in terms of invested capital to operating income which stands at 10.0.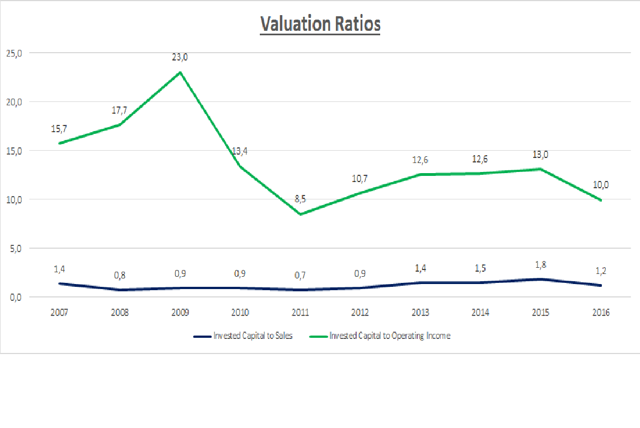 Source: Author
In fact, even though the stock price grew at a 7.3% compounded annual rate from 2007 to 2016, the market cap only grew at a 6.4% compounded annual rate in the same period (due to the share buybacks). That's below the 12.1% sales per share growth, the 16.0% operating income per share growth and the 13.1% EPS growth.
What to expect in 2017?
In 2017, the already fierce competition in the airline industry will intensify due to opening of new routes by several players. Nonetheless, demand is also growing and this growth is a secular trend. It's impossible to predict how supply and demand will play out in terms of ticket prices and occupancy rates. But if margins remain stable, EasyJet will benefit from the increase in traffic.
Then, there's the oil price which has increased to the low 50's. Contrary to common belief this is not a threat to the airline industry because these companies hedge their fuel costs in advance. In fact, the movements in the price of oil do not affect current profitability and will only have an impact in the future profitability if the company decides not to adjust its ticket prices. However, if the price of oil increases drastically and airline ticket prices follow, it could reduce consumers' willingness to travel and have a negative impact on EasyJet.
Finally, EasyJet's stock price will remain very sensitive to volatility in the pound. In fact, as I've mentioned in my previous article, when the currency weakens, so does the stock (and vice-versa). That is because 70% of EasyJet costs are not in pounds (while only 50% of its revenue is in a currency other than the sterling). More precisely, a stronger euro and Swiss franc are good news for EasyJet because in both cases the net margin impact is positive (the weight of euros and Swiss franc in the revenue breakdown is higher than its share in the cost structure). The problem comes from a weaker pound versus the dollar because it increases the fuel costs in GBP and while EasyJet hedges its fuel costs in advance, it does so using a constant GBPUSD exchange rate. As we get closer to the divorce between the UK and the EU, we'll likely to see an increase volatility in the forex market. I see such an event as a buy opportunity into EasyJet.
In summary
EasyJet has benefited from the recovery in the British Pound since October's flash crash.
The technical outlook has improved substantially as the RSI approaches 50, as the MACD approaches zero and as the medium term moving average is in a "good day's" reach.
Fundamentally, the stock price's 43% decline in 2016 was exaggerated as sales declined only 0.4%, operating income declined 15.3% and net income pulled back 22.1% versus 2015. As a consequence, the company is now valued at a small discount to its historical average at 10.0 times its operating income (versus 13.7 in the period between 2007 and 2016 or 11.5 from 2010 onwards).
In 2017, the increase in competition in the airline industry and the oil price recovery will have small negative effects in the company. The main driver will continue to be the British pound. As volatility in the forex market increases with the UK/EU divorce, investors should be ready for some swings in the stock price. However, I see such an event as a buy opportunity into EasyJet.
Disclosure: I/we have no positions in any stocks mentioned, and no plans to initiate any positions within the next 72 hours.
I wrote this article myself, and it expresses my own opinions. I am not receiving compensation for it (other than from Seeking Alpha). I have no business relationship with any company whose stock is mentioned in this article.
Editor's Note: This article discusses one or more securities that do not trade on a major U.S. exchange. Please be aware of the risks associated with these stocks.