Being a real estate investment professional based in Germany, I am often able to identify compelling European REIT investment opportunities.
The European REIT market is today still very new and emerging. While REITs have existed for over 50 years in the US, many European countries only adopted the REIT regime during the last 10 years. As an example, large European economies including the UK and Germany introduced the regime only in 2007. Consequently, the asset class still lacks a strong following from the investment community and often remains widely misunderstood.
European REITs are Often Cheaper than US REITs…
Since the REIT regime is very new in Europe, it is then not surprising that the European REITs market may function less efficiently than the US REIT market and present more frequent inefficiencies in the form of mispricings. Historically, European REITs have traded at an average 10% discount to NAV compared to US REITs which have traded at low single digit premiums.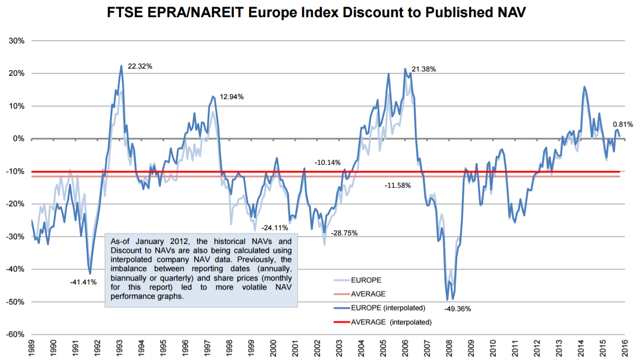 Source: EPRA NAV Report
This relative discount compared to the US market reflects the lower demand for European REITs as investors are still unfamiliar with the regime. The US REIT regime went through the same phase when first introduced in the 60s and eventually gained enough momentum to become a widely recognized and desired investment vehicle. I anticipate this same cycle to happen in Europe, causing the discounts to eventually diminish.
It should be noted that the pricing of European REITs strongly varies from one country to another. Some trade at hefty discounts to NAV while others trade at substantial premiums. Today about half of the European countries trade on average at a discount to NAV as seen in the chart below.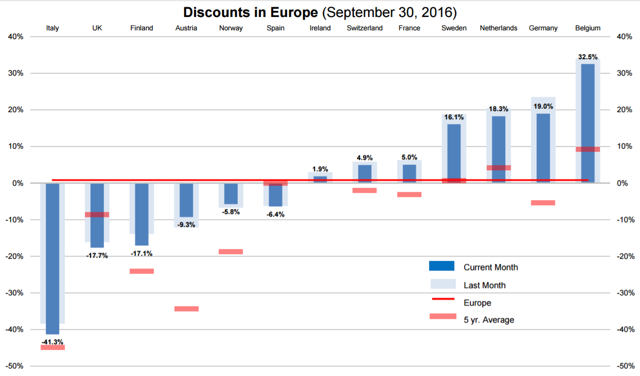 Source: EPRA NAV Report
Italian REITs are currently the cheapest with an average 41% discount to NAV and Belgium the most expensive with an average 32% premium to NAV. Moreover, UK REITs trade at an 18% discount to NAV, Finnish REITs at a 17% discount, Austrian REITs at a 9% discount, Norwegian REITs at a 6% discount and finally Spanish REITs also at a 6% discount.
These numbers only reflect the average. Accordingly, there exist many REITs among these countries trading at still substantially higher discounts than these. Certain REITs may deserve to trade at discounts to NAV for justified reasons. Perhaps the REIT might suffer from poor management or an overly levered balance sheet. However, it is not uncommon to also find European REITs which are of high quality and still suffering from excessively low valuations due to the general lack of understanding of the REIT regime in Europe.
European REITs Provide Diversification Benefits…
In addition to potentially finding cheaper REITs in Europe than in the US, they also provide great diversification benefits for US-based investors as their correlation with US REITs is less than perfect. Real estate markets are strongly affected by local economics and often move along their own unique cycles. As an example, while real estate markets may suffer from overbuilding in Florida, markets may be strong in Germany.
Adding International REITs to your REIT portfolio has hence the capacity to reduce its volatility and potentially increase its risk-adjusted returns.
Lastly, investing in Europe also provides great currency diversification benefits for US-based investors. Especially today with the historically strong dollar it may make sense to buy some cheap European currencies.
US Dollar and EURO almost at par today: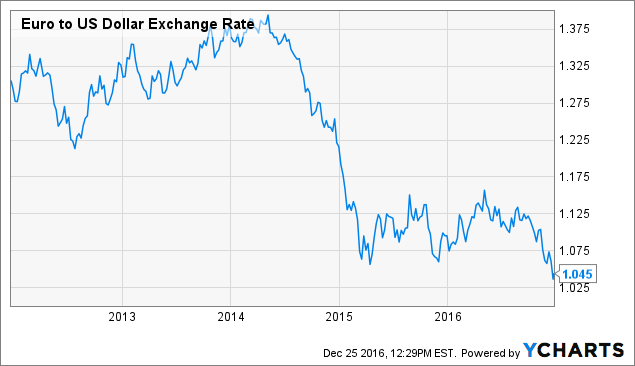 Euro to US Dollar Exchange Rate data by YCharts
US Dollar gained tremendous value against the British Pound recently: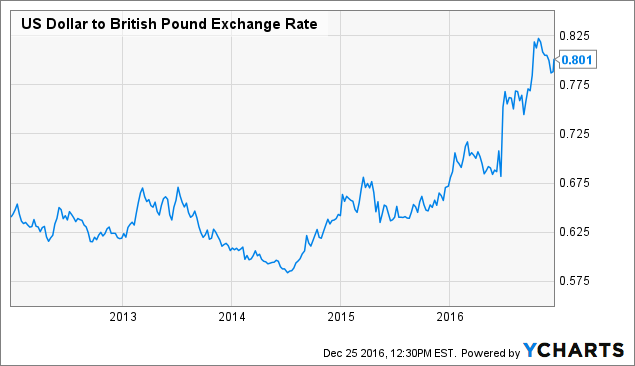 US Dollar to British Pound Exchange Rate data by YCharts
My 3 European REIT Picks…
I have myself invested in 3 European REITs: 1 German, 1 British and 1 Finnish. The reason why I targeted exposure to these particular countries is because I have lived in all three and understand their systems and economies best. Germany, the UK and the Nordic European countries remain the strongest European countries and I feel much more confident about their long term economic strengths compared to many other Southern and Western European countries. I believe that landlords will do well in these stronger European economies despite the current issues in Europe and that REIT investors will profit by enjoying attractive FFO and dividend growth over the long run.
Below, I shortly outline the buy thesis of my 3 European REIT Picks:
DIC Asset: German Office Real Estate (Ticker: DIC:GR)
Buy thesis: DIC Asset provides one of the cheapest ways to gain exposure to German real estate markets. It is an Office REIT trading at an approx. 35% discount to NAV while German REITs trade on average at a 20% premium. It is internally managed, experiencing attractive growth, trades at 12 times FFO and has a safe 4.2% dividend yield which represents only an approx. 50% payout ratio.
The reason why it is so cheap relative to peers is because it is a small cap REIT with a market cap below €600 Million and secondly because its balance sheet is more levered than average. The loan to value of the REIT's portfolio has in the past been as high as 70%, but the management has recognized this issue and progressively worked toward reducing leverage in the last years. Today the loan to value stands at about 58% and is expected to keep on decreasing as the management utilizes cash flow to repay debt. These characteristics create additional risk and clearly deserve a risk premium; however I consider the current price to be excessively low and more than reflecting these factors.
Another element that may be causing this discount is the business complexity of DIC Asset as it also operates a fund management business. A significant part of its assets are "co-investment," often representing a low equity ownership in certain buildings. I appreciate this model as it helps DIC grow its FFO faster with additional fee income generated through these co-investment deals. The fund management business is growing fast (+40% in 2015) and I expect it keep on growing as the demand for commercial real estate remains very strong in Germany. It is a great model as large German institutional investors often prefer to invest directly in real estate and like to invest in a large REIT with a successful track record. It helps DIC grow its FFO faster with less need for capital.
Moreover, the German real estate market is one of the strongest in the world with record low vacancies, rent growth and relatively low new supply. The demand for commercial properties in Germany is very strong because it is perceived as a safe haven asset class within the EU. Its economy is very defensive, even compared to the US, and if the Euro were to collapse, the Deutsche Mark would potentially release large currency gains.
British Land: UK Office and Retail Portfolio (TICKER: OTCPK:BTLCY)
Buy thesis: British Land is a blue-chip UK REIT trading at an abnormally low price following the recent Brexit event. I recently wrote a PRO article on British Land and explained that I believe it to be poised for above average returns going forward. Despite being what I consider to be a blue-chip REIT and performing well, it is today trading at an approx. 30% discount to NAV. Income is growing, the portfolio is of high quality, the management has a great track record of value creation and lastly the REIT is very conservatively financed. The REIT has all the positive attributes that would typically reward a REIT to trade at a premium, but this is just not happening today. See full article here.
The share price is down by about 25% year to date despite a strong underlying performance, uniquely because of the Brexit fears which I believe to be totally overdone. The implications have been overstated by the media and I expect the market to return to normal as soon as investors forget about this event and regain confidence. Switzerland and Norway are good examples of other European countries that are not part of the EU and they are both doing just fine (if not better than average).
Furthermore, the Brexit event also caused the British pound to lose lots of its value. As such, British Land investors may benefit from currency appreciation (if it reverts to the mean) in addition to seeing the discount to NAV gap diminish going forward.
Citycon (TY2:GR)
Buy Thesis: I recently went long Citycon, a Finnish shopping center REIT. It is the largest REIT focused on the ownership of shopping centers in Nordic European countries including Finland, Sweden, Norway, Denmark and Estonia. Its discount to NAV is approximately 20% and its FFO multiple about 12 even though the REIT is doing just fine. I enjoy the exposure to Nordic European countries which are doing better economically than the European average and enjoying some of the strongest demographic growth among European capital cities. It is today paying a 6.3% dividend yield and has attractive growth potential as a combination of rent increases and portfolio expansion. The management has in recent years significantly improved the quality of the portfolio as it has achieved greater diversification among all Nordic countries including a new large acquisition in Norway. The shopping centers are of high quality, grocery store anchored, and quite conservatively financed.
Despite the strong quality of the portfolio itself, the discount exists today as a result of past dilutive actions of the management. Shares have been issued below NAV in recent years to improve the quality of the portfolio, leading to stagnating FFO and dividend per share growth. After discussing these concerns with investor relations, I felt comfortable about the strategy behind these actions. While it is clear that the risk of shareholder dilution is present, these actions have good accretive potential going forward. Issuing shares helped the REIT acquire attractive properties and build its presence in all Nordic countries. Now that the portfolio has been built up, I expect less external equity financing and a stronger focus on organic growth, potentially leading to a reduction in the discount to NAV.
It is probably the best single REIT to gain exposure to all the Nordic European real estate markets at once and I expect yield starved European investors to bid up this relatively safe high yield in the future.
Final Thoughts
Again, I believe that these opportunities exist today at least partly because the European investment community simply isn't well informed about REITs yet. Eventually, investors will gain a stronger understanding of this unique asset class and learn to better appreciate its merits. This will lead to smaller discounts to NAV and potentially attractive returns for early investors.
European REITs as such provide good long term prospects for total returns combined with good diversification benefits for US based investors.
For anyone interested in researching European REITs further, I recommend you seek information from the organization EPRA which is the European equivalent of NAREIT in the US. Moreover, I would suggest you follow me to receive my future articles on new European opportunities.
Finally, US-based investors should inform themselves of tax implications when investing in European REITs. Being based in Europe and not being a taxation expert, I am unable to advise you on these issues. Note that there is typically a withholding tax which is deducted from the dividends when investing abroad. Depending on the tax treaties between the US and the other country, this withholding tax may be fully or partly used to reduce taxes in the US to avoid double taxation.
If you enjoyed this article, scroll up and click on the "Follow" button next to my name to not miss my future articles on other attractive REIT opportunities.
Disclosure: This article is for informational purposes only. It is not a recommendation to buy or sell any security and is strictly the opinion of the writer. Readers are expected to conduct their own due diligence or seek advice from a qualified professional.
Sources: EPRA; EPRA NAV REPORT; British Land; DIC Asset; Citycon
Disclosure: I am/we are long BTLCY, DIC:GR, CTY1S:FH.
I wrote this article myself, and it expresses my own opinions. I am not receiving compensation for it (other than from Seeking Alpha). I have no business relationship with any company whose stock is mentioned in this article.
Editor's Note: This article discusses one or more securities that do not trade on a major U.S. exchange. Please be aware of the risks associated with these stocks.