There have been several healthcare-related REITs (Real Estate Investment Trusts) that have sold off recently (for one reason or another). The four I have written articles on are Medical Properties Trust (NYSE:MPW), Ventas (NYSE:VTR), Welltower (NYSE:HCN), and Physicians Realty Trust (NYSE:DOC). This article will focus on Healthcare Trust of America (NYSE:HTA) whose largest direct competitors (based on my research) are going to be Healthcare Realty (NYSE:HR) and DOC. HTA was established in 2006, but went public in June of 2012.
HTA's Focus
HTA focuses exclusively on Medical Office Buildings (MOB). MOBs are different than typical office buildings because of their location (including their proximity to large medical facilities) and diverse tenant mix. HTA's about section of their website states that they focus on markets that demonstrate above average growth and a "healthcare infrastructure that is capable of servicing long-term patient demand" (htareit.com).
HTA's Investment criteria is based on the following:
1. Health system campuses
2. Community-core locations
3. University medical centers
All of the MOBs that fit this criteria must also be considered core-critical, meaning that they provide an indispensable function/service for the medical facilities around them. At the end of 2015, 97% of HTA's assets were either on a college campus, or in alignment with leading healthcare systems (HTA 2015 Annual Report).
Using this focused business model, HTA has produced returns since 2006 of 10% on average per year.
HTA's Diversification
I like to use a chart from HTA's investor presentation because I think it accurately demonstrates the asset base of some of the more well-known REITs in the market, but also because it shows what type of risk is associated with each area of specialization.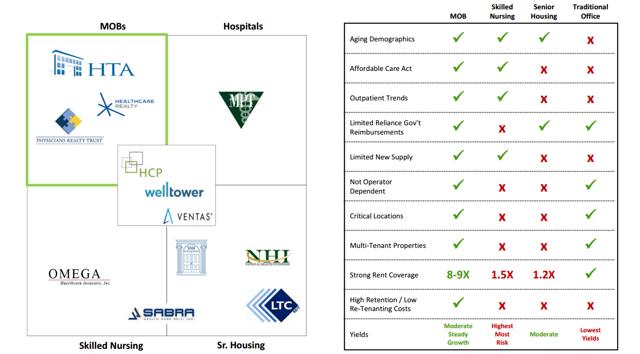 As you can see, HTA is heavily weighted as an MOB REIT, (please reference the next visual for further explanation) as the majority of their investments seem to focus on MOBs. As of Q3-2016, 94% of the gross leasable area held by HTA was for MOB assets. The following is from the Q3-2016 earnings supplement.
HTA's business model focuses on Metropolitan Statistical Area (MSA), which "is a geographical region with a relatively high population density at its core and close economic ties throughout the area" (Q3-2016 Supplemental report page. 20). By focusing on these core areas, HTA is exploiting efficiencies created by owning assets that serve a dense population community. The following chart from the Q3-2016 page 6 breaks this down.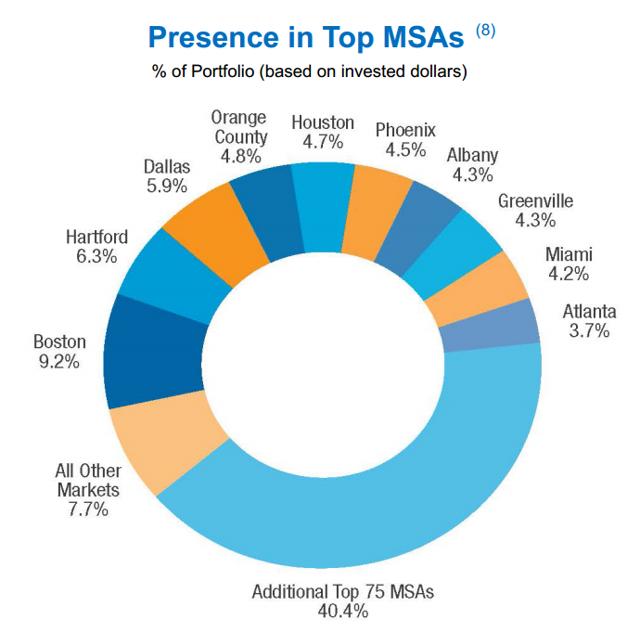 From this we can say that HTA is doing an effective job of limiting exposure to any single market, while still concentrating enough on MSA markets that they are establishing a strong foothold so that they can expand in that territory if the opportunity arises.
HTA Covenants
I always like to review a company's debt covenants and the trends Year-over-Year, because this can indicate management's thought process and future goals. A decrease in debt (especially as rate increases threaten REITs in the future) is always welcome, but an increase of debt may not necessarily be a bad thing. For example, a company may choose to acquire a large number of buildings using their revolving line, only to issue equity at a later point in time to pay off that debt. The point is, sometimes we need to read between the numbers before jumping to a conclusion. The following covenants are from the Q3-2016 Supplemental report, page 8.

As you can see, HTA is within all debt covenants they have established. Running a lean structure like this indicates to me that they have a lot of financial flexibility and firepower to resolve future issues and take advantage of opportunities that may arise.
While I would love to break down each individual area of the Debt Covenants, that is not the purpose of the article. If enough readers are interested, please let me know in the comments section and I will gladly write a future article going in depth on what I look for in these numbers and what they mean. As of right now, I want to look at the previous year's numbers from the Q3-2015 Supplemental report, page 8.
With the exception of unencumbered coverage, Q3-2016 shows that HTA has made significant year-over-year improvement by increasing the margin of safety for debt covenant guidelines. Not only is HTA well within guidelines, but 72.5% of outstanding debt is financed out past 2020. The first truly meaningful amount of debt that will be coming due is in 2019. The following is from the Q3-2016 Supplemental report, page 9.

Debt maturities this far out into the future can be hard to find, and I suspect that HTA's BBB credit rating has been an excellent tool for finding favorable financing options.
Tenant Lease Expirations
As I write this article, I find myself thinking that I want to jump on the HTA bandwagon, but then I came across the tenant lease expirations section, which shows that a substantial number of leases are up for renewal before 2020 (2017, 2018, and 2019). The leases represent 32.5% of annualized base rent, with 10.1% of base rent up for renewal in 2017. The following is from the Q3-2016 Supplemental report, page 14.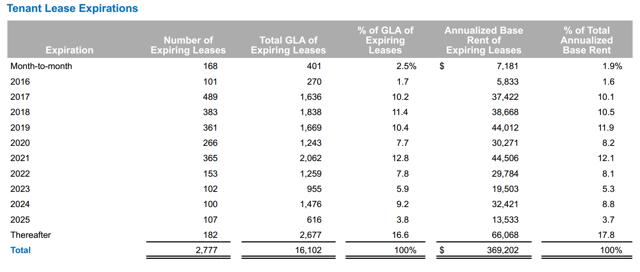 A review of HTA's lease history shows that this is typical of HTA's business model. Additionally, we need to consider the fact that HTA's assets are all in high population centers and are within close proximity to the medical facilities that MOBs thrive on. Ultimately, this gives me confidence HTA will be able to renew a significant number of (if not all) of their leases.
Dividend and Payout Ratio
| | | | |
| --- | --- | --- | --- |
| | 2014 | 2015 | 2016 |
| Q1 | $.35 | $.37 | $.40 |
| Q2 | $.36 | $.38 | $.40 |
| Q3 | $.38 | $.39 | $.40 |
| Q4 | $.37 | $.39 | $.39 (Est) |
| Total FFO | $1.46/share | $1.53/share | $1.59/share |
I could not find estimated FFO for Q4-2016, so I decided to go conservative with the same amount used in 2015. What I like about HTA is that they are growing as a company, but they are allowing the payout ratio to become more conservative. Using the previous table, we can create another one that paints a picture of the improving metrics HTA is demonstrating.
| | | | |
| --- | --- | --- | --- |
| | 2014 | 2015 | 2016 |
| Total FFO | $1.46/share | $1.53/share | $1.59/share |
| Total Dividend Paid | $1.155/share | $1.17/share | $1.19/share |
| Payout Ratio | 79.1% | 76.4% | 74.8% |
Based on these tables, I think we will soon see larger dividend payout increases simply because the margin of safety is almost becoming too much. As I mentioned before, HTA's management appears to be very shareholder friendly, so I would expect management to have no problem "paying-it-forward" when it comes to the dividend.
HTA's Current Price
Like other medical REITs, we can see that HTA has recently dropped from a 52-week high of $34.64, down to a current price of $28.31. Like many other medical REITs, HTA's pullback does not seem warranted or justified based on the improving metrics of the company. In summation, consider the current pullback a great buying opportunity.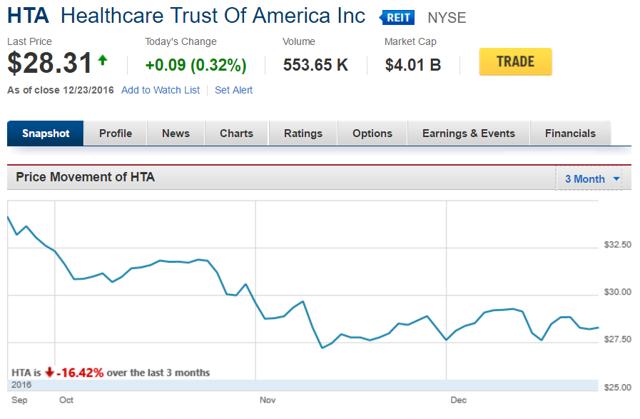 Conclusion
I like HTA's business model, and I especially like how management has executed the company's game plan (focusing on MSA markets). There are a number of characteristics that make this stock a solid buy, and the with the way that HTA handles its debt covenants and dividend payout policy (among other things), I would rate HTA as a BUY at these levels. The only true negative I could find in HTA's report were the number of lease expirations occurring before 2020. While it was alarming at first, it became easy to see that this is a common occurrence for HTA's lease expiration cycle. Buy HTA for both capital appreciation and income going forward.
Final Note: If you enjoy my articles please take the time to follow me. While I enjoy performing analysis, following me is the best method for showing me that SA subscribers are finding my work useful.
If you have any suggestions to improve my articles or if you would like me to perform analysis on a stock please feel free to message me and I will do my best to make it happen.
Disclosure: I/we have no positions in any stocks mentioned, and no plans to initiate any positions within the next 72 hours.
I wrote this article myself, and it expresses my own opinions. I am not receiving compensation for it (other than from Seeking Alpha). I have no business relationship with any company whose stock is mentioned in this article.
Additional disclosure: This article reflects my own personal views and is not meant to be taken as investment advice. It is recommended that you do your own research. This article was written on my own and does not reflect the views or opinion of my employer.