Current situation
Footwear company Crocs, Inc. (NASDAQ:CROX) would not have been the best stock to own in the past years. The stock value has declined strongly since 2011, losing money year after year.
When we compare the 5-year stock performance with that of Nike (NYSE:NKE), V.F. Corp. (NYSE:VFC), Skechers (NYSE:SKX), Foot Locker (NYSE:FL), we can see just how the stock underperformed compared to its competitors.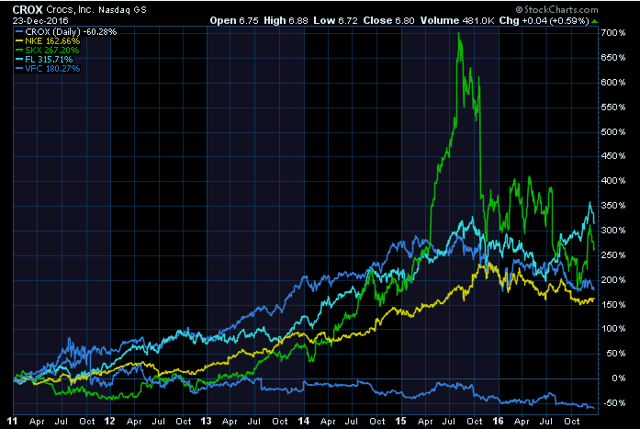 Source: stockcharts.com
During 2016, the downtrend for CROX continued, closing almost 34% lower for this year.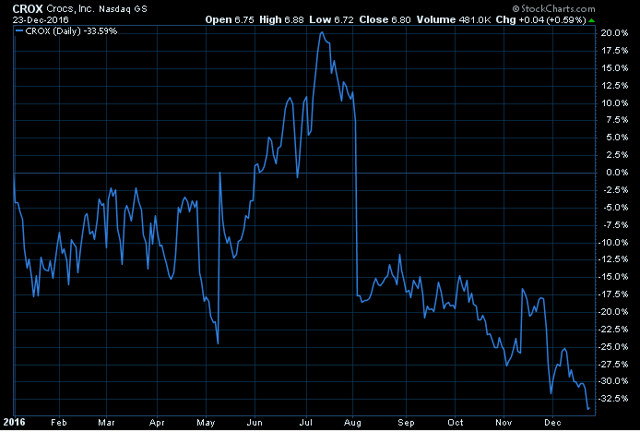 Source: stockharts.com
The reason for this depression in the stock price can be explained by multiple factors:
1. Losing earnings, declining operating margins, the free cash flow became negative:

Source: finviz.com
As the competition got stronger and stronger, the revenues of Crocs came under pressure. This has resulted in a negative cash flow and negative EPS for the last 3 years. During 2016, in the third quarter, Crocs saw its revenue and adjusted earnings tumble down.
While there are investors who have been speculating on a comeback scenario for Crocs, we cannot see any arguments for this in their financials.
2. The competition has done a better a job with their sales and earnings growth. Also the ROE of CROX is very poor compared to its major competitors.

Source: finviz.com
3. To make things even worse, the company faced patent litigation problems during 2016. In the past, Crocs had a patent on their flagship product, the clogged shoes. In 2012, the validity of this patent was challenged by a family-owned footwear company from Las Vegas. The Patent Office rejected the patent claim for the second time in 2016. This means that other companies can manufacture and sell similar shoe types, further increasing the competition pressure on Crocs.
Opportunity: We recommend Crocs as a sell for 2017. The company clearly has deteriorating fundamentals and cannot compete with the other major footwear companies. They have failed to innovate their product offering and to reach the same successes they have known years ago. The recent rejection of their patent claim will drive their sales further down in the coming years.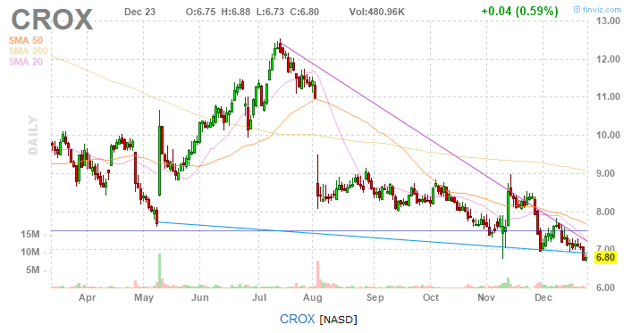 Source: finviz.com
While the stock has already declined sharply, there is still more room for further depreciation. The stock price recently declined below its support line from where the stock can make new lows as the fundamentals will deteriorate further.
Disclosure: I/we have no positions in any stocks mentioned, and no plans to initiate any positions within the next 72 hours.
I wrote this article myself, and it expresses my own opinions. I am not receiving compensation for it (other than from Seeking Alpha). I have no business relationship with any company whose stock is mentioned in this article.