ARI vs. BXMT
Following my most recent article where I've updated the recomendations and trading ranges for all 10 components of the A-Team, I've been asked (twice) why I picked Apollo Commercial Real Estate Finance (NYSE:ARI) for the A-Team instead of a solid (perhaps better) name such as Blackstone Mortgage Trust (NYSE:BXMT)?
Aside of being a valid question - that has been asked by more than a few readers during the year - I think that principally this question is made up of two separate, not-necessarily related, questions:
1. Why is ARI part of the A-Team? I believe that my ARI-focused article (from May of this year) provided the answer to this question and I encourage readers to go through it again. I'll, however, try in this article to strengthen my original old view/pick with current new view/data to re-validate my nine-month old choice.
2. Why is BXMT not part of the A-Team? Another valid question that hasn't been answered as of yet - and this is the reason for this article. When you finish reading this article, I surely hope that you'll better understand why BXMT is a worthwhile holding but not A-Team material. At least not as of 3/31/2016.
BXMT as a Stand-Alone
Allow me to start by saying loud and clear: BXMT is a fantastic company and I'm LONG the name. I believe that this says it all; not only that I see nothing wrong with BXMT but I really like this stock.
The A-Team (launched on 3/31/2016) contains 10 names that were supposed (as of 3/31/2016) to meet very basic, though strict and challenging, criteria:
Long-term goal: Ability to deliver a total return of 50% over the course of five years (since 3/31/2016).
Short-term goal: Ability to deliver a total return of 10% over the course of 12 months (since 3/31/2016).
These goals force(d) me to judge companies not only based on their fundamentals but also based on technicalities. I believe that ARI is superior on both aspects and I'll do my best to explain why.
Dividend Yield
First and foremost, we have to remember that income-generating instruments are mostly measured by their dividend yield. A simple math shows that in order to return 50% over five years - the dividend yield needs to be at least 10% so that even under a zero price appreciation scenario - the total return can be achieved.
Let's take a look at the dividend yields of ARI and BXMT over the past three years: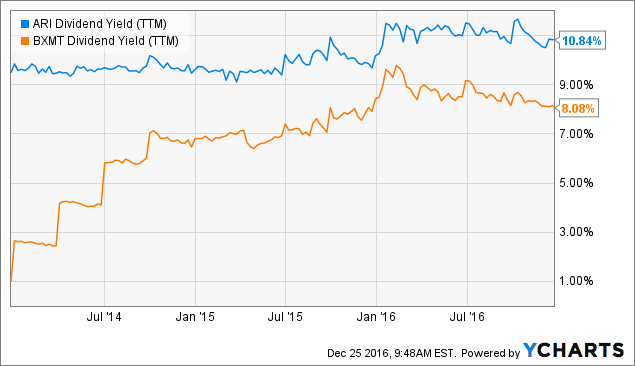 Not only has ARI offered a significantly higher yield than BXMT that over the past year was ~3% but ARI's yield is much more consistent and predictable than BXMT's. Consistency is key when we start a five-year journey because it allows the investor to more accurately predict the stream of income that a certain stock may generate.
As a side note, I would add that a dividend increase is on the cards: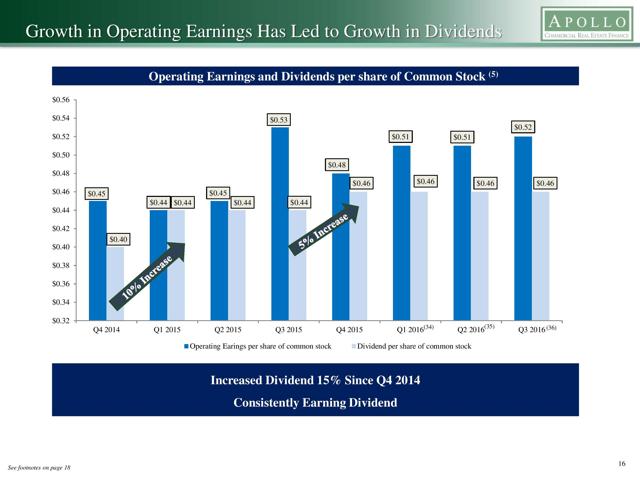 On one hand, being a conservative company, ARI may wish to keep the >10% gap between the earnings per share to the dividend per share. On the other hand, 2016 hasn't seen a dividend hike as of yet and only one quarter is left to report.
I give a dividend hike a >50% chance to occur in 2017.
Volatility
The higher reward that BXMT allegedly provided its investors comes with an even higher risk. A closer look into the volatility of the two names - as examined by the standard deviation ("SD") of the daily price returns - proves that BXMT is a less predictable stock: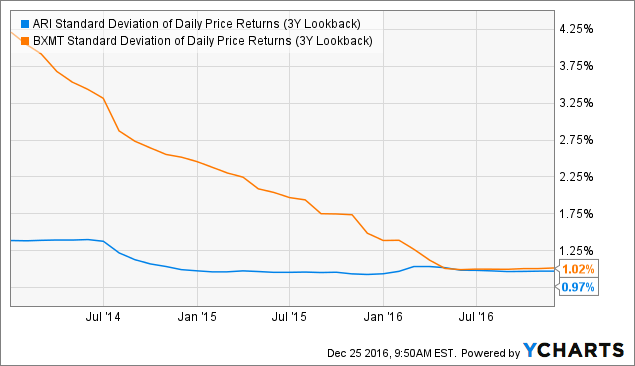 On the other hand, one may claim that BXMT's SD has gone down over the past three years to a degree that this is no longer a factor; maybe yes, maybe no, so let's look at other different metrics that prove the extra risk that comes with BXMT.
Total Return
Some investors claimed that BXMT was a much better performer than ARI. That's, to some extent, true and the longer the period you go back - the bigger the out-performance of BXMT was. Nonetheless, I'm in the opinion that things change quite quickly and examining a too-long of a period when it comes to income-generating names isn't a wise thing to do. Therefore, I look at the past year, maybe two, to draw more valid-recent conclusions. Even if I look at the past three years - as the chart below shows - the difference in total return is not significant. Moreover, once again, BXMT is clearly more volatile than ARI, something that I definitely judge as a disadvantage!
I'd rather get a bit less but with a much larger margin of safety. The risk/reward is exactly where ARI is a better play than BXMT.
Price Appreciation
Looking at this from a different perspective, let's see the price appreciation of the two names over the past three years: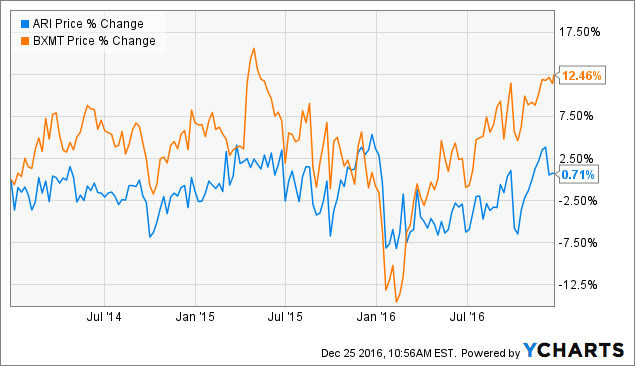 Clearly, the total return of BXMT is much more dependent on price appreciation than on a steady stream of income. When it comes to the A-Team - a portfolio that is based on income more than on price appreciation - ARI's ability to deliver more of its total return out of income is a plus. Over the past three years ARI investors basically solely lived on its income and got almost zero price appreciation.
That leads to another factor: Past vs. Future.
Forward-Looking View
The A-Team is a forward looking portfolio. While the past is important and can teach us a lot, we have to make assumptions that will provide (future) returns from now on.
Past returns would not assist the A-Team in achieving its future goals. As such, BXMT's (possible) past slightly better results are, if anything, a con not a pro.
In most times, ARI's PE was better than BXMT's and when we look at ARI's forward-looking PE, things are even more leaned towards picking the old boring school: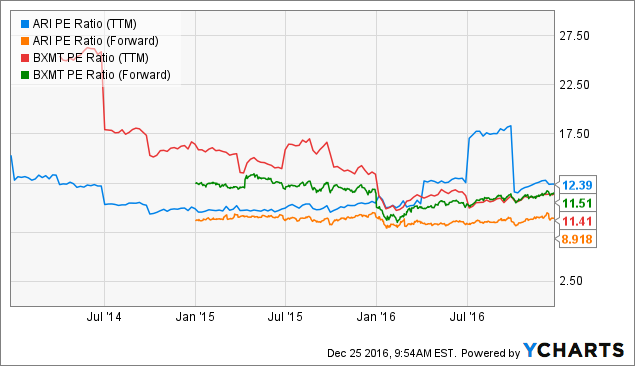 Another way to try and predict how the future may look is by examining two important elements for any mREIT: Internal Rate of Return ("IRR") and the Return on equity ("RoE"):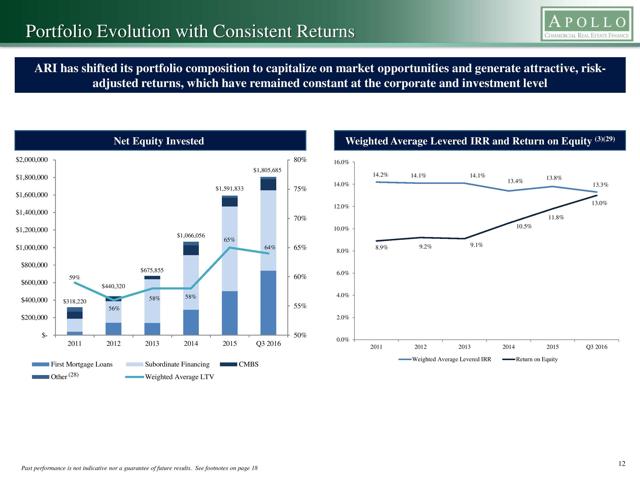 While the IRR is high (enough) to easily support/cover the dividend yield, the RoE is showing an improving trend. In more simple words, ARI is getting more and more efficient. I like to see this in a company when I look for the next five years.
Price/Book Value
Both names trade at a premium to book value but BXMT trades at a much greater premium:
| | | |
| --- | --- | --- |
| | ARI | BXMT |
| Current Share Price | 16.98 | 30.69 |
| Book Value as of 9/30/2016 | 15.94 | 26.61 |
| Price/Book Value | 106.52% | 115.33% |
Simply put, ARI is the cheapest option.
Parent Company
Both names are part of bigger groups. ARI is part of the Apollo group (NYSE:APO) while BXMT is part of the Blackstone (NYSE:BX) group. While the latter is much bigger and stronger than the former, both mREITs benefit from the parent company's scale, size, support and connections. Having said that, it's the parent companies' sizes that cause me to believe that ARI is more crucial to the Apollo group that BXMT is to the Blackstone group.
Blackstone, without BXMT, is still a mighty Blackstone. Apollo without ARI is less mighty... In a funny way, investors can probably count on more support from Apollo to ARI than from Blackstone to BXMT.
Future Growth Potential
This is something that I couldn't (back in March) and still can't predict. However, we do know that ARI took over Apollo Residential Mortgage (NYSE:AMTG) (for a price representing 89.25% of its BV) in a deal that is no doubt beneficial to ARI and accretive to its BV.
As of 9/30/2016, ARI already sold ~98% of AMTG's ~$2.8bn portfolio. Very little is left and that leaves a clean sheet towards 1/1/2017 from both assets and related expenses perspectives. The full advantage and benefits of this deal are yet to be seen/exposed, and I believe that 2017 might be the first year that ARI can demonstrate its bigger size, strength and capabilities following the takeover.
Using ARI's self-statement, here are the main advantages/features that investors should find positive when considering ARI as long-term investment that may fit the current and future landscapes: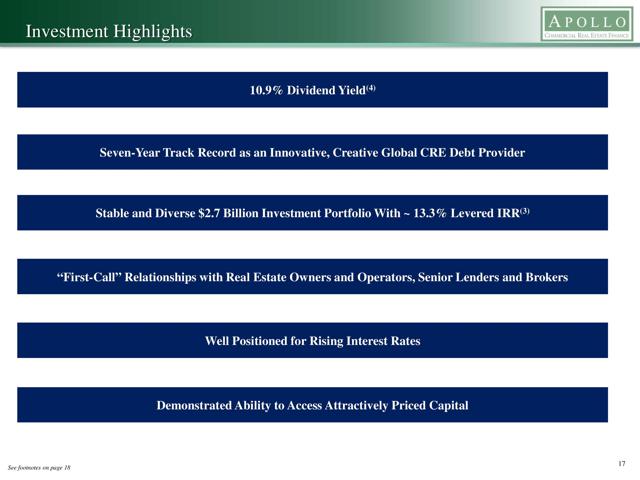 I see lots of positives - and it seems to me as if things only get better. Bigger size and scale would allow ARI to be even more efficient and even more profitable than it already is. That leads me to believe that ARI has a good chance to shine (on its own merits) and, consequently, to also outperform BXMT.
Bottom Line
The bottom line is very simple: ARI and BXMT are both great companies to hold - and indeed I hold both. But - there's always a "but", isn't it? - ARI is the better pick from a risk/reward perspective.
ARI offers a higher yield that meets the A-Team's long-term predictions and requirements.
ARI is a more consistent and less volatile stock than BXMT. That's true from (almost) each and every perspective.
ARI has better future prospects, especially following the acquisition of AMTG.
ARI is, no doubt, more "boring" than BXMT, and from a price appreciation aspect, BXMT may offer a higher potential. Nevertheless, it's the risk/reward profile we're mostly looking at (when it comes to the A-Team) and from that aspect, ARI was, and still is, the better pick.
Disclosure: I am/we are long ARI, BXMT.
I wrote this article myself, and it expresses my own opinions. I am not receiving compensation for it (other than from Seeking Alpha). I have no business relationship with any company whose stock is mentioned in this article.