PayPal (PYPL) is the leading global digital wallet and a leader in mobile and e-commerce payments. It operates a proprietary global technology platform that connects merchants and consumers around the world.
Industry - Electronic Payments
The shift from cash and cheque to electronic payment will continue. 85% of global consumer transactions is cash (PayPal Analyst Day 2016). The use of cash is less in advanced economies and over time, as payment networks improve, emerging economies will accelerate their move away from cash. This trend supports growth rates in electronic payments, which are a multiple of nominal GDP growth.
The adoption of mobile devices will continue to be a tailwind for electronic payments. Mobile devices will blur the distinction between online and offline, and mobile devices will begin to do both. Further, consumers in emerging economies are using smartphones; sometimes this is their first access to a computer. Emerging economies will be a huge tailwind for payments companies.
Finally, another tailwind is e-commerce. The chart below shows e-commerce will continue the momentum and is expected to reach 12.8% of all worldwide sales. The opportunity for payments is vast and PYPL CEO Dan Schulman sees the TAM growing to $100 trillion (PayPal Analyst Day 2016)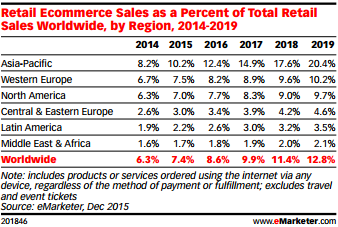 Business Model
PayPal's operating margins are lowest when customers choose credit cards to pay since it has to pay higher credit card-related fees through to the issuer of the consumer's credit card. Margins are highest when customers use transaction bank accounts to pay, as the fees it pays to banks for this are lowest. Financially, it makes sense for PYPL to steer customers to bank accounts where PYPL clips the higher margin. So, when PYPL announced its customer choice initiative, the share price was under pressure as there was concern over margins. Under PYPL's customer choice initiative, the customers will have more choice on the payment method and may increase the use of Visa (NYSE:V) and MasterCard (NYSE:MA) credit cards in PayPal and Venmo wallets.
PayPal believes customer choice will increase customer engagement, retention and activation and will increase partnership opportunities. Customer choice is an opportunity for PYPL. However, there is concern on margins. To allay some investor concerns, management provided three-year guidance in its recent earnings outlook and has forecasted stable and growing margins.
Barriers to entry
It is extremely difficult to establish a payments network, because there needs to be simultaneous acceptance of the network by both consumers and merchants. PYPL has 192 million consumer accounts and 15 million merchant accounts. This is something Square, Inc. (NYSE:SQ) does not have as Square scales its business primarily with merchants. SQ offers a strong suite of merchant solutions but doesn't have relationships with consumers. For the moment, SQ is on track to reach free cash flow positive this year. However, it will need to scale further to reach the margins of the likes of PYPL.
Competitive Dynamics
According to PYPL S-1, its list of competitors is far too large to list in this article. Payments is a very competitive market. We believe the TAM is large enough for many players to reach sufficient scale and succeed. We also believe PYPL will continue to succeed for the following reasons:
PYPL has a massive two-sided network, including consumers and merchants. PYPL was as also voted one of the best global brands by Interbrand for 2015.
There has been a slew of large-tech companies introducing payment offerings in recent years. The list includes Apple Pay (NASDAQ:AAPL), Android Pay (NASDAQ:GOOG) (NASDAQ:GOOGL) and Samsung Pay (OTC:SSNLF) to name a few. These companies don't have direct payment relationships with both consumers and merchants.
These large-tech companies typically leverage off existing infrastructure; most of the time, Braintree is providing the back-end processing.
User engagement has continued to grow and shown in the below chart (Source: PYPL).
Venmo and Xoom (NASDAQ:XOOM) has strengthened PYPL consumer platform.
Braintree and Paydiant have strengthened PYPL merchant platform, and Braintree is taking on Stripe (Private:STRIP).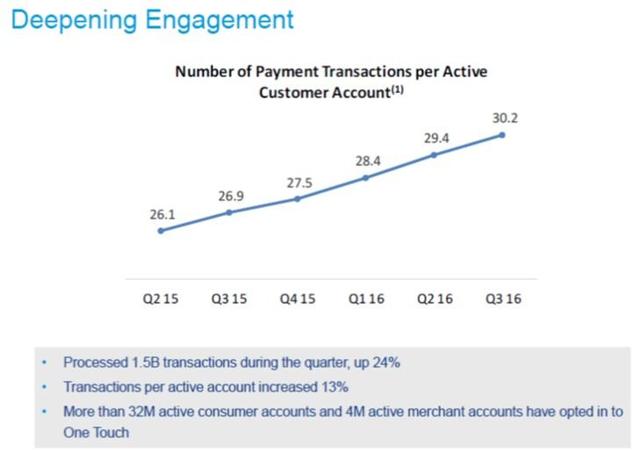 What really matters
Two things are critical for investors in PYPL. Competitive dynamics and operating leverage. Competitive dynamics was discussed above.
As we assess the operating leverage potential, it's worth pointing out PYPL is not MasterCard and will never have the margins of MA. As shown in the chart below, PYPL's take rate has declined recently but TPV has accelerated. This is largely a result of merchant mix and product mix and Braintree's take rate.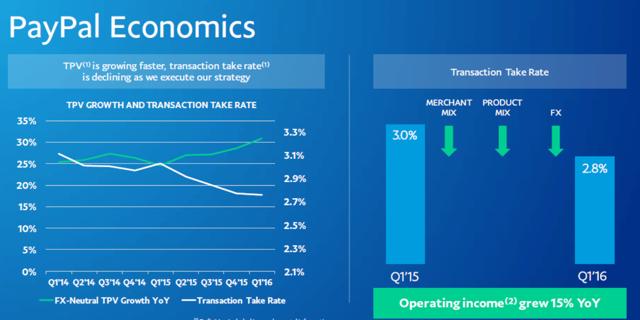 The good news is PYPL can drive down fixed costs to offset the fall in take rate. The white line in the diagram below shows non-volume driven expenses and these are going down as a percentage of revenue. Further, non-volume related expenses are 40% of revenues, and of this 40%, 75% is fixed. Therefore, 30% of all PYPL expenses are fixed.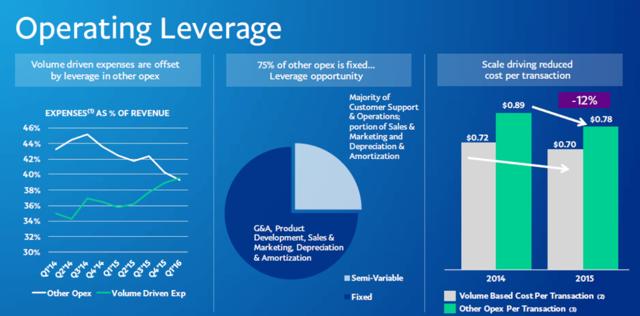 We believe CFO John Rainey was hired into PYPL to drive down the fixed costs and take costs out of the business. PYPL provided a three-year outlook in its recent earnings release that operating margins will be stable to growing from the current level of around 20%. We believe PYPL can increase margins significantly. However, it has decided to sacrifice expanding margins by implementing its customer choice initiative, which will sustain revenue growth and increase partnership opportunities.
Peer Review/Valuations
| | | | | | |
| --- | --- | --- | --- | --- | --- |
| Company | Sales ($B) | Sales Growth | Operating Margins | Forward EPS | Forward PE ratio |
| PYPL | 10.85 | 17% | 21% | $1.50 | 26 |
| MA | 10.82 | 11% | 58% | $3.75 | 28 |
| V | 15 | 16% | 65% | $2.84 | 27 |
PYPL has the fastest growth rate and lowest PE ratio, as the market sees PYPL as having limits on its operating leverage and operating margins. We have left SQ off the table above as SQ isn't profitable and needs to be valued using either free cash flow or sales multiples. No, that's not a typo, Visa has 65% operating margins. We can see V and MA trade at a slight premium to PYPL as they are effectively duopolies in card networks who are still driving operating leverage.
Key Risks
As mentioned earlier, PYPL has a strong competitive position. Some of the key risks include:
Managing the trade-off between customer choice and operating margins. If PYPL manages this correctly, then growth may accelerate without impacting margins. However, this is still an unknown.
New entrants such as Apple Pay is increasing competition with PYPL on mobile and online transactions.
Braintree's ability to compete with Stripe.
Management's ability to execute on its three-year plan.
Investment Summary
PayPal is well-placed to benefit from the secular shift to electronic payments, and is progressing well in the mobile space. PYPL's two-sided network is its secret sauce; PYPL has a relationship with both consumers and merchants.
Xoom and Venmo have strengthened PYPL's consumer offering as PYPL begins to offer new features and services to consumers. Braintree and Paydiant have strengthened PYPL's merchant business and will allow PYPL to take on Stripe.
We expect PYPL to continue to scale its business and become more valuable in the overall payments ecosystem. Customer choice will increase opportunities for partnerships and to grow. Operating margins will remain stable and may increase over time. We recommend buying shares in PYPL at current levels.
Disclosure: I am/we are long PYPL.
I wrote this article myself, and it expresses my own opinions. I am not receiving compensation for it (other than from Seeking Alpha). I have no business relationship with any company whose stock is mentioned in this article.