Brexit is an uncertain process, and while it will impact markets in myriad ways, it is very difficult for observers to call much in advance. This article identifies two dynamics behind a view that the UK government will in the end adopt a moderate approach to the process, and in fact, Brexit may never happen at all.
Age dispersion suggests Remain will dominate over time
One dynamic that seems to be very important is the way that the vote to leave the EU was divided among age groups. A YouGov exit poll suggests that 75% of 19-24 years old voted to remain, and 46% of 25-49 years old. Over 50s voted to leave with 56% of 50-64 years old and 61% of over 65s.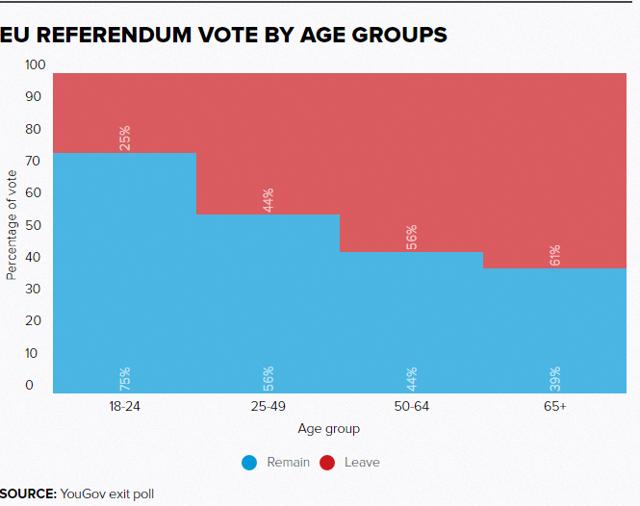 One of the topics most discussed among politically aware Brits after the vote has been the impact of Brexit on younger generations, including those unable to vote yet, in terms of whether it will restrict future opportunity. And of course this has translated into the observation that at some future point large amounts of Remainers will be joining the electoral role, while older Leave voters will be leaving it as their lives come to an end.
Jacek Rostwoski, a former Finance Minister of Poland, drew attention to this recently and ventured to put some rough numbers on the likely shift in electorate composition. I urge you to read the article. Rostowski thinks the 1.2 million margin of victory for Leave will have been eroded by 2020.
This is open to question. For one thing, will some Remain Voters become Leavers as they get older, replacing Leave voters who have died? Balancing this is the heated nature of the ongoing debate in the UK and the "tribal" character it has now assumed. Such convictions are not easily abandoned. The apparent desperation of some Leave advocates to force a rapid and "hard" Brexit to my mind speaks of an awareness of their position's vulnerability to this dynamic of ageing.
A majority favors maintaining close EU relations
Another dynamic that seems important is the implications of a well-known BBC/ComRes poll from July, which suggested that 66% of voters actively wanted to maintain access to the single market. As "access" (which is shorthand for tariff free access). That statistic is quite well known in the UK. A less often quoted one from the same poll is that "only" 45% said they would be "dissatisfied if the government continues to allow immigration from the EU in exchange for access to the single market."
Obviously, some of the respondents thought that Britain can retain its tariff free access while limiting immigration from the EU while most of the signals so far from the EU suggest this will be impossible. What stands out to me from that 45% number is that those who object to exchanging access for free movement are in a minority.
Both these features of the Brexit pathway (age dynamics and the majority position on the single market) support the ideas of Philip Hammond, the UK Chancellor (Finance Minister) who has become the government's main voice of moderation opposite Brexit and has called for a transition deal. In the wake of this, Liam Fox, the trade minister whom many consider one of the more radical Brexiters in the UK government, has confirmed that continuity remains desirable in the UK's trading relationship with the EU albeit without committing to Hammond's position explicitly.
Conclusion
Although the UK government has to keep an eye on its stridently pro-Brexit right wing, this faction remains a minority. There are significant forces favoring a drawn out departure from the EU during which time public opinion may shift in favor of remaining after all. If this picture becomes the consensus outlook, it will be relatively positive for markets and for the Sterling.
Disclosure: I/we have no positions in any stocks mentioned, and no plans to initiate any positions within the next 72 hours.
I wrote this article myself, and it expresses my own opinions. I am not receiving compensation for it (other than from Seeking Alpha). I have no business relationship with any company whose stock is mentioned in this article.