When it comes to Apple (NASDAQ:AAPL), the last thing I am worried about is today. From all accounts, the iPhone 7 is doing well, the new Apple Watch has had its best sales, and the company's services business continues to grow at a decent pace. With an extra week in the fiscal period and ship dates for certain products reaching into the new year, the company should have no problem setting a quarterly sales record. However, I am worried a bit about Apple after this period, especially as we get closer to the iPhone 8 launch. That being said, President-Elect Trump may be the catalyst Apple needs, if he delivers for the company in a positive way.
We all know that Trump could be Apple's best friend or its worst enemy. A low corporate tax rate combined with a repatriation holiday would benefit Apple tremendously in the short term. However, a trade war with China or a tax designed to bring manufacturing home could severely hurt. One Apple analyst modeled some EPS scenarios based on a variety of these outcomes, and the table below summarizes the results. Apple shares could go to almost $200 a share in the best-case scenario.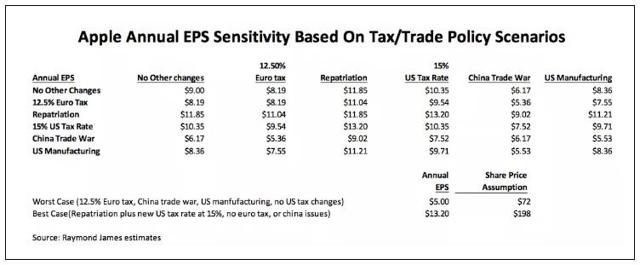 (Source: Raymond James via Philip Elmer-Dewitt article)
So why I am worried about Apple as 2017 evolves? Well, the first is because there are rumors that the company will not launch a new SE-model iPhone during the spring. This will make comparison periods tougher as a few million iPhone sales disappear. Additionally, I'm not sure how Mac sales will fare in the coming quarters after the latest model did not get a recommendation from Consumer Reports, the first time that has not happened for the MacBook. As fellow SA contributor Mark Hibben detailed recently, a lack of focus may be hurting Apple's PC strategy.
Now investors realize that Apple sees its most sales during the holiday fiscal Q1 period, which we are now in, and then things fall off throughout the rest of the September-ending fiscal year. The table below shows Apple's revenues by quarter over the last five fiscal years, including the last 14-week period. I think iPhone sales might fall off more than usual next spring and summer as rumors come out about the iPhone 8, expected to be the biggest update since the 6 (and maybe ever). Every time a rumor comes out about a new exciting feature, more consumers are likely to hold off on purchasing the iPhone 7 or older models.

*Fiscal Q1 of 2012 was Apple's last 14-week quarter. Data sourced from company's financial information page.
If sales are going to fall off more than they usually do, the last thing you want to see is high expectations from Wall Street. Unfortunately, that's a place where Apple seems to find itself currently. The Street is currently looking for 6.2% revenue growth in fiscal 2017, but just 2% growth in the current quarter despite the extra week. Analysts are looking for 8.2% growth in fiscal Q2, along with about 8.7% growth in the second half of the year.
While Apple does have some growth levers like the services business, AirPods, and the Watch, no new iPhone SE along with declining iPad and potentially Mac sales could offset that. Either way, it makes getting to high single digit growth tough. If analysts are banking on a huge iPhone 8 launch, just remember that early sales are more a factor of production than demand. If there are so many new features like an OLED screen that are in limited supply, iPhone 8 sales might not show tremendous growth over the 7 early on.
This is where Trump comes in, because Apple usually updates its capital return plan at its April earnings report. If investors start to worry about slowing sales during Q2 and into the back half of the fiscal year, a huge dividend raise and or sizable buyback increase thanks to repatriation and tax cuts would be just what the doctor ordered. Do you think Apple needs Trump to deliver in 2017? I look forward to your comments below.
Disclosure: I/we have no positions in any stocks mentioned, and no plans to initiate any positions within the next 72 hours.
I wrote this article myself, and it expresses my own opinions. I am not receiving compensation for it (other than from Seeking Alpha). I have no business relationship with any company whose stock is mentioned in this article.
Additional disclosure: Investors are always reminded that before making any investment, you should do your own proper due diligence on any name directly or indirectly mentioned in this article. Investors should also consider seeking advice from a broker or financial adviser before making any investment decisions. Any material in this article should be considered general information, and not relied on as a formal investment recommendation.