CVS Health (NYSE:CVS) has underperformed the S&P 500 this year by a huge 30%, which is in sharp contrast with the stock's performance over the previous five years (2010-15) when it returned twice as much as the index (22% vs. 10%). This period of underperformance has pulled its valuation down materially, putting it at a 30% discount to Walgreens (NASDAQ:WBA) on a P/E basis (trailing 12m).

Chart: CVS Health stock price since December 2010
Source: Google Finance
The main reason behind this, which is well known to most following the stock, is CVS losing pharmacy contracts worth 40 million prescriptions to Walgreens. But, considering that CVS processed more than a billion prescriptions in 2015, this is only a tiny share of the company's total business. Moreover, drugstores grabbing each other's contracts is not uncommon and CVS itself has won more than 50% of revenue from clients changing PBMs in the 2017 selling season.
This has led most to believe that the market has overreacted to events that were one-off in nature, making CVS a value play. In fact, more than 70% of sell-side analysts now have a Buy rating on the stock. But, what the market seems to be underestimating is the scale of shift Walgreens is bringing about in pharmacy retail.
CVS is what it is today because...
...of its integrated model where pharmacy retail and pharmacy benefit management (PBM) are closely tied together. PBMs are essentially middlemen that pool in millions of prescriptions and use the resulting purchasing power to negotiate rebates from drug manufacturers. While they pass on most of the rebates to customers by reducing drug prices, they retain about 10% of it as profits. CVS being both a retailer and a PBM eliminates (to a certain extent) negotiations on reimbursement rates and gets to keep the PBM's margin.
This is in contrast with Walgreens' model of being a pure drug retailer and leveraging global scale to reduce costs. In fact, Walgreens also owns 24% of wholesaler AmerisourceBergen (NYSE:ABC), which helps it negotiate more favourable terms that translates into better profitability.
Overall, numbers suggest that CVS's model has been the winner over the past few years. The fact that prescription growth between 2010 and 2015 was twice at CVS compared to the rest of the market (38% vs. 19%) drives this point home.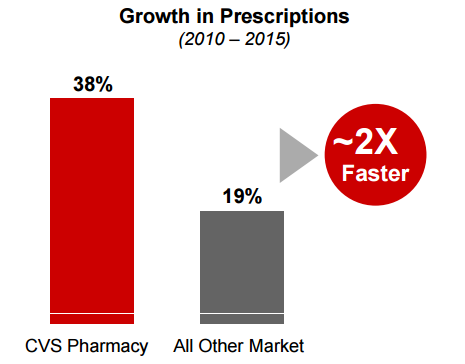 Chart: CVS Health growth in prescriptions
Source: Company presentation
But, the industry is changing
However, industry forces are changing the way pharmacy retail works. The US government's push to reduce healthcare costs has been the single biggest factor driving change in the form of lower reimbursement rates. This shows clearly in the decline in CVS Health's gross margin from 19.2% in 2011 to 17.3% in 2015.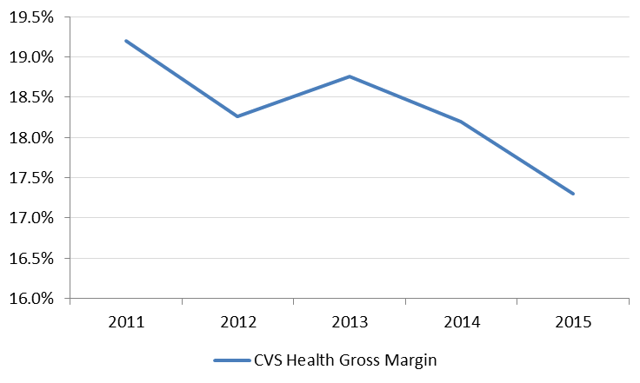 Chart: CVS Health gross margin 2011-15
Source: SEC Filings and author's work
One way of battling this challenge is by lowering costs which has been the driving factor behind major healthcare M&A in the recent past. Examples include CVS acquiring Target's (NYSE:TGT) pharmacy stores and Walgreens going global with the acquisition of Boots. But, consolidation cannot keep going on for long as anti-trust agencies step in at some point.
Walgreens has upped the ante
The next logical step is what we are seeing now in the form of preferred network deals such as the one Walgreens announced recently. Deals such as this give Walgreens an advantage in terms of scale and reach. As a part of the deal with Express Scripts (NASDAQ:ESRX) (which manages TRICARE), Walgreens replaced CVS Health in the TRICARE network gaining access to the pharmacy spend of the network's 9.5 million members that include Active Duty Service members (ADSMs), National Guard and Reserve members, retirees, their families, survivors, and certain former spouses worldwide. In terms of spending, TRICARE's 2015 net spending was $9.2 billion, of which $3.1 billion (34%) came from retail pharmacy spending.
This is only one of the many important deals that Walgreens has struck over the past year such as:
Preferred partner of Express Script in its Diabetes Care Value Program.
Preferred retail pharmacy for OptumRx's commercial clients (limited to 90-day prescriptions).
National preferred pharmacy for Prime Therapeutics' plan sponsor clients, including all types of retail prescriptions i.e. generic, brand-name, 30-day, 90-day, etc. Additionally, Walgreens and Prime will combine their respective mail and specialty pharmacies into a new business.
Partnering with UnitedHealth (NYSE:UNH) for the AARP MedicareRx Walgreens Medicare Part D plan (note that CVS Health's retail pharmacy business has backed away from Medicare Part D preferred networks for profitability reasons).
Preferred pharmacy network for Valeant Pharma's (NYSE:VRX) branded products.

Chart: Pharmacy retail value chain
Source: Author's work
In simple terms, Walgreens is expanding its reach across the value chain spanning PBMs, wholesalers, insurers as well as drug manufacturers. What makes this model a potential winner is that Walgreens has the flexibility to partner with a wider range of PBMs and plans giving it even more scale than CVS. Its deals might not be as profitable as CVS's (as it has its own PBM), but size is all that matters in the current industry environment. This, I think, will be the key differentiating factor for Walgreens and could mark the beginning of a phase of its dominance in the industry. No wonder, CVS's stock has taken a beating.
Conclusion
Walgreens has upped its game with a more integrated and relatively future-proof model vs. CVS. To stay relevant, CVS needs to adapt its model to the rapidly changing healthcare landscape and cannot afford to be complacent, unlike what happened with the TRICARE contract.
Here's what CVS Health's CFO David Denton said on losing the TRICARE contract:
"These major network changes quite honestly happened without a chance for us to actively engage and really tell our value proposition as these changes were contemplated in both Prime and with TRICARE. So from that perspective, we were kind of caught a little bit off guard."
While CVS is starting to counter Walgreens' strategy through partnerships of its own, the company needs to prove that its model still has what it takes to fight Walgreens. This means it will have to deliver more contract wins (to offset losses), new partnerships and prescription share gains in the quarters and years to come.
But, until then, investors should not expect any substantial recovery in the stock and might be better off parking their money elsewhere.
Disclosure: I/we have no positions in any stocks mentioned, and no plans to initiate any positions within the next 72 hours.
I wrote this article myself, and it expresses my own opinions. I am not receiving compensation for it (other than from Seeking Alpha). I have no business relationship with any company whose stock is mentioned in this article.