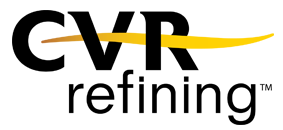 CVR Refining LP (NYSE:CVRR) has been on a tear since President-elect Trump named billionaire investor Carl Icahn as his advisor on regulatory matters. Icahn has been an outspoken critic of the effect biofuels mandates and renewable-fuel credits (the so-called "RINs") have had on refiners - one in particular: CVR Refining. That's because Icahn was the single largest shareholder in CVRR at the end of Q3. Icahn reportedly owns 5.75 million of the units, which equates to $61.2 million as of Friday's $10.65 close. In addition, Icahn Associates owns an 82% stake in CVR Energy (NYSE:CVI), which owns two-thirds of CVR Refining. Driven in large part by positions in CVRR and CVI, Icahn Enterprises (NYSE:IEP) is up a whopping 32% since the election.
Units in CVR Refining have been on quite a ride since the election and are up even more than IEP: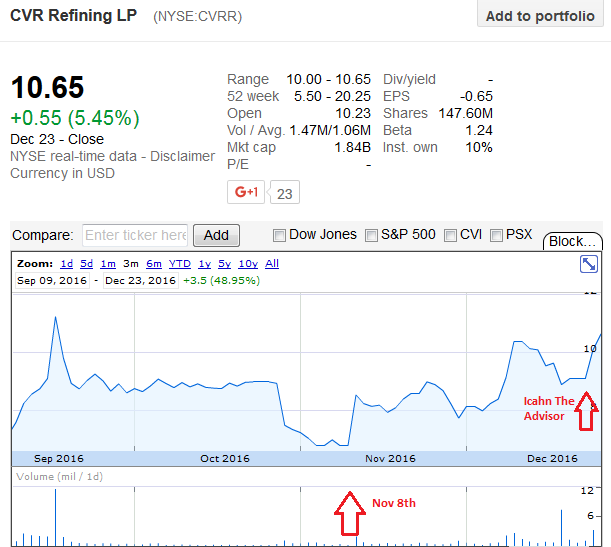 They got a big bump (25%) directly after the election. Then it popped again last week (another 20%) on word of the role Icahn will play in the new Trump administration. That equates to an 85% increase since November 7th when the units were valued at $5.75. Even if the company's RIN issues ended tomorrow, that still seems too far and too fast given CVR's fundamentals. I say that with the knowledge that CVR units spent most of 2015 at $20 before a drastic drop at the start of 2016.
Now don't get me wrong here, I have been an outspoken critic of both the biofuels mandates and RINs since the get-go. They are prime examples of bad energy policy and most of my followers know I believe the government should staunchly support natural gas transportation instead of the biofuels mandate. It's cleaner and cheaper and there is significant infrastructure already in place. In my opinion, all the biofuels mandates accomplish are major distortions in the energy and food sectors. Well, I suppose some companies profit from it too. But back to the CVRR story.
So other than Icahn's role in the new Trump administration - which obviously would be huge for CVRR should Trump & company roll back the biofuel mandates and RINs - what has changed? Refining crack margins have improved some since spring, but the Brent/WTI spread is still only $2.14/bbl and with U.S. gasoline exports rising that spread is playing a bigger role in setting crack margins these days.
From a financial perspective, CVR has had tough yoy comparisons:
CVR Refining's YoY 2016 Revenue & EPS History
Net Sales

2016

Net Sales

2015

EPS

2016

EPS

2015

Q1
$834 million
$1.3 billion
($0.46)
+$0.32
Q2
$1.2 billion
$1.5 billion
+$0.53
+$1.54
Q3
$1.2 billion
$1.4 billion
+$0.11
+$0.94
Distributions
Despite $0.18/unit of net earnings through the first three quarters of 2016, CVRR's board decided not to pay any quarterly distributions so far in 2016. In Q1, the decision not to pay a distribution was due to the expenses associated with the final phase of the Coffeyville refinery turnaround and weak crack spreads during the quarter. In Q2, CEO Jack Lipinski explained the lack of a distribution:
As a result of forecasted weaker NYMEX crack spreads and escalating RINs costs, the Board of Directors has determined that it is prudent to retain cash to preserve the company's ability to support necessary future operating needs. This reserve may be released to unit-holders in the future if margins improve or if RINs prices decline.
In Q3 the reasons for no distribution were:
CVR Refining is a variable distribution master limited partnership. As a result, its quarterly distributions, if any, will vary from quarter to quarter due to several factors, including, but not limited to, its operating performance, fluctuations in the prices paid for crude oil and other feedstocks, as well as the prices received for finished products, RINs' costs and cash reserves deemed necessary or appropriate by the board of directors of its general partner.
Competition
In addition to RINs and a yoy contraction in crack spreads, another factor affecting performance in the current environment just might be competition. CVR has two refineries (185,000 bpd aggregate capacity), each strategically located close to Cushing, Oklahoma and as such enjoy excellent access to advantaged crude slates - be it WTI or Canadian oil sands: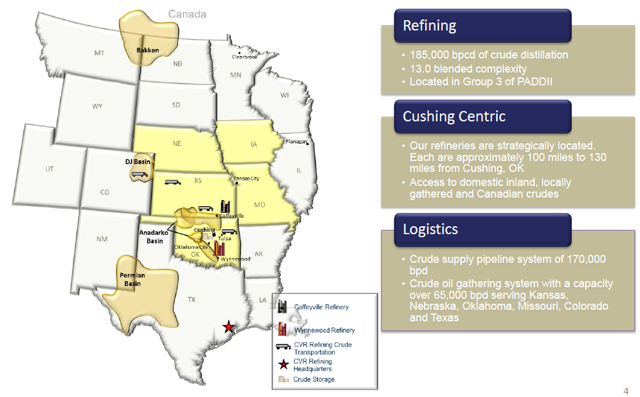 Source: CVR Refining Presentation
But that region of the country is also home to Phillips 66 (NYSE:PSX). Phillips has a refinery in Borger, TX and a large-scale refinery in Ponca City, OK (220,000 bpd) with an aggregate capacity of 310,000 bpd. In addition, PSX and its MLP - Phillips 66 Partners (NYSE:PSXP) - have significant midstream infrastructure in the region: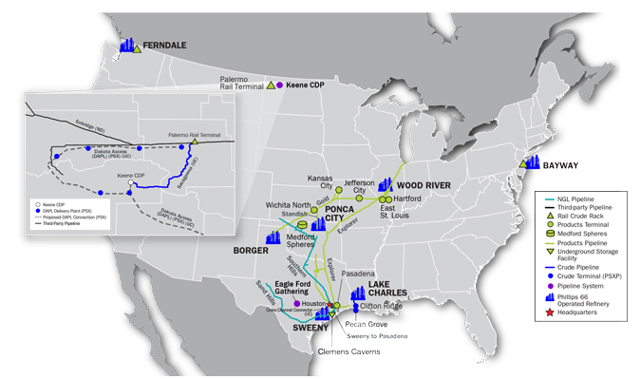 Source: Phillips 66 Partners Fact Sheet
Of course, there are other operators in the region, but remember - at one time Phillips 66 (when it was Phillips Petroleum) was headquartered in Bartlesville, OK for a reason. And I wouldn't be surprised if PSX gets advantaged pricing on its refineries' natural gas feedstock through its mother company: ConocoPhillips (NYSE:COP).
Summary & Conclusion
My point here is that CVRR has been on a tear and is extended with respect to recent performance. While I agree Icahn's influence in the Trump administration is a positive development, many of the benefits would also likely extend to Phillips 66. Meantime, Phillips 66 increased its dividend this year and the outlook for additional dividend growth is excellent. So if an investor wants exposure to a refiner, why not get one that has excellent midstream and downstream operations too? Phillips 66 has a 50% interest in CP Chem (a 50/50 chemicals JV with Chevron (NYSE:CVX)) and CVRR has no asset like PSX's recently operational LPG export terminal in Freeport, TX.
Nope - I'll go with Buffett over Icahn on this one. Investors should consider selling somewhat speculative and over-extended CVR Refining units and buy an excellent long-term dividend growth stock: Phillips 66. You will sleep better. PSX currently yields nearly 3%, earned $511 million ($0.96/share) in Q3 and returned $508 million to shareholders in the form of dividends and share repurchases during the quarter.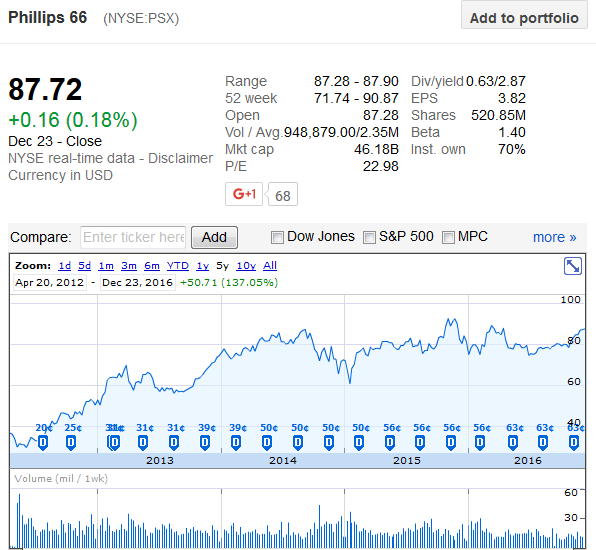 Disclosure: I am/we are long CVX, COP, PSX.
I wrote this article myself, and it expresses my own opinions. I am not receiving compensation for it (other than from Seeking Alpha). I have no business relationship with any company whose stock is mentioned in this article.
Additional disclosure: I am an engineer, not a CFA. The information and data presented in this article were obtained from company documents and/or sources believed to be reliable, but have not been independently verified. Therefore, the author cannot guarantee their accuracy. Please do your own research and contact a qualified investment advisor. I am not responsible for investment decisions you make. Thanks for reading and good luck!