Zhang Yang, a former senior executive in Shenzhen-listed Sealand Securities' bond trading department, has left China.
As I noted last week, that's probably for the best because Zhang has managed to stir up quite a bit of trouble in the country's bond market at the worst possible time. And the Politburo doesn't like it when people stir up trouble.
What Zhang allegedly did was pretty simple. He used a forged company seal to complete what amounts to a repo agreement in which various financial institutions purchased and held bonds purportedly on Sealand's behalf. Only Sealand says it wasn't aware of the deal. When the value of those bonds fell, Sealand suggested it might not buy them back because the agreement was never authorized in the first place.
News of the Sealand scandal hit the wires just as the December Fed hike and tighter liquidity were squeezing China's bond market. Ultimately, it all coalesced into an outright panic two Thursdays ago, sending yields on Chinese government bonds soaring and prompting the PBoC to think twice about extending the tenor of its liquidity ops. Here's Morgan Stanley with a recap:
In China, there was a dramatic sell-off in the bond market on Thursday. In particular, the 10Y government bond yield jumped 22bp to 3.45%, the highest level since August 2015 (Exhibit 1), which raised market concerns on a liquidity crunch. In response to tighter interbank liquidity, the PBoC has injected Rmb205bn on a net basis via open market operations over the past two days (Exhibit 2) compared to a liquidity withdrawal/smaller liquidity injection in the past few weeks, and both interbank overnight and seven-day rates have remained relatively stable at 2.31% and 2.51%, respectively, the highest level since September 2016 (Exhibit 3).
And here's a look at MTD returns for Bloomberg/Barclays' China bond indices:
(Chart: Barclays)
Well wouldn't you know it, no sooner had the Sealand ordeal begun to calm down than we got yet another report of forged papers tied to bond guarantees when China Guangfa Bank said documents and seals guaranteeing bonds issued by Guangdong-based telecommunications company Cosun Group were fake. Two subsidiaries of Cosun defaulted last week due to a shortage of cash.
"Cosun sold the bonds two years earlier to retail investors via the Zhao Cai Bao platform of Ant Financial Services Group, an affiliate of Alibaba Group Holdings," the South China Morning Post reports, adding that "Ant will press various parties to repay investors, and has vowed to cover the legal bills for investors who decide to sue, but Ant doesn't consider itself responsible for repayment since the products were developed by third parties."
As a reminder, brokers and funds engage in these "entrusted" bond transactions in order to get around limits on leverage. Beijing is now scrambling to crack down. New regulations, tightening liquidity, and rising bond yields have also reportedly prompted "as many as 20 Chinese borrowers to cancel a combined 18 billion yuan of bond issuance in the three days from December 14 to 16," the Post continues. According to Bloomberg, net issuance in onshore corporate bonds turned deeply negative this month: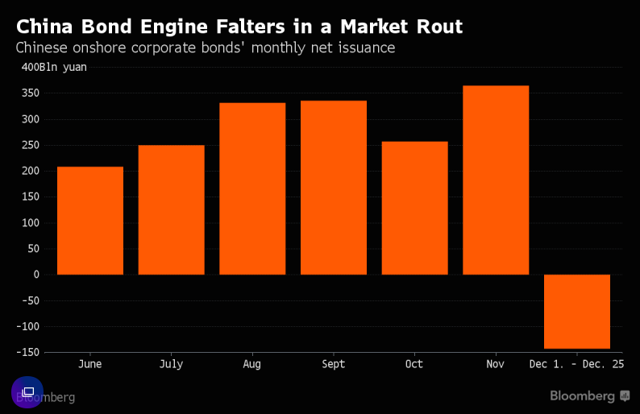 (Chart: Bloomberg)
Still, Morgan doesn't see a serious liquidity crunch in China's immediate future:
But a liquidity crunch or financial shock is unlikely. We expect that while policy makers have been tightening in the interbank market to curb bond market leverage, it will inject more liquidity via OMOs and lending facilities in the near term to stabilize the expectation and avoid a liquidity panic. That said, we think the bond market correction may have not ended yet in the medium term due to the asset rotation from institutional money and expectations of higher rates.
And neither does Goldman:
We strongly believe that policymakers' ability to avert systemic risk and maintain financial stability is high as (NYSE:A) we wrote last year that bond market leverage was relatively contained at around 1.5x on average, and (NYSE:B) the PBOC has a number of tools at their disposal to inject liquidity into the financial sector, should they choose to alleviate the tightness in domestic liquidity.
Still, the defaults persist. Here's a partial list of recent credit events: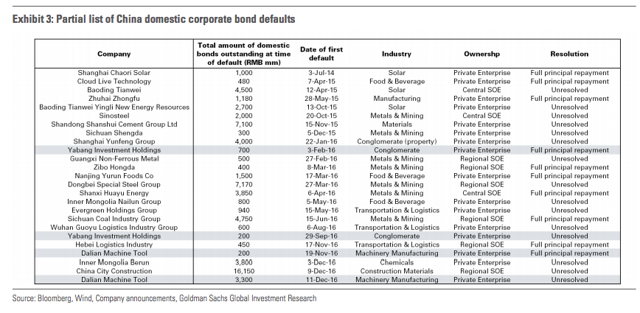 (Table: Goldman)
Despite the Street's attempts to help ward off a panic by peppering their notes with soothing rhetoric, pretty much everyone I've spoken to and nearly everything I've read suggests that we've only seen the beginning of what's likely to be a painful unwind.
If that turns out to be correct, the collapse will reverberate through the various levels of pyramided leverage and the default cycle will eventually force a recapitalization of the country's banking system.
At that point, we'll find out if China feels comfortable diverting a portion of its FX reserves to the recap effort and away from the crusade to manage the RMB's (NYSEARCA:CYB) depreciation. Of course raising debt won't be an option during a bond market rout which means that if the FX reserves can't be tapped, it will be time to hit "Command-P" at the PBoC and that, in turn, will only lead to more pressure on the currency (making Kyle Bass even richer along the way).
I'll close with a telling data point highlighted this morning by Bloomberg:
Investors are demanding a higher reward to park money in the nation's corporate debt. The yield premium of seven-year AAA corporate bonds over government notes has widened 44 basis points this month, set for the biggest increase since 2007.
Disclosure: I/we have no positions in any stocks mentioned, and no plans to initiate any positions within the next 72 hours.
I wrote this article myself, and it expresses my own opinions. I am not receiving compensation for it (other than from Seeking Alpha). I have no business relationship with any company whose stock is mentioned in this article.