CTAs have been unable to profit this year according to official sources, adding to a long streak of disappointing returns in recent years. This is despite some notable downtrends in bonds, gold, commodities and currencies this year.
This article is based on actual performance data from official sources about CTA group performance. It does not apply to any particular CTA or individual who manages futures or uses trend following as many CTAs do. Individual performance may diverge significantly from averages due to either skill or luck.
According to BarclayHedge, year-to-date top 20 CTA estimated performance is -4.09%. The majority of the CTAs in top 20 use systematic trend following. Below is a chart of top 20 performance since 1987: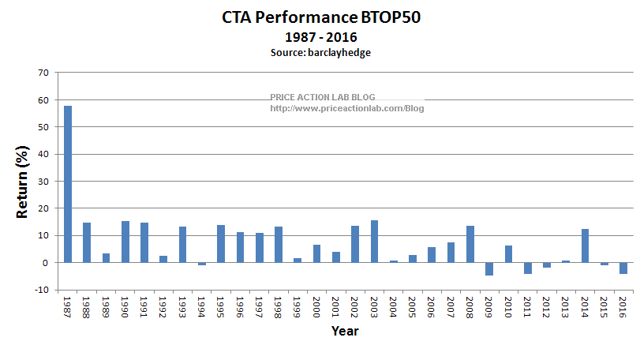 In the last 13 years, top 20 CTAs (and also the whole group) have been unable to generate meaningful returns. Annualized return is less than 2.5% in that period versus about 9% for the S&P 500 total return (NYSEARCA: SPY).
More importantly, a Wald-Wolfowitz runs test on top 20 CTA returns since 1987 gives a p-value of about 0.2500 and therefore there little or no real evidence against randomness in the results. It is entirely possible then that CTA past performance was a random divergence from some low mean and at this point mean-reversion is occurring.
Yet, some point to high historical CTA returns of specific funds. This is similar to saying that because someone won the lottery, everyone is a winner.
The purpose of these articles is to raise awareness in the CTA group that their models are broken. In the past, when CTAs started, the group was small and markets allowed profiting from trend-following. But markets have changed dramatically since. Effective trend-following methods with small tracking error and lower risk have been replaced with methods with larger tracking error and higher risk.
As Jim Simons noted in an interview, trend-following is dead because in the past fast moving averages tracked prices closely. In recent years, fast moving averages are not profitable for trend-following. I have argued in my blog that this is due to a shift from positive to negative autocorrelation across most markets in last 20 to 25 years.
As a result, trend-followers are forced to use slower moving averages with larger tracking error. They still call this trend-following. As far as I am concerned, they can call it anything. The fact is that slower moving averages have large tracking error and expose traders to larger tail risk.
CTAs should not rely on returns from many years ago when there were pit traders and no HFT. The world has changed and they also must change.
Disclosure: I/we have no positions in any stocks mentioned, and no plans to initiate any positions within the next 72 hours.
I wrote this article myself, and it expresses my own opinions. I am not receiving compensation for it. I have no business relationship with any company whose stock is mentioned in this article.