Financial regulations, policies, and strategy implementation are always being revised or altogether expired. The stock market is changing, and it's the job of FINRA, SEC, and other financial-governed entities alike to keep a close eye to make sure the markets are fair, efficient, and reliable. Rapid technology growth, algorithms, new types of order executions, and new unique trading strategies can ultimately affect how the market operates. To keep up with an ever-changing market, the financial entities that govern the markets face having to adjust or put in place certain policies, or any other rules in which they have the power to execute. Sometimes they may add a new rule or function into the markets and then retract it at a later time if it's proven to be unfitting for the markets. A great example would be the "Uptick Rule," which states that with every short sale transaction entered, the entered price must be higher than the price of the previous trade. The rule was drafted in the Exchange Act of 1934 as Rule 10a-1, but has not implemented until sometime in 1938. In 2007, the SEC decided to phase out the uptick rule, but not for good! The uptick rule was summoned back to discuss its possible revival in 2009, yet, no concrete decision on re-implementation is yet to be in place.
On October 3rd, 2016, FINRA went live with a program that it has been working on since May 6th, 2015. It's called the "Tick Size Pilot" program, the purpose of which is enhancing the quality of certain equities' liquidity and public interest. For investors who trade mid to large caps will not have to concern themselves with the new program since it will only cover some small caps that meet its requirement. However, a significant majority of traders are highly interested in small caps in light of larger growth opportunities. Additionally, the required amount of capital to invest in small caps is far less than mid cap to large-cap equities. The benefit to the investor is the ability to increase their share size parallel to the price of the stock.
So far, the stocks affected by the Tick Size Pilot program consist of about 2,260 different securities. The Securities List for the Pilot program is available to the public. A few other requirements are also needed to be a part of the pilot program.
Must be exchange-listed securities
Equal to or less than $3b in market cap
Must have an average daily volume of $1m or less
Volume-weighted average should be $2.00 on average daily
The Tick Size Pilot program assigns each stock to a different group. Equities are then split into four categories within the pilot program:
Control Group
A bid/ask quote spread of $.05 increments and trade/executions in a $.05 increment.
First Test Group
A bid/ask quote spread of $.05 increments, yet continue to execute in $.01 increments.
Second Test Group
A bid/ask quote spread and execution of $.05 increments, but can be filled at mid-points.
Third Test Group
A bid/ask quote spread and execution of $.05 increments. Also, they will also have to follow a "trade-at" requirement.
The main aim of this program is to try to increase volume in small market cap equities. With investors realizing that IPO activity has dimmed over the years, the SEC and FINRA are looking for ways to encourage investments in small-cap stocks. The question remains at large on whether this will work and bring in more liquidity or will it have no effect at all. Investors are on the fence and are uncertain of whether the program will continue to be used or dropped after the two years are up. Here are three key points to keep in mind when investing in small caps that are part of the Tick Size Pilot program.
Check if your choice of equity is part of the Tick Size Pilot Program
Investors whose interests are heavily on small caps must make some minor adjustments to their procedures. I have personally seen a small-cap trader get into a position unaware that his stock is bound to the pilot program. Not knowing why he was being filled at $.05 increments had cost him. With this lesson in mind, an investor should always first research the stock he is looking to trade to ensure that it is/or is not part of the pilot program.
Exploiting the pilot program for your benefit
The key to continuing to invest in small caps is to not only to look for growth opportunities, but also to plan ahead for the next 2-4 years. With the Tick Size Pilot program in effect, one should look for attractive small caps that are part of the program and find the equities that seem to have the most incurring volume. Incurring volume allows one to gauge investor interest with the new $.05 quotations. If the goal is for FINRA to increase liquidity and participation, then this should drive some stocks within the program to increase greater than its current expected earnings. The $.05 bid/ask spread should also enhance the type of gains you can receive due to the consistent range it needs to follow. So each tick of increase/decrease will result in a $.05 increase/decrease respectively.
Limit risk in your investment portfolio
A market rally to highs before the holidays can make investing quite difficult. Investors are unlikely to participate in the current markets that is trading near its highs. With global nation ties hanging on a thread, to multiple unforeseen attacks, an investor is sure to see the uncertainty that is lying on the playing field right now. Investors should also be aware that even without the tensions in global relationships, Trump is still a concern. Trump is considered to be the wild card now. Most of his policies and plans are up in the air and can be changed or shuffled around more than enough to cause distress in the markets. With all the impending undertones present, one should consider looking for small caps that can help reduce the total risk of their portfolio. I will provide two examples of how to find such opportunities for the long term.
1. HMS Holdings Corporation (NASDAQ:HMSY)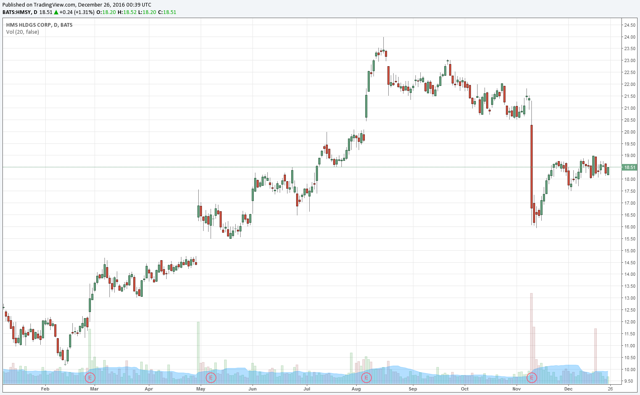 HMS recently had an abrupt pull back to $15.94, and until today is currently picking itself back to about a 50% retracement. The retracement was due to its last earnings statement, which produced better-than-expected results of .17 estimates and .24 for actual.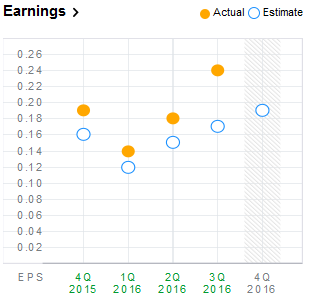 Although it received great news, the stock still took a bit of a nosedive due to the impending Obamacare structure being vulnerable to the next President. Even with President-Elect Trump's coming into office on January 20th, 2017 may disrupt the health care services industry; we can have confidence that this company will be here to stick around. The reason for this could be that a proper allocation to business recoveries went into effect while it recently started to carry out data analysis for insurance companies. Diluting its risk in the common core of health care services, it has prepared for any impending news that can continue to disrupt the particular industry.
The company was founded in 1974; analysts still consider this stock a semi-strong buy with price targets of an average of $22.75. The only downside I see here is that it does not provide any dividends. This stock has been beating earnings for the last four consecutive quarters. From the 4Q of 2015 to 3Q of 2016, it has scaled higher than analysts' estimates. We should also consider that any impending health care catalysts now may already be priced into the stock, which also makes it a great place to buy.
2. Calix, Incorporated (NYSE:CALX)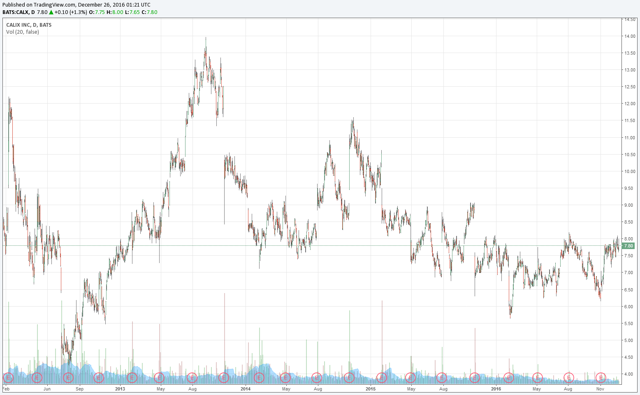 What's great about CALX is a lot of its fundamental attributes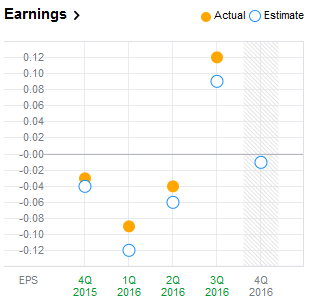 that are causing the company to be somewhat static regarding its stock price. Most of these attributes are pretty baked in as of now and the price is pretty low sitting near $7.80 currently. Just two years ago, this stock was sitting at around $14. What gives me confidence in this stock is more based on the fact that earnings for the previous four quarters all pretty much beat analysts' estimates. The price/book ratio for CALX is 1.7, which is lower than the industry average, but still provides an optimistic view of the company's future.
So why the continued price decrease? The decrease can be due to a stimulus program that had ended which helped businesses in the broadband internet sector. Now that the pessimism has been over-estimated, it may seem that CALX can now see some volatility as well as a price increase in upcoming years. The price/book ratio for CALX is 1.7, which is lower than the industry average, but still provides an optimistic view of the company's future. The quarterly revenue growth (year over year) is currently at 7.90%, and does not look to decrease in the coming fiscal quarters which makes it an excellent candidate for a long-term buy. Lastly, the daily chart on CALX is currently in a sideways channel on its way up with the possibility of a breakout to the upside.

Finishing Touches
As an investor, we must always be looking for the next edge. At the same time, we should always stay relevant with regulations, rules, and other implementations that can change. Just as an investor wants to know if any catalytic news may be on the horizon before purchasing a stock, so should one look for impending changes to the structure of the market. It is always a good idea to check out the FINRA or SEC page to keep tabs on the regulatory entities that could chime in a different market. The Tick Size Pilot Program is one of many in the recent years. We can be sure that there will be more modifications in the future which investors are forced to adapt. Adaptation is crucial in investing, especially during volatile global times such as today and most likely for the next four years with Trump as the new President.
Disclosure: I/we have no positions in any stocks mentioned, and no plans to initiate any positions within the next 72 hours.
I wrote this article myself, and it expresses my own opinions. I am not receiving compensation for it (other than from Seeking Alpha). I have no business relationship with any company whose stock is mentioned in this article.